In Ambush-Style Politics Kejriwal Re-imagines Indian State
His acceptance speech implicitly opposes the worldwide neo-liberal trend of commodification of certain aspects of life.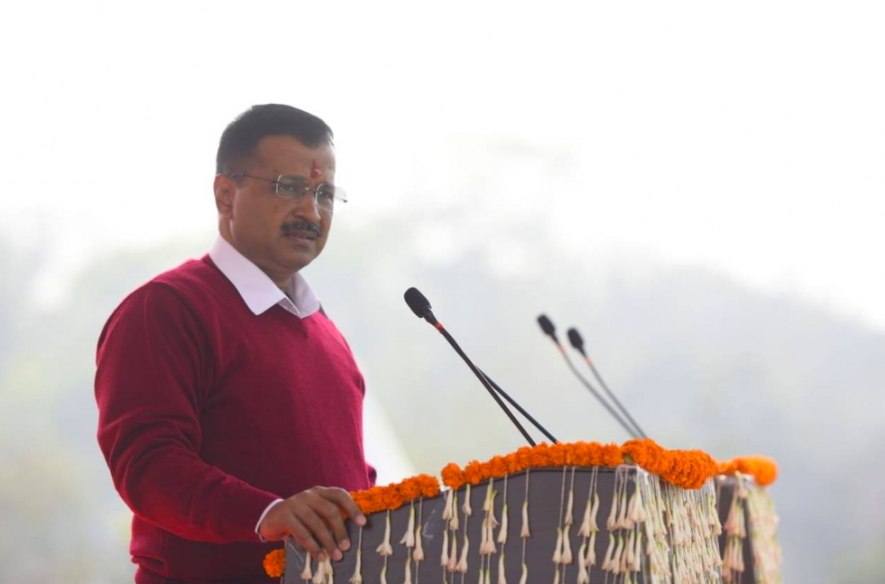 Image Courtesy: AAP Facebook Page
The most remarkable aspect of Chief Minister Arvind Kejriwal's speech during the swearing-in ceremony of the Delhi government was his conception of the state as an entity that should shower love on citizens. This is in stark contrast to the dominant view that the state must be stern, feared, and tasked with the primary purpose of policing citizens.
Kejriwal articulated his conception of the state as a riposte to those who criticise him for providing freebies. He said God has provided the most invaluable or amazing things in life free of cost. He went on to list what these free things are: a mother's love for her child; a father foregoing a meal to sustain his child's progress. These two examples define the state's role as paternalistic, which, theoretically, also endows it with the right to admonish and punish.
However, the state's love for citizens must also match the mythical love of Shravan for his parents. Shravan took his parents on an arduous pilgrimage by placing each in a basket tied to the two ends of a bamboo pole. Shravan died because he was fatally wounded by an arrow shot by King Dasaratha. Even in his death throes, Shravan unselfishly asked Dasaratha to take water to his parents to quench their thirst.
The three forms of love that Kejriwal spelt out are unconditional and natural. These are not subject to reciprocity and, therefore, cannot have a price tag. These flow as naturally, and inevitably, as the human heart beats.
Kejriwal, in his speech, said that he and Delhiites too share a bond of love, which, as in the case of parents and Shravan, has to be free, without reciprocity.
Quite dramatically, with a theatrical change in his tone, Kejriwal it would be shameful (or awful) of him to charge fees from his children (students) attending government schools. Should he charge money from those visiting government hospitals for treatment and surgeries? "It will be shameful [awful] of him to do so," Kejriwal repeated to the audience.
The conception of the state as a provider of quality education and healthcare free of cost is an old one. Yet it acquires a new meaning in the context of rampant privatisation of the two social sectors, evident from the mushrooming of prohibitively expensive hospitals and schools. In Delhi at least, the campaign against the hike in fees in Jawaharlal Nehru University stands vindicated. 
Kejriwal's speech opposed, at least implicitly, the commodification of certain aspects of life, a worldwide trend that is linked to the neo-liberal economic philosophy. Since the relationship between the state and citizens is of love, the former's responsibility becomes a categorical imperative, or an unconditional moral obligation. 
Moral obligations are independent of market and wealth. For instance, education and healthcare must be accessible to all, not just to those who have the money to pay for it. These cannot be subject to the market and its vagaries, as water and electricity should not be either. 
It can be argued that Kejriwal has no choice but to conceive a loving, benign state. He does not control police; the maintenance of law and order is outside his ambit. He is not responsible for the India's security and its conduct of foreign affairs. The only way he can endear himself to the people is through the construction of a nurturing, caring state.
Call it happenstance or his compulsion, yet Kejriwal seeks to universalise his conception of the state. This was evident from his remark, "Anyone in India who doubts the possibility of free water, or subsidised electricity, or good schools, people point towards Delhi as an example."
Delhi, thus, is credited for reinvigorating the century-old concept of welfare state, which, Kejriwal said with a touch of exaggeration, has had other state governments to rethink its policies. "There is now news flowing in from other states that they are following our model in Delhi to make water and electricity free," he said. 
An election fought and won on "real issues" of providing civic amenities and building social infrastructure was also portrayed in his speech as a harbinger of a new type of politics. "It the politics of the 21st century," Kejriwal said. He did not spell out, to the disappointment of some, what constitutes the old type of politics and who are the people who fight elections on "unreal issues." Perhaps the oath-taking ceremony was not the appropriate place to draw a battle-line.
Or he expected the audience to figure out that he was referring to the Bharatiya Janata Party, which he had periodically accused through the election campaign of harping on issues irrelevant to the people. This was his way of pitting the agenda of the Aam Aadmi Party against that of the BJP, which took recourse to the politics of communal polarisation, marked by unprecedented virulence, in its endeavour to win Delhi.
Kejriwal stitched his conception of the state and the new type of politics with an idea of nationalism anchored in social wellbeing and progress. He said "the tricolour will flutter with pride in the open skies" only when "every child of Mother India" is blessed with good education and healthcare; when no person is tagged as unemployed; when "every person rises above his caste and religion to feel like an Indian."   
He was, in his newly acquired understated style, taking a swipe at the BJP, which is largely perceived to have mishandled the economy and for failing to create jobs. Kejriwal's framing of the Indian identity beyond caste and religion is undoubtedly a criticism of the BJP's ideological predilection to privilege the Hindu identity over the composite Indian nationality.
Kejriwal combined the idea of welfare, loving state, the new politics, and his alternative to cultural nationalism to speak of his dream – that the story of India's greatness would resonate from London to Australia, from America to Africa. Here too, Kejriwal's India as a global exemplar is in contrast to Prime Minister Narendra Modi's muscular India projecting power worldwide. 
There are hurdles to realising India's greatness, Kejriwal thinks, evident from his getting the audience to sing Hum Hongey Kaamyab, the Hindi version of We shall overcome, which is both a protest and inspirational song. Are we to overcome ourselves or, more pointedly, the old type of politics, or both? Kejriwal's ambiguity is an ambush-style politics.
The author is a freelance journalist. The views are personal. 
Get the latest reports & analysis with people's perspective on Protests, movements & deep analytical videos, discussions of the current affairs in your Telegram app. Subscribe to NewsClick's Telegram channel & get Real-Time updates on stories, as they get published on our website.
Subscribe Newsclick On Telegram