Another Lifeline Smothered: MGNREGA in Shambles
Even though the scheme had been ranked as the world's largest public works programme by the World Bank, it is being systematically undermined with illegal restrictions on its budget allocation, severe payment delays and low wages.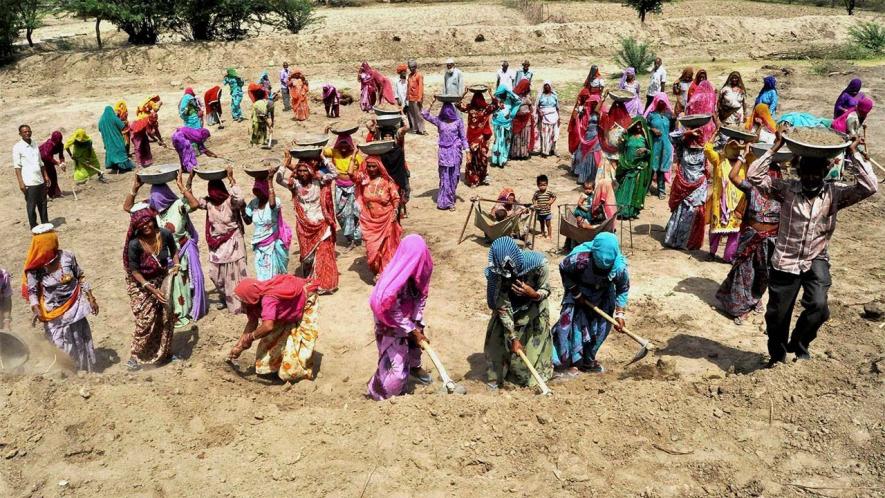 Mahatma Gandhi National Rural Employment Guarantee Act (MGNREGA) has been a tried and tested measure to target rising unemployment and ease rural distress in the country. The Rural Employment programme, which guarantees 100 days of manual work a year to at least one member of every rural household, came into effect on February 2, 2006. However, the scheme is being effectively strangulated raising an alarm for the country.
With three more months remaining for completion of the year, as per the Management Information System (MIS) 99 per cent of this year's allocation is already exhausted and no additional funds have been approved.
On the one hand, the Modi-led NDA government has failed in job creation and providing employment. On the other hand, the country's only employment guarantee is riddled with problems and being systematically undermined with illegal restrictions on its budget allocation, severe payment delays and low wages.
What was started as a demand-based programme has now been converted to a resource-based programme. In 2015, Prime Minister Narendra Modi broke the silence surrounding the scheme's future existence by saying to the Congress, "My political instincts tell me that MGNREGA should not be discontinued, because it is a living memorial to your failures. After so many years in power, all you were able to deliver is for a poor man to dig ditches a few days a month."
Budget Ceiling on MGNREGA
With such statements from the Prime Minister, it is not surprising to find the scheme crumbling. World Bank had previously praised the scheme, and ranked it as the world's largest public works programme. It was further quantified that for the scheme to be successful, India would need to allocate it about 1.7 per cent of its GDP. However, the current allocation amounts to a mere 0.26 per cent of GDP in 2017-18, in contrast with 0.58 per cent in 2010-11.
On January 3, 2019, Members of Parliament and State Assemblies from Karnataka, Rajasthan, Gujarat, Haryana, Madhya Pradesh, Maharashtra and Bihar, prominent economists and activists, members of the Peoples' Action for Employment Guarantee, NREGA Sangharsh Morcha, Samruddha Bharat Foundation, and leaders of farmers' movements wrote to the Prime Minister, seeking more funds and demanding the government to renew its political commitment for MGNREGA.
Also Read: With 99% MGNREGA Funds Exhausted, MPs, MLAs Write to PM
In an interview to The Business Line, former Rural Development Minister CP Joshi, has highlighted a number of problems in the implementation of the MGNREGA scheme.
He stated that the Modi government has been spending more on material component and less on labour. The idea was to create farmer-friendly infrastructure such as ponds, irrigation facilities and rain water conservation models to help out farmers.
Jayati Ghosh, a development economist stated the important effects of MGNREGA as follows:
The activities under MGNREGA helped in increasing agricultural productivity.
The multiplier effect, which refers to the increase in final income arising from new injection of spending, is found to be much more (4-5 units) in rural areas than in cities (1.5-2 units).
In several states, as much as 70 per cent of employment under the scheme went to women, leading to a decline in the gender-wage gap and empowering women socially and economically.
What has been one of the few tools to constructively affect rural economy, is now starved on funds leading to the failure of livelihoods of rural workers.
Contrary to the government's claims of more than 90 per cent of wages paid within 15 days, a recent study has found that only 21 per cent of payments in 2016, and 32 per cent of payments in the first half of 2017 were made within 15 days.
Budget approved in the Parliament is only an estimate, but to make it a ceiling on funds is a violation of the Act and unfair to those demanding work.
For each of the last five years, 20 per cent of the total funds available have been used to clear pending liabilities of the previous years, leaving a woefully inadequate amount for running the programme. Moreover, the MGNREGA notified wage rate has been illegally delinked from the Statutory State Minimum Wage.
Also Read: In Madhya Pradesh and Rajasthan, Floundering MGNREGS Angers People
The allocation of funds is adjusted every year taking inflation into consideration. Grotesquely, the 2017-18 inflation-adjusted allocation is lower than even 2010-11.
As per an ongoing study with a sample of 3,500 Gram Panchayats across 10 States, the employment provided is 32 per cent less than the work demanded. To fulfil this gap itself, the Government requires Rs. 76, 131 crore which is 30 per cent more than the current allocation.  
The MIS, which is responsible for showing the performance of implementation has rather become the controller of the programme. There was a provision under which if someone applied for a job, that demand has to be registered. That provision has been tampered with, because of which the data shown in MIS reports cannot be trusted. Moreover, because of this interference, low-slung funds are ridiculously justified with there being short demand for work, which is never the case.  
If work has been demanded but is not available, then the government is liable to pay unemployment wages, which has not been followed anywhere in the country.
Government Maintains Silence on Starvation Deaths
As many as 74 people died of hunger in the last four years, with over 81 per cent (60) deaths in 2017 and 2018. The victims died after prolonged hunger because there was no food or money. The state of hunger worsened for the victims' families after they were denied their grain entitlement under the Public Distribution System (PDS). Further, many victims and their family members worked as wage labourers in their villages or migrated to other states in search for work. However, most of them were denied any work under MGNREGA. Independent inquiries revealed that these schemes were not implemented in some of the respective villages for months.
Also Read: In the Absence of Aadhaar, Starvation Deaths Continue in Jharkhand
The Jharkhand Rural Development department was directed to look into the issue of denial of MGNREGA work to most of the starvation death victims. However, the report sent on December 26, 2018, seems to wash its hands of any responsibility. The report covered 18 deaths and, in each case, it ends with the same sentence, "The cause of death is not related to NREGA".
It is a shame, that despite having job cards, nearly all the 74 victims were driven to death in absence of work they were legally entitled to.  
MGNREGA has served as a lifeline for the poor, with 1 out of every 3 rural household having worked in the programme. In 2017-18, close to 8 crore people worked under the scheme. Even though the average number of days worked per household was 46 days, it had a far reaching impact.
According to the National Council of Applied Economic Research (NCAER) report, at least 25 per cent of the decline in poverty since 2004-05 for participating households can be attributed to MGNREGA.
In the letter drafted to the Prime Minister, one of the demands stated, "Increase MGNREGA legal entitlement in all drought notified districts to 200 days." This followed the announcement made by the Maharashtra Government on January 3, declaring another 931 villages as "drought-affected".
Sitaram Yechury, General Secretary of the Communist Party of India (Marxist) said, "Not only is the Left united in their support for MGNREGA, we will prioritise the demands to renew the scheme in the upcoming General Strike."
Read More: #WorkersStrikeBack: All Set For Historic 8-9 January Strike in Industries, Rural Areas
Get the latest reports & analysis with people's perspective on Protests, movements & deep analytical videos, discussions of the current affairs in your Telegram app. Subscribe to NewsClick's Telegram channel & get Real-Time updates on stories, as they get published on our website.
Subscribe Newsclick On Telegram