Asian Games 2018: Sushil Kumar's Heart Set for Gold, Throws Fall Short
Sushil Kumar leads the Indian charge in wrestling at the Asian Games 2018 in Jakarta, and all the attention is focussed on the veteran completing his collection by adding the missing Asiad gold medal in his CV. Unfortunately, not all swansongs are written in gold.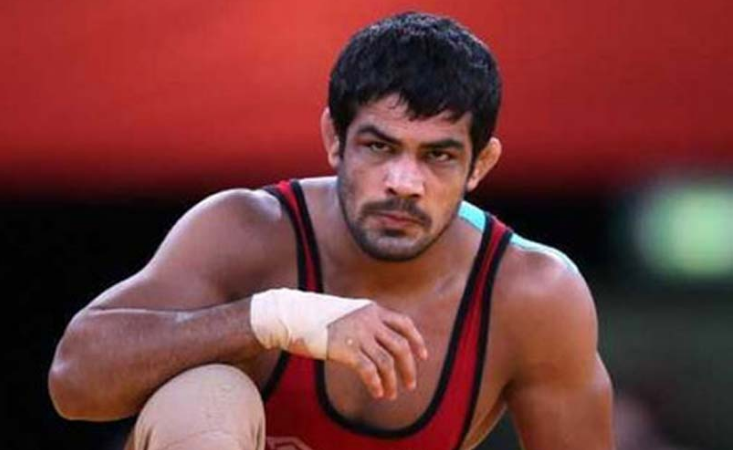 Sushil Kumar has never won a gold medal in Asian Games wrestling and would be keen to plug that hole in his illustrious resume (Pic: Twitter)
Through the course of an athlete's career, the sport, inadvertently, moulds his or her psyche. The body, instincts and skills inevitably follow suit. In wrestling, the grappler earns a stubborn streak that provides him an edge on the mat -- to execute or fight off throws and holds, bridge away from a pin-fall attempt, and so on.
There is a negative side, though.
A stubborn wrestler, much like the many gritty professional boxing kings we have seen in history (both combat sports have distinct parallels), doesn't know when to call it a day, unless a severe injury enlightens him.
Sushil Kumar, India's most successful wrestler, has been stubborn right through his career. In fact, his style of wrestling and his technical repertoire -- involving power moves, takedowns and scoring techniques like the scissor lock -- requires a stubborn will.  
Also Read | Ranked Favourites But Tricky Gold Quest for Indian Hockey Teams at Asian Games
His determination to compete at the 2018 Asian Games in Jakarta-Palembang, Indonesia, is laced with that trademark stubbornness. Wrestling at the Asiad begins on August 19 with the freestyle segment that will see two of India's medal hopes -- Sushil (74kg) and Bajrang Punia (65kg) division -- in the fray among others.
Sushil, two-time Olympic medallist, world champion and multiple Commonwealth Games champion, has many reasons to try his bit at this Asiad. The primary reason would be that he has never won at the Asian Games through his illustrious career.
In the Doha Asiad in 2006, Sushil managed a bronze. Since then, he has never competed at the continental Games and would love to plug that missing link in his resume. He also feels Jakarta 2018 would be an important milestone for him en route Tokyo 2020, where he is hoping to capture gold and complete his triplet of medals at the Olympic Games.
Tokyo is a longshot, while Jakarta, going by logic and wrestling form, looks tough as well.
Also Read | In Hima Das' Triumph, a Caution for Indian Sports Administrators
There is no doubt that if Sushil feels he is good enough to compete and win, he should go ahead and fight. He has the credentials and the means to do it. However, this time around, he has not reached the Asiad proving he is the best in the country. He skipped trials citing training, and the Wrestling Federation of India (WFI) entertained the request from their most decorated champion. His rival, upcoming wrestler Parveen Rana, feels robbed though and we would never know who would have made the squad if an open trial was held.
Then comes his most important shortcoming.
Sushil is actually a novice in the 74kg freestyle division, arguably the most contested category in the world, and one which always sees the best grapplers of the generation vie for supremacy.
The sport's 74kg is the boxing equivalent of middleweight. Like how boxing middleweight features the best of pugilistic art and force (the speed, agility and guile of lighter divisions and the power of heavier ones), 74 kg grapplers tend to combine the best values of the big and small men of wrestling.
Sushil's greatest triumphs happened in the now defunct 66kg division. Post the 2012 London Olympics, after the global body changed the weight divisions, Sushil jumped up to 74kg and since then, has never competed in a global or continental competition. The only international stage he has fought, besides invitational tournaments, is at the Commonwealth level, where the standards are lower than even the Indian nationals.
Also Read | No Indian Football Team at Asian Games; Blame Babus in IOA, AIFF
In between, he got sucked into the selection controversy and court case involving Narsingh Yadav ahead of the Rio Olympics in 2016, following which, he more-or-less retired and even acted as observer for the sports ministry, besides taking up other administrative positions.
Then, in 2017, he announced his intention to come back to wrestling, and gun for that elusive Olympic gold. Fair enough!
But what's been hypocritical about this whole mission is that Sushil, despite his best intentions, has not been keen on systematically building towards that gold. That would involve fighting the best in the world in the division, at the World Championships and other tournaments, losing, winning, but getting used to the dynamics and the demands of the division at the highest level.
Also Read | Sports Authority of India Loses 'Authority', Gains Nothing
That shortcoming was evident in Sushil's poor showing at the Tbilisi Grand Prix in Georgia last month. The 35-year-old lost in the first round, one of the rare opening-round losses of his career. He was beaten by Poland's Andrzej Piotr Sokalski, who is not exactly an elite wrestler in the division.
Of course, losses and upsets do happen in wrestling, but in Sushil's case, there is a very glaring reason for it, and that's not a "lucky" throw or hold.
"There will be defeats and victories in a sportsman's life. Real athlete is the one who stands up after defeat, prepares harder and comes back. Real athlete is one who takes the mat after winning also. I am trying to do the same," Sushil told PTI, explaining his loss in Georgia and reiterating his mission.
"I have prepared well for the Asian Games but I am not out there to prove anything. Proving yourself is not sportsmanship," he added.
While Sushil has nothing to prove, he, thanks to the wisdom of almost two decades of wrestling, would know that "preparing well" involves taking part in tough competitions as well, and not just sweating it out on the training mats.
Also Read | Golden Freedom: Legacy of Independent India's First Hockey Olympic Gold in 1948
Instead of priming himself by taking on pedigreed wrestlers such as USA's Jordan Burroughs or Frank Chamizo of Italy (the two top wrestlers in the division), Sushil has been happily sidestepping tough competition, while celebrating gold in lesser events.
Asian Games wrestling is, however, a different beast to the CWG. India finished seventh in the previous edition with just one gold medal via Yogeshwar Dutt. Iran topped the wrestling tables in the 2014 Asiad in Incheon, with Japan, South Korea, Uzbekistan, Kazakhstan and China beating India in the combined standings (freestyle, Greco-Roman and women's freestyle).
Iran, with an eye to top of the Games' medals tally, is coming in with the best squad. The 2016 Rio Olympics 74kg freestyle champion was Iran's Hassan Yazdani. He has climbed up to 86kg, but that doesn't mean the Iranian who would be in the mix in Jakarta would be any lesser skilled. Mostafa Hosseinkhani, former Asian champion and World Championship bronze medallist, is the man from Iran in the 74kg category, and is one the favourites for gold.
Sushil happens to be an underdog in the fray and would be hoping for a favourable draw to ensure he reaches the semi-final stage unscathed. From then on, maybe his stubbornness could help grit out wins.
Then again, there is only that much psyche and will can provide in a wrestling bout. Results are determined by execution. Sushil's execution, of will and technique, till 2012 were flawless, and the result from his moves on the mat almost a pre-drawn conclusion. Such was his presence. Not any more.
India, meanwhile, would be hoping for a medal or two from the opening day's action on the mat (freestyle 57kg, 65kg, 74kg, 86kg and 97kg). The best bet for India would be Bajrang in men's freestyle and Vinesh Phogat in the women's 50kg division, who would fight on August 20. But Phogat will also have to overcome some tough challenges from Japanese, Korean, Uzbekistan and Chinese wrestlers.
As for Sushil, the 2018 Asian Games could bring down the curtains on an illustrious career that deserves a great swansong. Sadly, one doubts whether Jakarta would provide that.
Get the latest reports & analysis with people's perspective on Protests, movements & deep analytical videos, discussions of the current affairs in your Telegram app. Subscribe to NewsClick's Telegram channel & get Real-Time updates on stories, as they get published on our website.
Subscribe Newsclick On Telegram