Asleep With Their Eyes Open: Indian Hockey Plays a Tricky Game With the Circadian Rhythm
In a seemingly innocuous press release, Hockey India spoke about how its athletes have had their sleep cycles shifted to match with the Tokyo time zone in order to help them adapt in advance. Experts are conflicted on what benefits this may serve and if the losses may be greater than the gains.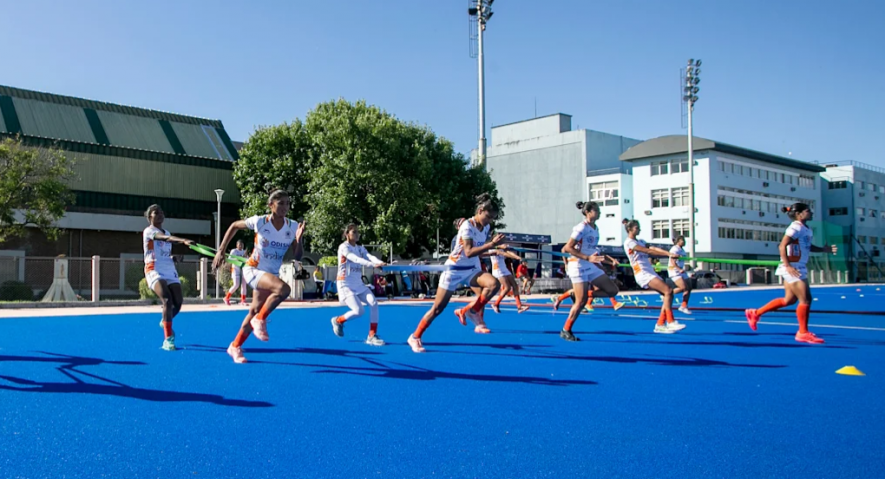 (Representational image) Indian women's hockey squad members in training (Pic: Olympics.com).
Team managers working with Olympic athletes in the final stages of preparation for the Tokyo Games are grappling with a whole new, unprecedented set of variables dished out by the pandemic. The challenges are stifling to say the least. Tried and tested build-up programmes that revolve around exposure tours, tournaments and an early arrival at the host city or set base at locations with similar climatic and geographic parameters, have been jeopardized by Covid-19 travel restrictions.  
Everyone is trying to figure out their way around the handicaps. Hockey India (HI) is not far behind. After all, Indian hockey sides are emotional favourites come the Olympics, but we all know it takes quite a bit more than emotion and history to win gold at the Games. That is perhaps the reason why the federation, and the Sports Authority of India (SAI) which facilitates training of the teams, have turned to fine-tuning not just the game of the men and women, but also their body clocks to ensure an edge even in that area. They are not leaving any stone unturned. Just that, the stones they are turning could pop up additional issues rather than provide advantages.
A couple of days back, HI sent out a release which announced a peculiar approach in which the women's team have been training at the SAI centre in Bengaluru. They are training with a schedule that will ensure the biological clocks of the players are in sync with the Tokyo time zone. 
Also Read | India vs Qatar Analysis | Team's Latest Loss Highlights Deep-Set Issues In Indian Football
"The weather in Tokyo is going to be quite challenging and our training sessions are planned in such a way that our biological clock is set to the time we will be playing matches in Tokyo," Namita Toppo was quoted in the press release.
"We are also playing a lot of internal matches to build that match-momentum. There is just a lot of enthusiasm in the team with less than 50 days for the Games to begin and we are not letting any external factor affect our excitement."
Excitement and eagerness are natural, and given the circumstances, nerves are understandable, considering the ever-changing protocols and uncertainties surrounding the pandemic. The key then is to control the variables that can be controlled and the prime one among them is to ensure the players followed a regimen planned with not just diligence and drive, but also with scientific temper.
The Hockey India coaching staff, and the exercise physiologist and other experts of SAI, seem to have hit upon a great means to overcome the big problem athletes face while competing abroad — jet lag. Just that, they may have read the science wrong in their eagerness.
By implementing the process, the hockey team management seems to have ignored the biggest thing that governs life in general — the circadian rhythm, or in common parlance, the biological rhythm. Our sleep and wakefulness pattern is governed not by a digital or analog bedside alarm clock as many would think, but by our genes as well as by the perpetual cue we have at our disposal, the sun.
Tinkering with the bodyclock — set for the Indian Standard Time — to match a zone which is three and a half hours ahead, while training goes on in full intensity is inviting disaster. The issues created could undo whatever gains that were made in training, and also jeopardize the mission in Tokyo. 
Also Read | PV Sindhu: I Have Improved. It's Good I Got All This Time to Do So
"Our circadian rhythms are controlled by multiple genes and are responsible for a variety of important functions, including daily fluctuations in wakefulness, body temperature, metabolism, digestion, and hunger," writes Lawrence Epstein, an Assistant Professor in Medicine at Harvard Medical School. Epstein's speciality is sleep medicine. He serves as the Assistant Medical Director of the Sleep Disorders Service at Brigham and Women's Hospital in Boston.
"Circadian rhythm also controls memory consolidation (the formation of long-term memories occurs during sleep); the timing of hormone secretion (for example, the hormones controlling body growth work mostly at night); and body healing," he adds.
Dr. Epstein's notes place circadian rhythm at the centre of our wellbeing, and places huge importance to it for cognitive function.
These factors impact professional athletes massively. Especially those preparing to peak and prime for the biggest sporting spectacle in the world. The smallest details, like muscle recovery (important for injury prevention and even incremental progress in performance) and mental wellbeing are all linked to it.
The impact of changing this will magnify manifold. The reason for this is simple and follows logic as well. Everything around an athlete, including the physical processes, his or her musculature, the endocrine system and mental parameters, are all in a heightened state thanks to the intensity with which they are trained. Keeping an individual in such a state comes with a caveat. If and when even a miniscule nut or screw goes loose, the impact on the athlete is much larger than say on a lay person. 
"This whole idea is ridiculous," says Dr. Rajat Chauhan, a musculoskeletal and sports medicine specialist based in New Delhi. "I do get the point of high performance training, and intensity, and priming for a time zone. But the logic that should be applied is pretty simple and not exactly undecipherable physiology. Do the Japan time while in Japan and not while in India. It will upset the whole system for the player. The impact is both physical and mental for it takes the person away from what is a set rhythm and system perfected with millions of years of evolution."
Also Read | No Salary, No Cricket: Non-Committal BCCI Adds to Jammu and Kashmir's Woes
Dr. Chauhan feels that the best athletes in the world are those who stick to the basics, and are not those who tinker with their natural selves and cycles. He explains the science behind sleep, recovery, and thereby wellbeing.
"Melatonin, which is released by the pineal glands, are important in inducing sleep. It kicks in by evening, once the sun is down, and stops at dawn," says Dr. Chauhan. "It is nature's clock in play. Melatonin production is linked with the sun… it is light which triggers the switching on and off of the gland. Additionally, sleep — the best form of rest — has an important role in performance. The body recovers best in deep sleep, what we call the REM. In that deep state of sleep, we dream, we get long-term memory reinforced. It is important to ease mental strain, and also for muscle rebuilding and recovery. 
"If that is tinkered with, which is bound to happen, when we force a change in bodyclock for instance, performance would be affected," he adds. "It can lead to injuries, mental fatigue and other psychological issues as well. There are many studies which have documented these, and I am surprised how, in our haste to apply science, we forget the basics and end up complicating and hindering things."
"It is a very precise process," says Ramji Srinivasan, director of Sports Dynamix, a high performance training centre in Chennai.
Srinivasan, the former strength and conditioning coach of the Indian cricket team, agrees in essence to the dangers in the process, but feels it is necessary to meet the demands of professional sport. He says athletes, being in the physical and mental state that they are, should not have an issue in adapting to such changes, and it is adapting fast that proves to be a difference between a medal and returning home empty handed.
"I am hoping the hockey team management are giving each and every player individual attention and documenting their progress. That is important since we are taking them through something unnatural. Having said that, this is a process that they will have to go through, be it here in India now, or during acclimatizing in Tokyo next month. The earlier they do the better, I feel, because they are essentially adapting much in advance and having already done that, they could focus on other important technical and physical aspects while fine tuning in Tokyo," adds Srinivasan, who is currently working with Games bound table tennis players Achanta Sharath Kamal and G Sathiyan. 
The two experts may have divergent views on HI's approach, but they concur on the fact that the best and natural course is to do it at the city they are playing in. Srinivasan cited examples of how globetrotting tennis players use Melatonin supplements to help combat the stress and strain of literally shifting of time zones overnight. He concedes that the sleep cycle is important and the more natural it is the better. 
Also Read | Coach Igor Stimac on the Ropes, Isac Doru Out; Indian Football Braces For Change
One assumes that the current schedule the hockey players will adhere to will require them to wake up at odd hours, and hit the sack earlier than what they would normally in India. To adapt to that itself, when the natural clock all around them hints at something else, takes quite a lot of effort and number of days as well. There itself lies the futility in it. Resetting the circadian rhythm, studies have shown, takes anywhere between 24 to 72 hours in a natural setting. That's three days. That's more-or-less the number of days we all need to recover from jet lag. Why subject the players — who are already in strain with various things including awaiting the final selection — to this process now, and open them to possible injuries and blocks. 
"Now don't tell me the Indian contingent in Tokyo will be landing so hard pressed for time that they will not have a couple of days to get their body clocks in order," says Dr. Chauhan. "I understand that with Covid-19 protocols, they may have to land well in advance. Out of which, the first three days will be spent in their rooms awaiting a negative test result. Those three days can be used to reset their circadian rhythm, and then, they can push themselves back to the levels they were at before boarding the flight. It is just the natural thing to do, and one can never mimic this process in a far away setting, with different parameters at play, and get away with it without something snapping."
Srinivasan, though, is more worried about the danger of drop in performance just because a few days were lost getting the body clock right. "These athletes can't afford even a day's loss you see," he says. "There will be a considerable drop in performance even with a day or two. So, adapting early, in my book, is better than going in and doing it just ahead of the Games. It comes with its own dangers for sure. That's why the execution part has to be very precise and systematic."
There are many ways to achieve peak performance. But they all require rigorous planning and execution to perfection. But superseding the desire for optimum output is the ethical maxim that the processes should not harm the subjects: elite athletes with a very small shelf life or window to perform at the highest level. Their wellbeing is a prerequisite and anything that has the potential to harm them should be kept away. 
And this goes beyond hockey or its attempt to tinker with the circadian rhythm. Both Dr. Chauhan and Srinivasan have worked with elite athletes in the country, and understand how performance science works in India. Both aver to how it isn't exactly scientific. They both hope that Hockey India's foray into priming of the circadian rhythm, is based not on a quick and whimsical idea, but set scientific protocols and monitoring. Newclick has approached Hockey India for more information on their methodology. The article will be updated accordingly.  
This quick fix is played out across sports in India, with just the cast varying from time to time. Take the case of OP Jaisha at the marathon in Rio 2016. Running in scorching heat, the marathoner reached a hydration station only to find the management had not arranged for her fluids to be there. It was a failure of the system, which should ideally be based on science and a process.
Also Read | Lamenting the Fall of a Great Wrestler
A subsequent deep dive into the matter revealed that the rehydration plan for long distance athletes is pretty arbitrary in Indian athletics, with the athletes themselves responsible for it rather than the coaching team during training. It is exactly the opposite for elite athletes abroad. 
Things are much more ad hoc in a sport like wrestling  — a medal prospect for India. Athletes like Bajrang Punia and Vinesh Phogat have taken charge of their training protocols and processes appointing personal coaches and support cast. But for most in the national camp set up — internationals including Olympic hopefuls  — things such as diet and specific training related to bout tactics and fitness etc are pretty generalised. We are talking about an individual sport here where precision in preparation matters a lot. That leads to underwhelming performances in big tournaments like the Olympics when the stakes are high. 
Lack of scientific and systematic processes is just one side of the coin. The other side — new processes (one should ideally call them quirky experiments) hastily pushed into the ecosystem — are equally damaging, especially since their results and scope are not well documented. The project usually gets discarded after it fails to hit the mark.
"Failure is a sad reality. Because that's how haphazardly such things are implemented here," Srinivasan says. "With this procedure in hockey, I am just hoping that they document things well. I am not sure if any sport — team sport I am talking about — has tried such things in India. So it is basically a pilot too. It's result and scope and parameters need to be studied and for that to happen, individual monitoring is important, and so is systematic documentation of data. It almost never happens in Indian sport."
Now, "never in India" sounds very harsh. The reality is even more hard-hitting though. Have you wondered why even now elite Indian athletes prefer either the one or two newly minted private facilities in the country or go abroad to train?
"There are many things that are arbitrary about sports science in the country," Dr. Chauhan adds. "The irony is that science in itself is not arbitrary. And most of the so-called experts in the country are not exactly well informed about the things that they embark on doing. And no one really points it out because everyone is hooked into the system, fed by it, and no one wants to be the one who upsets the applecart."
Also Read | Legendary Football Coach Sukhwinder Singh Shifts to Canada for Good
Indian sport is a nice little applecart, but carrying rotten ones aplenty; the rot symbolic of the state of affairs. The reality is that despite all the drum beating, the money spent and the processes implemented, India remain massive underachievers in world sport. This simple fact is highlighted in bold in an Olympic year. And once the dust settles, the stories and reasons for failure get buried in dusty files at the Sports Ministry, and the glitz of the one, two or three medals we manage, finishing low in the tally table.
India finished 67th in the medal table in Rio. We can, hopefully, match that this year, or maybe even make a significant improvement by entering the top 50 in the world. To achieve that, the first step seems to be syncing our athletes' sleep cycles to Tokyo time. Never mind, the quality of training or grassroots effort, dreams are what we are working for.
Get the latest reports & analysis with people's perspective on Protests, movements & deep analytical videos, discussions of the current affairs in your Telegram app. Subscribe to NewsClick's Telegram channel & get Real-Time updates on stories, as they get published on our website.
Subscribe Newsclick On Telegram