Legendary Football Coach Sukhwinder Singh Shifts to Canada for Good
Sukhwinder Singh, architect of many of India's famous triumphs at the world stage and creator of an inimitable JCT team has decided to leave India and Indian football, shifting permanently to Canada. In conversation with Jaydeep Basu, he lays his heart bare, reminiscing the good times and also listing out the regrets.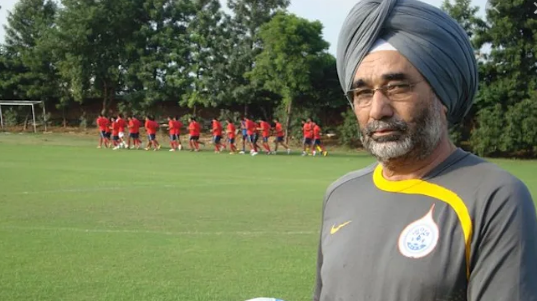 Legendary Indian football coach Sukhwinder Singh (Pic: AIFF).
The familiar figure of Sukhwinder Singh, one of India's most successful national coaches, will no longer be spotted on the country's football grounds in future. The man, who guided India to a historic win over UAE at the 2001 World Cup qualifiers, has decided to leave India for good.
"I am shifting to Canada permanently at the end of this week and unlikely to return unless there is an emergency. I have sold my house in Phagwara and have decided to settle down in Canada with my son. It was an extremely hard decision to arrive at, but I have finally made up my mind," the Dhyanchand awardee told this correspondent hours after his friend and fellow coach Jagir Singh passed away in Ludhiana.
Talking from his native village in Punjab, Sukhwinder said he was leaving the country, where he was born and lived for 72 years, with a heavy heart and tears in his eyes. "Because of the unusual circumstances prevailing in the country I couldn't meet many of my near and dear ones. I really don't know when I will be able to meet them again.
Also Read | 'There's Still Time To Fix This' But Does the BCCI Care to Identify the Faults?
"Jagir was one of Punjab's top defenders in the late 1960s and 1970s. We were friends for more than 50 years, played for JCT, Punjab and India together and were engaged in coaching after we stopped playing. He died of cancer in a Ludhiana hospital, but I couldn't go and see him for the last time because of Covid-19 protocols," said Sukhwinder with his voice choked with emotion.
"In JCT, Inder Singh and I were inseparable for many years. We played together and later, I was the coach and he was the manager for several seasons. Together we won the inaugural National Football League (NFL) title in 1997. Now I am leaving for Canada without being able to meet him either. I find it too frustrating," Sukhwinder laments.
Among Indian coaches, Sukhwinder enjoyed one of the longest spells in charge of the national teams at various levels — starting in 1986 when he was made the under-16 coach. After a couple of years with the sub-juniors, he spent three valuable years under the Hungarian Josef Gelei with the Under-19 squad. Thereafter, he remained the chief coach of the senior national team over two stints for nearly five years and also served as the technical director for the 2002 Asian Games.
"I had my opportunities with the India team and am proud to say I always did a decent job. But I have one regret," the great man says.
"Once I quit coaching at the club level around 10 years ago, no one came forward to use my technical skills and experience. Not even the All India Football Federation (AIFF). Not that I aspired to be the national coach again or desired any big assignments. But they didn't even think of involving me in the technical committee, where I could have been of some help. Now, I find so much is being talked about coaches' education and scouting of upcoming footballers. Don't you feel I could have added some value to it? Or is it only because I don't possess an AFC license and have a desi certificate from NIS," Sukhwinder asks.
Also Read | Tokyo Olympics: Over 80% in Japan Opposed To Staging Games, Survey Reveals
The genial coach is not far from the truth. His ability to spot talent during selection trials received praise from footballers and fellow coaches. In June 2002, when Stephen Constantine joined as the national coach, he had absolutely no knowledge of Indian players. Yet, he had only three weeks before starting the camp. Sukhwinder, as the technical director, was entrusted with the job to name the campers. His list of probables raised many eyebrows as it included a host of newcomers like Abhishek Yadav, Monitomba Singh, Tomba Singh, Praveen Kumar etc.
Eventually, the team made India proud. After a month-long camp in Jamshedpur, India went to Vietnam to play the LG Cup and won their first international trophy in 30 years. A month later, the team performed creditably in the Busan Asian Games before losing to China. 
Sukhwinder's finest moment, however, came in the run up to the World Cup qualifiers for Japan/Korea 2002. Pitted in a group that included UAE, Yemen and Brunei, Bhaichung Bhutia's boys finished with 11 points and missed the second round by just one point. Never in history had India played with such remarkable command in World Cup qualifiers. 
The most memorable tie was the opening match – the home clash against the United Arab Emirates in Bangalore. Coached by the redoubtable Henri Michel, UAE were ranked 66, in comparison to India's 121. Yet, Jules Alberto's goal of the match sealed UAE's fate. An angry Mitchel stormed out of the ground and refused to attend the mandatory press conference. In the reverse fixture, UAE won by a second half goal but the goal arrived only after India were reduced to 10 men. 
Sukhwinder, however, equally cherishes his achievement in the 2009 SAFF championship in Dhaka. "People generally don't talk about this tournament. But I know how difficult things were. The senior team was training under Bob Houghton for Asian Cup. Bob refused to release his players. So, I was asked to take the Under-23 to Dhaka and compete against nations who fielded their senior teams. Still, we emerged champions. It was a huge satisfaction for me," Sukhwinder said with a sense of pride in his voice. 
Also Read | NBA Launches Kareem Abdul-Jabbar Social Justice Champion Award, Will Donate $100,000 to Charity of Winner's Choice
In the later years, AIFF never recommended him for any award, not even for the Dronacharya, which he richly deserved. In 2020, when he decided to apply, Bhaichung Bhutia came forward to strongly recommend his name. Bhutia, IM Vijayan, Jo Paul Ancheri, Renedy Singh, Sunil Chhetri etc. had always been great fans of Sukhwinder and said they learned a lot while playing under him.
Sukhwinder believes he won't feel out of place in Canada since many of his relatives are settled in that country. But he will definitely miss Indian football. "Many of the former Punjab footballers are now living in Canada to earn their livelihoods. Some of them have played for India too. I would like to bring them under one umbrella and start something that will help Indian football," he signs off.
Get the latest reports & analysis with people's perspective on Protests, movements & deep analytical videos, discussions of the current affairs in your Telegram app. Subscribe to NewsClick's Telegram channel & get Real-Time updates on stories, as they get published on our website.
Subscribe Newsclick On Telegram