Azaan Furore: Students Demand AU VC's Resignation, Mosque Turns Down Volume by Half
On March 3 the AU VC Sangita Srivastava wrote to district officials seeking a ban on Muslim calls for prayer via loudspeakers from the mosque saying it "disturbs" her sleep.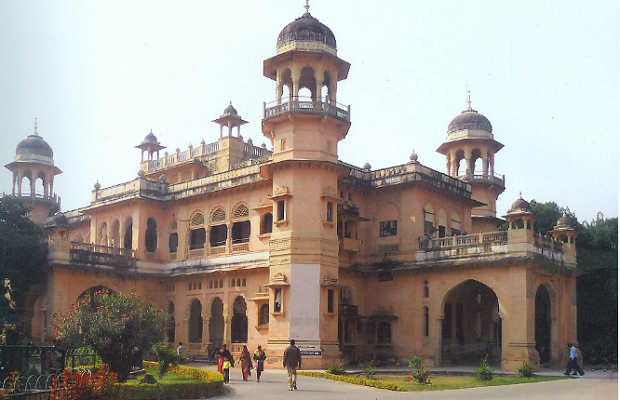 Image Courtesy: Business Standard
Lucknow: A day after Allahabad University (AU) Vice-Chancellor Sangita Srivastava complained about the "disturbance" caused due to morning azaan (prayer offered before sunrise) from a mosque in her locality in Prayagraj, a large number of student leaders staged a protest at her office on Wednesday.
On March 3 Srivastava wrote to district officials seeking a ban on Muslim calls for prayer via loudspeakers from the mosque saying it "disturbs" her sleep.
Aside from asking for Srivastava's resignation, students also demanded that she be terminated from her post by the President of India or that she resigns herself. AU students burned Srivastava's effigy and condemned her statement which, they said, went against the ethos of the Ganga–Jamuni Tehzeeb. Student leaders gathered in the varsity's lawns and raised slogans like 'AU VC sharm karo, sharm nahi to doob maro (AU VC should be ashamed, if not then she should die by drowning). Following yesterday's incident, policemen in large numbers and an RAF contingent were deployed near the university gate to maintain law and order.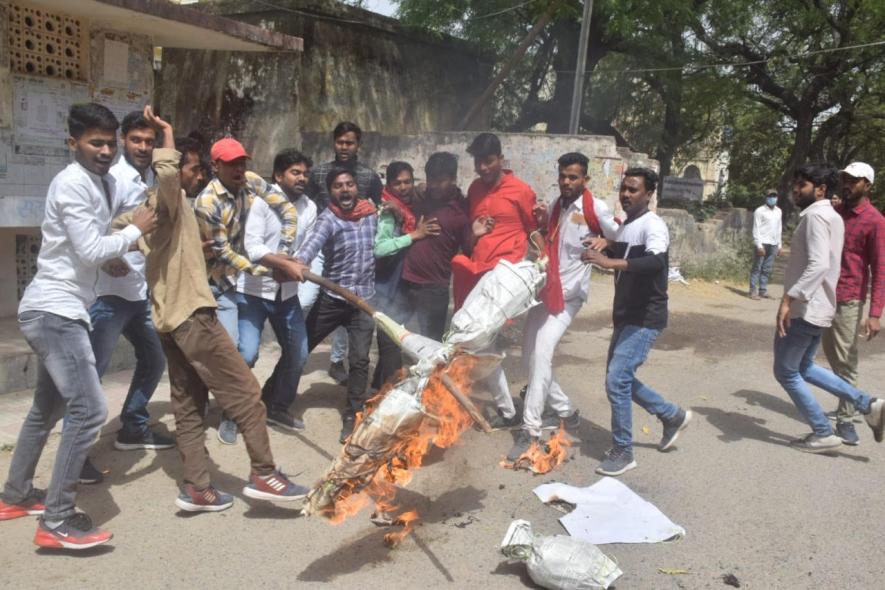 Ajay Yadav Samrat, a postgraduate student of law in AU, and a key organiser of the protest on Wednesday, told Newsclick that the students had been protesting "for the restoration of student unions – which have been banned since 2018 – for the last 240 days on the campus; protesting to reopen libraries in the campus so that we are able to complete our research work and dissertation on time. Our submission deadline is near but neither did our VC take note of grievances pointed out by students nor did any representative from the university visit us. However, she was very quick to comment on azaan as it suits her politics," said Samrat, adding that the VC's husband, Justice Vikram Nath, is the Chief Justice of the Gujarat High Court and that what she said was to appease her "masters".
Accusing her of playing a part in the "appointments scam" at AU and how only teachers with the last name 'Srivastava' were being appointed in every department, Yadav said: "Whenever the VC is outside Allahabad an acting VC, the senior-most person in the university, is appointed. However, she favours anyone whose last name is Srivastava," the student leader alleged, seeking a probe into her appointed. "She (Sangita Srivastava) was earlier a guest faculty at AU. Who made her VC?" Yadav questioned.
AU had turned into a police camp despite the fact that there were no students and no classes were taking place, students claimed.
Echoing a similar view, former Allahabad University Students' Union vice-president Adeel Hamza said: "We (students) are pained to see this odd reaction from an official in a constitutional post." He said communal harmony was at India's core and that it was unfortunate that speaking against religions had "become fashionable these days". He demanded strict action against Srivastava for creating "religious hysteria".
Accusing the VC of "misusing" AU's letterhead for her own good, Hamza said that if the VC was facing a problem due to the prayer "she should have personally visited the district administration office rather than using the university's name to put pressure on the district magistrate."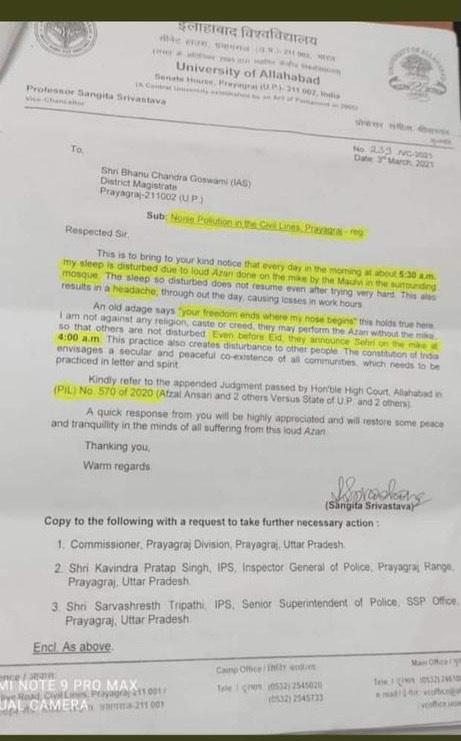 The students, along with a few leaders, marched to the DM's office and handed over a memorandum addressed to the President of India, Ram Nath Kovind, demanding Srivastava's immediate termination.
Newsclick reached out to the VC for her version. Her public relations officer said she was busy with a "family function" and was not available for comment.
Prayagraj DM Bhanu Chandra Goswami told Newsclick that he had "received a complaint about the matter and necessary action has been taken as per norms."
MOSQUE COMMITTEE TURNS DOWN VOLUME
The management committee of Lal Masjid near the AU campus on Wednesday changed the direction of one of its two loudspeakers and turned down the volume to half soon after Srivastava's letter.
Kaleemur Rehman, a member of the mosque's management committee, told Newsclick that the speaker's volume, already set a decibel lower than norms put in place by the Allahabad High Court, "has been further reduced by half and the direction of one of the loudspeakers has also been changed so that the sound emitted was away from the VC's home." Rehman told Newsclick that the issue could have been solved if she had approached the committee instead of politicising the issue.
He added that the management committee had ensured that there was no inconvenience to anyone living near the mosque due to azaan.
Mentioning that her sleep was disturbed, Srivastava had written that the azaan gave her a "headache throughout the day" and caused a loss in working hours. The VC claimed that she was not against any religion or caste and suggested that the call for prayer be issued without a microphone so that other people were not disturbed.
She also complained about the announcement of Sehri (the pre-dawn meal that Muslims eat before the start of the Ramzan fast or Roza). "This practice also creates disturbance for other people," she added.
Srivastava cited an Allahabad High Court judgment from 2020 that said azaan or the call for prayers was an integral part of Islam but said the use of loudspeakers was "inessential" to the practice. It banned the use of any sound-amplifying devices between 10 pm and 6 am. She appealed to the district magistrate to "restore some peace and tranquility" in the minds of people suffering due to the loud call for prayer.
Get the latest reports & analysis with people's perspective on Protests, movements & deep analytical videos, discussions of the current affairs in your Telegram app. Subscribe to NewsClick's Telegram channel & get Real-Time updates on stories, as they get published on our website.
Subscribe Newsclick On Telegram