Azad Ends J&K Anti-Encroachment Drive Protest After Amit Shah's Assurance
The Democratic Azad Party chief said that the Union home minister and the LG had assured him of excluding the poor from the ongoing anti-encroachment drive.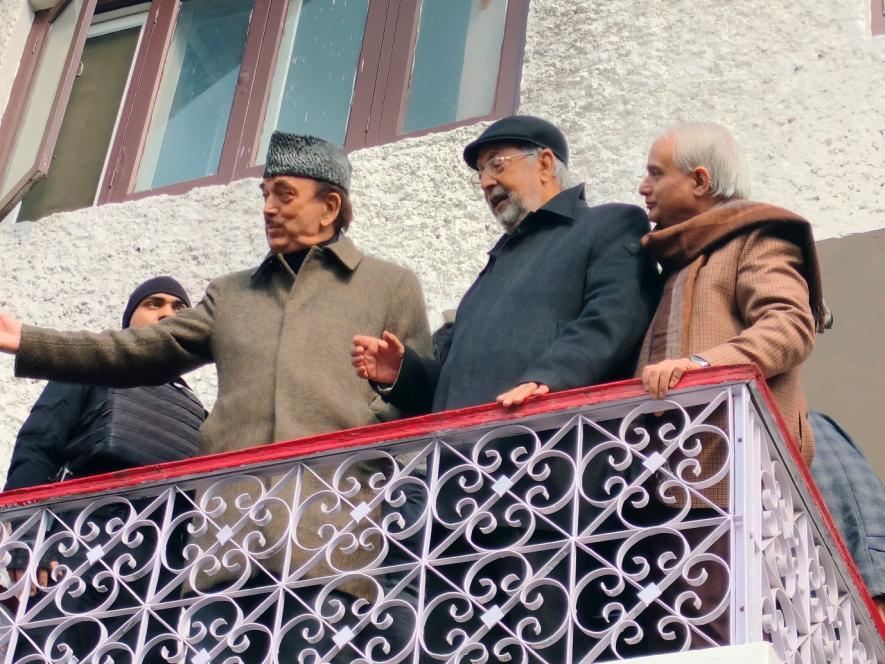 Democratic Azad Party president Ghulam Nabi Azad addresses party workers in Sonwar, Srinagar, on Saturday.
Srinagar: Democratic Azad Party (DAP) president and former Congress leader Ghulam Nabi Azad called off his party's regionwide protests against the ongoing anti-encroachment drive in Jammu and Kashmir (J&K) on Saturday after he claimed that lieutenant governor Manoj Sinha and Union home minister Amit Shah had assured him of excluding the poor from it. 
Addressed party workers in Srinagar today. I told them to call off the agitation since HM Amit Shah Ji & LG Manoj Sinha ji assured me poor wl not be touched during anti encroachment drive. But we request the LG admin for written order to end the prevailing chaos on ground! pic.twitter.com/xj20zyG6Ex

— Ghulam Nabi Azad (@ghulamnazad) February 4, 2023
Azad's Democratic Azad Party (DAP), which also called off an agitation planned in Srinagar, held a peaceful protest inside its office in Sonwar attended by more than a hundred supporters.
"The government has been issuing contradictory statements for the last few weeks, which has led to confusion. I heard the chief secretary issuing tough orders to DCs that the order is implemented in letter and spirit," Azad pointed in his address to the party members.  Some DAP leaders said that the matter would be resolved in the next few days. 
The former Rajya Sabha Opposition leader and chief minister (CM) said that he had met with Sinha and Shah and was assured that no poor family or anyone from the marginalised community would be affected by the encroachment drive.
Met union Home minister Amit Shah Ji regarding land eviction issues in J&K. Apprised him about the prevailing unrest & uncertainty among the common people who are forced to vacate the properties which are otherwise recognized by successive regimes. 1/2 pic.twitter.com/6shlFtQEbJ

— Ghulam Nabi Azad (@ghulamnazad) February 2, 2023
However, after witnessing the opposite on the ground, Azad said that he urged the authorities to issue a clear order to administrative and revenue officials who had served notices to poor families as well. 
Azad, accompanied by his party colleague GM Saroori, was welcomed with slogans supporting his candidature as the next CM. His appearance at the party headquarters in Srinagar comes after he was denounced by his former party colleague Jairam Ramesh during the Bharat Jodo Yatra.  
Azad also used the opportunity to take a dig at other regional political parties, which he said, only issue statements but do not hit the streets to protest like DAP. The DAP has held protests in Poonch, Rajouri, Kathua, Jammu, Kisthwar and Doda, and parts of north and south Kashmir. Similar protests, however, were led by the National Conference and Peoples Democratic Party (PDP).
Azad said that he does not support "land grab" by any top influential person—whether a politician or a businessman—and, in fact, welcomed the drive but argued against similar action against the poor.
 "There are families who should not be touched because it will affect more than 50 lakh persons. No government can render half of its population homeless. It is both against the interests of people and the government," he said.  
The party leader argued that in the metropolitans of Delhi and Mumbai, every year lakhs of kanals are encroached upon. However, the government still provides such families with electricity, water and healthcare. 
"All political parties during election campaigns make promises that these lands would be regularised. If this can happen to prime land banks in the country, why is J&K being treated like a laboratory?" Azad said.  
Azad also called for relief for people grazing cattle in mountainous areas where authorities are retrieving Kahcharai from encroachers.  "Thousands of families living in 8,000-10,000 ft high areas should also be excluded as they have been grazing cattle for centuries and there is no alternative to their livelihood," he said. 
Most political parties, including the BJP local leadership, have called for action only against what they refer to as "big sharks" and safeguard the poor from the drive, which was earlier announced by Sinha. The parties have alleged the order is not being implemented. 
Following a recent meeting, the chief secretary directed deputy commissioners of all districts to "personally monitor" the drive and submit daily progress reports. The top official also asked the police to inquire or investigate any person found making "negative statements" regarding the drive. 
Azad added that a uniform order should be issued to end the "confusion" caused by different versions from officials and the LG's office.
Get the latest reports & analysis with people's perspective on Protests, movements & deep analytical videos, discussions of the current affairs in your Telegram app. Subscribe to NewsClick's Telegram channel & get Real-Time updates on stories, as they get published on our website.
Subscribe Newsclick On Telegram