Babri Masjid Demolition: Journalists Recall the Horror
Photographs and eye-witness accounts indicate that the demolition was a carefully planned act by Hindutva groups.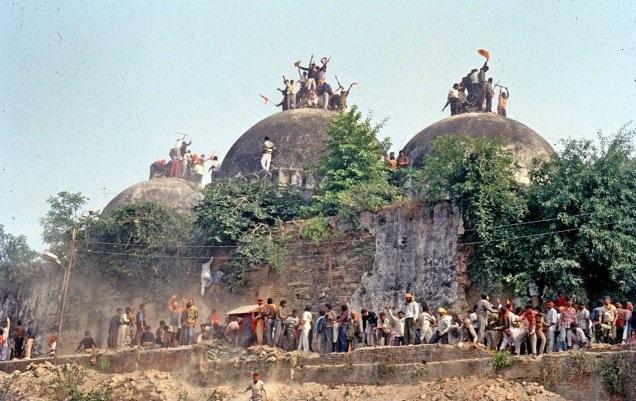 The Babri Masjid (mosque) in Ayodhya was razed to the ground on December 6, 1992 defying the Supreme Court's order that the structure be preserved. The screams of exultation with each blow of a pickaxe, each thrust of a rod, each dome that came crashing down. If there were no implements, as India Today had reported – the frenzied hordes would have used their bare hands to the same effect, so powerful was the poison that coursed through their veins in those few hours of madness.
Shortly after noon, the Babri Masjid's three domes had been turned into rubble by Kar Sevaks. In the melee, journalists were also attacked.
Newsclick spoke to some journalists who were reporting the incident from 'ground zero'. This is how they described the horror:
Sharad Gupta(who was associated with the Lucknow edition of The Times of India)
I reached Ayodhya on December 4, 1992. There was a milling crowd. There was hardly any space left for vehicles to be driven. All streets were completely covered with humans. There was crowd all around chanting 'Jai Shri Ram'. In fact, the fervour had been bleated by the VHP (Vishwa Hindu Parishad) and, of course, the BJP (Bharatiya Janata Party), the RSS (Rashtriya Swayamsevak Sangh) for a long time.
The build-up was already there. The Kar Sevaks were apparently looking for Mark Tully of the BBC (British Broadcasting Corporation) because they had been told that he was misreporting. In the confusion, they thrashed a German TV person on December 5, 1992.
On December 6, 1992, VHP and BJP leaders were performing the symbolic Kar Seva. Since the ritual had been repeated at least three-four times, the Kar Sevaks had already given up their patience. By this time, they seemed to be planning to do something. 
A couple of pictures clicked by then Pioneerand nowThe Indian Express photojournalist Praveen Jain proved that planning had been going on for a long time. There were probably a group of people (basically Shiv Sainiks from Maharashtra) who had planned the demolition. As soon as Kar Sevaks climbed atop the mosque and began damaging it, another plan was unleashed. It was not apparently the plan drawn by Shiv Sena. It was obviously a plan chalked out by VHP and RSS to beat up journalists. Anyone with camera was their prime target. They did not want to leave any evidence of their participation and active role in the demolition because they knew that it would be used against them in the court.
With this aim, they attacked journalists, photographers and damaged their equipment. Anyone with a notebook and a pen was targeted. All journalists were asked to assemble in a couple ofashrams, which were closed. They could not see the structure being demolished.
Only a handful of journalists could actually witness the demolition. I saw the entire episode as I was not part of the group. I hid myself in a mustard field, around 100 metres from the mosque.
Since the mosque was already at a low level and I was at the level of dome, I could see people atop and what they were doing.
There was no police presence at all. Since I was at a height, I saw around 10-15 policemen sitting under a tree and chatting. No policeman tried to stop the demolition.
At one point, I could hear an announcement being made on loudspeakers that para military forces had started from Faizabad and "we have to stop them at any cost". Following this, vehicles were parked in the middle of the road, the security forces were stopped physically and were not allowed to move in Ayodhya till the entire structure was razed to the ground.
When I was returning, I could see burning tyres strewn on the road connecting Faizabad and Ayodhya.
CP Jha (UNI correspondent and a prosecution witness of the Central Bureau of Investigation)
At that time, I was working with the United News of India (UNI).  I was transferred from Ramgarh – now in Jharkhand – to Ayodhya in 1991. Why I was transferred? There was a fake news that Kar Seva had started in 1991 when Mulayam Singh Yadav was the Chief Minister of Uttar Pradesh.
When the demolition began, I was there. As a representative of thousands of newspapers, all the journalists who were present there wanted to keep me safe. I was hiding in a room operated by a local RSS functionary who was manning an outfit to get news about Kar Sevaks.
Somebody saw me outside. He asked me to come in and instructed me to not give out any news. I went to the toilet, took out my cigarette pack and tore it in five parts. It had three-four news flashes which I wrote on them and sent it to Delhi through my local boy.
I was attacked as well. When I was returning, a few people spotted me and shouted 'dekho, dekho, ja raha hai (see he is going)'. The crowd threw bricks on me but I somehow escaped.
Praveen Jain (photojournalist with the Indian Express, then with the Pioneer)
Actually, every journalist was curious about what will happen on December 6. Whether the mosque will fall or not.
On the evening of December 4, I met a friend who was a member of the VHP. He was an MP (member of Parliament) and his name was BL Sharma 'Prem'. He was an MP from East Delhi. I knew him and he was also present in Ayodhya. I asked him, "Will the Babri Masjid be demolished?" He asked me to wait and watch. He also informed me that they were conducting some rehearsal of the demolition. He took me along with him the next morning.
I was the only journalist. I wore a VHP badge and wore saffron clothes to mix with the crowd. They took me inside the premises. I was really shocked as a full-fledged rehearsal of demolition was being carried out.
This rehearsal was taking place just half a kilometer away from the Babri Mosque. As you can see in the photographs, the people involved in the act were thoroughly professional, and were carrying hammers, crowbars, pickaxes, and other building equipment.
The interesting part was that there was a mound of soil. Around this mound, they were using an iron grill to help them mount, using ropes. The same method was used in the demolition of Babri Mosque.
If you see the photograph, you will find that when they had to destroy the mosque, they had to get on top of it. The same ropes that were used in the rehearsal a day before, were tied around the Babri Masjid.
Among the crowd in the rehearsal, there was one person who had his face covered. All Kar Sevaks I saw in the rehearsal were very professional. But the man with hidden face looked like the mastermind of the crowd. He was giving instructions to the Kar Sevaks on how to carry out the exercise. I think he was probably an engineer who didn't want to give away his identity. I clicked pictures of the entire rehearsal.
When I returned, I informed my colleagues and friends about the demolition rehearsal. But nobody believed me. I was working withThe Pioneer. No one believed that anything like this had happened. That's why the newspaper published the pictures with simple captions.
On December 6, we reached the Babri Masjid site. Two platforms had been set up near the site. One was for VIPs like LK Advani and Murli Manohar Joshi. Another was a 3-4 storeyed building from which all the media personnel were covering the entire episode.
When the people started tearing down the mosque, they suddenly started attacking the media as well. Most of the affected were those who were carrying cameras. Actually, they were briefed to destroy all evidence of the demolition.
So, the mob got hold of cameras of journalists and started throwing them down from the building. We ran away towards the VIP platform so that we could ask the leaders to appeal to the crowd to not target the media.
I hid my camera inside my jacket and went up to Advani. I told him that "this is what happening and you should ask them to stop". Nobody was bothered that the press was being targeted. Instead, they were chanting slogans from the deck like 'Jai Shri Ram' and 'Supreme Court Ki Aagya Ka Paalan Karo'.
SC's order was that mosque should not be demolished. But after chanting this slogan, they were laughing. They were just joking at SC's order to preserve the structure of the mosque and the public was laughing at these slogans.
I still remember, that then Prime Minister Narasimha Rao was eager to see photographs clicked by me. RK Khandekar was the PM's OSD (officer on special duty). I knew him personally. He called me up saying that Sir wants to see those pictures. I explained the context and story behind the pictures to Khandekar and he then he informed the PM that everything was pre-planned.
I was with the leader of the VHP. I think he was the big boss. I wasn't taking pictures surreptitiously because I was feeling comfortable with him. I still go to Lucknow court as a witness. Even the judges have acknowledged that I am a key witness. During the last hearing,  the judge told me that he had a lot of evidence that points out that the entire thing was pre-planned.
I have archived the negatives of those pictures so that they are not destroyed. So, whenever the court needs them, I can present it before the court. I was constantly threatened inside the court by the lawyers of Bajrang Dal, Shiv Sena during the arguments. I got abuses over phones. They even showered filthy abuses on me in front of a judge.
Get the latest reports & analysis with people's perspective on Protests, movements & deep analytical videos, discussions of the current affairs in your Telegram app. Subscribe to NewsClick's Telegram channel & get Real-Time updates on stories, as they get published on our website.
Subscribe Newsclick On Telegram