Bagga Case an Example of Shadowboxing by Politicians who Used Police Officers: Former IPS Meeran Borwankar
Vrinda Gopinath interviews retired IPS officer Meeran Borwankar. They discuss the recent Bagga case, excesses by police and police reforms in the country.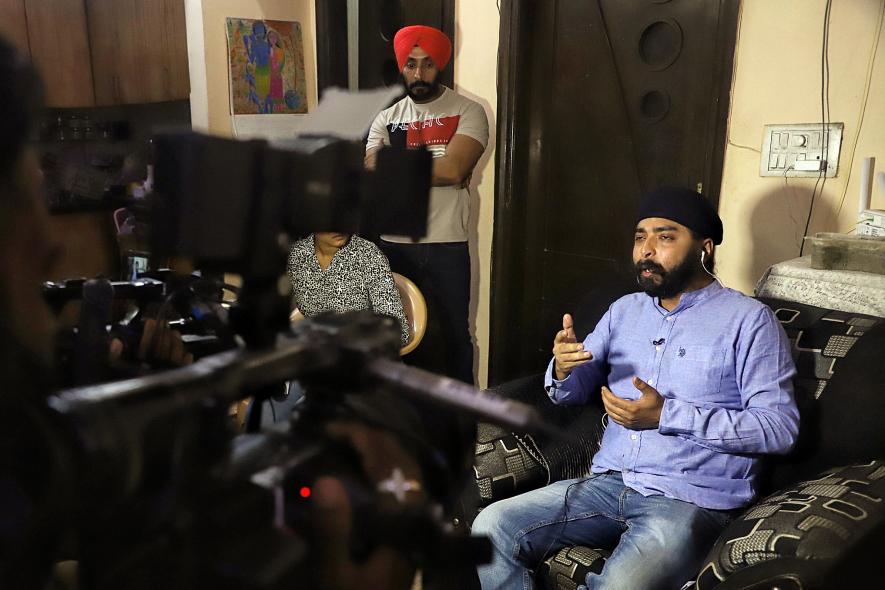 Former IPS Dr Meeran Chadha Borwankar has been DG, Bureau of Police Research & Development and DG, National Crime Records Bureau. She has also served as Inspector-General of Police State CID (Crime) and as Deputy IG in the CBI in Mumbai and Delhi. At present, Borwankar is a member of the core advisory group of the criminal justice reform constituted by the Human Rights Commission.
Borwankar shot to fame for unearthing the Jalgaon sex scandal and played a role in the extradition of infamous underworld gang members Monica Bedi, Abu Salem, Iqbal Mirchi, Sharmila Shanbag, etc. She was also the inspiration for the Bollywood film, Mardaani, which had Rani Mukherjee in the lead. 
The decorated retd police officer, who received the President's police medal for distinguished service, discusses the unseemly fight between police departments in different states when they all should be working together. 
----
Vrinda Gopinath: As the arrest drama of the BJP's Tejinder Pal Bagga case shows, the unseemly fight has dragged the Punjab, Haryana and Delhi police - is it natural that state police forces are fighting each other?
Meeran Borwankar: It is not normal at all. This may happen once in a while but at the junior level, where an overenthusiastic inspector goes to another state to arrest a person and does not follow the proper procedure. The senior officer will always intervene, and things are sorted out in such cases.
But here (in the Bagga case), it seems it is a case of shadowboxing by political leaders, and senior police officers have also been involved – it is not normal or natural.
VG: Obviously, it is also not something to be desired?
MB: Not at all. As we have discussed in our group of senior officers, we used to intervene, coordinate and defuse such episodes. After all, we want to collaborate with our colleagues and help each other arrest accused criminals. Still, this kind of attitude (by both politicians and police) and such incidents prevent effective collaboration between different state police organisations. So, as we discussed in our senior police officers group, this was highly avoidable; none of the three state police of Delhi, Punjab and Haryana at the senior level should have gotten into it.
VG: What do you think they could have done?
MB: If I were the Punjab Police, I would have first tried to convince the Chief Minister or politician who was keen that so-and-so person should be arrested – that we must follow procedure. As the media reported, Punjab police issued five notices. Then, we should have got a warrant of arrest, which is non-bailable. It is a long procedure, but I should have been able to convince the politician that not following the procedure would embarrass us. As I can see, it is a new government in Punjab with hardly any experience. 
I understand doing all this very enthusiastically if you were looking to arrest a terrorist but not in this case (Bagga). As a police officer in Delhi, Punjab or Haryana, I would not have allowed myself to be used, which unfortunately happened.
VG: Look at the other side. The way Delhi and Haryana (which have BJP governments) have acted, was it permissible?
MB: Absolutely. Delhi or Haryana police could have spoken to the Punjab DG that the father has complained that his son (Bagga) has been taken away and that we are forced to register a case. So, how do we handle this? What is the way out? Even if the Haryana police had stopped the arrest, we could have discussed how to diffuse the situation at the senior level between Delhi, Haryana and Punjab police forces. This could have been a better way. 
VG: Was the Haryana police correct to stop because Punjab police had a warrant of arrest?
MB: What I'm saying is that it's all shadowboxing. I'm not sure whether the Punjab police had an arrest warrant because I have read that they had served five notices to Bagga.
Everyone was acting by the directions given by the politicians instead of acting as professional police leaders and bringing it to the notice of the politicians that we were embarrassing ourselves, the organisation and the states. Instead, they fell prey to this regrettable episode, and I'm sure everybody is repenting now.
VG: What can the police do when there is this kind of coercion from politicians?
MB: I have been in the police service for 36 years. I would have told the politicians about the ramifications, specifically that all three police forces would be embarrassed. It has often happened that an IPS officer cannot convince the politician; we then take the help of the Home Department. We tell the politician, here is an impartial man from the home Department who can tell you the implications. In 99.9% of cases, we have been successful in convincing politicians. 
But if this does not happen, without bringing it on record, orally or in writing, but you agree to what they are suggesting, then this is what happens (as in the Bagga case). 
VG: Were you ever in this kind of situation?
MB: Yes, it happened once when I had sent a team to Delhi to arrest two of Chota Rajan gang members – when we were told not to arrest them and take them to Mumbai.
VG: Was it from the Home Ministry in Delhi?
MB: It was at a very high level, I don't want to disclose, but what I did, I had to pay a hefty price.
VG: What do you mean by that?
MB: We will talk about it some other time, but I decided I would go by the law book as you are flying your officers from Mumbai to Delhi.
VG: Which year was this?
MB: It was in 2006. When you are flying your team from Mumbai to Delhi, it's already clear that you will get hold of the suspects and fly them back. Even if you get instructions that I got to leave them, and I paid a heavy price but had I agreed to the unlawful, illegal instructions and asked my officers to release these two guys, I would have probably been suspended anyway. This particular case (Bagga) was not a sensitive operation. It could have been managed in a much more professional way.
VG: What is apparent is the political powers in Delhi had decided they were not going to allow their people to be picked up - don't you think it is very extreme?
MB: Delhi has been giving these messages for a very long time.
VG: Very long time with respect to this regime?
MB: Absolutely.
VG: You mean to say the Narendra Modi Government?
MB: Yes. However, even earlier regimes may have but have not gone to this extreme. The boundaries are very clear, and I feel in this case, the AAP and Punjab CM are novices, and they could have been advised better. 
VG: Do you see Home Minister Amit Shah, under whom the Delhi Police fall, have allowed handing over of Bagga to the Punjab police even after the latter has gone through due process?
MB: Absolutely, because if there is a court order, then you have to hand over. If you have to improve policing and a quicker trial of cases (courts must intervene), and in this particular case, if they had got a court warrant and followed proper procedure, I don't believe Delhi police can obstruct.
VG: Are politicians pitting different police forces against each other?
MB: What I see is the Centre going beyond the federal spirit, and states are resenting it. It's a turf war, and presently, the Centre is very strong with 18 states with them. But I am happy to note that states are not reluctant to put up a strong fight against the Centre.
VG: What would you say about the Haryana police stopping the Punjab police on the grounds of kidnapping? How can police be accused of kidnapping?
MB: Here it becomes legal because if the father is saying my son is kidnapped – and the Supreme Court order says don't apply your mind at the moment, first register the case -- and later you register the case whether it is a kidnapping or was a proper process of law etc. I think it is a grey area.
VG: For instance, dalit leader Jignesh Mevani from Gujarat was also picked up by the Assam Police and put in jail there, so much so even the Sessions Court Judge said the arrest was false and state police are turning Assam into a police state. Isn't this an instance of excess from the state police of Gujarat and Assam? 
MB: This also shows the Centre not having any respect for states, states which are being ruled by the same party in the Centre and states like BJP or their allies fall prey to instructions which are not correct. They are over-enthusiastic and also embarrass themselves.
VG: Is it over-enthusiasm, or do they believe in the jackboot kind of governance and using the might of the state?
MB: Both, jackboot and might of the state.
VG: Would you think this kind of excess is more rampant now than ever before?
MB: It looks like. I'm scratching my head to remember incidents earlier also; however, I would not use the word leaders for politicians because they are politicians and not statesmen. Earlier, we had few people who could go beyond petty politics; today, it is roadside politics.
VG: It is a vicious kind of politics because it also crushes dissent?
MB: It is crushing dissent and also scaring people.
VG: Would you say something like this happened in Maharashtra when the Bihar police arrived to gather evidence in the Sushant Singh Rajput case; it was later handed over to the CBI. Do you think something similar happened? 
MB: It was a very immature act, but generally, Maharashtra police are very mature, and even the leadership is mature.
VG: Maharashtra resented the Bihar team, and they did not want it? 
MB: In Maharashtra, it happens once in a while, but in the Centre and the states ruled by BJP, it is the pattern.
VG: First, the Bihar police swooped down in Maharashtra, and then the Centre got the CBI and ED to take up the case. Are you surprised by that?
MB: I think the family of Sushant Singh Rajput insisted CBI should take up the case; I have worked in the CBI, and cases are taken up under family pressure. But in this particular case, the publicity and the time we wasted on the case were unfortunate.
VG: Overall, the case was built on nothing, and it was based on flimsy evidence that it was a murder? Are you surprised by how the whole case was twisted deliberately to make it a big story, where you can create a story out of nothing?
MB: Yes, absolutely, but these days, we are creating stories because we don't want to talk about unemployment, pollution, health and education. Sure, you can discuss Bagga for a day, like what is the law etc., but then the media goes on and on. 
Why not discuss how many people we lost in the pandemic? WHO is calling out India. The agency says we have lost much more numbers than what the Indian government is disclosing, but we're not talking about it.
VG: Many non-BJP chief ministers like Uddhav Thackeray and Mamata Banerjee have accused the Modi Government of using central agencies like ED, CBI and NIA to harass them. Is it a valid accusation?
MB: I see there is some truth in it.
VG: What has convinced you?
MB: One example is Election Commissioner Ashok Lavasa, IAS, who came out with a note of dissent, and the way he was hounded. As ordinary citizens without knowing what is going on inside the government, they have successfully scared everyone, which is very unhealthy for democracy. 
We should be allowed to speak and give our opinion, and the government should listen to us.
VG: Are you surprised with the Modi government because there is a history in Gujarat?
MB: Ruling the state is different. At the national level, you have to be a statesman. There is increasing confrontation between the states and the Centre by the day because of the latter's very negative attitude to dissent.
VG: Almost eight states, including West Bengal and Mizoram, have withdrawn general consent to CBI to investigate in their states? Is it also not a healthy precedent? 
MB: Because we lack the leadership, states and the Centre are fighting to the extent that eight states have withdrawn consent to CBI.
VG: It may be valid, but at the same time, it can also allow states to get away with misconduct, and this is not justified?
MB: This is where citizens should take more interest in governance. States should not be allowed to put severe cases and crimes under the carpet. 
Why do we assume only CBI can do justice to an investigation. Every state has a very strong CID department. We also have digital records of criminals, so why should we rely only on CBI. The media should hold the state police and state governments equally responsible for getting good detection and conviction of crimes.
VG: Have you all worked towards beefing up state police?
MB: I don't know about the other states, but in Maharashtra, we have not invested in judicial infrastructure -- there's a lack of judges, policemen and prosecutors. Sometimes I feel this trend is seen all over India. We are penny wise and pound foolish. We have to invest in the criminal justice system so that a case that is registered in January 2022 is decided by December 2022.
VG: When you say penny wise and pound foolish, are you saying we are spending a lot on technology?
MB: By delaying trials, the kind of indiscipline and law and order in the country, the economic cost is high – when foreign investments come in, they look at crime rates, law and order. We are so low in the criminal justice ranking we could have attracted double the amount of foreign investment what we have today.
VG: Would you say the NIA, which looks into national security, has been going slow on Samjauta or Hyderabad blast cases, or even Pragya Thakur, now an MP? What can be done?
MB: Speedy trials. The moment the NIA gives evidence to the court, and the previous evidence collected by ATS Maharashtra say, or some other state agency, all evidence is then critically analysed by the judicial officer. We are doing immense harm to our anti-terrorist initiatives by not trying these cases promptly. The only way out is speedy trials and judicial scrutiny of evidence collected by or not collected by the investigating agencies.
VG: As you know, an under trial languishes in prison for years for stealing a slice of bread, as these cases go on forever. Do you see any way out?
MB: More judges, more prosecutors, more police officers. Why are we not investing in them?
VG: How can we do it? Is there a group of senior retired police officers like you working with governments?
MB: We have the police foundation, there are senior police officers at the state level and the Centre, and we keep pressurising them. Sometimes I will wonder whether there is a vested interest in keeping the cases pending. Even the CJI, in the recent conference with all Chief Justices of the High Court, has flagged this issue. I am surprised there is no political will.
VG: Have retired senior police officials got some reforms going while working with various State governments or police you are dealing with?
MB: Yes, reforms and initiatives at a very smaller level, but at an institutional level, we cannot even implement the Supreme Court mandated reforms of 2006. And we are in 2022 today. The reforms said there should be state security commissions for all appointments, from the thana-in-charge with whom a citizen comes maximum in contact to the commissioner of police; if they are posted on merit, the citizen will get much better service. 
VG: But this seems to be a dream situation. Can it be ever achieved?
MB: It can be achieved if the media and different citizen groups join in.
Get the latest reports & analysis with people's perspective on Protests, movements & deep analytical videos, discussions of the current affairs in your Telegram app. Subscribe to NewsClick's Telegram channel & get Real-Time updates on stories, as they get published on our website.
Subscribe Newsclick On Telegram