UP: Banda's Dalits, Tribals Still Await Roads, Basic Amenities in Adityanath Govt's Second Term
Since no steps have been taken despite agitations, local lower castes and tribes have initiated a Satyagraha on June 21 to demand accountability from those in power.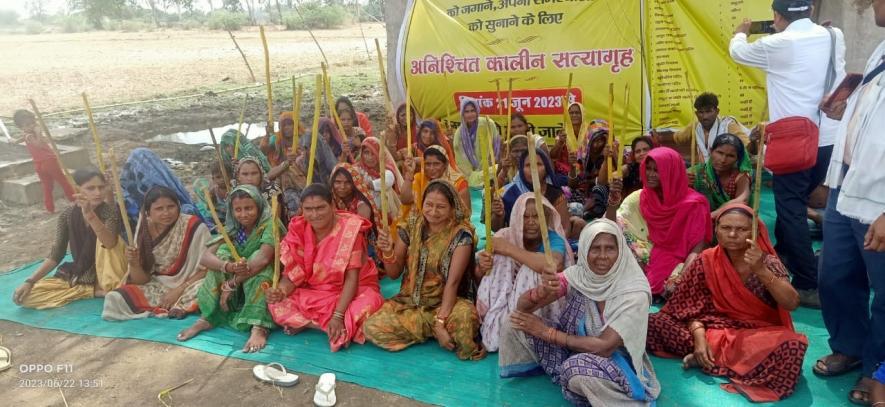 Photo- Special Arrangement
Banda/Lucknow: In Banda town in Uttar Pradesh's Bundelkhand, a tar road is a luxury that can save and build lives. Upon entering Raja Ram Ka Purwa village, one is transported back in time to the medieval era – with the absence of roads connecting the village to the nearest town. For decades, the villagers have been deprived of the experience of road travel altogether.
Upper castes have often barred lower caste families from crossing the village using their property. In case lower castes are desperate to cross the village using the upper caste property, they have to pay a price for it – begar (in the form of free labour). 
Raja Ram Ka Purwa has a small population of 700, dominated mainly by Kuchbandia tribals and dalits. It should be noted that only five upper-caste families residing here manage to restrict the movement of the tribals and dalits.
Blocking of the passage by the upper castes has not only forced lower castes and tribals to provide begar, but also cost as it has stopped people from reaching a hospital in time. The absence of a proper road has enabled upper castes to maintain power, depriving children of education and forcing them to carry the sick on their shoulders using a cot to reach hospitals.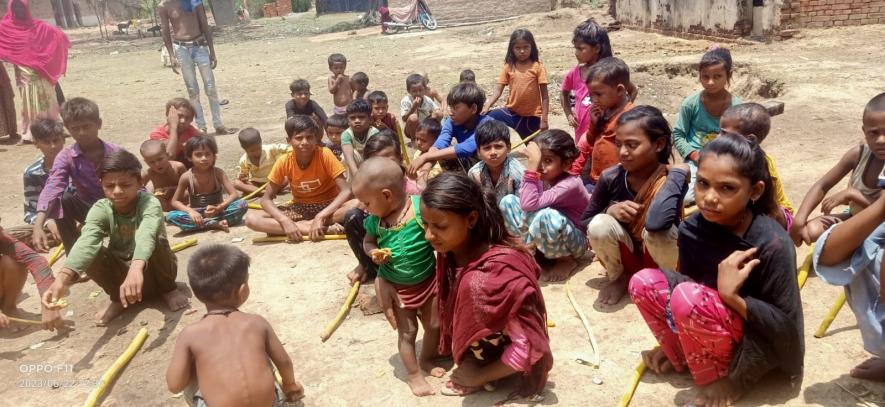 Children do not go to school due to lack of road
Since no steps have been taken despite agitations, local lower castes and tribes have initiated a Satyagraha on June 21 to demand accountability from those in power. This movement is led by women, who are also receiving support from women in neighbouring villages, as Raja Ram ka Purwa continues to be without a proper road in the 21st century.
Fed up with false promises from politicians, Manoj, a villager, told NewsClick, "We have been demanding a motorable road to our villages for more than four decades but nobody has taken note of our demands. Therefore, we have decided to begin Satyagraha as it always brings revolution."
When asked about begar or providing free labour to cross the upper castes' lands, he said, "Since there is no road, we are compelled to pass through the upper caste's lands, and in return, we have to work for them without any payment, whether it's in their fields or for their personal tasks," Manoj told NewsClick.
Kallu and Jagna, natives of the village who are also a part of the movement, speaking to NewsClick, said, "We are deprived of something as basic as a road. We are unable to go to the panchayat office for any work or to the block headquarters. Even in an emergency, we do not get an ambulance service. We need a concrete road from our village to the panchayat headquarters and if this demand is not met, we will go to Lucknow to make our voices heard."
Bandana, a tribal woman leading the protest, pointed out that even after 75 years of Independence, they were still compelled to carry pregnant women and sick individuals on cots for several kilometres to reach the nearest road point, just to transfer them to a hospital.
She further mentioned that a group of women associated with the Satyagraha will soon travel to Lucknow to meet Chief Minister Yogi Adityanath. A delegation of women has started mobilising women from neighbouring villages to seek their support. Thousands of women from at least 30 villages will soon join the Satyagraha to exert pressure on the government for the construction of a road.
For the majority of outsiders, Raja Ram Ka Purwa village, located just 17 km away from the Banda district headquarters, seems to exist in name only. And for the residents of the village, there is no means to even reach the panchayat office.
The ordinary tribal women are posing a poignant question to the ruling government. They see President Droupadi Murmu as an inspiring figure, a tribal woman who attained power against all odds. However, they express their disappointment, stating that they are overlooked and neglected by the government. With passionate slogans and empowering songs, the protesting women are fighting to preserve the remnants of their rights and freedoms.
Meanwhile, the villagers have also penned a letter to the district administration, urging it to promptly construct a road from the village to the railway gate. They have warned that if their demand is not met, they will march to Lucknow to amplify their agitation.
A common question resonates among the Kuchbandia tribals and dalits: do they not constitute a significant vote bank? Why is there a disregard for their needs and concerns? Only the Uttar Pradesh government's swift action and responsive measures can provide an answer to this pressing question.
Get the latest reports & analysis with people's perspective on Protests, movements & deep analytical videos, discussions of the current affairs in your Telegram app. Subscribe to NewsClick's Telegram channel & get Real-Time updates on stories, as they get published on our website.
Subscribe Newsclick On Telegram