Bangladesh's Garment Workers Continue Protest for Better Wages, Death Toll Reaches 4
On Sunday, hundreds of Bangladeshi garment workers took to the streets again to demand fair wages.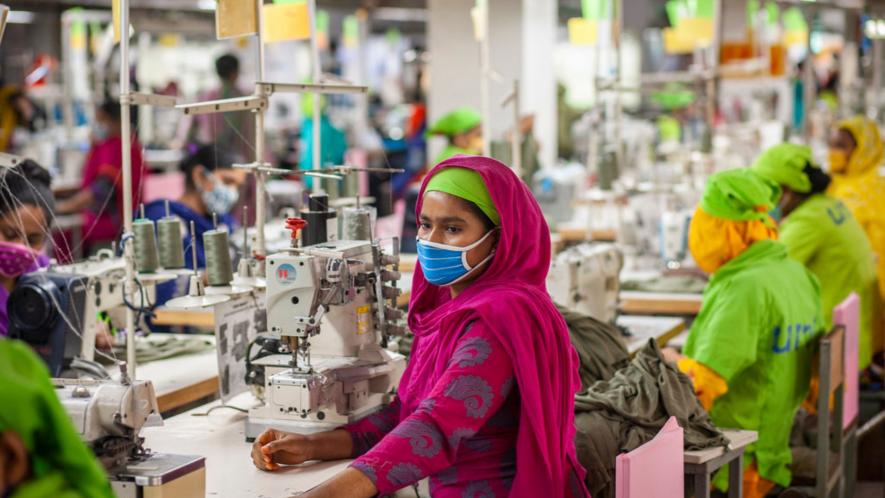 Representational Image. Image Courtesy: Flickr
Delhi: In recent weeks, the garment worker's protest in Bangladesh has intensified, taking a violent turn as demonstrators flood the streets, demanding improved wages for the nation's four million garment industry employees. Tragically, clashes between protestors and security forces have resulted in the loss of four lives, according to a recent AFP report.
Allegations from worker unions suggest that authorities resorted to tear gas and rubber bullets to disperse the protests. Around 19,500 named and unnamed garment workers have been accused in cases after the protests turned violent. In Gazipur alone, around 15,000-16,000 workers are accused in 23 cases. According to law enforcers, 123 garment factories were vandalised in the ongoing unrest, Bangladeshi publication AFP reported earlier.
On Sunday, hundreds of Bangladeshi garment workers took to the streets again to demand fair wages, rejecting a proposed pay increase by the government they deemed insufficient.
The protests unfolded against the backdrop of heightened tensions following violent clashes last month, the toll of which has now risen to four fatalities with the death of Jalal Uddin, a 42-year-old garment worker injured in clashes with law enforcement earlier this month in Gazipur, north of the capital Dhaka. 
Bangladesh is currently grappling with the most significant labour unrest in a decade, marked by tens of thousands of workers engaging in confrontations with the police. The primary demand of the demonstrators is a substantial raise in the minimum wage, calling for an increase to 25,000 taka. 
The garment industry stands as a vital economic driver in Bangladesh. The country's 3,500 garment factories, responsible for approximately 85% of the annual $55 billion in exports, supply major global brands like Levi's, Zara, and H&M. Despite the industry's economic significance, the working conditions for the sector's four million employees, a majority of whom are women, have been terrible. Until recently, their monthly salary stood around only 8,000 taka.
In response to the widespread discontent, a government-appointed panel announced a 56.25% increase in the sector's minimum wage on Tuesday, setting it at 12,500 taka. However, the garment workers rejected this increment, leading to an escalation of protests and vandalising of at least 70 factories.
Mojuri Briddhite Garment Sramik Andolan rejected the proposed salary of Tk 12,500 and demanded Tk 25,000, with the basic salary constituting 65%. 
However, Prime Minister Sheikh Hasina had on Friday rejected the workers' demands for a higher pay rise. The PM stated that they accept the offer given or "go back to their village". Union leaders expressed concern that the PM's words could provoke more police brutality, the Al Jazeera reported.
Notably, Bangladeshi garment manufacturers get 32% to 83% lower rates than the highest prices paid to suppliers in other countries. These figures, reported by a study, backs Bangladeshi garment manufacturers' claims about receiving lower prices from global buyers.
Meanwhile, 18 global brands, including H&M, Levi's, Gap, and Puma, have jointly penned a letter to the Prime Minister of Bangladesh. The letter urges peaceful negotiations and advocates for a new minimum wage that covers the basic needs of the workers.
The Bangladesh Garment Manufacturers and Exporters Association (BGMEA) has said that over 130 garment factories remained closed, with owners invoking section 13(1) of the labour law, indicating a "no work, no pay" situation, reported The Daily Star, a Bangladeshi newspaper. 
Despite international brands committing to pay more to compensate for increased worker salaries, negotiations on prices have not yet been finalised. The BGMEA President expressed optimism that if workers from the shuttered factories return to work, abandoning demonstrations, owners would be willing to reopen the factories.
In response to these developments, Sarwar Hossain, the general secretary of Garments Sramik Unity League, underlined the need to protect workers from harassment during legal proceedings, as per the Daily Star. The situation remains tense, with ongoing demonstrations by workers at various locations in pursuit of better wages.
Get the latest reports & analysis with people's perspective on Protests, movements & deep analytical videos, discussions of the current affairs in your Telegram app. Subscribe to NewsClick's Telegram channel & get Real-Time updates on stories, as they get published on our website.
Subscribe Newsclick On Telegram