Bengal Elections: How TMC Violence Against Left Opened Doors for BJP
A decade-long violent TMC campaign against Left supporters weakened the only force capable of countering BJP – but now the Left is back in the fight.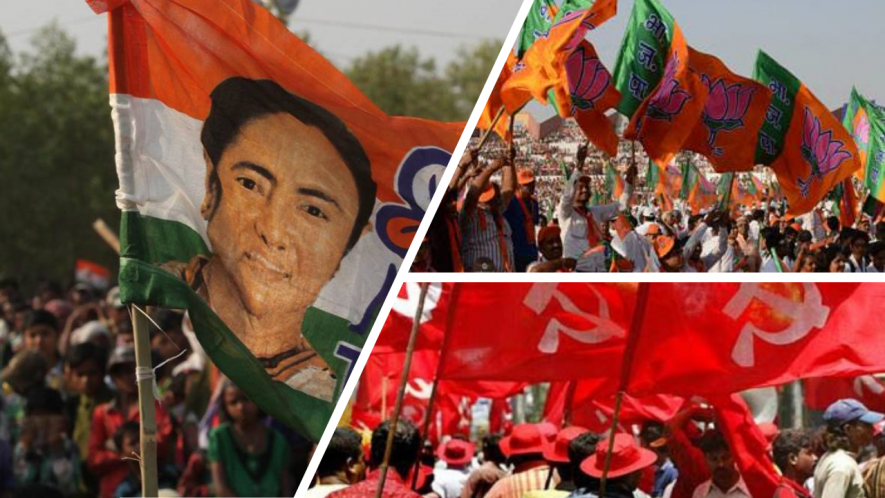 The dominant narrative, propagated by intellectuals and media, is that the Left was defeated electorally back in the 2011 West Bengal Assembly elections, and it has not recovered since, sliding further down.
This narrative turns a blind eye to the decade long reign of terror that the Trinamool Congress unleashed against the Left, physically decimating activists, displacing hundreds from villages, striking terror through rapes and assaults, extorting money from poor families, evicting bargadars (sharecroppers) and small land owners from their land, preventing harvesting of crops, attacking students unions and cooperatives and other such atrocities.
As the table below shows, this semi-fascist attack – about which most people who profess concern for democracy remained silent spectators – was of such extensive nature, and was carried out with such a degree of impunity that it has taken Left forces some time to recover.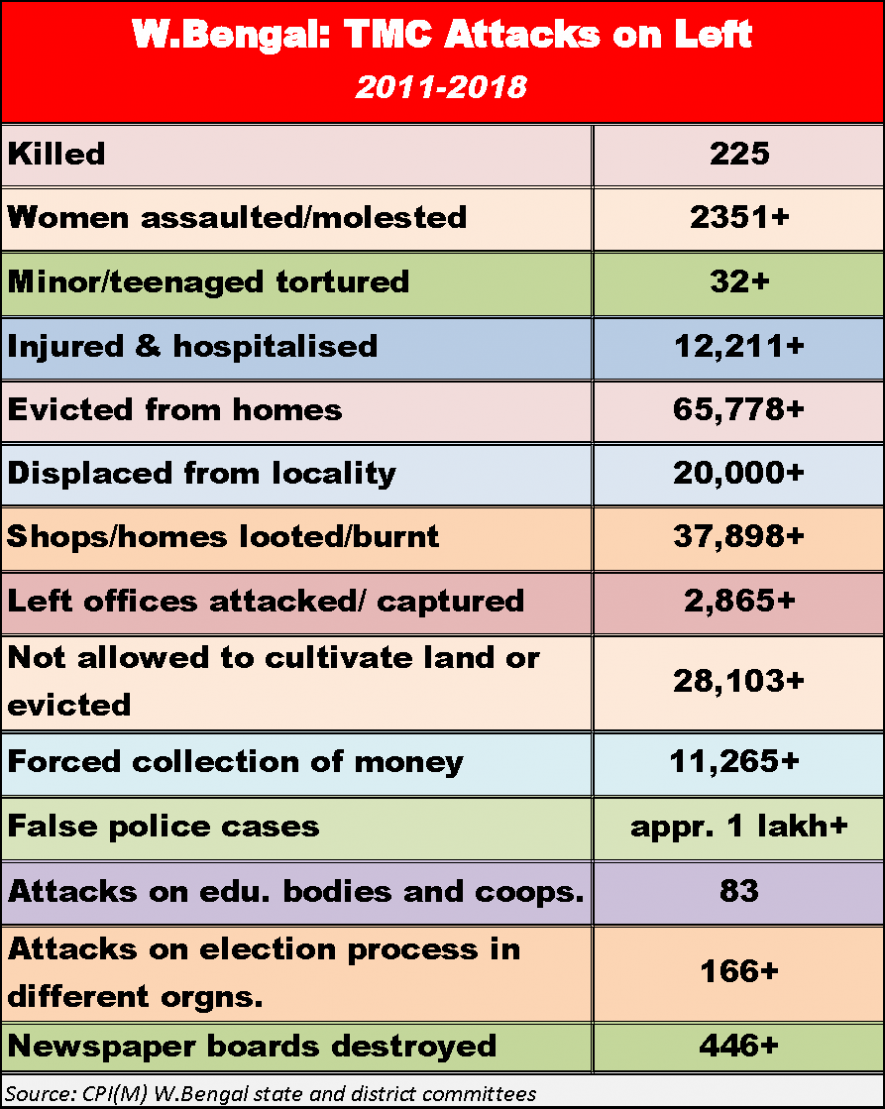 Besides the 225 activists that were killed – often brutally, like hanged or hacked with machetes – the reports indicate that at least 2,351 women, some of them teenagers, were sexually and physically assaulted in these years. The numbers are more than likely to be much higher as many women did not want to be identified out of fear for their lives.
Also read: Left, Media Apathy and the Rise of Social Media
With this kind of attack, one would expect that the law would catch up sometime with the hoodlums that carried it out. But nobody was compensated for the loss of property (shops/homes), although rough estimates from surveys done by Communist Party of India (Marxist) workers estimate that over Rs. 8.67 crore worth of property was destroyed in the course of this carnage. Nobody has imagined the plight of poor families from whom an estimated Rs. 3.59 crore were extorted by rampaging TMC supporters over the years, threatening the families with dire consequences if they did not pay up. 
Over 65,000 persons had to flee their homes and hide elsewhere, often for months. How they and their families survived has not been counted by those pontificating on how the Left workers "folded up". Over 20,000 families had to leave the very villages and localities they stayed in, sometimes for years. Over one lakh Left supporters had fabricated criminal charges filed against them for which they were harassed intermittently by police persons and the very criminals who were terrorising them.
The purpose of this attack was political decimation. It is clear from the targeting of Left supporters (bulk of them from CPI(M)) and also from actions such as destruction of newspaper boards (put up in public places so that people can read the daily newspapers of the Left, mainly Ganashakti); the ransacking and vandalising of offices of Left parties and related organisations, and their occupation by TMC; the targeted attacks on students' unions and cooperatives which were led by Left organisations; and the attacks on panchayat and other elected members from the Left. In fact, such was the dominance of this reign of terror that in the local body elections, in thousands of villages, nobody except the TMC candidates were allowed to file their nominations.
Welcome to BJP
During the 34 years of the Left Front's rule, the Bharatiya Janata Party and its parent, the Rashtriya Swayamsevak Sangh could not make much headway in Bengal despite all round efforts. This was because of two reasons: one, the strong presence of Left organisations in every village and locality which vigilantly guarded against religious incitement or communal hate mongering; and two, because of the alert state government that did not hesitate to intervene swiftly to curb any communal poison being spread or violence to be initiated. This exemplary role played by the Left in Bengal has also been opportunistically forgotten by commentators who are today blaming the Left for not doing enough.
Also read: Bengal Elections: After 10 Years, Red Flags Flutter in Nandigram as Left's 'Young Turk' Takes on Titans
It was only after the TMC had inflicted heavy damage on the Left through the reign of terror, immobilising it in large parts, that the spread of BJP and RSS became noticeable. It was the ground prepared by TMC on which the BJP/RSS sought to sow their own brand of poison seeds, to be harvested later. In this process, the BJP gained some strength, but that is much over estimated by those who make a profession of hand wringing and gnashing of teeth, but not doing anything much else. After all, in the 2016 Assembly elections, the BJP could win only 3 seats in the 294-member House. 
It is only after that, that the concentrated resources of BJP/RSS began to flow in to Bengal, as they realised that the TMC government was slowly losing its popularity due to its failures on various fronts, and – crucially – the Left was not yet in a position to challenge it fully due to the damage caused by the TMC attacks. Results of the 2019 Lok Sabha elections emboldened the BJP considerably and they started envisaging a victory in the Assembly too. What is to be noted in this is that this was all predicated by the earlier TMC-led attack on the Left.
This is not to suggest that there were no other factors at play. There were – the communal and identity politics played by TMC, its inverse complement played by BJP, the use of enormous amounts of money deployed by BJP/RSS, the corruption of TMC government – these and other factors, too, have contributed to the changing correlations in Bengal. But the role played by TMC's brutal attack on the Left, like a battering ram to force entry, is often ignored, and hence being put on record here.
Things have changed
In the past few years, there has been another shift, which is only being reluctantly noticed by commentators and media. This is the rejuvenation of the Left which has painstakingly built up its organisational strength and influence through a series of struggles on vital and wide ranging issues of the people. These include issues of workers, farmers, food security, unemployment, women's safety, education related problems, etc.
In rural Bengal, the farmers' and agricultural workers' organisations have emerged in the forefront of the struggle for better prices for produce and better wages. Workers in a range of industries have been in struggle for protecting their rights. The convergence of TMC at the state level and BJP at the central level on all these basic issues of common people is highlighted by these struggles, and this has invigorated the people too.
A new generation of activists and leaders is now taking charge, and the counter to communal and identity-based political shenanigans of TMC and BJP is taking shape across Bengal. This Assembly election is a stepping stone only, one of the many milestones the Left has to cross. But the reassertion of class politics, and the rejection of the filthy brand of divisive politics that the TMC and BJP are bringing to the fore, is a welcome sign for Bengal.
Get the latest reports & analysis with people's perspective on Protests, movements & deep analytical videos, discussions of the current affairs in your Telegram app. Subscribe to NewsClick's Telegram channel & get Real-Time updates on stories, as they get published on our website.
Subscribe Newsclick On Telegram