Bengal Ram Navami Violence: Police 'Obstructs' Left Front Peace Rallies in Howrah, Hooghly
Left parties flayed police, which stood as spectators when VHP men marched with swords and weapons, for thwarting peace rallies.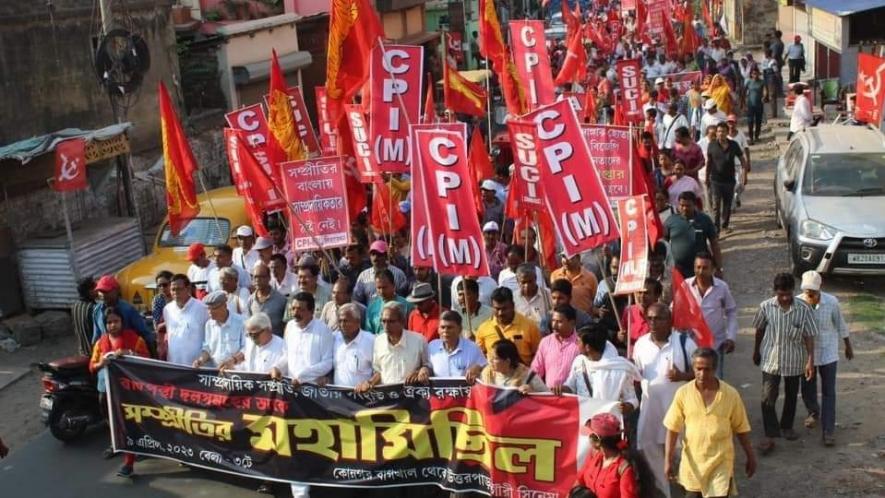 Kolkata: Peace rallies after the Ram Navami violence, taken out on consecutive days by the Left parties in Rishra and Howrah in West Bengal were thwarted by the police on the pretext of "harming amity". Incidentally, Section 144 (prohibitory orders) has been withdrawn in both places and normal life and vehicular movement has restarted.
On Sunday, a huge peace rally, led by Left Front chairman Biman Basu, and CPI(M) state secretary Mohd Salim was stopped at Howrah. Earlier on Sunday, another peace rally that traversed from Konnngar to Uttarpara in Hooghly district was thwarted en route by the police.
Unruly scenes were witnessed in Salkia in Howrah on Monday when police barricaded the route just before a Left rally was making way into the Pilkhana area that was affected by the Ram Navami violence. Police allegedly obstructed Salim from going ahead and some personnel were also seen breaking the windshield of a tableau depicting amity amongst all communities in the state, said Left activists. However, Salim, along with a group of 150 CPI(M) activists, managed to reach the Pilkhana area, while Basu sat on a dharna at the Salkia traffic intersection.
It may be recalled that on March 30, despite having advance warning, the police didn't show enough action, leading to vandalisation of public property, allegedly by Viswa Hindu Parishad members in Howrah district. Later, on alleged instigation by Bharatiya Janata Party (BJP) leader DIlip Ghosh, a rally was taken out in Rishra, where the crowd allegedly attacked properties belonging to minority (Muslims) section of the population. In both places, police maintained a stoic silence when violence erupted.  
Speaking with Newsclick, CPI(M) Howrah district secretary Dilip Ghosh said "if the government had the will, such violence could never have taken place."
Last year during Ram Navami, violence took place at the same spot. The Rashtriya Swayamsevak Sangh-controlled BJP and ruling Trinamool Congress are expected to be primary gainers from such violence, he alleged.
Ghosh said the ruling TMC in the state, due to numerous corruption allegations and scams, was "losing face" before the people and the BJP was "losing relevance" in the state. 
"Under these circumstances, such as the Dhulagori incident last year, the two sides were led by leaders of BJP and TMC, respectively, both trying to be seen as saviours of their respective religions," he added.
Ghosh said as far as they knew, the Ram Navami procession was supposed to go from BE College to Ramkrishnapur Ghat. Police knew that last year trouble took place in the same spot, yet it did take steps to control the VHP workers. 
"Actually, this is a ploy to enhance the narrative of binary politics in the state at a time when it is falling to pieces, as seen from Sagardighi bypoll results (where TMC lost to the Congress candidate, who was also backed by the Left Front)," he added.
The violence during Ram Navami comes in the backdrop of growing incidents of communal violence in West Bengal. In 2013 alone, according to police sources, there were 59 incidents of communal violence in the state. The infamous Dhulagarh riots occurred in 2016, followed by riots in Basirhat and Baduria of North 24 Parganas district. Similar incidents took place in Nadia (2015), Malda (2016), Hazinagar (2016), Dhulagarh (2016), and Baduria (2017), making West Bengal one of the leading states for communal violence.
Interestingly, during the last panchayat elections in the state, the Basirhat riots took place, leading to the polarisation of votes between BJP and TMC.
According to Biswanath Goswami, an RTI (Right to Information) activist and social researcher, who recently submitted documentary evidence of the violence, the Howrah City Police registered 59 cases of rioting in just 18 months (36 in 2021 and 23 in 2022). He further alleged that the recent Howrah violence was "orchestrated", and was not an intelligence failure.
Salim has also accused Chief Minister Mamata Banerjee of "orchestrating" the riots, alleging that the whole incident was a ploy to divert attention from the corruption and scams plaguing TMC's governance, at a time when people are taking to the streets in protest.
He alleged that the violence was a "calculated attempt" to bolster the TMC-BJP binary narrative in the state, as the BJP had failed to make an impact in the past elections.
Salim also questioned why the police remained inactive during the riots, while during peaceful mass movements, police forces were deployed to disperse protesters, even using teargas shells and lathi-charge.
Speaking to the media during the dharna at Salkia, Basu admonished the police and administration for leading attacks on the peace rally, alleging that the police attack on the rally was done "on direct orders from Nabanna, the state secretariat "
CPI(M) leader Sridip Bhattacharia, SUCI leader Tarun Mandal, CPI leader Bidyut Ganguly, CPI(M) ML leader Jayatu Deshmukh, RCPI leader Mihir Baine and Forward Bloc leader Jagannath Bhattacharya also addressed the rally. The leaders raised questions as to why a rally whose permission and route was foretold to the police was being obstructed while the same police force were bystanders when VHP "miscreants and rioters" were marching, holding swords and other weapons in their hands.
Get the latest reports & analysis with people's perspective on Protests, movements & deep analytical videos, discussions of the current affairs in your Telegram app. Subscribe to NewsClick's Telegram channel & get Real-Time updates on stories, as they get published on our website.
Subscribe Newsclick On Telegram