Better Late Than Never: Lewis Hamilton Takes a Knee at F1 Season Opener
Six time Formula One (F1) champion Lewis Hamilton expressed his regret at not making a more public stand against racism, having been warned against doing so many years ago at the US Grand Prix.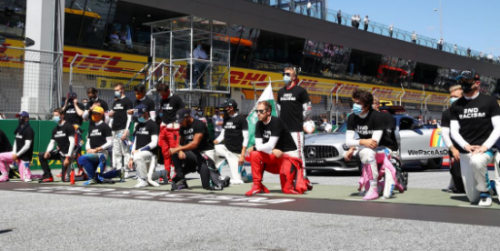 At the Formula One Austrian Grand Prix Sunday, all drivers on the grid wore t-shirts pledging to end racism and all bar six took a knee in solidarity.
A week after slamming former F1 supremo Bernie Ecclestone over his denila of racial discrimination in the sport, six time Formula One Champion, Lewis Hamilton expressed his regret at not making a more public stand against racism several years ago.
On Sunday at the season-opening Austrian Grand Prix, Formula One saw a consolidated signal towards ending racism within the sport -- one that did not seem possible till a day before the race itself. Multiple drivers had in the build up expressed concerns about the political stance of the messaging and wanted to distance themselves from it. Hamilton himself had stated that he wouldn't pressure any drivers to participate in it, unless they wanted, although criticizing those who were silent for their 'complicity'.
Also Read | Shashank Redemption: The Other Side to the Anti Indian Facade of the Outgoing ICC Chairman
As it was then, all drivers on the grid turned up wearing black t-shirts with 'End Racism' written on them -- Hamilton's read Black Live Matter -- and right before the race began, all bar six took a knee. Those that didn't included Max Verstappen, Charles Leclerc, Kimi Räikkönen, Daniil Kvyat, Carlos Sainz and Antonio Giovinazzi. 
Leclerc had made clear that he would not take a knee hours before the race, posting a statement on Twitter. "I believe that what matters are facts and behaviours in our daily life rather than formal gestures that could be seen as controversial in some countries," the statement said. "I will not take the knee but this does not mean at all that I am less committed than others in the fight against racism."
Hamilton, who finished fourth after picking up a five second time penalty for an in race incident with Red Bull's ALexander Albon, revealed that the idea of taking a knee had come to him as early as 2016 when the NFL's Colin Kaepernick kick started it.
"I thought that was a very powerful statement," Hamilton said. "Then he lost his job and he was a great athlete. I spoke to him a couple of years ago shortly after that for the US GP. I had a helmet made in red for his top with his number on but back then I was kind of silenced. I was told to back down and 'Don't support it,' which I regret. So it is important for me that during this time I did my part."
The British driver expressed his disappointment regarding some drivers who had not spoken out to condemn racism, making clear also that at no point of time did he ask or pressure any drivers into taking a knee.
"I said: 'I will be doing it but you do what you feel is right,'" he said. "I am really grateful for those who did kneel along with me. I think it is a powerful message, but it won't change the world. It's a much, much bigger issue across the world, everyone had the right to their own choice and for me it felt right to do."
The 35-year-old did not specify whether he plans on taking the knee in the race next weekend, which is also going to take place in Austria – but was unequivocal that he would maintain his vigorous support for equality.
"Everything we do is not enough, we all need to do more," he said. "There has been awareness for a few weeks and what we don't need is for it to die a silent death and disappear."
Hamilton's support and words are obviously the most significant seeing as he is the flagbearer of the sport right now, but his sentiments echo down to the lower levels too. His countryman and Formula 3 driver Enaam Ahmed did not pull any punches in an interview with the BCC, when discussing the sport's lack of diversity saying that it is at least "20 years behind other sports".
"I don't think it's a racist sport, but it's undiverse. It doesn't feel representative," the Carlin Buzz Racing driver, 20, told the BBC Asian Network. 
Also Read | BCCI Snubs ICC, Presses Ahead With IPL Preparation
Ahmed, started his racing career at the Rye House track in Hertfordshire like Hamilton. And much like the F1 champion believes he might have been a subject of unconscious bias in the initial stages of his career, where he became the junior world karting champion in 2014.
"When I started out in karting I did feel it at times, but less so as I went up the levels," Ahmed says. "Racing is an elitist sport. F1 has only been a sport for the rich and wealthy, so that's a factor. Now with the new campaigns which Formula 1 and Lewis Hamilton are establishing it will hopefully change - mechanics and engineers, for example."
Hamilton launched the Hamilton Commission in June this year. The commission, a research partnership (supported by the Royal Academy of Engineering), is dedicated to turning motorsport into an avenue for more diversity by offering opportunities to young people from black backgrounds in Science, Technology, Engineering and Mathematics and employ them teams or other engineering sectors.
The Fédération Internationale de l'Automobile (FIA) have also pledged one million euros ($1.1m) to the sport's new 'We Race As One' diversity foundation. The money will go to boost the programme established by Formula One's chief executive Chase Carey who launched it with $1 million of his own money.
Ahmed points that while these steps are welcome they are still small, and coming as they have as part of the backlash against systemic racism across the world -- fairly new. 
"Hopefully there is a wider appeal and scope to attract people to take up those careers," he said. "Hopefully there are more chances for them too - but it's not been the case so far. It does not seem like it's a sport which is accessible to minorities. The faces are not there so it doesn't feel representative. We need visible role models, so if we get to the top like Lewis it shakes up the establishment and attracts younger people."
Get the latest reports & analysis with people's perspective on Protests, movements & deep analytical videos, discussions of the current affairs in your Telegram app. Subscribe to NewsClick's Telegram channel & get Real-Time updates on stories, as they get published on our website.
Subscribe Newsclick On Telegram