Bhindranwale 2.0: Who is Amritpal Singh, the head of 'Waris Punjab De'
Amritpal Singh garnered attention from mainstream media after he, along with his supporters, entered a police station in Punjab to get one of their comrades released.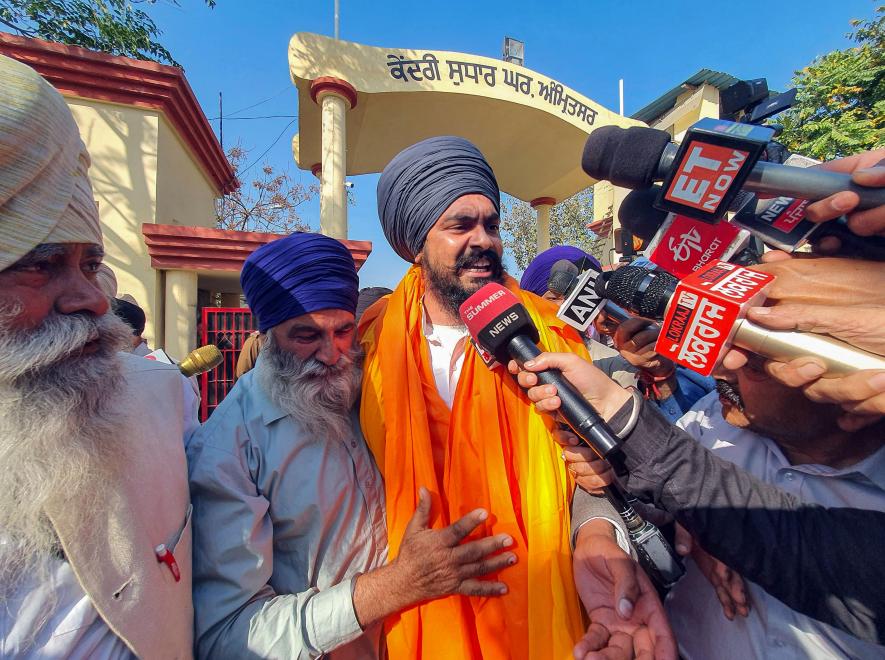 "I will believe in the Constitution when it believes in my identity."
"I am not Indian, I am Punjabi."
"We want the entire territory where Punjab used to rule earlier; first, we will take it from India, and then we will go to Pakistan also."
These are among the hundreds of statements a 29-year-old Sikh boy has given in front of the media in the last five days. Some are calling that boy Khalistani leader Jarnail Singh Bhindranwale, while others claim that he has been 'planted' by the opposition parties.
Amritpal Singh Khalsa, a 29-year-old boy demanding separation from India and making Khalistan for the people of the Sikh religion, was not even a complete Sikh just six months ago. He had not tasted nectar; his hair was cut. Today he heads 'Waris Punjab De', an organisation demanding Khalistan. His other demands include drug de-addiction in Punjab and Sikh sovereignty.
Who is Amritpal Singh? What is it in this person that at his behest, the police got an accused out of jail in less than 24 hours? What is this person's role in taking forward the legacy of Bhindranwale?
Who is Amritpal Singh?
Much of the mainstream media may have felt Amritpal Singh's presence on February 23, when he, along with thousands of Sikhs, stormed the police station to free one of his comrades, Lovepreet 'Toofan', from Ajnala jail; However, he arrived in politics of Punjab much earlier than that. The influx could be seen even before he came to India from Dubai on August 19, 2022.
Amritpal Singh, who runs his family's transport business in Dubai, was born in 1993 in Jallupur Kheda village in Amritsar. In 2012, he went to Dubai after completing 12th. Amritpal Singh is currently the head of the organisation 'Waris Punjab De.' This organisation was started by actor-activist Deep Singh Sidhu during the farmer's movement.
Sidhu is the same person who hoisted the 'Nishan Sahib' at the Red Fort on January 26; at the time, Sidhu had said, "I did not cry so much when my father died as I cried when the Nishan Sahib was offered at the Red Fort."
Sidhu also sought votes for the Shiromani Akali Dal(A) candidate Simarjit Singh Mann (currently MP from Sangrur) in the Punjab Assembly elections, who is a Khalistan supporter. Sidhu died in a car accident in February 2022, five days before the Assembly elections. Amritpal Singh's supporters say that Sidhu was 'murdered.'
Amritpal Singh had never met Sidhu but had discussions with him on social media during the farmer's movement.
Journalist Shiv Inder Singh, who has a special eye on Punjab politics, told NewsClick that Sidhu had also identified Amritpal Singh as his supporter in a video.
A week ago, on Sidhu's death anniversary, Amritpal Singh said that he had stopped cutting hair from November 2021 on Sidhu's advice.
On September 25, 2022, Amritpal Singh participated in the process of becoming an Amritdhari Sikh along with around 900 others at Anandpur Sahib. On September 29, thousands of Sikhs gathered at Bhindranwale's village Rode and joined Amritpal Singh's Dastarbandi.
Even while living in Dubai, Amritpal Singh remained vocal about Punjabi sovereignty, drug addiction in Punjab, the farmers' movement, etc., through Facebook and other social media platforms. He had often described Sidhu as an influence, but according to some media reports, Sidhu's family has distanced himself from Amritpal Singh. According to Shiv Inder Singh, Sidhu's brother feels Amritpal Singh has 'captured' the movement.
'Threat' to Amit Shah
About 10 days ago, Home Minister Amit Shah said he and his government would root out the Khalistan movement. Amritpal Singh cites a 2006 Supreme Court decision which said peacefully speaking in favour of Khalistan is not a crime.
Referring to Indira Gandhi, Amritpal Singh also said that what Shah said is what Gandhi had said, and the result may be the same for Shah. Gandhi was assassinated by her bodyguards in 1984. Amritpal Singh also asked Shah to say the same thing to those asking for a Hindu Rashtra.
Sikh Organisations Oppose Amritpal Singh
Per a report by senior journalist Amrik for NewsClick, "Amritpal Singh captured the police station using the holy form of Shri Guru Granth Sahib as a shield, and the policemen were injured with swords by his supporters; Sikh organisations are very angry about it. Now after the displeasure of well-known Sikh organisations and the Punjab government, Amritpal Singh's difficulties will increase. Shri Akal Takht Sahib is the highest religious institution of Sikhs. Its silence has been broken on the Ajnala incident, and Takht Sahib has formed a special committee to investigate the whole episode. Sikh scholars and eminent intellectuals have been included in it. Giani Harpreet Singh, the Jathedar of Shri Akal Takht Sahib, has confirmed this."
Will the demand for Khalistan intensify in Punjab?
Political analysts believe the bloodshed that Punjab had seen in the name of Khalistan 30-35 years ago has not ended yet; however, the state is largely peaceful. The demand for Khalistan was raised time and again. But after the Ajnala incident, it caught fire. Many people also claim that Amritpal Singh has been set up by BJP (Bharatiya Janata Party) so that it can take his help to tell the country that Khalistanis are coming and strengthen its Hindutva agenda. Punjab Police hesitated to take strict steps in the Ajnala incident; questions are being raised on the police, administration and the AAP (Aam Aadmi Party) government. However, Chief Minister Bhagwant Mann has said that Amritpal Singh is being backed by funding from abroad and Pakistan.
Amidst all this, Amritpal Singh has also joined the dharna to release the captive Sikhs in Chandigarh. Only one year has been completed since the formation of the AAP government in Punjab. Such huge activities pose serious questions for the Central and state governments.
Get the latest reports & analysis with people's perspective on Protests, movements & deep analytical videos, discussions of the current affairs in your Telegram app. Subscribe to NewsClick's Telegram channel & get Real-Time updates on stories, as they get published on our website.
Subscribe Newsclick On Telegram