Bihar: After Centre Rules out Caste Census, Lalu Calls for Boycott of BJP's OBC MPs, Ministers
While RJD lashes out at Centre for "betraying" people who voted for them, Nitish Kumar's JD-U is yet to react to Centre's stance in SC.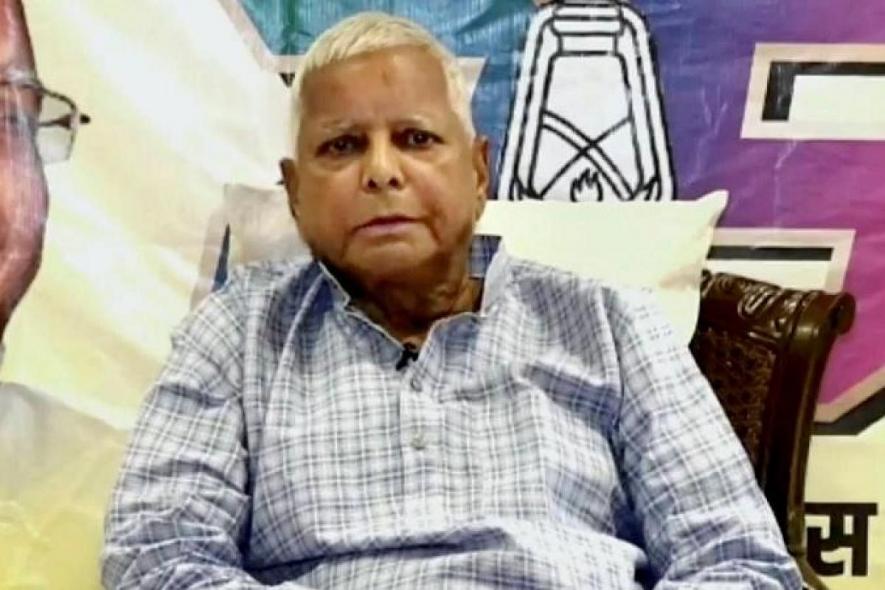 Patna: Politics over caste census is set to heat up further in Bihar with opposition Rahstriya Janata Dal (RJD) chief Lalu Prasad hitting out strongly at the Bharatiya Janata Party-led led Central government on Friday.
The RJD leader also tweeted and called for boycott of BJP MPs and ministers belonging to OBCs (Other Backward Classes) for not speaking up in favour of a caste-based Census exercise in 2021.
BJP-RSS पिछड़ा/अतिपिछड़ा वर्ग के साथ बहुत बड़ा छल कर रहा है। अगर केंद्र सरकार जनगणना फ़ॉर्म में एक अतिरिक्त कॉलम जोड़कर देश की कुल आबादी के 60 फ़ीसदी से अधिक लोगों की जातीय गणना नहीं कर सकती तो ऐसी सरकार और इन वर्गों के चुने गए सांसदों व मंत्रियों पर धिक्कार है। इनका बहिष्कार हो।

— Lalu Prasad Yadav (@laluprasadrjd) September 24, 2021
A day after the Centre informed the Supreme Court that it would not go for a caste-based Census, Lalu Prasad, known for championing the need of a caste-based census, in a series of tweets said BJP-RSS (Rashtriya Swayamsevak Sangh) have been deceiving backward class (OBC and EBC or Extremely Backward Caste) people.
The RJD supremo also sent a political message when he asked BJP-RSS on why they "hated backward people" so much? In a tweet, he said the caste based census would be beneficial to people from all classes.
"Snakes, scorpions, parrots, elephants, horses, dogs, cats, pigs, jackals and other animals, birds and trees can be counted, but backward and extremely backward people will not be counted. Great!" he tweeted.
जनगणना में साँप-बिच्छू,तोता-मैना,हाथी-घोड़ा,कुत्ता-बिल्ली,सुअर-सियार सहित सभी पशु-पक्षी पेड़-पौधे गिने जाएँगे लेकिन पिछड़े-अतिपिछड़े वर्गों के इंसानों की गिनती नहीं होगी। वाह!

BJP/RSS को पिछड़ों से इतनी नफ़रत क्यों? जातीय जनगणना से सभी वर्गों का भला होगा।सबकी असलियत सामने आएगी।

— Lalu Prasad Yadav (@laluprasadrjd) September 24, 2021
Lalu Prasad's move is being seen as a political strategy to strengthen his social support base among OBCs, EBCs and dalits.
The RJD leader, who is undergoing medical treatment in Delhi after being granted bail in the fodder scam case, has consistently demanded a caste-based census. Since 2015, he has been demanding that data from 2011 be made public to "ensure the empowerment of all those lagging behind in development."
The Central government released the Socio-Economic and Caste Census 2011, in 2015, but withheld the caste-based data, saying it was only concerned with the economic data which will help in the effective implementation of its programmes.
However, despite the fact that the formal decision of the Central government to not go for a caste based census is a setback for Bihar Chief Minister Nitish Kumar, he is yet to break his silence on the issue. Kumar's party Janata Dal-United (JD-U), is a ruling ally of the BJP-led National Democratic Alliance government in the state and the Centre. JD-U is yet to come out with any statement on the Centre's stance in the Supreme Court.
Last month, Nitish Kumar had led a delegation of 10 parties from Bihar, including BJP and RJD, and had met Prime Minister Narendra Modi in New Delhi with their demand. After that, the JD-U leader had repeatedly said that he was waiting for the PM's response on caste-based-census.
After meeting Modi, Nitish Kumar had said all the 10 parties spoke in one voice on the "need" for a caste-based census and asserted that statistics about different castes would help in formulating development schemes effectively, as many of them had not benefited so far.
The BJP, which rules Bihar in alliance with Nitish Kumar's JD-U, is uncomfortable with the growing demand for a caste-based census in the state, fearing that an actual count of the OBC population might prod the regional parties to demand more quotas in Central government jobs and educational institutions.
Senior BJP leaders from the state, including MPs and MLAs, have opposed the demand publicly. BJP leader C P Thakur had told the media that the "useless" demand would not benefit anyone and only increase social tension and division.
In July, Union minister of state for home Nityanand Rai told the Lok Sabha that the government had decided that there would be no census based on caste other than the enumeration of Scheduled Caste and Scheduled Tribe population. Rai, a senior BJP leader from Bihar, who belongs to a powerful OBC community, has been propagating the BJP's message and diluting the issue in a caste-ridden state.
After Rai's statement, Tejashwi Yadav said his party would carry on with his father and former Bihar chief minister Lalu Prasad's fight. "We want a caste-based census and will not move an inch from Laluji's stand on it. The demand for a caste-based census is a fight for the majority population belonging to the backward, marginalised and poor sections of society," he said.
Subsequently, Nitish Kumar also demanded a caste-based census and appealed to the Centre to reconsider its decision. His demand is widely seen as a result of RJD's aggressive stand against the Centre's decision.
Kumar also recalled that the Bihar Assembly had passed a unanimous resolution for conducting a caste-based census in February 2019 and again in February 2020 and had sent them to the Centre. Notably, the BJP and JD-U had supported the resolutions in 2020.
In 2019, too, Kumar had stressed the need for a caste-based census saying such data was expected to expose several myths surrounding the development of backward and marginalised people and help in the formulation of schemes for their socio-economic progress.
A census on caste lines can have huge political implications. Several regional parties, including BJP's allies, support it as they believe it will strengthen the demand for raising the quota for OBCs, who are estimated to be more than 50% of the population and get 27% reservation.
Get the latest reports & analysis with people's perspective on Protests, movements & deep analytical videos, discussions of the current affairs in your Telegram app. Subscribe to NewsClick's Telegram channel & get Real-Time updates on stories, as they get published on our website.
Subscribe Newsclick On Telegram