Bihar: Fear of Lawlessness Haunts People, Nearly A Dozen Killings in 24 Hours
While CM Nitish Kumar is busy targeting political rivals in the Delhi polls in the name of rule of law in Bihar, the reality on the ground is far from it.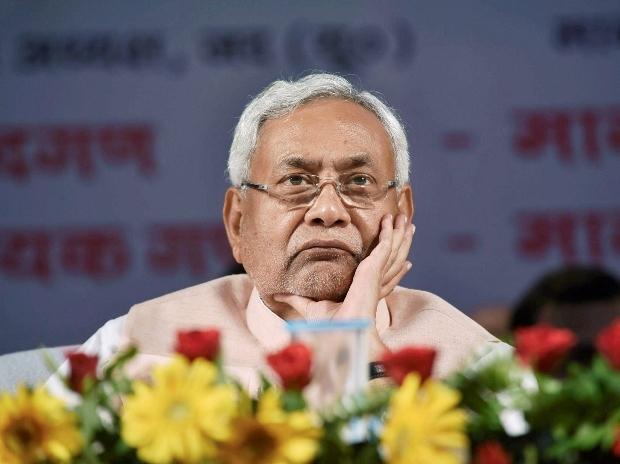 Image Courtesy: Business Standard
Patna: Fear of lawlessness, locally known as 'jungle raj', is haunting the common people in Bihar again, as the state reels under a growing crime rate. Nearly one dozen killings were reported in the last 24 hours in Bihar according to the police.
Two employees of a private road construction firm were shot dead in Bihar's Begusarai district by criminals for not paying rangdari (extortion), a potato trader was shot dead in Bhojpur district, a Common Service Provider was shot dead and Rs 5 lakh was looted from him in Saran district, farmer was killed in Sahsrsa district, an LIC agent was killed in Khagaria district, a youth was killed in Banka district and a youth was beaten to death under suspicion of theft in East Champaran district. In Buxar district, two brothers were shot and injured over a dispute of Rs 5 by criminals. In Siwan district, a shopkeeper was shot and injured and in Jehanabad district, criminals, in broad day light, looted Rs 13 lakh from a gas agency owner.
These series of incidents have again exposed the serious lack of law and order in the state. This is not the first time that such killings have been reported in the last one year. Killings numbering upto half a dozen to nearly one dozen within 24 hours have been reported several times in the last few months.
Interestingly, whenever such cases of murders have created panic among the people, Bihar Chief Minister Nitish Kumar, has been conspicuously absent from the public sphere. This time too, the Janata Dal (United) president has been busy campaigning for its ally Bharatiya Janata Party in Delhi ahead of the Assembly elections in the national capital.
While he is busy targeting political rivals in the Delhi polls in the name of rule of law in Bihar, the reality on the ground is far from it.
According to Bachwara police station officer in charge Parshuram Singh , two people – Rajnish Kumar, working as a munshi and Mohd Qaiser, JCB driver of Sona Infra Private Limited, a road construction company, were shot dead on late Monday night (February 3).
Also read: Spurt in Crimes Cast Shadow on NDA Govt's Rule of Law in Bihar
A manager of the company told NewsClick that criminals had killed two employees for refusal to pay rangdari to them."Criminals had attacked the base office of the company last month and demanded rangdari and threatened about dire consequences if not paid," he said.
Nandu Yadav, a potato trader, was shot dead in Ara, district headquarters of Bhojpur. His killing is also suspected to be due to his failure to pay extortion demanded by criminals. Angry over this killing, hundreds of local residents staged a protest for 4 hours by blocking the Ara -Mohania national highway as well as Ara-Sasaram state highway and demanded the immediate arrest of criminals.
Similarly in Chhapra, Krishna Kumar Yadav, who was running a CSP, was shot dead and criminal looted Rs 5 lakh cash from him. Two days ago, a jewellery shop owner Ranjeet Sao was shot dead in his shop under Gaurichak police station in Patna.
These incidents are an example of a spurt in crimes in Bihar in the last few months. The state has witnessed a number of killings, particularly of businessmen, traders, property dealers and contractors.
Bihar opposition leader Tejashwi Yadav had attacked Nitish Kumar and termed these incidents of crime as an example of real jungle raj (unruly governance). Yadav said in a tweet on February 2, "In one day there are reports of murder of over dozen, rape on the road, loot, shootout, attack with bombs. On an average, every day 50 murders are reported in Bihar, there is no law and order and rule of law hardly exists." He further said that the Chief Minister repeatedly claims that he will never compromise with crime, corruption and communalism. But in reality he has surrendered before criminals in his self claimed sushashan-raj (good governance).
Angry over the rising crime graph, people took to streets at different places on Monday and Tuesday to protest against the killings. They blocked roads, burnt tyres and raised slogans against the government.
"There is no doubt that all these incidents have cast a shadow on the once much-hyped governance and rule of law of Nitish Kumar. Increasing crimes are giving sleepless nights to people. The government has totally failed to check it," Sateyender Singh, the owner of a roadside vendor near Patna market, told NewsClick.
Raju Kumar, a businessman dealing in supply of construction materials, said, "Nitish Kumar has failed to control crimes. The crime rate is very bad, people including traders, businessmen to contractors are living under fear as they are soft targets of criminals."
 
Also read: Rising Crime in Bihar: Ruling JD(U) Says All is Well, Figures Suggest Otherwise
A government official on condition of anonymity said it should be noted that Kumar along with their ally, BJP, had promised of a crime-free Bihar after terming the 15 years' rule of Lalu Yadav-Rabri Devi as jungle raj for the prevailing lawlessness and high rate of crimes. "But today, the situation is worse, criminals are free and police have failed to control them," he said.
A school teacher, Mohd Ziaullah, said that crime has increased in Bihar and it is a bad sign for any government. "Nitish Kumar has lost his face over crime control as crimes are reported in local Hindi dailies. The only difference is that earlier these crimes were getting space on front page, now these incidents are in the pages inside," he said.
Communist Party of India (Marxist-Leninist) leader Dhirendar Jha said Nitish Kumar has a habit of refuting the reported crimes and also dismiss the data and figures of crimes in the state. He said that the CM actually protects the criminals incuding liquor mafias and shields corrupt officials. Citizens losing lives to various crimes including murder, robbery and loot have become common these days."
He further said that Kumar is losing the image of sushasan babu (one who implements rule of law), which he had so carefully crafted over a decade ago. "Unlike the government's claims, the perception is that there is no law and order in the state. Lawlessness still haunts the people. Helpless citizens are losing lives to crimes. But make no mistake. This is Nitish Ji's media-managed Jungle Raj, Kushasan (bad governance).
According to the latest National Crime Records Bureau (NCRB) data for 2017, Bihar has earned the dubious distinction of recording the second highest number of dowry deaths and murders in the country after Uttar Pradesh.
As per NCRB, Bihar tops with 22.5% of the communal riot cases registered nationwide in 2017. As per the report, about 214 people were affected in altogether 163 cases of communal riots registered in Bihar in 2017 against overall 723 cases with 1,092 victims across the country that year. It is more shocking when compared to the figures of 2016 when Bihar ranked third (139 cases, 165 victims) in communal riot cases and fourth (79 cases, 146 victims) in 2015.
Also read: CM Nitish Kumar Draws Flak for Deteriorating Rule of Law in Bihar
Get the latest reports & analysis with people's perspective on Protests, movements & deep analytical videos, discussions of the current affairs in your Telegram app. Subscribe to NewsClick's Telegram channel & get Real-Time updates on stories, as they get published on our website.
Subscribe Newsclick On Telegram