Bihar Floods: Villages Marooned, Several Displaced in East Champaran, Bhagalpur in Past 48 Hours
Erosion caused by swollen Gandak, Koshi rivers has made several families homeless. Several still awaiting government help.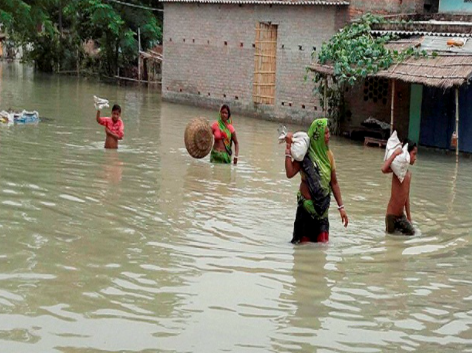 Image Courtesy: Business Standard
Patna: Erosion of swollen Gandak and Koshi rivers have made hundreds homeless and displaced in Bihar's East Champaran and Bhagalpur districts in the past 48 hours. People have been forced to take shelter on high rise embankments as the only option to survive, and are still awaiting help from the local administration.
Bittu Yadav and Yogendar Yadav's houses were swallowed by erosion of Gandak at Sakhawa Tok village in Areraj block in East Champaran.
"Rising water level in Gandak destroyed more than 40 houses and fully damaged standing crop. As our village is situated between two channels of Gandak, we are victims of increasing erosion this year following heavy rainfall in catchment areas in the district and neighbouring Nepal", said Yadav, who along with his family and cattle has taken shelter on Saran embankment.
Brijesh Yadav said over 200 villagers have been displaced as their houses have gone due to erosion. They are left fighting with hunger. "Not only are we homeless, we have nothing to eat except some dry chura and sattu. We have no idea where to go and what to do after flood water recedes in the coming days", he said.
According to the displaced villagers, Sakhawa Tok was badly destroyed by erosion two decades ago also. Most of the houses in the village were destroyed and people were forced to take shelter in different neighbouring villages.
Similarly, erosion of Koshi is giving sleepless nights to residents of Kaharpur village in Bhagalpur. "Erosion has been destroying two-to-three houses every day as the water level is rising in Koshi." said Vijay Yadav, whose house was swallowed by erosion two days ago.
Sanatan Singh and Rajesh Paswan, both residents of Kaharpur village, also fear erosion as their houses are on the verge getting submerged. "We and two dozen others are likely to lose houses. Several villagers are trying to shift their household items to safe places," they said.
Last month, erosion of swollen Bagmati,Burhi Gandak,Ganga,Gandak and Koshi destroyed hundreds of houses and several schools,primary health centres,temples,mosques in 16-17 districts .As the reports reaching here, erosion is continuing since mid-June with the onset of monsoon followed by heavy rainfall.
Ironically, the state government is more or less silent on how to tackle the erosion problem. There is no mention of erosion-related data in the official daily flood report updated by the state disaster management department.
Rising flood water has submerged rail tracks and disrupted train services on the Samastipur-Darbhanga section for four consecutive days. This has affected thousands of people, mainly migrant workers, who have started to going back to their workplaces across the country following COVID-19 cases declining in recent weeks. As railway tracks got submerged and floodwater touched the girder of a rail bridge on Samastipur - Darbhanga rail section, railway authorities were forced to cancel half a dozen trains and divert routes of over a dozen trains.
The flood situation continues to remain grim in Bihar, with some of the major rivers flowing above the danger mark in a few places while others were showing signs of decline, which is a sign of relief. Yet, large tracts of land continue to remain submerged. There seems to be little chance of the water receding in the coming days, with the India Meteorological Department (IMD) forecasting more rain.
As per the Disaster Management Department's daily flood report on September 2, a total of 28.75 lakh people in 1,975 villages across 16 districts had been affected by the floods. After weeks, this is the first time the number of flood-affected people has fallen below the 29-lakh mark and affected villages below 2,000.
To date, 53 people have officially died due to floods in Bihar.
The Department's latest update said that so far, 2,15,355 people have been evacuated from flood-affected areas in the state.
Floodwater has entered hundreds of villages for the third or fourth time so far since June.
Bihar witnessed heavy rainfall with the onset of the monsoon this year. Heavy rainfall in the state is normal during July and August, but the state received surplus rainfall in June. This resulted in floods in the low-lying areas.
In June 2021, Bihar received 354.3 millimetres (mm) of rainfall —111% more than the normal for the month. This excess rainfall drove the total precipitation till July 31 to 613.1 mm for the two months — about 19% higher than the average rainfall for the period.
Weather officials in Patna said the state received 942.3 millimetres of rainfall from June 1 to August 31 (normal is 801.19 millimetres), nearly 18 % above the normal rainfall generally received.
According to a preliminary assessment of crop damage by the state agriculture department, more than five lakh hectares of crops, including paddy, maize, sugarcane and vegetables, were destroyed by the floods this year in the state. The swollen rivers had inundated and destroyed thousands of acres of crops in 2020 as well.
Get the latest reports & analysis with people's perspective on Protests, movements & deep analytical videos, discussions of the current affairs in your Telegram app. Subscribe to NewsClick's Telegram channel & get Real-Time updates on stories, as they get published on our website.
Subscribe Newsclick On Telegram