Bihar -- Where Urdu is Destined to Die
Urdu remains a political tool in hands of Bihar's political parties, and is gradually being squeezed out as a medium of instruction.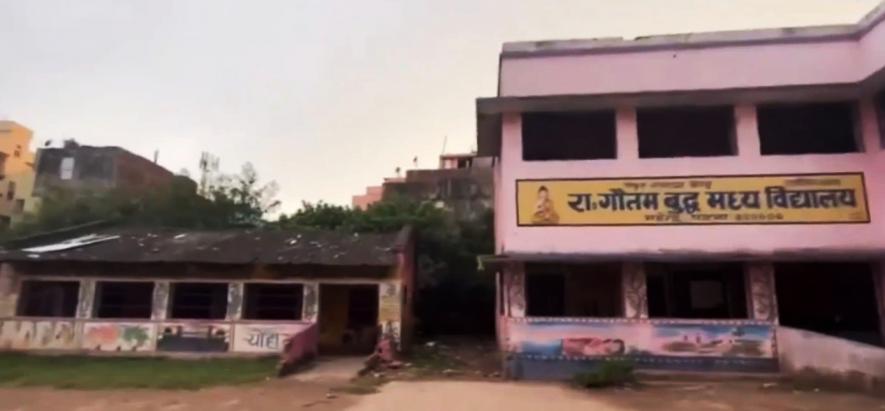 (Credits - Syed Irfan Ahmad/Heritage Times)
Patna: While the central ruling party (Bharatiya Janata Party) shuns its gates for Urdu in the rest of the country, it is busy running a separate extractivist project in Bihar. There, the approach seems to be extract Urdu from the daily lives of its 87.7 lakh Urdu-speaking population (according to the Census of 2011) and shut it inside a few books of poetry. 
The government is doing this by systematically defunding Urdu education in Bihar, which is home to around 2,600 Urdu medium schools, where the language is the primary mode of teaching for all the subjects. 
The 'death' of Urdu seems to have been planned by using these schools as a weapon, and the prime accused remains the government of Bihar. An example of this can be found in the Shah Ganj area of today's Patna, the capital of the state. 
Recently brought into light by the Facebook page 'Lost Muslim Heritage of Bihar', there exists a Government Urdu Middle School, established in the year 1907. On the same campus, there is Rajkiye Gautam Buddh Middle School which is a Hindi medium school established in the 1970s. Both schools, despite sharing the same campus, are way different in terms of infrastructure. 
While the Urdu medium school is in a dilapidated state with broken asbestos ceilings and walls that haven't been painted for ages, the Hindi medium school stands as a well-maintained double-storey building with concrete walls and roof. Both the schools facing each other on the same campus are a living tale of the first and the second official languages of Bihar. 
A girl, Shabeena, who was once a student of this Urdu school and who later shifted to the Hindi medium school, complained about the lack of Urdu books and teachers. "The books used in our curriculum are in Hindi, however, the prescribed ones are in Urdu. What is the point of studying in such a school where the roof leaks and the walls are in a crumbling situation when you can study the same books in the Hindi school which is right next to the Urdu one," she told this reporter.
Urdu medium schools were, in fact, a medium for propagating the language among the masses. In Bihar, where Urdu speakers are in abundance, the number of people who write in Urdu has decreased drastically. Urdu medium schools were supposed to bridge this gap, however, the gap has widened with the lack of Urdu teachers and mergers of these schools as well. 
The Bihar government has opted for a policy of merging schools with low numbers of students with those with a higher attendance rate. This has deprived a lot of Urdu-speaking students of their primary education in the language they opted for earlier.
The lack of Urdu teachers in Bihar's government school tells the same story. With an approximate number of 2,600 Urdu medium schools and Urdu as a subject in almost all the 72,663 government schools, including primary, middle, secondary and senior secondary schools, the government of Bihar has appointed merely 32,000 teachers since 2005. Out of these 32,000 teachers, many have retired and some others are about to meet their service's end. 
Nothing But a Political Tool 
Urdu has always remained and would continue to be a political tool in the hands of Bihar's political parties. The most recent controversy which ultimately led to the turning of tables in the Bihar government, too, involved Urdu medium schools. 
Bihar for a long time has had the tradition of Friday holidays instead of Sundays in Urdu medium schools. This was recently brought up as a matter of debate by BJP politicians. However, the ruling  Janata Dal-United (JDU) leaders such as Zama Khan and Upendra Kushwaha stood firm with the idea of holidays on Friday in these schools, as this has been in practice for many years. 
The then BJP ministers of Bihar were seen bottling down the issue raised by their own leaders. However, this became the last nail in the coffin for Bihar's coalition government of JD-U and BJP.
The BJP, which was seen making this issue a part of the" national political discourse with its anti-Muslim and anti-Urdu arguments, in Bihar has played a different role. 
BJP and Its Double-Faced Politics 
BJP being a "double-faced" party, aping its parent organisation the Rashtriya Swayamsevak Sangh (RSS) - which once said that "Savarkar was not anti-Muslim, he wrote ghazals in Urdu," along the same lines organised a poetic symposium (Mushaira) in the name of Shaad Azeemabadi -- one of the last legends of Azeemabad School of Poetry. 
On June 27,  BJP organised a Mushaira titled 'Aaj ki Shaam Shaad ke Naam (Dedicating this evening to Shaad)." Prominent BJP members, such as the Central minister Ravi Shankar Prasad, Nand Kishor Yadav and Shahnawaz Hussain were the key organisers of the event. 
This Mushaira took place exactly after a month after Telangana BJP chief Bandi Sanjay Kumar's statement of banning Urdu after the establishment of Ram Rajya (rule of Ram) in India. 
BJP -- a party that has stood against Urdu at multiple levels outside Bihar -- from giving calls of its boycott to changing the names of cities and railway stations and opposing the option of Urdu in examinations in Bihar, is seen organising a Mushaira-- celebrating an Urdu poet!
Urdu's 'Fake' Protectors 
JD-U, on the other side, is standing with Urdu merely because of political reasons. A party who's not even able to get the word 'alpsankhyak' (minority) translated for an Urdu poster. It got this word translated instead with the wrong spelling of both 'alpsankhyak' and 'zindabad' (long live) on posters related to its minority cell, which is nothing but a joke in the face of Bihar's Urdu-speaking population.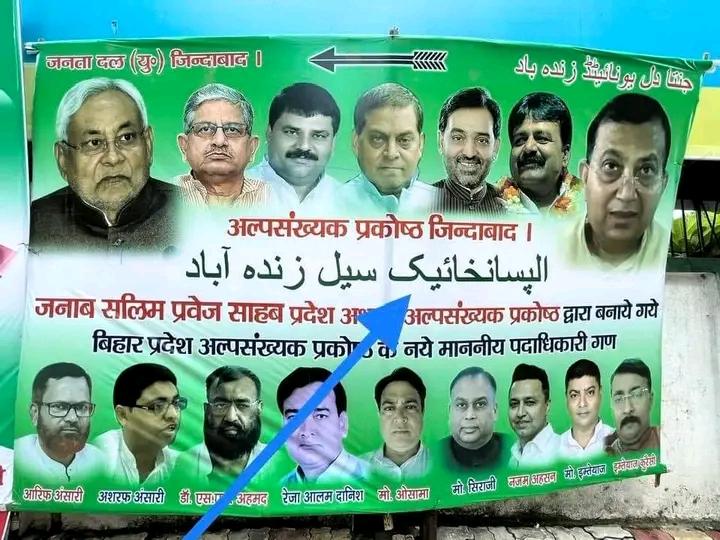 Credits: Simab Akhtar's Facebook
Both BJP and JDU, either with each other or against each other, stand on the same stage, trying their best to lure the Urdu speakers of Bihar while working to remove the last remains of Urdu from Bihar's demography -- in order to brand it as  a "language of intruders and foreigners". 
(The author is a poet, theatre artiste and activist covering history, heritage and literature. Views expressed are personal.)
Get the latest reports & analysis with people's perspective on Protests, movements & deep analytical videos, discussions of the current affairs in your Telegram app. Subscribe to NewsClick's Telegram channel & get Real-Time updates on stories, as they get published on our website.
Subscribe Newsclick On Telegram