Calendar of Disappeared People of Jammu and Kashmir
Unofficial estimates put the number of disappeared persons between 1989 and 2006 at anywhere between 8,000-10,000, but the government has made efforts to investigate only a fraction of these cases.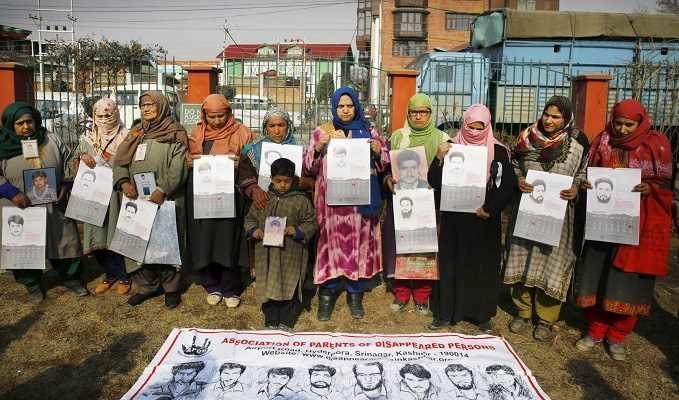 Image Coutesy: Rising Kashmir
The Association of Parents of Disappeared Persons (APDP) has brought out a calendar that recalls a phase of Kashmir in which thousands of people were abducted by security forces in the 30 year-long conflict of Kashmir.  
On Tuesday, January 15, a group of parents, longing for their disappeared kith and kin, held a peaceful sit-in at Srinagar's Pratap Park holding the calendar in their hands and silently raising questions about their whereabouts, "Are they dead or alive? If they are dead, provide their dead bodies."
The calendar starts with the sketch of a woman wearing a red pheran (a traditional overall symbolising the colour of blood), half of her face mourning and fatigued, the other side showing a face stripped down to the bare bone as she holds a photo of the disappeared person she has been searching for. Black and grey colours seem to form something like a cloud in the background. The artist behind this portrait is the valley's prominent political cartoonist Suhail Naqshbandi.
Each month carries a sketch of a disappeared person with details, bio, where, when and in which situation they were abducted. During the 1990s, abduction was a very common practice by the forces.
Unofficial estimates put the number of disappeared persons between 1989 and 2006 at anywhere between 8000-10,000. A majority of those disappeared are young men, including minors, many of whom have no connection with the armed resistance groups active in Kashmir.
Also Read: https://www.newsclick.in/kashmir-lahore-search-firdous
Although India signed the International Convention for Protection of All Persons from Enforced Disappearances in 2007, it has failed to ratify the Convention and only a fraction of the cases of disappearances have been investigated. Even though the number of disappearances has reduced in the recent past, the struggle for justice in existing and remaining cases continue.
Parveena Ahanger, a 52-year old woman who is the chairperson of APDP, had started the movement after her son was abducted. Speaking with NewsClick, she said that coming up with the calendar is a way of protest and documenting the stories of the missing ones which will reach every home in and around Kashmir.
"We have been releasing calendars since the last two years and each calendar have stories of different people. It will educate people about the disappearances and will be a copy of Kashmir's dark history," Parveena told NewsClick.
APDP believes that people in other parts of India and outside are unaware of these disappearances. Parveen is putting all the efforts to inform people about it.  
"We will send this calendar to universities and colleges. Students and people from outside buy these calendars. India says nothing has happened here. It hurts us deeply. If anybody else dies, their parents at least receive their bodies. Nearly three decades have passed, but there is no trace of these people," said Parveena.
She questioned both the central and state government that if they call these disappearances "baseless", then where are their beloveds.
Speaking about the inquiry by the High Court and the State Human Rights Commission (SHRC) regarding the disappearances, Parveena said, "Court (referring to the judiciary) only does 'inquiry' and avoids our cases by directing them to SHRC. When the court, which is the highest authority, is not able to deliver justice, what can we expect from SHRC?"
Parveena had initially turned to every politician in Kashmir for help but she has lost trust in them as well. She claimed that politicians promised to help but in reality, they were only interested in power. She struggled to assemble all the victim families and provided support to them and taught them how they can raise their voices to fight injustice.
APDP is making all efforts to pressurise the authorities to investigate the over 10,000 cases of disappearance. On the last month, next to the portrait, a quote reads, "Embedded like stars in the sky, where did they go having made heartless during the dark days, where did they go
In the shape of flowers, they entered our homes having laid the ammunition of memories where did they go!"
Get the latest reports & analysis with people's perspective on Protests, movements & deep analytical videos, discussions of the current affairs in your Telegram app. Subscribe to NewsClick's Telegram channel & get Real-Time updates on stories, as they get published on our website.
Subscribe Newsclick On Telegram