From Kashmir to Lahore: In Search of Firdous
To get to the truth of it, in 2009, Qadir decided to visit Pakistan to search for his son.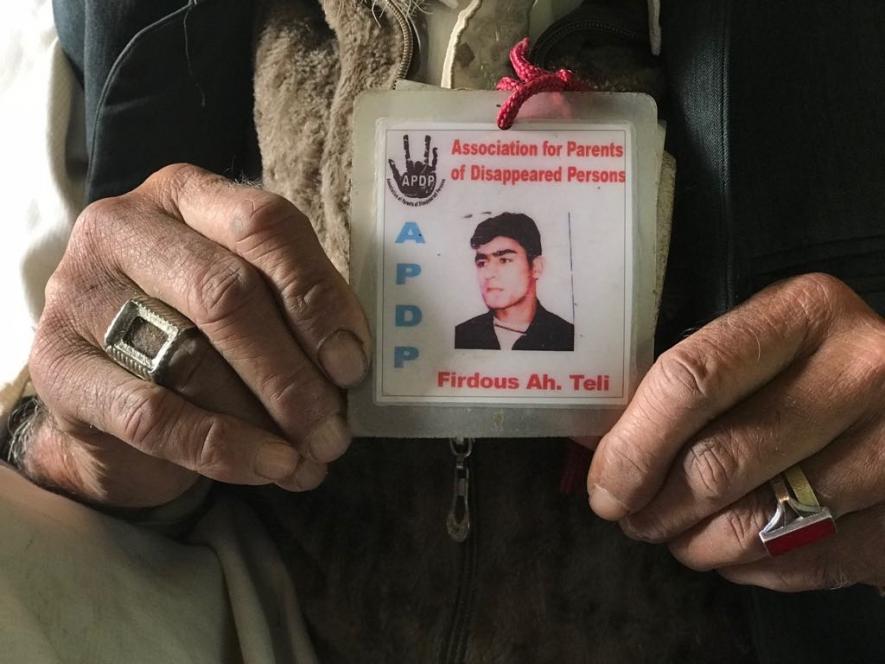 Like many others in the state, Ghulam Qadir Teli's son disappeared in 2006, and was never found. Since militancy was on the rise in the 90's, almost 8,000 families have a member of the family who has disappeared and no one knows whether they are dead or alive. Most of those, who have disappeared, are allegedly the ones taken into custody by the government forces, which was later denied by them. Some others left their homes and never returned.
Living in a mud and brick house in Hamam Mohalla Chougal, an area of North Kashmir's Handwara district, octogenarian Qadir, with half of his wrinkled face covered with his white beard, keeps his eyes on the gate waiting for his son Firdous Ahmad Teli to enter. 
On November 25, 2006, Firdous, then 22 years old, left from home for his work as usual. To cover daily expenses, Firdous used to drive a leased tractor and ferry soil from one place to another. He dropped his studies in 9th class and started earning to support his family.  On this day, Firdous was working only a few yards away from home.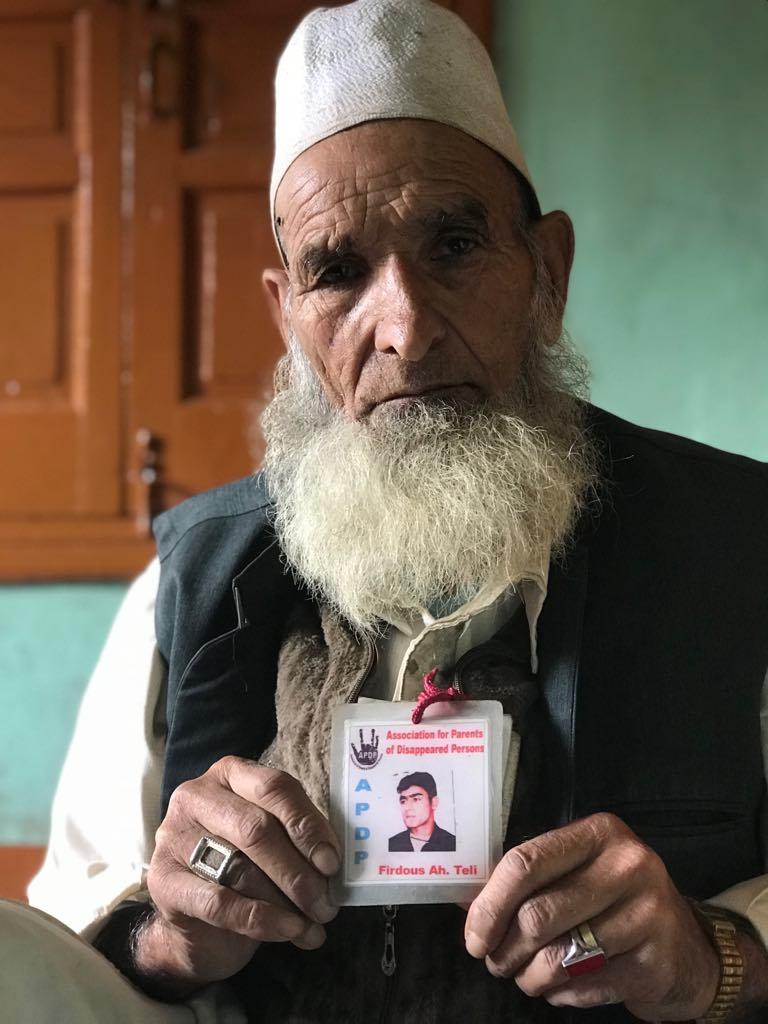 After 20 minutes of working, Firdous complained of pain in the stomach. He had been suffering from gastric problems. He came back home to rest for some time, but got no relief. Firdous decided to visit his doctor, Dr Habibullah Mattu, at Sub-district Hospital Sopore, in North Kashmir's Baramulla district. 
At around 10 am, Firdous changed his clothes, took his prescription in an envelope and left.  He asked his mother to inform his co-workers about his health. "I saw him in the courtyard when he told me that he is not well, and he is going to see his doctor," said Qadir. 
In the afternoon, Qadir went to the market to buy some grocery. In the evening when Qadir was returning home, he was stopped by his neighbours, and was told that his house had been raided by the army. "I told them, I'm clean, so is my family, we have never had any involvement in the armed resistance and moved towards my house," said Qadir. 
Once home, Qadir found his wife surrounded by his daughters sitting in a corner. As per Qadir, forces searching his house had ransacked the place. 
Later, when they sat down for dinner, Qadir asked for Firdous. Saja Begum, Qadir's wife informed him that he hadn't returned from Sopore yet. "I thought he might have stayed at his friend's place in Sopore," said Qadir. 
Next day Qadir woke up and went to the cowshed to feed his cattle, and within no time, his courtyard was full of army vehicles, and he was ordered to get into the jeep. It was the army from the nearby garrison located at Baghatpora. 
All the family members were sleeping, a few of army men reportedly held Qadir and threw him in the jeep. Qadir was taken to the garrison cum torture centre. Qadir's hands were tied on his back, he was taken to a room filled with dim light. "What is my fault?" Qadir managed to ask in a broken voice. 
He alleges that all the army men present in the room started beating him with canes, kicked him and repeatedly kept asking him about the militants and the arms. "I kept screaming in pain 'we never had contacts with militant', but they kept torturing me," recalls Qadir with tears in his eyes. 
Torture moved to the next step, his hair was pulled out by pliers, iron rollers were moved on his back and legs. "They forced me to drink water and kicked my stomach until I puked," said Qadir. 
Once they realised that Qadir's condition was getting worse, the army left him near his house. He was taken inside quickly by his family. Firdous was still missing. Meanwhile, Saja went to all her relatives to look for Firdous, but there was no information.
Finally family filed a missing report.  
After spending three months in bed, Qadir was able to move again. Resuming his search for his son, Qadir went to all the army camps of North Kashmir. Samina, Firdous's wife was hoping for her husband's return. It was only nine months after their marriage that Firdous had disappeared.
Qadir kept his search on and reached the Central Jail in Srinagar, but there was no prisoner with this name. His search for his son took him to the jungles, Uri, Gurez, Kupwara, Rafiabad districts of North Kashmir, Shopian Kulgam, Tral, Dailgam and Islamabad areas of South Kashmir.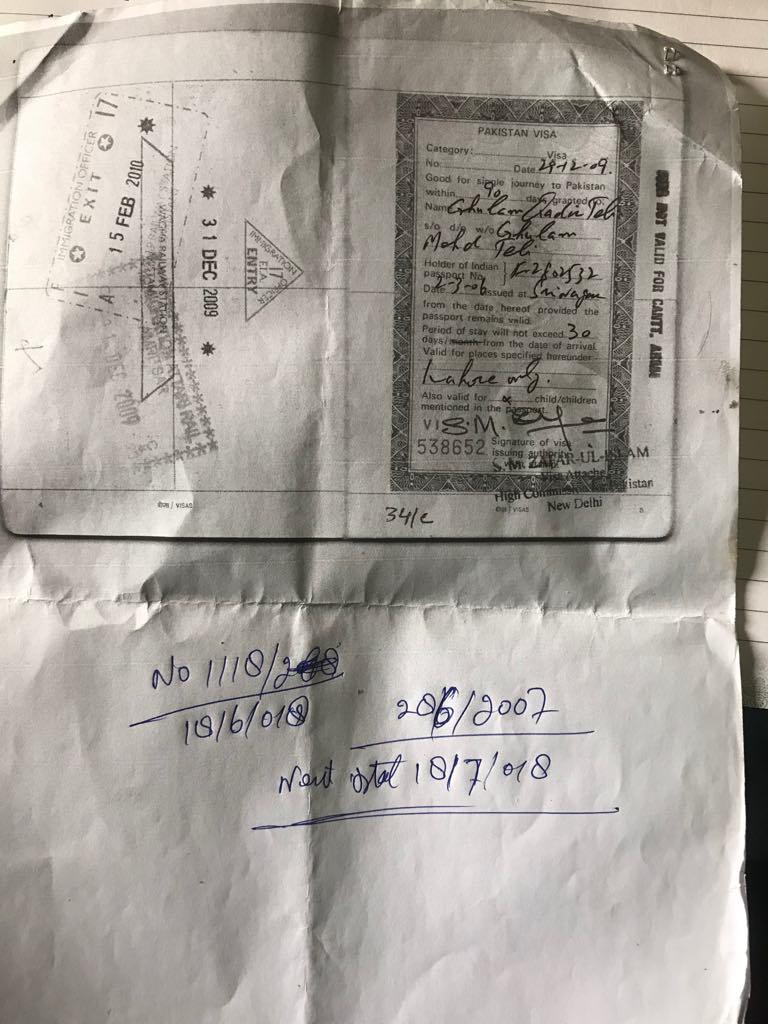 Qadir used to visit almost every encounter site keeping a photograph of his son in his pocket to match it with the slain militants. Firdous's disappearance was still a mystery. "I wiped the blood from the faces of the dead militants but I never saw my son's face," recalls Qadir. 
In all the hearings, police and Criminal Investigation Department (CID) were providing the same rebuttal "Firdous is in another part of Kashmir (Pakistan Administrated Kashmir)".    
 "They were trying to dodge the case, police put false claims when they were not able to provide the right details of the incident," said Qadir. 
To get to the truth of it, in 2009, Qadir decided to visit Pakistan to search for his son. Late Abdul Rahim Kashmiri was Qadir's bother who was living in Lahore. 
"I got the passport, it was easy for me to get the visa because of my brother's family, so I went to Pakistan via Amritsar," he says. 
While sitting in the bus, Qadir was praying to God to help him in locating his son in Pakistan. Soon after he reached his brother's place, he narrated the story to his nephews. 
Everyone made efforts to locate Firdous, but there were no clues. Qadir's main aim was to visit Muzaffarabad, but he was not allowed to go there.
Providing ambiguous details about the presence of Firdous in Pakistan, CID report says that he has gone to Pakistan for arms training, and is living there. 
"I was doing my best to get the answer to all of the questions, and to see if my son is really there," said Qadir. "But I returned with nothing."
Did his search end? No, it didn't. He finally filed a case with the Human Rights Commission – Qadir's last hope.  
He was not alone in looking for his son; many others were in search of their kith and kin. All the parents and the relatives of missing persons had got together, and formed an association and named it 'Association of Parents of Disappeared People'. 
On the 10th of every month, all the parents and relatives of the disappeared people assemble at Pratap Park located in the heart of Srinagar city. Qadir always travels for about 80 km from Handwara to Srinagar to participate in the protest.  
Holding placards and the photographs of the missing ones, parents and relatives hold a peaceful protest in the park. Qadir's eyes are always searching for his son. 
After Samina spent six years as the "half widow" of Firdous, in 2012, Qadir asked Samina to get married again and continue her life. Same year, Saja died due to the cardiac arrest. 
"My son hasn't contacted me in last 12 years, that indicates that he is dead, but I want to see the place where he died and where he is buried," said Qadir with tears streaming down his face.
Get the latest reports & analysis with people's perspective on Protests, movements & deep analytical videos, discussions of the current affairs in your Telegram app. Subscribe to NewsClick's Telegram channel & get Real-Time updates on stories, as they get published on our website.
Subscribe Newsclick On Telegram