Cambridge Analytica and its Bag of Dirty Tricks
The Channel 4 multi-part exposé of Cambridge Analytica has raised a number of issues.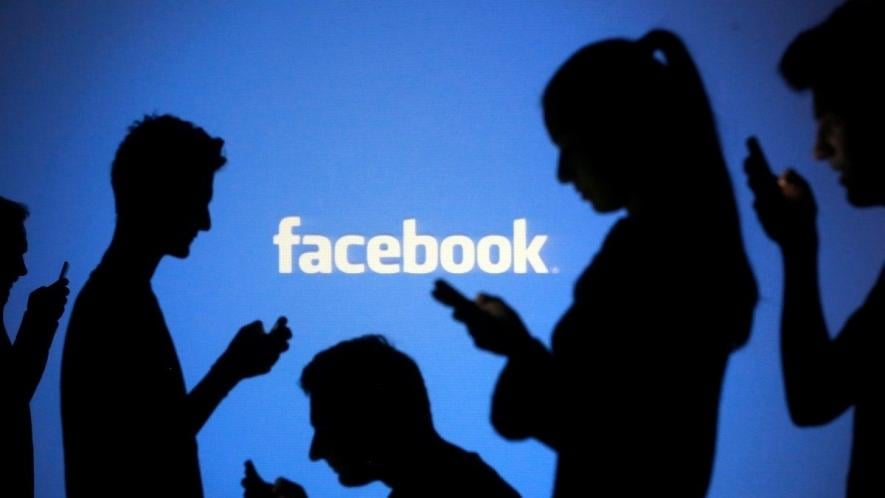 The Channel 4 multi-part exposé of Cambridge Analytica has raised a number of issues. The two key ones are, first, that Cambridge Analytica was able to "steal" 50 million Facebook users' data in the US; the second, that it helped rig Trump's elections by using such data to successfully micro-target the voters with false news playing to their prejudices.
Post the Channel 4 exposé, the debate in India is heating up, with the BJP and the Congress trading charges on the role of Cambridge Analytica in their respective election strategies. Interestingly, one of the directors of Cambridge Analytica's Indian partner, Ovleno Business Intelligence, has claimed in LinkedIn – as tweeted by Srinivas Jain – that they helped BJP win elections in India, including its Mission +272, or the 2014 elections. The BJP has also used a huge number of WhatApp groups to spread its campaign message including Fake News. Pratik Sinha's AltNews.in has repeatedly exposed such fake news on its site. In spite of such exposures, the BJP's IT Cell continues with the same strategy.  How much of this strategy is their own development, and how much is due to the tutelage of Cambridge Analytica?
In the Channel 4 exposé, one of the Cambridge Analytica top executives explains how it sets up "independent" companies or works with contractors in other countries to distance itself from their work. Is Ovleno Business Intelligence, run by the JD(U) leader KC Tyagi's son, a similar entity? Is the creation of Election Bonds, and hiding all political funding from the people, a part of funding the BJP's big data exercise?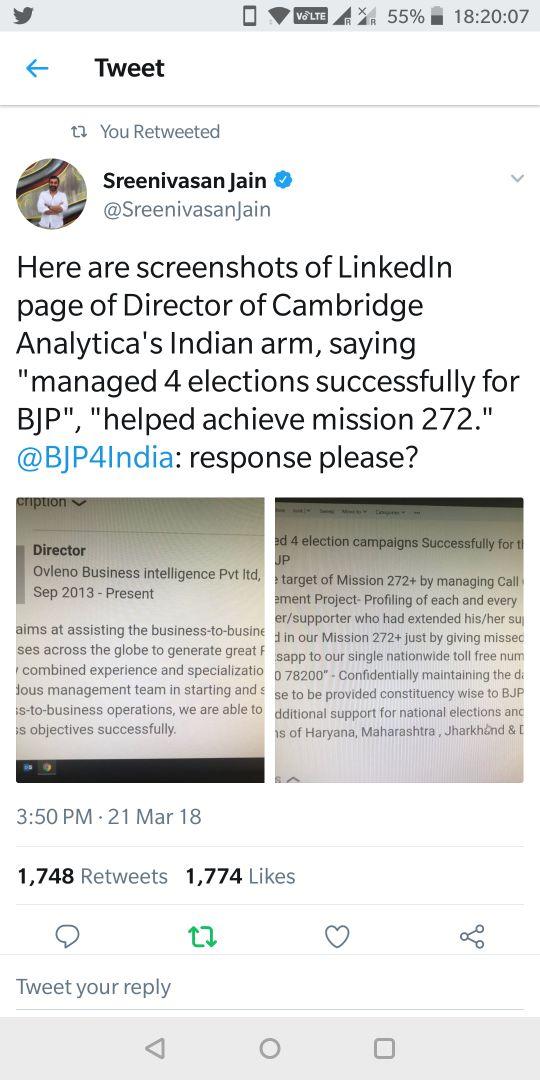 Newsclick sources tell us that the BJP ran a big data project in Tripura, in which it correlated booth level data of all the voters with their identities. These identities were used to micro-target messages, each profile of voters receiving a different message. The micro-targetting methods outlined by Cambridge Analytica in the Channel videos sound eerily similar to BJP's electoral strategies. A coincidence?
How did Cambridge Analytica get access to 50 million Facebook profiles? Facebook had allowed a research project in Cambridge University to run an app on Facebook for generating psychometric profiles. While 270,000 filled up their questionnaire, the app had hidden code which allowed it to harvest the data of all their friends who had their privacy settings open. While this is not data hacking, and therefore not illegal, strictly speaking, it was definitely well beyond what Facebook thought they were doing. Neither does Facebook come of well, as they not only made no attempt to protect their users, but also made very little effort to see that this data was not misused. This is the core data that Cambridge University used to create profiles of the voters in the US which they could use to swing the US elections.
Channel 4's exposé shows that Cambridge Analytica worked on a number of elections, including those in Kenya, Eastern Europe and Nepal. Its toolkit included not only micro-targeting using psychological profiles of people, but also old fashioned dirty tricks: entrapment; "honeypot" using Ukrainian girls; and so on.
The leading executives caught on camera exposing Cambridge Analytica's methods to a supposedly wealthy Sri Lankan, are Alexander Nix, their chief executive, Mark Turnbull,  the head of their political division, and Alexander Tayler, their chief data scientist. While Nix has been suspended by the Board of Analytica, Alexander Tayler, the key person behind its data analytics and micro-targeting – and also caught on camera offering to fix the Sri Lankan elections – has now taken over as chief executive from Nix. So the personnel may change, but the regime continues.
Meanwhile,  markets punished Facebook for its loss of 50 million US user profiles to Cambridge Analytica with #DeleteFacebook trending on twitter. Its shares sank by 9% – a loss of $ 50 billion –  before recovering partially. Mark Zuckerberg, so prompt to speak on issues such as Free Basics, has gone into hibernation on this matter.
The long term issues of micro-targeting using big data and false news are not going to go away by punishing Cambridge Analytica for breaching elections laws, or Facebook for its lax privacy and data security. The problems lie much deeper. Research recently published in Science shows that false news travels faster, deeper and wider than true news. This, coupled with the amount of data we generate, not just in Facebook but through our digital footprints on the internet, endangers not only future elections, but also our future. It is only a matter of time before we see more Cambridge Analyticas tapping into our deepest fears and our prejudices. Welcome to the post-truth world of Modi and Trump, and our march into barbarity, led by our ablest tech minds.
Get the latest reports & analysis with people's perspective on Protests, movements & deep analytical videos, discussions of the current affairs in your Telegram app. Subscribe to NewsClick's Telegram channel & get Real-Time updates on stories, as they get published on our website.
Subscribe Newsclick On Telegram