Is Caste Census Advantage or Challenge for Opposition in Uttar Pradesh?
Emphasising caste can undercut religious majoritarianism but even the BJP has strategies to use identity to its advantage.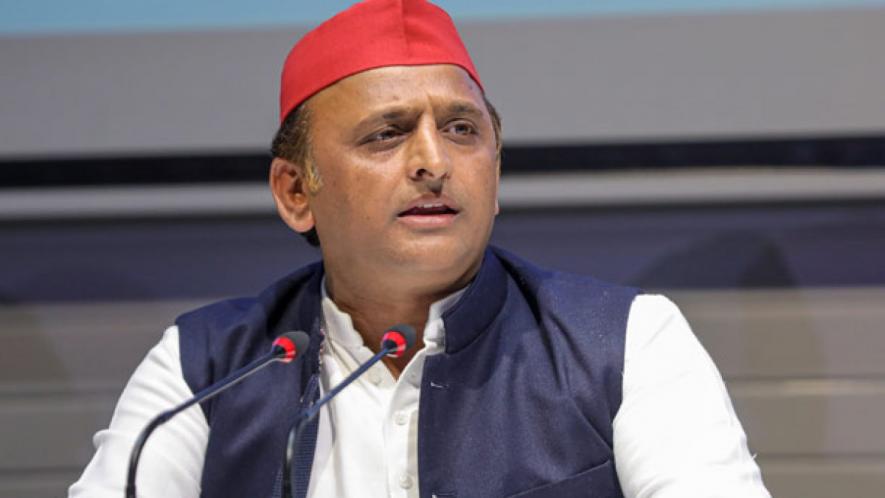 Image for representational purpose. Courtesy: Outlook India
For several months, the Samajwadi Party has attempted to bring social justice to the centre of politics in Uttar Pradesh. Evidently, party chief Akhilesh Yadav sees the caste census as one way to achieve this. Like many parties born from the crucible of Mandal politics, the Samajwadi Party may also believe that caste is the best foil to the Bharatiya Janata Party's (BJP) Hindutva campaigns. However, it is worth considering whether or to what extent these efforts have succeeded, and what could stand in their way.
Hindutva assertion, which amplifies religious divides to create a monolithic Hindu identity, undoubtedly crushed the Samajwadi Party's chances of victory in every election held since 2014 in Uttar Pradesh, including the last one in 2022. It is widely believed that emphasis on caste fault lines can buck this trend, but the question is how.
A caste census would establish each social group's numerical strength and their relative economic, educational and social status. It would allow political outfits to dent the assertion that all castes are equal in the Hindutva vision of a Hindu nation. Crucially, an empirical survey would also help apportion reservations proportionately to each caste's share in the population. Therein lies the rub. Such a census would appeal to almost all parties except the Bharatiya Janata Party, which in 2022 allotted 10% reservations based on economic criteria for the first time, which in turn will only help socially advanced groups. But it is a big question how deep the need for such a survey has percolated even among those who would benefit from it. 
To be fair, BJP allies like Apna Dal (Sonelal) and the Suheldev Bharatiya Samaj Party (SBSP) have joined the chorus for such a census, while the BJP has batted against it and supported, instead, talk about sub-categorisation of backward classes in Uttar Pradesh. There is a reason for this. In recent Assembly elections in Uttar Pradesh, the BJP organised countless events targeting backward communities such as Kumhar, Rajbhar, Namdev, Nishad, Lodhi, Nai, Pal, Saini, Teli, and Chaurasia. This is part of its two-pronged process evolved, since 2014, emphasises the fictional category called non-Yadav OBCs. This new category separates the more dominant or successful backward social group, like the Yadavs, who back the Samajwadi Party, and isolates them from all other backward groups. 
Second, the BJP has tried to establish a separate identity for each caste group through its political and cultural events, effectively preventing them from consolidating under the backward class grouping. Put simply, it supports individual backward castes but never the backward classes as a whole. 
There are structural factors that defend this strategy of the Saffron party. Most individual Assembly segments in Uttar Pradesh have from 2,000 to 3,000 backward caste voters, while a few have 15,000 to 20,000. A handful of backward communities, such as Kashyap, Prajapati, Rajbhar, and Chaurasia, may have 30,0000 members or more in roughly 100 Assembly seats, but overall, their numerical dominance is only at the state level—they are over 40% of the total state population. 
To understand the implications of this, we must remember that caste, to somewhat paraphrase BR Ambedkar, is a super-specialisation of occupations. That is, in its primordial form, no village would need, say, 100 members of the Dhobhi or washerman caste, but every village would need a few. This lack of village- and segment-level dominance, a structural feature of both occupation-based caste and backwardness explains the BJP's interest in further atomising the downtrodden. If it can pick up backward-class votes at the state level, that will swing electoral victories for itself, combined with its ardent elite caste supporters.
However, the caste census backed by the Samajwadi Party (and others) might have the backward classes flee the Hindutva umbrella. This would leave the BJP confronting an impossible situation: Having isolated Muslim voters, who are close to 20% of the Uttar Pradesh population, it would lose even its staunchest allies in the elite-caste Hindu sections if the backward voters flee. 
This situation should explain why Rashtriya Swayamsevak Sangh chief Mohan Bhagwat sought to obfuscate the demand for a caste census by incorrectly claiming that no caste is scripturally superior to another in the Hindu religion. He said, "What some pandits say based on the shastras are lies. We are misled by caste superiority, and this illusion has to be set aside." 
A caste census would establish the relative inequality and inequity among caste groups and emphasise the argument that caste discrimination and social backwardness go hand-in-hand. This would help the BJP's rivals, and that explains the demand. Now, where do the opponents of the BJP need to intervene to make this a possibility? 
According to Uttar Pradesh-based journalist Sunil Kashyap, social insecurity is the biggest concern of the backward classes. Notably, these sections depend on farmers of relatively better-off OBC castes, like the Jats and the Yadavs, but there are conflicts and contradictions between them. Groups within this category also face caste discrimination but lack the constitutional protection given to the Dalits under The Scheduled Castes and the Scheduled Tribes (Prevention of Atrocities) Act 1989. 
Apart from this factor, in 2022, the BJP intensified its campaign among the backward classes of Uttar Pradesh but deftly kept the Yadavs and the Jatavs out. Its strategy of isolating communities, even the those relatively weaker than its core voters of elite castes, reaped rich electoral dividends. This challenge is third primary obstacle before the Samajwadi Party—it must bring its core voters on the same platform as other backward communities to a much greater degree than achieved in the 2022 Assembly election. In that election, Akhilesh Yadav stitched an alliance with several minor parties catering chiefly to one or a few caste groups, but it still failed to defeat the BJP and unseat Yogi Adityanath as chief minister. Indeed, the Samajwadi Party's alliances did not completely flop, for the Rashtriya Lok Dal and SBSP dented the BJP, forcing it to slip from 313 to 255 seats in the 403-seat Assembly.
What came in the way of an Opposition victory was the BJP's electoral strategy to sub-divide backward communities into backward, most backward, and extremely backward. The BJP framed policies for each caste according to this during and before elections. (It began when Rajnath Singh was chief minister of Uttar Pradesh.) Accordingly, castes like Kashyap, Kevat, Mallah, Nat, etc., were deemed extremely backward, whereas the Lodh, Kachhi-Kushwaha, Gadaria, Pal, Baghel, Maurya, and others were placed among the most backward, and the Yadav, Yaduvanshiya, Patels, etc. were kept under the [least] backward category. To woo the members of the first two categories, it formed outfits like the Matti Kala Board, Kesh Kala Board, and Vishwakarma Board and appointed members of each caste to head them. Such 'events' by a party that claims to represent Hindus as a monolith were attacked by the parties accused of representing "caste" interests throughout the last Assembly election campaign. Clearly, the charge needs to be levelled more vociferously in the run-up to the 2024  election. 
Finally, many extremely backward and most backward classes make a living from skilled trades, and need markets to sell their products. Their biggest fear, especially in villages of Uttar Pradesh, is of losing their small land holdings to muscle-men. This explains their hunger for greater political participation and need to align with a powerful political force. Unfortunately for Akhilesh Yadav, reservation is not their biggest priority. Though considered fence-sitters in terms of voting, the most- and extremely-backward sections have helped swing the saffron party to power multiple times, especially when swept up in waves of Hindutva nationalism or Modi's claims to OBC identity, due to these fears. 
If the opposition wants them to join hands with the other backward groups or the Dalits, it must make the proposition appealing to the most marginalised communities. Not only are their educational attainments almost uniformly low but they also are deprived of the benefits of schemes meant for agriculturists. This, too, is a point which can put the BJP on the spot—how much has it expanded access to primary education (and primary healthcare, for that matter)?
The Samajwadi Party does need the marginalised communities to combine, not as Hindus or against the Muslims, but as backward communities under-served by a party backed by the social elites, Brahmins, Rajputs, Banias or Bhumihars. The government's free rations during the COVID-19 pandemic left many with injured sense of pride when they were told the rations were a favour, not a right, bestowed on them by their backward class Prime Minister, Narendra Modi. 
The BJP's narrative is that all benefits meant for the marginalised were captured by the Yadavs and a few others. It was bolstered by the everyday and historical experiences of the weaker sections, who are often oppressed by the land-owning communities. This draws us to the undeniable conclusion that the BJP's rivals demands for a caste census must accompany real work among the dominant communities to quell historical resentments and end caste subjugation.
The author is an independent journalist. The views are personal.
Get the latest reports & analysis with people's perspective on Protests, movements & deep analytical videos, discussions of the current affairs in your Telegram app. Subscribe to NewsClick's Telegram channel & get Real-Time updates on stories, as they get published on our website.
Subscribe Newsclick On Telegram