Centre Relents, Allows Defiant Farmers to Enter Delhi After Massive Stand-Off on Border
Protesting against 3 'black' farm laws, thousands more are expected to enter the capital by tomorrow, said AIKSCC, which has given the "Delhi Chalo' call.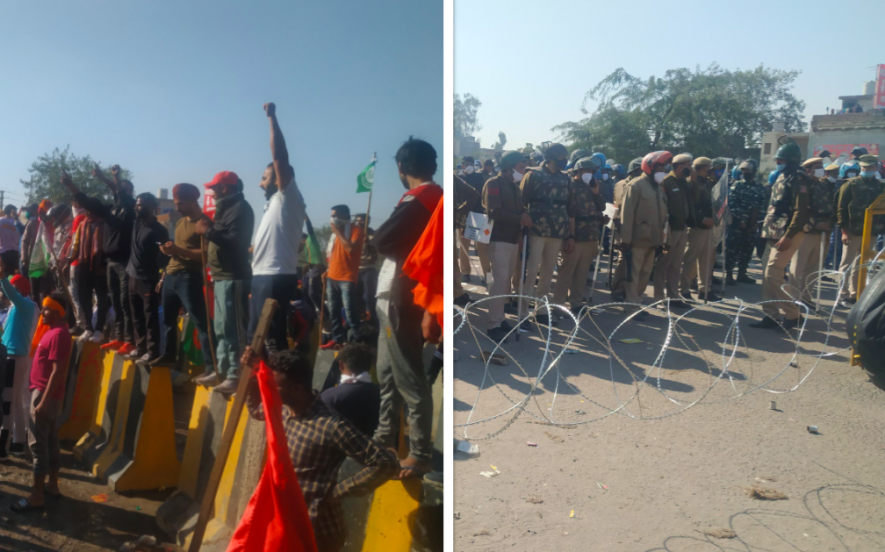 New Delhi: Defying water cannons, police barricades and teargas leading to massive chaos on the borders of Delhi, tens of thousands of farmers from Punjab and Haryana marched into the capital on Friday as part of their 'Delhi Chalo' call. The Centre had to finally relent and allow them into the city. Reports of farmer protests also poured in from other states, demanding immediate roll-back of the 3 new corporate-friendly farm laws brought in by the Narendra Modi government.
"The Government of India had to surrender to the will and resolve of farmers of India, to march into the National Capital, to voice their demands, and express their resistance against the three black central farm laws," said a statement by All India Kisan Sangharsh Coordination Committee (AIKSCC), an umbrella of over 300 farmer organisations, which "severely condemned the attempts to unleash repression on the farmers under guidance of the Modi Govt at the centre." 
After a prolonged stand-off with the protesting farmers,  Delhi Police PRO Eish Singhal, said: "After holding discussion with farmer leaders, the protesting farmers have been permitted inside Delhi to hold peaceful protest at Nirankari Ground in Burari."
Meanwhile, the Aam Aadmi Party (AAP) government has denied permission to the Delhi Police to convert the city's stadiums into temporary jails in view of the protest by farmers and more farmers heading toward the Capital.
In a letter to the principal home secretary, Delhi Home Minister Satyendar Jain said the Central government should accept the demands of the protesters and added that putting farmers in jails is not the solution.
Earlier in the day, clashes broke out at multiple places and Delhi's borders resembled a virtual battle zone with drones circling the air and plumes of smoke from teargas shells.
At the Singhu border and Tikri, there was multi-layer barricading, including sand laden trucks and water cannons, to block the farmers.
The farmers are demanding the repeal of the new farm laws, which, they said, should be replaced with another set of legislations framed after wider consultation with the stakeholders. They also want legal guarantee on minimum support prices.
In the morning, several trade union, student, women and democratic organisations held a protest at Jantar Mantar to express their support for the farmers' demands. 
BKU Farmers Block Highways on Way to Delhi
Lucknow: Intensifying their protests against the contentious agricultural laws passed by Parliament, Bharatiya Kisan Union (BKU) supporters several districts of Western Uttar Pradesh on Friday blocked the Delhi-Dehradun (NH-58) highway at Nawla Kothi area in Muzaffarnagar district in support of the protesting farmers from Haryana and Punjab.
The BKU activists and farmers also blocked the Yamuna Expressway by squatting on the road. Farmers in Moradabad under the banner of BKU blocked Delhi- Lucknow highway and sat on Dharna.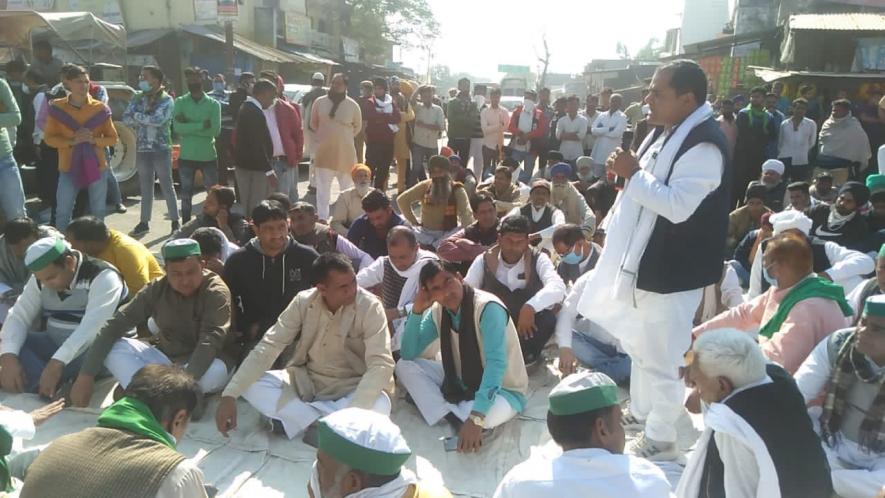 Protests were also staged in Meerut, Muzaffarnagar, Baghpat, Shamli, Aligarh, Saharanpur, Mathura, Agra and Hapur. 
In Baghpat, BKU activists blocked traffic on the Sonipat Highway using tractors and raised slogans against the new farm laws.
Supporting the farmers of Punjab and Haryana, Rakesh Tikait, national spokesperson of the BKU, said: "We saw on TV that Haryana government and Delhi Police welcoming farmers with tear gas shells and water cannons. Why just tear gas shells, why not throw bombs instead. Then farmers won't be left to trouble you (the government)," Tikait told Newsclick. 
SATYAGRAHA AT UP-RAJASTHAN BORDER
A huge number of farmers began a 'Satyagraha in the support of farmers of Punjab and Haryana at Agra-Lucknow expressway under the leadership of Rajveer Lawaniya, district president of Aloo Kisan Vikas Samiti and member of BKU in the presence of heavy police forces.  
"Farmers in Uttar Pradesh are not able to get even half of their investment, which is Rs 700-800 per quintal. We had demanded that the state government declare Rs 1,000 per quintal as minimum support price for potato but the government did not consider our demands. We have started the Satyagraha and we will get these anti-farmer laws repealed," Lawaniya told Newsclick.
Meanwhile, thousands of farmers from under the leadership of Rakesh Tikait are heading to the national capital as part of the protest march with tractors other vehicles. They are expected to reach Noida border tonight . -- Abdul Alim Jafri
Will Push Modi Sarkar Back, Say Maharashtra Farmers
Mumbai: Thousands of farmers reaches various district collectorate offices across Maharashtra on Friday. They were also stopped from crossing borders in Gujarat, Madhya Pradesh. Farmers were also joined by tribals in some parts. 
Three organisations in the state - All India Kisan Sabha, Swabhimani Shetkari Sanghatana and Kisan Jagaran Manch - have already sent batches of farmers to Delhi. Rest of the workers as well as organisations held protests in Maharashtra.
In the morning, AIKS held protest sin Ahmednagar, Palghar, Sangli, Osmanabad, Beed, Parbhani  and Nasik districts and submitted memoranda of demands to collectors' office and demanded the scrap of new farm laws. Farmers also did rasta roko in Hatkanangale, Tasgaon, Solapur and Jalana. One thousand farmers also held the protest in Murbad, Thane at tehsil office. 
"The farmers response to the protest was exceptional this time. Farmers coming to protest in the days of harvesting is something not regular scene. Government will have to take cognizance of it," said Ravikant Tupkar of Swabhimani Sanghatana. 
Some farmers also tried to go to Delhi by road but were stopped in Gujarat and Madhya Pradesh. "We want to protest at Delhi and bring the nation's attention to our issues. But the governments in Gujarat and Madhya Pradesh didn't allow us to cross the borders. First they cheat for industrialists and now snatch our right to protest," said Pratibha Shinde of Kisan Jagran Manch. 
Meanwhile, Maharashtra government declared that it will change the laws in state's capacity for betterment of farmers. "We will not accept as it is. Agriculture is state subject. We will change the parts of the laws which are anti-farmers," said revenue minister Balasaheb Thorat. – Amey Tirodkar
Village-Level Bandh Across Telugu States
Hyderabad: Tens of thousands of farmers in Telugu-speaking states of Telangana and Andhra Pradesh participated in ongoing protests amid police repression and heavy rainfall due to cyclone Nivar. Over 100 farmers and Left parties activists were detained during the protest demonstrations in Andhra Pradesh.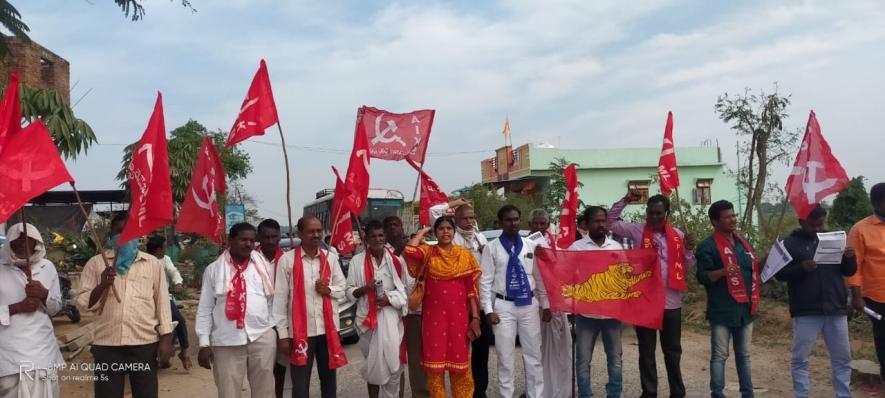 "Activists were arrested immediately when the rally began in Vijayawada. The YSRCP government has surrendered to the BJP at Centre and hence it is suppressing our protests against the central government laws," said Y Kesav Rao, president of Andhra Pradesh Rythu Sangam, who was also detained along with other farmers in Vijayawada.
In Srikakulam, the district police detained protesting farmers in front of Vidyut Bhavan there.
"Farmers are also opposing the YSRCP led state government's decision to fix smart meters to pump sets in agriculture fields" said Babu Rao, a state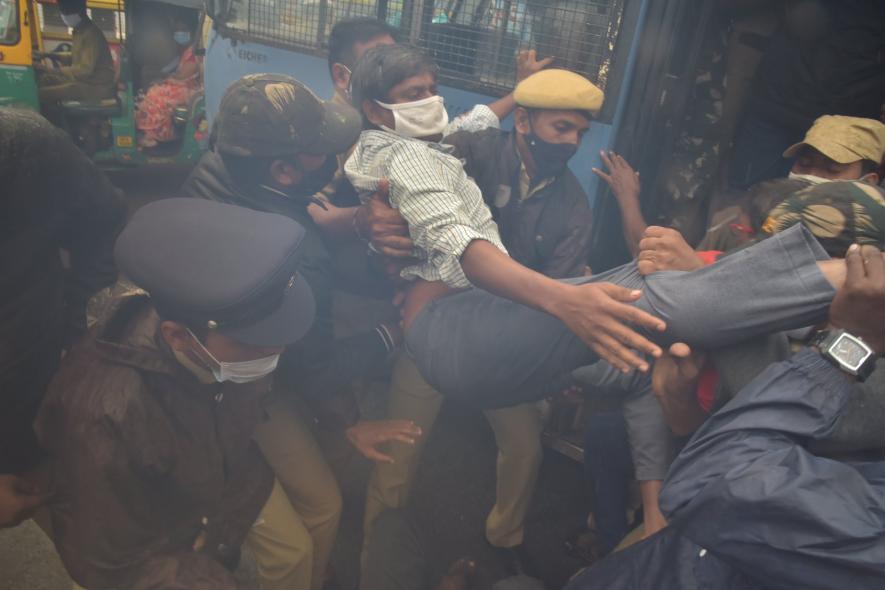 Sagar, General Secretary of Telangana Rythu Sangam affiliated to All India Kisan Sabha said: "Public meetings and rallies were held in remote tribal villages in Adilabad and Khammam against the central government policies."
  "What the farmers want is an ensured MSP, uninterrupted power supply and insurance for crop produce due to floods or famine but not laws for corporate or contract farming," said Sagar.  – Prudhviraj Rupawat
Bihar Opposition Protests Action Against Farmers
Patna: In solidarity with the protesting farmers in Delhi, the opposition Mahagathbandhan, including Left parties, Rashtriya Janata Dal and Congress, protested inside and outside the Bihar Assembly condemning police action against protesting farmers in Delhi.
With placards in hands, Opposition MLAs demanded withdrawal of the farm laws and shouted slogans against the NDA government at the Centre and state.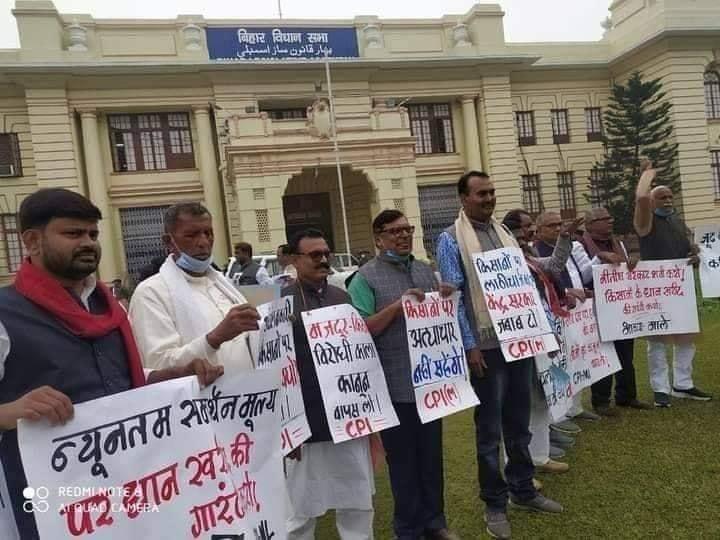 "Bihar government should pass a resolution against the farm bills in the state assembly and send it to the Centre if the government is in favour of the farmers," "RJD MLC and former Chief Minister Rabri Devi said.
CPI(M) MLAs Ajay Kumar and Sateyendar Yadav raised the issue of police action against farmers in Delhi and along with other Left MLAs staged protests in and outside the Assembly in support of the farmers protesting in Delhi. – Mohd Imran Khan
 
Kerala Farmers, Agri Workers in Solidarity 
Farmers and agricultural workers from Kerala held protests across 200 sites in the state in solidarity with protesting farmers from Punjab, Haryana and UP.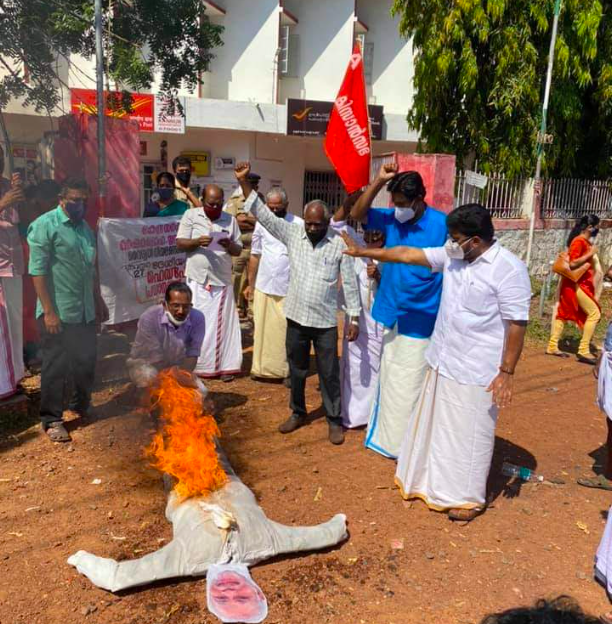 Farmers led by KK Ragesh, Rajya Sabha Member and joint secretary of All India Kisan Sabha, burn effigy of Modi in front of head post office at Kannur
Under the banner of Samyuktha Karshaka Samithi, a joint platform of various farmers' organisations, affiliated to AIKSCC, the protesting farmers also burned effigies of Prime Minister Narendra Modi for adopting pro-corporate policies.   
Get the latest reports & analysis with people's perspective on Protests, movements & deep analytical videos, discussions of the current affairs in your Telegram app. Subscribe to NewsClick's Telegram channel & get Real-Time updates on stories, as they get published on our website.
Subscribe Newsclick On Telegram