Changing Composition of Workforce, New Labour Codes Are Big Challenges, Says CITU President
The CITU conference concluded with a mega public meeting in Bengaluru, calling for more united struggles against privatisation and growing attacks on labour rights.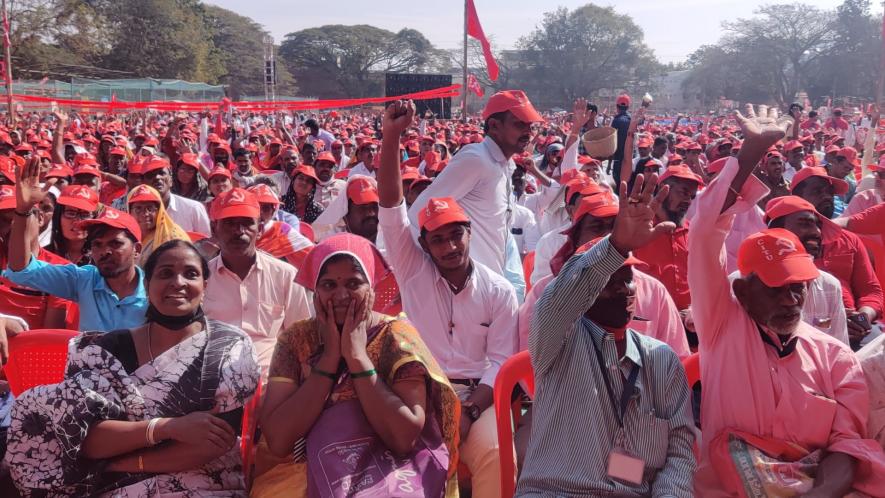 Bengaluru: The 17th all India CITU conference came to a close on January 22, with a mega public rally in the city. The conference passed several resolutions, including one that demanded scrapping of the the four labour codes; solidarity with working class struggles in Karnataka; and with struggles taking place internationally.
 A resolution was also passed to carry out a 'Mazdoor Kisan Sangarsh' rally to Parliament on April 5 2023, along with farmers' organisations to demand legal guarantee for minimum support price; minimum wages for workers at Rs 26,000/month; end to the privatisation of PSUs and public services, among others.
 The five-day conference saw delegates from across the country exchanging views on the functioning of the organisation. During the first three days, sector-wise and state-wise group discussions were held. The general secretary's report, which was published in three parts, was discussed in detail. General Secretary Tapan Sen, addressing a press conference later, said the delegates had been "ruthlessly self-critical". 
 Among the highlights of the conference was the presence of guests Pambis Kyritsis, general secretary of the World Federation of Trade Unions and Aleida Guevara, daughter of Che Guevara. Addressing the delegates, Guevara spoke about the need for unity of the working class across borders and languages. She spoke in Spanish with the help of a translator.
 Reduction in trade union membership
 On the 'global trend' of falling trade union membership, CITU president K Hemalata, in an interview to Suresh Kodoor, a progressive writer, said: "Even in CITU, I have observed that the total membership is not increasing as fast as I would like to. The composition of the trade union membership is also changing. In CITU, 70% of the membership is from the unorganised sector or scheme workers. They are people who are not recognised as workers and get no labour law protection. The proportion of organised sector workers is also decreasing (in industry)."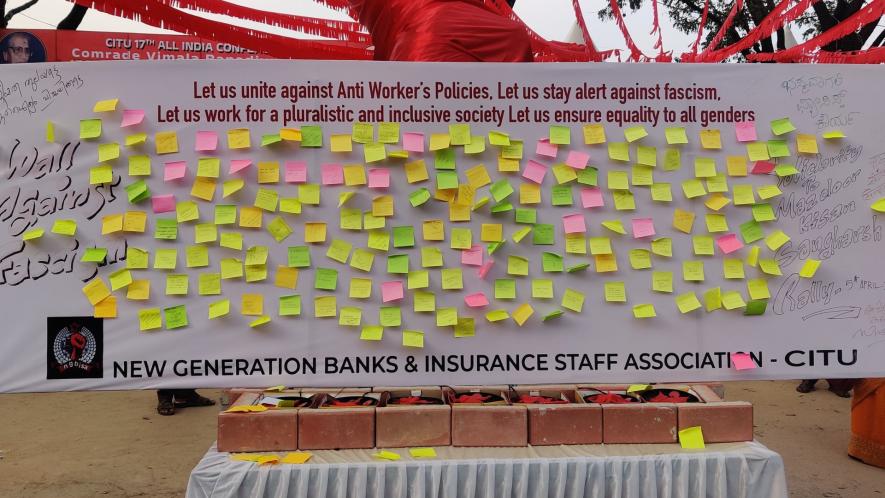 She said one of the main reasons was the changing composition of the workforce and the practice of using contract workers.
 "Both in the public sector as well as the private sector, the number of permanent workers is coming down. It is difficult to organise contract workers because they don't have any job security. They don't have bargaining power. The new labour codes will allow fixed term employment. So now you are dependent on the employer for renewal of your term of employment. This is how neoliberalism has sought to weaken the trade union movement," she added.
 Hemalata also spoke about the rising participation of women in struggles. She pointed out that "in states like Punjab and Haryana, where the trade union movement is not strong, a large number of scheme workers are joining the unions. Scheme workers like Anganwadi workers, Asha workers, and midday meal workers are employed by the central government. Our estimate is that there are around 80 lakh workers employed here and most of them are women. Anganwadi workers have been working since 1975 but they are not recognised as workers. The same with ASHAs. They are called activists and paid an honorarium. They are coming in large numbers into militant struggles. Facing repression and victimisation, they now form a large part of our membership in many states, including Karnataka."     
 Commission Papers
 On day four of the conference, four commission papers were presented - 'Organizing workers in modern manufacturing sector: importance and challenges'; 'Working class fight against communalism - need for counter offensive'; internal migration of workers in India in the context of neo-liberalism and covid catastrophe; and 'on the changing profile of employment relations'.
 Speaking with NewsClick, KM Srinivas, 55, a worker at the Vizag steel plant, said he found the conference "very useful and informative."
"I also attended a commission on the modern manufacturing sector. Manufacturing has now become decentralised and all the processes are not conducted under one roof. This is done partly to ensure that the workers are scattered and unable to organise themselves. Further, the management has started the practice of using local informers who reside in the same areas as the workers. If there are any meetings of workers, the company is immediately informed," he said.
 On the hurdles in forming unions, Srinivas said: "We learnt that when we file an application to form a union, the labour department informs the management and the workers are fired. They are even providing cab facility and transportation to workers to keep an eye on them. For example, in Andhra Pradesh, a Sri Lankan company called Brandix is following these practises. At the same time, they are paying workers a paltry sum of Rs 8,000 - 10,000/month. The solution for this is to hold meetings with workers and educate them directly. We have seen that workers are angry and even ununionised workers are conducting spontaneous strikes. We must identify and join these movements"
 Narrating how he was drawn into CITU, Srinivas said he had joined the Vizag Steel Plant as an electrician in 1987. At that time, the plant was still under construction and was being made operational in a phased manner. "I joined Vizag Steel Plant as a contract worker for Rs 450/month. In 1990, I was made a permanent employee. As a trade unionist, I was also in charge of the Visakhapatnam Special Economic Zone (VSEZ) and have started four unions there. Today I am the state vice president of CITU Andhra Pradesh," he added.
 Election of Office bearers
 On the final day of the conference, the new office bearers were elected. K Hemalata and Tapan Sen were re-elected as president and general secretary of CITU. A working committee of 125 members and a general council with 425 members was also elected. 
 On January 22, a public meeting was held at National College grounds, attended by thousands of CITU members from across Karnataka.
In her address, the state Ppesident of CITU, S Varalakshmi, informed the audience that "all CITU workers in Karnataka donated one day of their earnings towards the conference. The plantation workers, beedi workers, anganwadi workers, and construction workers have gone from house to house to seek donations for the conference and to raise awareness about the programme. As much as 90% of the conference was funded by these donations."
Get the latest reports & analysis with people's perspective on Protests, movements & deep analytical videos, discussions of the current affairs in your Telegram app. Subscribe to NewsClick's Telegram channel & get Real-Time updates on stories, as they get published on our website.
Subscribe Newsclick On Telegram