Chhattisgarh: Tribal Protests Against Security Camps Continue; Rights Activists Meet CM
While the Baghel government has shown willingness to engage with protestors, tribal communities are angry over increased repression and violence and see these camps as a means to establish more control.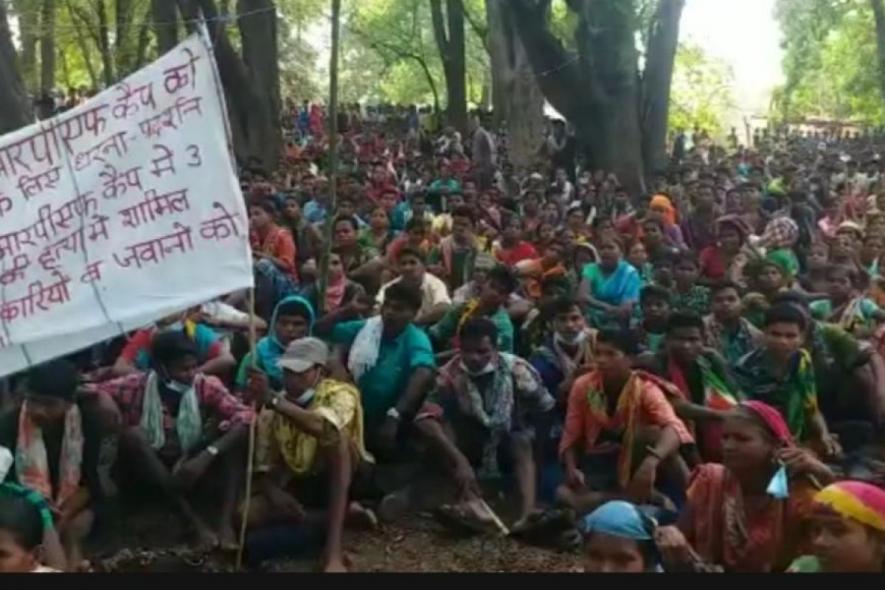 Image Courtesy: New Indian Express
New Delhi: The agitation by tribal villagers against the setting up of a security camp in Chhattisgarh's Silger region in Bastar district has been gathering momentum for over 20 days now. Over 20,000 tribal villagers are congregating on the site of the camp to push for its complete halt. On May 17, violence had ravaged the area as security forces open fire on the protesting villagers killing three adivasi people—later, a pregnant woman also succumbed to her injuries.  
As the region remains on the brink of a boil-- with no end to the movement in sight, attempts to broker peace have been started with many activists and rights groups lending their voice to the tribal villagers. 
On Tuesday, a delegation, including human rights activist Bela Bhatia, convener of Chhattisgarh Bachao Andolan Alok Shukla, Chhattisgarh Kisan Sabha chief  Sanjay Parate and trade union leader Brijendra Tiwari held an about 45-minute-long meeting with chief minister Bhupesh Baghel, wherein the issue of Silger was discussed in detail. 
Speaking with NewsClick, Shukla said: "Like many others, we were stopped from reaching the site of the protests. However, we could meet the chief minister who has shown willingness to hold talks with the protestors. We stated that the manner in which the government has conducted itself has been undemocratic. We demanded that the extension of the camp must be stopped".   
The camp in Silger is an extension of an already existing security camp barely three kilometres away. What is significant amid the chaos is the fear of rapidly increasingly violence against tribal communities in the region. Activists believe that the key reason for why there is so much opposition to the establishment of the camps, lies in the violence against adivasis prevalent in the region.  
Over 43 incidents of killings in 2021 have been reported  due to conflict in the region. Tribal villagers on the ground hold that the presence of security camps have given rise to fears of fake encounters and oppression against tribal villagers. 
On May 30, an 18-year-old tribal girl, Payke Veko, was reportedly gunned down by security forces in Bastar, Chhattisgarh. Her family has alleged that she was raped by the security forces before she was murdered by the District Reserve Guards (DRG) personnel.  
As per the police version, Payke Veko was an active member of the People's Liberation Guerrilla Army, platoon number 16, and carried a reward of Rs 2 lakh, while her family members and villagers assert that was innocent and was not involved in Maoist activity. More importantly, they allege that she was denied a fair probe.  
Villagers also fear that with proximity of security camps to tribal settlements, instances like these will become rampant. 
In a similar case in February this year, a 20-year-old tribal woman – Pande Kawasi  -- was taken into custody after which she was allegedly murdered by the forces. The police, however, claim it was a suicide. But, her family members and activists have stated that Kawasi was not someone who would have killed herself. Her family reportedly stated that the police detained her from her home and allegedly tortured her  and forced her to surrender. The family told reporters that they were allowed to meet her on February 20, and found her crying and begging them to take her home. 
Such instances along with the "arbitrariness" involved in setting up security camps in the area have triggered widespread anger  in the region.  
Speaking with Newsclick, tribal rights activist Soni Sori said "violence has been a part of our history, A large number of people have been rendered injured by the forces, and there is widespread anger on the ground. People are deeply hurt and anguished and troubled."   
Kamal Shukla, an activist, who visited the field earlier said: "There are over 25,000 people protesting at present. Their main demand is that the camp has to go. The villagers are demanding that the government should stop all work and allow the memorial of those who died in police firing on May 17 stay in its place."  
The police, however, claims that the protests by residents of 30 villages in a 'stronghold' area of Maoists has been "staged" under pressure from Naxals. Officials back this claim stating the camp aims to bring 'development and progress' to the region, and that more such camps are proposed in the region. 
Activist Sori, who is present on the ground in Silger, said: "Our movement will continue, everyday more and more people are joining in. Can the government show us where they had put up a camp that has led to development and has aided the cause of the tribals? Everywhere increased militarsation has meant an increase in violence against the communities, instances of rapes and harrasment." 
Previously, tribal villagers in the region had dug up roads to stall the construction of security camps in the region. Last year, the Baghel government had announced the creation of eight new security camps in Dantewada, Bijapur, and Sukma districts among other key areas, which are now witnessing intensification of protests by adivasi villagers.
Seven such camps have already come up in different parts of the state last year and five more are expected this year. While the government states that these camps are meant to protect adivasis from frequent Naxal attacks, activists and locals see this as a way of repressing adivasi voices and create an atmosphere of fear.
Read Also: Chhattisgarh: Security Forces Open Fire on Tribal Protesters, Activists Stopped From Visiting Site
Get the latest reports & analysis with people's perspective on Protests, movements & deep analytical videos, discussions of the current affairs in your Telegram app. Subscribe to NewsClick's Telegram channel & get Real-Time updates on stories, as they get published on our website.
Subscribe Newsclick On Telegram