The Hat-trick | Chhetri Goal and a Kaith Save for Posterity; Napoli Rename Home as Diego Armando Maradona Stadium; Koeman Upset About Messi Future Chatter at Camp Nou
The Hat-trick (Top Football News of the Day): Sunil Chhetri scored from the spot as Bengaluru FC beat Chennaiyin FC 1-0 in the Indian Super League (ISL) | Napoli rename San Paolo as Diego Armando Maradona Stadium in honour of the Argentine legend who led them to their only two Serie A titles -- in 1987 and 1990 -- along with the Coppa Italia and UEFA Cup | FC Barcelona manager Ronald Koeman believes the relentless talks from within the club's ranks about Lionel Messi's future at Camp Nou is an unhelpful distraction.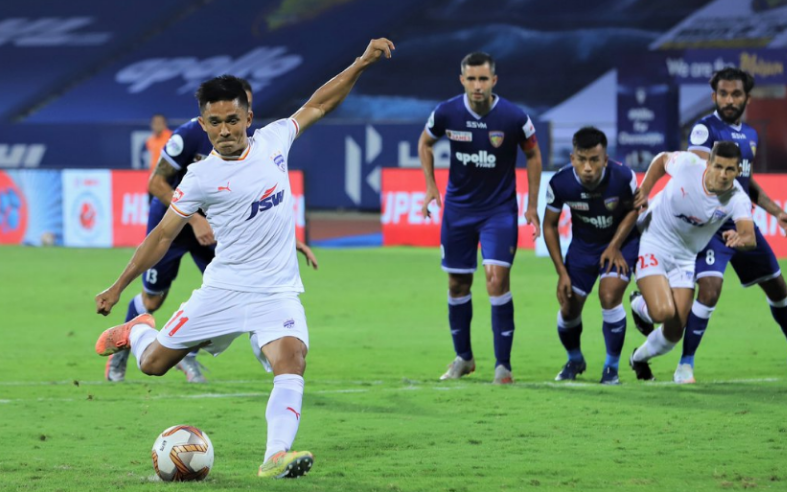 Sunil Chhetri scores from the spot for Bengaluru FC against Chennaiyin FC in the Indian Super League (Pic: ISL screengrab).
There is a tendency in elite football to always talk about results and fixtures, wins, losses and draws in terms of goals. It is the way the global protectors of the game want the sport to go, their inventions and tweaks to the rules a not so subtle hint that a goal a game is better than a goalless draw. This translates into reportage for games too. Games without goals are always led with the words dull and stalemate. A single goal game will focus on the scorer of that goal and the inadequacies that may have defined a team's play. 
Just to shake things up, provide a new twist to an old tale, allow us to take you through yesterday's game — via a save. It was an hour into the game. Bengaluru FC vs Chennaiyin FC in the Indian Super League (ISL). The commentators were calling it the Southern derby. BFC had a free kick 30 yards from goal, slightly to the left. Inside the box a group of players from both teams were jostling for space, expecting a lofted ball to come in.   
Except the men on the ball had some other plans. They hadn't really been exciting and inventive from open play, so a dead ball must've really got the creative juices flowing. An elaborate routine was conjured up. Dimas Delgado — arguably BFC's best player for those 10 minutes — touched the ball forward to Cleiton Silva, who (not so neatly), played it back into Delgado's path. Delgado, shot first time, a curling whirling whopper that was edging towards the right corner of the goal.
Also Read | EPL Announces Bailout Package for Lower Rung English Clubs
Perhaps Vishal Kaith expected it. After all, BFC had scored the opener not five minutes earlier, and had looked energised. But they had also been cautious for the set piece with only three players in the box. Maybe all that elaborate footwork to set up the shot had served enough warning. It was a good height, and he probably saw it fairly early. 
Kaith flung himself to his left — in an upwards and sideways motion that only goalkeepers can enjoy — and with his right hand (the hand, technically further away from the ball) provided the slightest of nudges to offset its trajectory and concede a corner rather than a goal.
That moment, perhaps, was the perfect summation of a game that was in large parts dull and controlled by BFC. Minimal creativity, maximum individuality. Chennaiyin had more shots on goal, and after that Kaith save, BFC retreated into a shell, preferring to preserve what they had. The Blues' management will be happy, and their fans will no doubt celebrate their first win of the season, but there are questions too on how India's pioneering club has come to this — defending one goal leads and looking listless for most of the game. Hopefully this was where they pick up. 
That penalty scored by Sunil Chhetri was slotted into the bottom left. Kaith almost got a hand to it as well. 
Napoli Renames San Paolo to Honour Maradona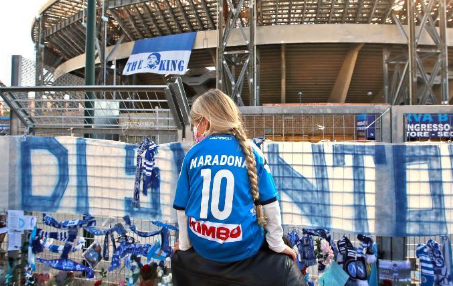 The Naples city council announced on Friday that San Paolo, the home of Napoli, has been renamed the Diego Armando Maradona Stadium in honour of the Argentine legend. Maradona died on November 26 and within nine days, Napoli made the decision for the change. Just nine days. 
Of course, Naples and Napoli  owe a lot to Maradona, who played for them at the San Paolo from 1984 to 1991. Seven years... in which he played a stellar role, winning them their first ever Serie A title (they won two during his stint -- 1987 and 1990 ) along with Coppa Italia and UEFA Cup triumphs. The club has not won a title since he left. 
Also Read | Champions League Creates History
Napoli and Naples hold Maradona for not just his footballing prowess and ability to thrill. He was considered by most citizens of Naples as the person who had come to deliver them, from an obscure existence.
When Maradona arrived at Napoli from FC Barcelona in 1984, the Italian club was facing relegation. Maradona was the world's record signing at the time. And he was at home straight away, the football on the pitch winning the fans, while a deeper connection with the impoverished city a reminder of where he came from. That deep connection, as well as his inherent need to prove himself to the world, led him to all the success with the club. Maradona took the side to heights never seen before or since then. He almost single handedly lifted Napoli to a stature from where they could challenge and beat the Italian giants -- Inter and AC Milan, and Juventus.
"I've been in talks with local authorities for the past 17 years, I have always asked to buy the stadium and rename it 'Diego Armando Maradona'," Napoli president Aurelio de Laurentiis told Sky in Italy. 
"If then, for tradition, we will need to call it both 'San Paolo' and 'Maradona' so be it. It won't change much, but it's only right that Maradona has this recognition. Even if we were to build a whole new stadium, I would name it like that," he added.
Rightfully, Napoli will and should play at the Diego Armando Maradona stadium!
Koeman Frustrated With Talks on Messi Future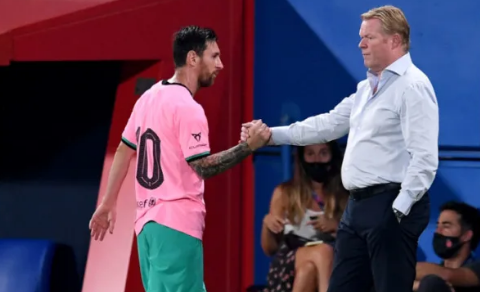 Ronald Koeman expressed his frustration with what seems to be the favourite pastime at FC Barcelona -- talk about the future of Lionel Messi. With the board elections coming up, the future of the club's biggest star is a hot topic, a bone of contention that would have a huge bearing on who gets elected to run the show at Barca. So naturally, murmurs, whispers and open statements are aplenty -- the latest from Barcelona interim president Carlos Tusquets.
Koeman criticised the comments from Tusquets, who said earlier this week that it was in the Catalan side's economic interests to have sold Messi, who had attempted to leave the club during the break between seasons. His current contract expires in June next year and, with all the bad blood that transpired this summer, he is expected to walk away on a free transfer. Tusquets said selling Messi would have been "desirable" since it will help lower the wage bill of the club, while the money made would have been an asset too.
Koeman is not amused at the constant chatter around him about his biggest star in the middle of campaigns -- a happy one in Europe, and a stuttering one in La Liga
"We know what Leo's situation is," Koeman said, talking to the media ahead of the club's visit to Cadiz. 
"If there's anyone who needs to decide about his future, it's Leo himself. I don't care what's said outside the club, however comments from inside the club don't help us have the calmness we need to do our job. We can't control what's said outside, but from within it's a different story.
"It (selling Messi in the transfer window) might have been his (Tusquets') personal opinion and I respect that, but Leo's got a year left on his deal and he is the one who needs to decide."
Barca are lagging behind in the title race, sitting seventh on the Liga points table, nine points behind Atletico Madrid with equal games played.
"Right now I think Atletico Madrid are looking strong. They don't let many goals in and win games," he said. Koeman praising Atletico would make Luis Suarez grin that much wider when he gets back into the playing XI for the Madrid side after recovering from Covid-19. Koeman hastily offloaded the Uruguayan striker after joining Barca. It was one of the incidents that made Messi upset as well, leading to him trying to leave the club in the summer.
Get the latest reports & analysis with people's perspective on Protests, movements & deep analytical videos, discussions of the current affairs in your Telegram app. Subscribe to NewsClick's Telegram channel & get Real-Time updates on stories, as they get published on our website.
Subscribe Newsclick On Telegram