Making Sense of India's Asian Cup Entry and Coach Igor Stimac's New Found Verve to Talk his Mind
The Indian football team stormed its way into the Asian Cup with three resounding victories in the qualifiers in Kolkata. Following the qualification, Igor Stimac expressed explicitly the need to change the domestic system. Is the coach's will to talk related to his new found status as a coach who wins matches? Or is he saying it under the changing circumstances in the All India Football Federation?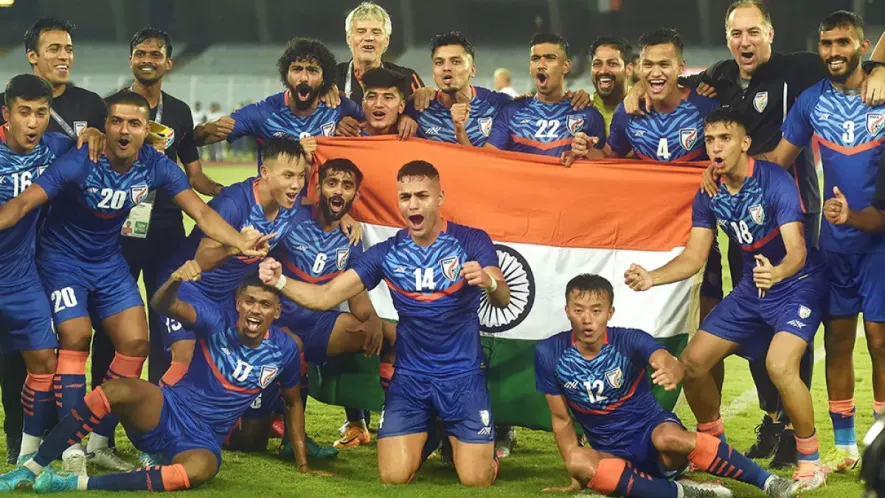 Indian football team players and coach Igor Stimac celebrate after their victory over Hong Kong in the third and last group match of the AFC Asian Cup qualifiers in Kolkata on June 15.
It had been a rare seven-day journey for India in Kolkata. In a true sense. 
While India were busy demolishing Hong Kong 4-0 to finish with nine full points in the Asian Cup qualifiers, the few football statisticians available in India were in great demand. When was the last time India won three matches in a row in a span of one week? Or managed to find the rival net no less than eight times in 270 minutes? How many times in history India won all their matches in a particular meet? As all these questions were being asked, Indian football team coach Igor Stimac, gloating in his success story, decided to fire a few salvo at the people who run the game in the country.  
The statisticians could have been bothered with another question, but no one raised the topic. When was the last time Stimac was given a 44-day camp to prepare his team? Even the Croatian would find it hard to answer. Yet, there is no doubt about the fact that the substantial camp time in Bellary, Dubai and Kolkata did play a huge role behind India topping the Group E of the Asian Cup qualifiers. The coach was finally given some time to shape his boys the way he wanted to. 
Also Read | Cramping Period: To Talk or Not to Talk — the Perpetual Menstrual Gag
Stimac, too, knows about it. He did say it after the campaign was over, in a different way, though. "You will hear things in the next month about changes. There will be things that will come out and there will be conditions for me to stay. Some things must change drastically and I don't care who is on the opposite side," Stimac was quoted as saying.
The coach didn't stop here. "Be it FSDL, AIFF or the government. We represent India and if there are ambitions in the country to think where we can be, they must follow our motto," Stimac thundered in the post-match press conference.
The former Croatian World Cupper wasn't far from the truth. Most of what he said was right. He knew it right from the day he arrived in India. But never before he said things with so much emphasis. Is it because of his new found status as a coach who wins matches? Or is he saying it under the changing circumstances in the national federation?
Perhaps both. To say he wasn't aware of India's domestic football structure when he arrived in India would be too much to accept. He knew how two leagues were clashing in India and even said the I-League has history, which the cash-rich league lacks. But he was also aware of the overwhelming control of a particular group over the AIFF. So, he quickly learned to keep his tongue in check like all others who know which side of the bread is buttered on. 
Fair enough. But now suddenly to say: "In the future if I am here, the league must start when I say, for as many days as I think the national team to prepare well. The people in the AIFF need to follow my thoughts on what the team needs to go up and higher," is definitely odd. He knows the AIFF now is going through a period of transition and needs a few months to settle down. He could have raised these issues a few months earlier – at least before India began their 2022 World Cup campaign, something they lost rather badly.
Well, this is not to suggest that Stimac's demands are impractical. Far from it, actually. But after spending close to three years as the national coach, he also knows the limitations of Indian football. The system is indeed faulty and Stimac is not the only person who is aware about it. Can it be changed overnight as demanded by the coach? It doesn't happen anywhere in the world.
At the same time, Stimac must admit India were lucky as the qualification system turned easier than before to an extent. Because of the pandemic, the home and away system was scrapped temporarily and each group was reduced to a one-venue tournament and a one-leg competition. To India's advantage, they were chosen as the venue and three teams inferior to India, in FIFA rankings at least, were drawn in the Kolkata group.
True, that doesn't take the credit away from the Indians, who, after many months, displayed character on the pitch. Sunil Chhetri's boys looked like a squad, who hunted in a pack, ready to pounce and can hit back at the slightest provocation. The match against Afghanistan was a testimony of their current state of mind – the 2-1 victory notwithstanding, they were ready to break a few rules after the match to stay together as a team. Finally, they showed some guts and it was a welcome sign. After eight seasons in the safe haven of a cash-rich domestic league, the footballers were beginning to look like robots who have sacrificed their rough edge for good.   
Apart from the nine points from three matches, the Kolkata qualifiers also did a good turn to India – they found some youngsters who could be relied upon when things get tough. Players like Anwar Ali, Roshan Singh or Akash Mishra, like all youngsters, have several follies but they looked like footballers committed to a cause. They appear to be foot soldiers currently, but by the time the Asian Cup approaches in 2023, these boys could be holding important portfolios in Stimac's army.
Also Read | How India Tried to Kill Home Advantage
But as Stimac said, the planning has to be much tighter and elaborate. There would be no Cambodia or Hong Kong available in the final rounds; rough, tough and ruthless teams would be waiting there to rip apart the opposition. If India go to the final rounds with a rather practical target of reaching the second round, even that would be tough. To achieve that, India need to sacrifice their domestic commitments to a certain extent in the next one year and concentrate mainly on the schedule of the national team. 
But can this really happen? A detailed plan was chalked out before the 2011 Asian Cup, which had the domestic football heavily compromised. A decade down the line things have changed completely, the 2011 model is simply redundant now. Moreover, India's domestic season is now reduced to a one-tournament wonder, there is nothing unofficial about it. 
And, to make matters tricky, even if Stimac really believes in what he said, no one else in Indian football probably does. 
Get the latest reports & analysis with people's perspective on Protests, movements & deep analytical videos, discussions of the current affairs in your Telegram app. Subscribe to NewsClick's Telegram channel & get Real-Time updates on stories, as they get published on our website.
Subscribe Newsclick On Telegram