Close Encounter with Nature's Fury in the Hills of North Bengal
A first person account of one among hundreds stranded last week in the hills of North Bengal when heavy rains and landslides hit the region, and a hill collapsed.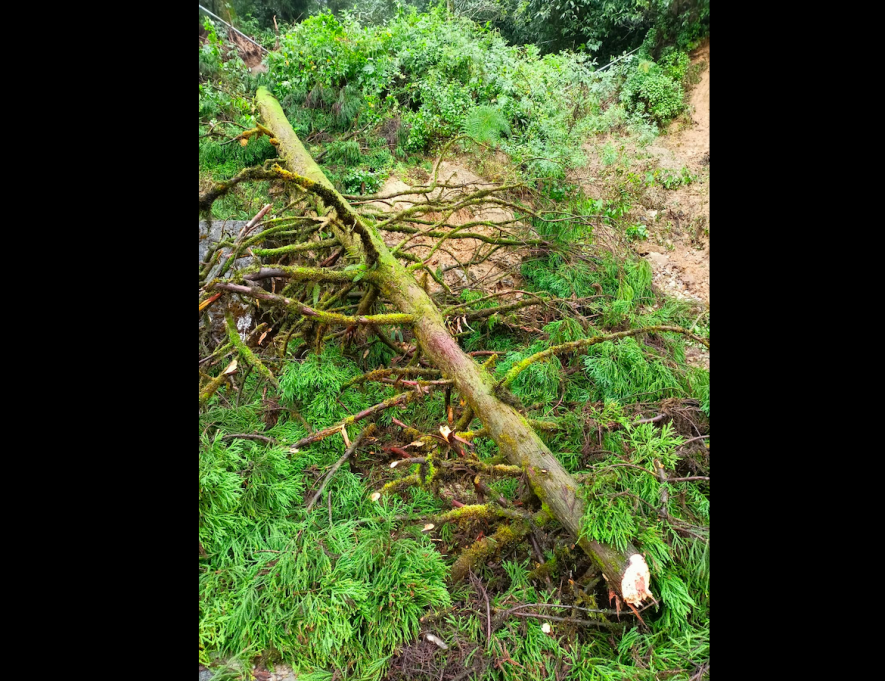 Dooars, West Bengal:  Just after Durga Puja festivities were over, it was time for a weekend getaway to Dooars in North Bengal. Our destination was Gorumara National Park alongside the flood plains of Murti river. There was a divine lodge, Ecostay, where we stayed for two days before heading off to Lava and Rishyap around 70 km away. 
It was drizzling since morning and the rain became fierce as we went up to Gorubathan Tea Gardens. This was not my first visit to the hills, nor was it the first time I was witnessing rains in the hills. One has to be extra cautious while driving in rain- drenched hills, and our driver Saddambhai was careful enough to drive us to Lava. 
Till then, everything seemed fine. The problem cropped up when we tried to descend the hills, as it had starting poured heavily. We stopped by a tea stall, with the hope of exploring the place a bit. 
As we were wondering whether or not to go to Rishyap, we noticed a few cars on their way back, each one alerting us that the route to Rishyap was too risky. It was noon by now, and the wisest thing to do now was to look for a place to have lunch. As the downpour increased, we found a small eatery, at last.
Soon, it was almost dusk and we hurried our descent from the hills. Ignoring the beauty that awaited us at Rishyap, we decided to move down to Gorumara. But to our horror, we got stuck in a long queue of cars within 5 km off Lava. We could see no road ahead, but a pile of rocks and mud that had totally blocked the way ahead.
We were left with no option but to wait as the downpour became fierce and darkness enveloped us. After almost 1.5 hours of being stuck at the spot, a JCB machine came to our rescue and cleared the landslide to make way for cars to pass. The cars crawled in the darkness and heavy rain. All we could see was a pitch-dark hilly forest watching over the rain and the river that flowed by, as if trying compete on who is fiercer. Even our fog light failed as the downpour whitewashed the sight ahead. All we could see was the red backlight of the car ahead. But our journey soon came to halt with another long queue of cars ahead, and we couldn't figure out how long it was.
Hours went by and we were stuck inside the car with no sight of a clear sky in the near future. After a while, I came out of the car trying to figure out what might have gone wrong. To my utter surprise, I discovered that I had stepped out in water, not on the road. There was around 1 feet of water sliding down the hills and the wheels of our car had sunk more than half into the water. 
I somehow managed to walk ahead to find that a huge fallen pine tree had blocked the road. It was so huge that we could not see the road on the other side. As the phone flash was not quite helpful, I requested the car ahead to use the headlights to capture a photograph. 
It was then that our driver suggested that we drive back. Left with no food, no water, and uncertainty of whether or not we would get a clear road on the way back, we didn't know what to do next.   
As the road ahead didn't seem promising, we decided to go back. On the way back, we saw that the road that was just cleared had sunk 5-6 feet from 10-feet. We kept driving and reached Lava finally. 
This was not the end of our nightmare. Every shop was closed, and we could not spot a single soul around. To top it, there was darkness all around as electricity was cut off. The most important thing for us was to hunt for a place to stay overnight. After much struggle, we could manage a room in a homestay. 
But, our car got stuck in the waterlogged road. We tried to push it out, but failed and had to wait till the next morning. People at the homestay somehow managed some food for us that night before we resigned into our room. 
Around 1 a.m next day, we were woken up with a loud bang on the door. Wondering what's next, we discovered that there was a big landslide right behind our homestay and were were told to get back into our car. Soon, there was a murmuring sound for about five minutes at a stretch which sounded like a thunder. But, no thunder lasts so long. It was the sound of landslide. I could feel a chill down my spine. 
The road that we crossed to enter the homestay didn't exist anymore. I could see mud rolling into water as the land was sliding fiercely.  We also noticed a huge crack in the road. The residents had advised us to be alert through the night and we had kept awake.
The night of anticipation and utter fear soon passed and in four hours we spotted dawn breaking out for us to clearly see the devastation caused overnight. Right in front of our homestay, there was a big 3-feet deep landslide which had blocked our path. Everyone joined in to make some way and a few people went out to bring us some food. We sought help from another car to tow our car out.
Meanwhile, we were tired, and spent the night in wet clothes. Thousands of stones, leeches and mud were all around. Then news came that last night, the place from where we had returned, a big boulder had rolled down a ditch taking along a tourist filled car.
The condition of the road in Kalimpong was even worse, as it was full of landslides and accidents. On our way back, there was a place called Paparkheti, where the pitch road collapsed into a 100-feet deep ditch. Communication with the plains was snapped. After crossing the mud and landslides, I came down to the road, to see that the situation was terrible everywhere. 
The employees, including the owner, of the homestay were now wondering how to get down from the hill, as the situation was a first for everyone. They had not seen so much rain and so much destruction. From morning to afternoon, the whole Lava town had no electricity, no water, the phone batteries ran out of charge. Then some local people and drivers informed us that the road was open now. We somehow ate something and left for Dooars via Garubathan.
We saw local workers working hard to build the road, and small cars were slowly passing by. Going a little farther, I saw that a road was made by cutting the pine tree, but it was not more than 4-5 feet wide. Our car was moving slowly. There were numerous landslides on the roads.
I saw half of a beautiful house that we had seen the day before fallen into a 100 ft ditch. There was no such thing as a road in a place before Paparkheti, everything was in the ditch. Our small car was moving along the narrow road, By now, the rain had decreased. Gradually, we crossed many small and big landslides and reached Garubathan in 2.5 hours.
As the evening fell, the hills surrounded by tea gardens, seemed more beautiful after the rains. Our driver assured us that were now safe, as the trunk and roots of the tea tree are very hard and dense, so that mountain would not collapse. We returned to Dooars. 
Dangerous? Disaster? Exciting? Beautiful? Terrible? Destructive? Yes, all in all, that's nature in its many forms. It can be beautiful and fearful.
I returned to Kolkata with a life-time's experience and will never, ever forget those two days.
The writer is a graphic artist and social media activist based in Kolkata.
Get the latest reports & analysis with people's perspective on Protests, movements & deep analytical videos, discussions of the current affairs in your Telegram app. Subscribe to NewsClick's Telegram channel & get Real-Time updates on stories, as they get published on our website.
Subscribe Newsclick On Telegram