UP: CM Yogi Claims no Farmer Died by Suicide in UP in 6 Years, Farmers Say it's a Lie
Farmer organisations claim there has been a rise in farmer suicides in the state, blame state government for not maintaining data.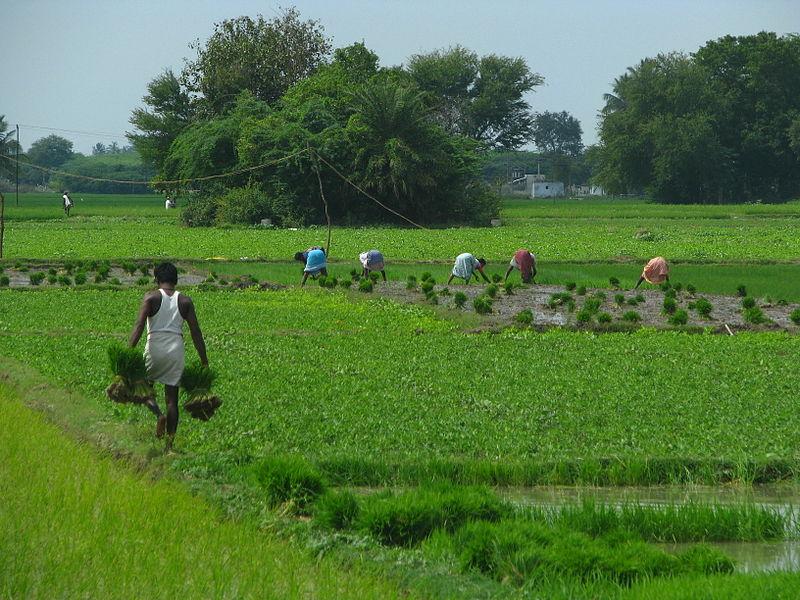 Representational Image. Image Courtesy: Wikimedia Commons
Lucknow: Uttar Pradesh Chief Minister Yogi Adityanath on Monday claimed that no farmer had died by suicide in the past six years in the state. He also claimed that sugarcane farmers were "compelled" to burn their crops because of lack of water for irrigation, electricity, and timely payment of their dues before he came to power in 2017. 
"We have freed sugarcane farmers from the clutches of brokers. Today, farmers do not have to wander around in search of the slip because their slip arrives on their smartphone… We have paid the sugarcane price and purchased paddy and wheat on time," the chief minister said at an event in Lucknow where he flagged off 77 tractors for farm machinery banks, set up in cooperative sugarcane and sugar mill societies.
The CM also claimed that farmers "became a part of the government's agenda only after Narendra Modi became Prime Minister. "We all know what the condition of sugarcane farmers was earlier. Since Prime Minister Narendra Modi took office in 2014, the farmer has for the first time been included in any government's agenda and has begun to benefit from the government's programmes. Every farmer who was previously dependent on moneylenders is now able to benefit from the Soil Health Card, Kisan Bima Yojana, Agricultural Irrigation Scheme, and Pradhan Mantri Kisan Samman Nidhi", he said.
GRIM SITUATION 
However, the ground reality in the state tells a different story. Nearly, dozens of farmers have died by suicide in recent years in the Bundelkhand region allegedly because of government's faulty policies, pressure from banks and agriculture farming fast turning in to a loss-making business. NewsClick has documented from the ground how farmers' suicides in the parched region has become a never ending saga.  
Read Also: UP Elections: Never Ending Saga of Farmer Suicides in Bundelkhand
The Bundelkhand region, which is the most deprived and economically backward region in the state and is known for peasant suicides because of loans and economic distress. Loans via Kisan Credit Cards, with compound interest rates, are said to be a big reason for mounting debts at a time when crop failures or damage are leading to losses.
Prem Singh, an agriculture expert in Bundelkhand, accused the state government of "lying" and said "No doubt farming facilities have increased in this government but it is wrong to say there is no problem peasants are facing in the state. Three farmers committed suicide due to different reasons in two weeks in Banda alone and local media has reported about it. The reason for the growing problems is that the farmers' plight and deaths have never been the priority of the government, nor for the country's media as both are busy with other "important" issues."
Contradicting Adityanath's statement that the government had paid the sugarcane price and purchased paddy and wheat on time, Singh said: "The crashing of onion and potato prices has once again highlighted the plight of Indian farmers who are compelled to destroy their crops. The rate of table potatoes has crashed between 60 to 76% this year. Against the wholesale price of Rs 10 per kg last year, farmers in Uttar Pradesh are struggling to get even Rs 4 per kg this year."
He further said that it was an unfortunate situation and government failure that there were no reports about the policies that have been implemented for the farmers, and whether these have benefited the farmer or not?
Mukut Singh, state general secretary of All India Kisan Sabha (AIKS) told NewsClick: "Instead of taking moral responsibility for the deaths, the BJP government is shamelessly denying the deaths. The fact is that the death of farmers is increasing more than before and the government has stopped giving data. Like the chief minister, state animal husbandry minister Dharampal Singh recently said that no one died due to stray cattle in the state but everybody knows the reality."
Meanwhile, the stray cattle menace is also allegedly pushing farmers to die by suicide across the state,  A 35-year-old farmer of Karbana village of Tajganj area in Agra district, the sole breadwinner of four families, died by suicide last year. He was shocked to see his entire crop trampled upon and destroyed by over 20 stray cattle. 
Read Also: UP: Last Week's Excessive Rain Drives Debt-Ridden Farmer to 'Suicide' in Mahoba
Another 52-year-old farmer killed himself last year after unseasonal rains devastated the paddy and chickpea crops the family had been counting on to repay a bank loan of Rs 80,000 in October 
These are not just three isolated cases of farmer suicides in the state. NewsClick has documented more than a dozen cases of farmer suicides due to multiple reasons. 
Responding to the stray cattle menace, which threatens to blunt the BJP's narrative among farmers during the last Assembly elections, Prime Minister Modi had promised voters in Uttar Pradesh that after March 10 (election result), a new policy would be introduced to deal with stray cattle menace.
"We are taking the problems faced by the farmers due to stray cattle very seriously. I have already found a solution. We will roll out a policy to get rid of the stray cattle problem after the election results are announced on March 10, and a government under Yogi Adityanath's leadership takes over," PM Modi had said in Bahraich .
However, no policy so far has been made on the ground. Several farmers meanwhile, allegedly died while protecting crops in nail-biting cold. 
Read Also: UP: 2 More Farmers Allegedly Die While Protecting Crops From Stray Cattle in Biting Cold
Commenting over the UP CM's remarks, Rakesh Tikait, national spokesperson of Bharatiya Kisan Union, told NewsClick: "The government is a professional liar. They keep throwing dust into the eyes of the public since day one. The same BJP government has said no one died in Covid-19 but we all know the government failed miserably and people died in huge numbers. The same BJP government at Centre claimed that no farmer died during farm laws protest in Delhi. Similarly, they claim, no farmer committed suicide in the state."
Echoing similar sentiments, Dharmendra Malik, BKU (apolitical) leader, said: "The situation of cane farmers has improved compared with the previous government, But still there are 14 sugar mills of Bajaj, two owned by Modi Mills and one Simbhaoli mill still harassing cane farmers by not paying them on time. Besides, farmers still committing suicides in the state including Bundelkhand region but it is not being reported as earlier."
Get the latest reports & analysis with people's perspective on Protests, movements & deep analytical videos, discussions of the current affairs in your Telegram app. Subscribe to NewsClick's Telegram channel & get Real-Time updates on stories, as they get published on our website.
Subscribe Newsclick On Telegram