Coronavirus: India Witnesses Dramatic Lockdown; But is it Sufficient?
Without any thought about how poorer families will survive, and how the healthcare system will cope, the lockdown may not be enough to break the chain.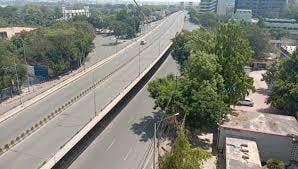 In his speech on the evening of March 24, Prime Minister Modi made the dramatic announcement that the whole country will be placed under lockdown for 21 days, starting midnight on March 25. He vehemently argued that this was the only way to defeat the virus causing the deadly pandemic COVID-19 that is sweeping the world and has already killed over 17 thousand and affected nearly 4 lakh persons across the world. In India, there are 562 confirmed cases and 10 deaths.
The announcement by the PM needs to be seen in the context of the fact that 30 states and Union Territories in India (out of 37) are already under lockdown. Perhaps, some heft will be added, or more gravity infused into the status of an already existing lockdown, considering the PM and the central government are backing the decision, which, till now, was initiated by state governments. Perhaps people will take it more seriously. Time will tell.
The PM asserted that experience from other countries and experts' opinions confirmed that only a lockdown could contain the coronavirus. He did not give away details about the way this lockdown would be implemented, but this was later clarified in detailed guidelines issued by the Union Home Ministry. In essence, the lockdown has exempted defence staff, hospitals, ration and provision stores, fuel supply chains, etc. It is stated that violations will invite action under the Disaster Management Act, 2005, and Section188 of the Indian Penal Code (Disobedience to order duly promulgated by public servant). It will be enforced by Incident Commanders appointed by District Magistrates in each district, presumably using police, as of now.
The PM also announced the rather belated allocation of Rs.15,000 crore for bolstering India's healthcare system and stocking up on such essential pandemic fighting equipment like ventilators, personal protective equipment (PPE) for healthcare personnel, etc. Actually, the Government had already moved on this issue over the last few days, ordering various items from manufacturers. So nothing new there, except a much needed reassurance to worried Indians.
But there are some other much more weighty issues here. Two of these are immediately clear if you give it a moment's thought.
One, can a complete lockdown really be enforced down to the villages and fields in the vast rural hinterland and the slums of urban India? And how?

And two, whether this will break the transmission of corona virus and thus save India from an imminent catastrophe?
How to Lockdown:
In India's teeming, densely populated cities, nearly 40% or more people stay in very close proximity. They often share toilets and community drinking water facilities, be it wells or faucets or handpumps. Privacy is a rare experience, and virtually every aspect of life is intertwined with others. People sleep in the streets in summers, throng local shops or thoroughfares, spend all of their waking time with others. This is not just convivial community spirit; it is also necessity. Is there any thought given to how these families, that will run into millions, should go about doing social distancing and lockdown? There doesn't seem to be – it is as if only the middle class was being addressed.
The same applies to rural areas. There, not only is life bound up and mingled with others, agricultural work is collective too. In fact, with standing crops of wheat, mustard, arhar (tur) etc. just beginning to be harvested, what are farmers supposed to do? Are they expected to individually harvest their fields, and then what? Store the un-milled crop in their homes?
An administrative perspective will see this as an enforcement problem. And it will solve it by force, as if it's a mere law and order issue. But how exactly will this play out?
Nobody is clear. PM Modi, of course left the nuts and bolts to be worked out by the bureaucrats, guided by Amit Shah, the Home Minister. But when this directive filters down to rural Bihar or UP, or to Karnataka or Assam – how will the local incident commander react when he sees a group of labourers being made to harvest the crops by a local landlord? And, how will COVID-19 transmission get broken, if this happens on a large scale?
Will a Lockdown Defeat COVID-19
The other all-important question is –  Is a lockdown sufficient? Studies of the Spanish flu pandemic from 1918 show that such closures of public life did delay the onset, and also reduced mortality to some degree. But, they also show that the disease struck back with a vengeance after the restrictions were lifted.
This may happen here too. And then?
That's not all. All experts, whether those from the WHO, or others, agree that just a lockdown will not work in eliminating the disease. What is needed is a simultaneous drive to  "screen, test, isolate, treat". The recent WHO report on China details all the measures necessary. Similar conclusions have been reached by other studies including a recent study by the Imperial College, London. A lockdown may simply mean that the coronavirus will remain within a family. And given the conditions in India, as mentioned earlier, there are high chances of it slipping through. In fact, ICMR has repeatedly said that community spread is inevitable. For all one knows, such spread is already taking place – its just waiting to explode.
In such conditions, unless there is active testing of maximum persons – even those not showing symptoms – is essential to identify carriers. They should be isolated from others – not kept under lockdown alone. And they should be treated, fast. This is the experience from China, South Korea and even Taiwan.
If India doesn't do it, it will go the way of Italy, Spain or the US.
So, if a catastrophe is to be averted, which is what the PM wants to do, then a mere lockdown is not the answer. It may help, but the disease will not be vanquished.
The Government and all the people need to put more thought into this – not just succumb to temptations of dramatic measures that will flatter to deceive.
Get the latest reports & analysis with people's perspective on Protests, movements & deep analytical videos, discussions of the current affairs in your Telegram app. Subscribe to NewsClick's Telegram channel & get Real-Time updates on stories, as they get published on our website.
Subscribe Newsclick On Telegram