Dalit Includes All who Oppose Inequality, Regardless of Caste: Activist Martin Macwan
The well-known activist explains how he came to the conclusion that a Dalit must get defined not by caste but action and belief.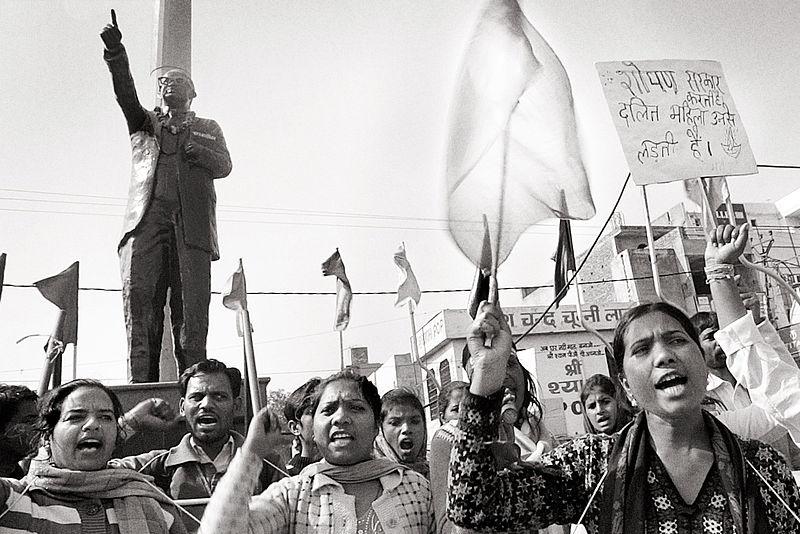 Academician Martin Macwan's endeavour has been to redefine the term Dalit and delink it from caste, best exemplified by the headline to this interview. An academician of repute, he financed his studies by working as wage labour. During his college days, he joined a group of non-Dalit intellectuals, comprising a professor each from the Christian, Parsi, Muslim and upper caste Hindu communities, to work with Dalits.
Their work invited a backlash. On 25 January 1986, the reactionary landlords of the Darbar community in Golana village, Anand district, gunned down four of his colleagues, wounded another 18 and set houses on fire. This prompted Macwan to establish the Navsarjan Trust, which aims to skill Dalits and expand their consciousness regarding the systemic oppression of which they are principal victims.
On 25 January 2002, on the anniversary of the Golana massacre, he led a march through rural Gujarat. His experience of the march had him write a book wherein he redefined the term Dalits. In this interview, Macwan explains who has the right call himself or herself Dalit, and why it impossible to annihilate caste by living within the four walls of the caste system. Excerpts:
You are an advocate of redefining the term Dalit. What made you think the term requires a re-look?
In 1977, when I was 17 years old and studying in St Xavier's College, Ahmedabad, I accompanied my professors to Vainej village, which is located on the Gulf of Khambhat (or Cambay), for a survey. I noticed every house had teacups placed either on the tiled roof or on the veranda or on the boundary wall of the courtyard. 
I had never seen such a sight. I asked the people what these cups were. It is Ram patra (Ram's vessel), they said. I asked: Is it that you worship it? Yes, they said. I asked: Why is it that these cups are so dirty and placed outside? Should not these teacups be kept clean and kept at a dignified place inside the house?
They laughed and explained the practise to me. When Dalits would go to the houses of their so-called upper-caste masters to collect wages or borrow money, they would be asked whether they wanted to have tea. They were then required to place the cup on the floor. Tea was poured into it from above. After drinking the tea, Dalits were required to place the teacup from where they had fetched it.
That is an example of untouchability.
Hold on, when we gathered in the village's Dalit locality to have lunch, I noticed there were teacups in all the houses here as well. I was completely confused. I asked them why these cups were at Dalit homes, given that these were, as they had explained to me, kept by non-Dalits for Dalits. 
They said they were Dalits but they were the higher ones. If, say, a manual scavenger visits them, the former would be given tea in the Ram patra. 
That experience came as an awakening for you?
Around 25 years after visiting Vainej village, I woke up at 2 am. It suddenly dawned on me that the caste system continues or endures because everyone loves it.
In other words, even if you are subordinate to others in caste terms, you also have people who are subordinate to you.
Exactly, you believe in the same principles and practises. This is why the caste system persists. Three or four days after the realisation dawned on me, there was a meeting of about 100 colleagues from the Navsarjan Trust. I asked whether any of them, after having worked for so many years, could pencil a village on the map of Gujarat where untouchability no longer existed. Nobody got up to do so.
At this meeting, we decided to march across the villages of Gujarat. We coined the slogan: 'Ram Patra Chhorro, Bhima Patra Apnao—Abandon Ram Patra, Adopt Bhim Patra.'
The slogan sounds loaded with symbols?
Yes, the patra or vessel of Ram is discriminatory and symbolises inequality. Bhim, as you would have guessed, refers to Bhimrao Ambedkar, who incorporated into the Constitution the idea of equality. With this slogan, we marched through 473 villages between 25 January and 1 May, 2003. 
What was the response to the march?
It was tremendous. As we would approach a village, people would come out of their homes and welcome us by beating drums. Later, we would address an assembly of people. They took five pledges, of which the first one was: 'As long as I live, I will not drink tea from the Ram patra, nor offer tea to anyone in the Ram patra.'
Was there no resistance to the march?
But for one village where I was attacked, there was no violence. The march drew huge crowds and politicians also started joining it. For the first time, in all the villages through which we marched, Dalits of all sub-castes had tea from cups that were not Ram patras. It was, in a way, a revolution. In a few villages, a few Brahmins, after listening to us, stepped forward and asked us whether they too could have tea with us. Some Muslims and tribals also did the same.
Did they join the march in significant numbers?
No, their numbers were small. It is also true that the upper castes were extremely disturbed. There were problems after the march. When Dalits went to the farms and were offered tea in the Ram patra, they refused to have it. The upper castes were upset, even angry, at their refusal. 
Mind you, there were also Dalits who refused to drink from the cup of manual scavengers or abandon the Ram patra. We told them, 'You are not Dalits. You are Scheduled Castes.'
Can you explain the difference between being a Dalit and being just a Scheduled Caste?
Different terms have been used for those who are classified, today, as Dalits. They were earlier known as those who were untouchable, unseeable and unapproachable. The British called them Black Caste. Gandhi called them Harijan. Ambedkar coined the term Depressed Classes for them. It was much later that the term Dalit, which means the Broken People, gained currency.
It happened in the 1970s, largely because of the Dalit Panther Movement.
Yes. But if you were to go to a village and ask, 'Where do Dalits live?', they would be puzzled. Caste is a social construct. No one is born high or low caste. The question, therefore, arises: How do people liberate themselves from the caste system? Dalits cannot take pride in their own identity as long as it is anchored in the caste that is looked down upon.
I was immensely influenced by Martin Luther King's phrase, Black is Beautiful. Now, Black, unlike caste, is real—you can feel it, you can see it, you can touch it. You can take pride in what is real. This realisation had me to write a book, which, in English, is titled: 'My Story'. In this book, written in 2003, I sought to redefine Dalit. I said, 'Dalits are those who believe, profess and practise quality. They are those who in their thoughts, language and action profess equality, regardless of the caste divide.'
In other words, no matter to which caste a person belongs, he or she is Dalit as long as he or she believes in equality.
Critics will say your definition of Dalit de-radicalises the community as it is inclusive of all castes—and the Dalit identity is delinked from caste.
We have to answer the question that Ambedkar raises in 'Annihilation of Caste': Do we want caste? Or do we want to eradicate caste? Well, if we do not wish to eradicate caste, we have to merely cooperate and drink from the Ram patra. 
Basically, people have to merely accept their systemic subjugation and take heart from subjugating those below them.
Exactly, you cannot kill caste by living within the caste system. Even if all of India's Scheduled Castes gather on one platform and claim to be very proud of their caste, they will still not be able to dismantle the caste system—and the inherent inequality it perpetuates.
So you are not among those who believe the capture of power by Dalits is the key to dissolving caste? 
Even if I am able to capture power, the question before would still be: Am I ready to stop serving tea in the Ram patra to scavengers? The Constitution says all are equal. It is hypocritical of all those who say, Jai Bhim, but still believe in the caste system.
Can those upper castes who believe and fight for equality call themselves Dalit? Does your definition include such upper castes?
Yes, absolutely. At a 2005 conference at Panchgani, a speaker created a furore. To the audience comprising judges, human rights activists and journalists, he said that all those present could be divided into two groups: Dalits and non-Dalits. They are enemies to each other; they can never get together.
I spoke after him. I articulated my definition—that all those who fight for equality are Dalits. I asked people who, by my definition, considered themselves Dalits to raise their hands. All hands went up. Within the four corners of the caste system, there can be no solution to the problem of caste.
But people may believe in equality but also fail, consciously or unconsciously, to uphold it in their personal lives. How do we resolve this contradiction?
To this question of yours, I will tell you about a person who introduced me to his wife thus, 'This is my wife and she is a non-Dalit.' He was a Scheduled Caste. I told him, 'After 25 years of eating together, sleeping together, and siring children, you are a Dalit and your wife is a non-Dalit. I just do not get it.'
To think, Ambedkar wrote that inter-caste marriage could be a weapon to annihilate caste! 
It would seem caste cannot go away until we become unconscious of caste. For instance, whenever two people meet, they try to figure out from each other's surname to which caste they belong.
Yes, absolutely. I was once working with the Maji Ranas, the tribal refugees who live on the Gujarat-Pakistan border. They asked me, 'What is your mother's milk?' It is believed caste comes to you through your mother's milk. My reply was, 'I had my mother's milk, what about you all?' They were confused. I explained to them that caste has been imagined by humans; it does not flow from mother's milk.
How would you react to Hindutva ideologues who say their ideology unites Hindus and papers over caste differences?
It is just not enough to claim it does; it is even more important to practise it. Do they allow Dalits to enter the temple? In 2010, the Navsarjan Trust did a survey on untouchability in Gujarat. Out of 1,589 villages we studied, we found that 90.8% of them did not allow Dalits to enter temples. In 54% of government schools in Gujarat, Dalits had their meals separately from others. A decade later, there is nothing to suggest that the situation in Gujarat has changed dramatically. 
Or think about that two-year-old Dalit boy Vinay, whose parents were fined Rs 25,000 because he had strayed into a temple. It happened in the BJP-ruled State of Karnataka. And now, the BJP government there has announced the Vinay Samarasya Yojna, which is supposed to enhance the awareness about removing untouchability. If Hindutva could sink caste differences, you would not have had such incidents. You would not have had Dalits killed for riding the mare or sporting a moustache. 
I do not think political parties dependent on Dalit votes would endorse your definition?
They, obviously, will not, for they gain by keeping the caste alive.
What about the Bahujan Samaj Party?
The BSP only tries to consolidate Scheduled Caste votes. The BSP is not a reformist movement. This is the biggest drawback of BSP politics.
(Ajaz Ashraf is an independent journalist. The views are personal.
Get the latest reports & analysis with people's perspective on Protests, movements & deep analytical videos, discussions of the current affairs in your Telegram app. Subscribe to NewsClick's Telegram channel & get Real-Time updates on stories, as they get published on our website.
Subscribe Newsclick On Telegram