Dedicate This Independence Day to the Real Freedom of People of India
Freedom does not mean just to follow the diktats of the elected government, but to hold it accountable even when it is supposedly discharging its duties diligently.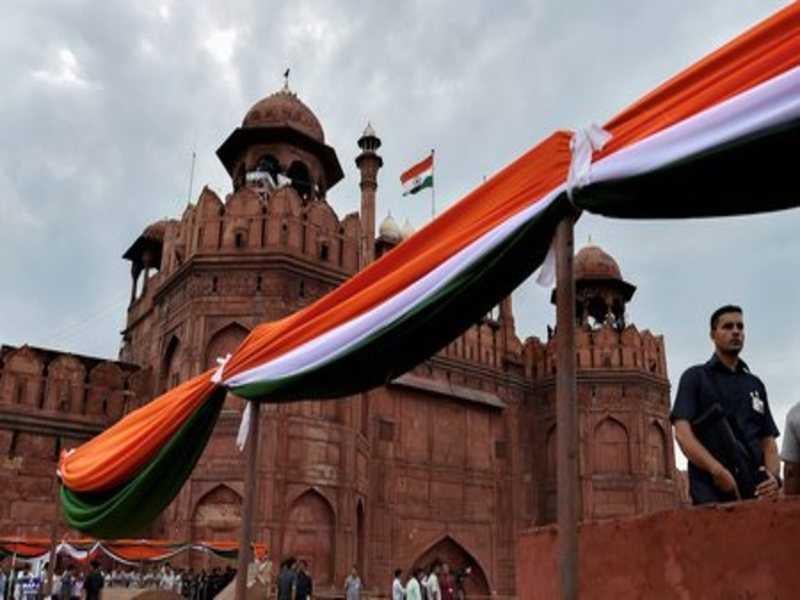 Image Courtesy: Times of India
Our country achieved independence after a long freedom struggle. All sections of the society participated in the freedom movement and made numerous sacrifices. The freedom movement itself is a saga of sacrifices in which everyone rose up against the imperialist ruler, breaking the shackles of their religious, ethnic and provincial identity. People had a dream that after independence, democracy will prevail and they will have their own rule. That self-rule will help them in getting rid of illiteracy, misery, poverty, and all Indians will build a country of equal respect and dignity. The meaning of freedom for the people was that India would be a country where freedom of equality is enjoyed in its true sense, no one will be the ruler, no one will be ruled, fair and equal opportunity for everyone. Their dream of equality was not only in political terms, but also to secure social and economic equality for everyone without discrimination.
After independence, our Constitution laid a foundation to realise these dreams of the people and ensure equal rights to all citizens. The Constitution has provided for the right to equality before the law, freedom of speech and expression for all, freedom to practice any religion and culture, freedom of peaceful protest, and constitutional remedies to secure civil rights. Today, when we are celebrating Independence Day, when there is a strong wave of nationalism everywhere, some people may feel it anti-national to think logically about the significance and understanding of freedom. But this question cannot be ignored in the present times.
A country is constituted by its citizens. Therefore, the independence of the country means the independence of its people. It means all the citizens will have equal share and right of its resources, but independent India is a rich country of poor people. The freedom movement drove away the imperialist British and established the rights of the people of India on our resources, but what we are witnessing is that even today only a handful of people enjoy a monopoly over all the resources. There is huge economic disparity among people, and this gap is only increasing with each passing day. The majority of the people of the country are living in poverty in inhumane conditions. Only 1% of the richest people of India own 58.4% of the total national wealth while a whopping majority of 70% of the people own only as much 7% of the total national wealth. It is very difficult to come to terms with this glaring reality because the struggle for freedom was fought to attain equality for everyone, but presently the rich are becoming richer and the poor are struggling to survive. This was not our collective dream of independence which was envisioned by our forefathers.
Also read: 15 August: Freedom from Hunger?
For a common citizen, freedom is to exercise the right to speak one's mind, to enjoy one's right of free expression, one's right of choice of own food according to desire, watch cinema according to interest, choose one's own attire, etc. Our Constitution has given us all these rights to all the citizens without any discrimination on any basis, be it religion, race, caste, sex, language, gender, etc. But presently, all these rights are under huge attack from the government and its institutions. A certain kind of environment is being created where one is not free to choose things according to one's like or dislike but a forced choice is being thrust upon everyone in the name of one culture-one unity. If we resist or do not toe the line of majoritarian views, one may have to face a fate similar to that of Akhlaq of Dadri. All this is being imposed by the violent mobs patronised by the ruling party.
Basically, these are not spontaneous mobs of violent people, but an organised violent mass aimed at creating an environment of fear which guides the people's choice for certain priorities. Whenever people will think of any case, only certain kind of choices will come to their minds. This applies to all the cases whether it is food, clothes, or choice for life partner; only guided choices will come to mind.
It is surprising that a majority of these attacks on freedom and the rights of citizens are in the name of nation and nationalism. For becoming a nationalist, one has to follow a propagated culture, commonly-held notions around what constitutes a nation and its first-class citizens. And if one even attempts to challenge these notions on reasonable and logical grounds, then one may be deemed to be an anti-national. All this is happening in a country which is known for its vast diversity of cultures and has successfully been able to preserve its pluralism. Through this process, only one kind of culture is being imposed on our diversity. This one culture caters to the needs and choices of the majoritarian community, often leading to exclusion of a certain section of people.
Also read: We Are Surrounded by Jai Shri Ram, Lynchings and UAPA
For example, you are being told (using all kinds of false narratives) that if you are a true Indian, you have to practice vegetarianism. Actually, it is an attack on the soul of the diversity of independent India. Diversity is the peculiarity of India. To be a true Indian, it is not necessary that you follow a particular culture as Constitution provides security over cultural rights as well. A free India is a republic of a secular democracy, and without translating it into reality, independence and constitutional rights would have no meaning.
If one asks a question to the government or tries to question its policies, one becomes a traitor. This is independent India and its democracy has bestowed us the right and also a constitutional responsibility to review the work of our elected government and ask questions; if I discharge this responsibility, then I cannot be labelled as a traitor, it makes me a proud citizen. This responsibility and freedom to question the state was not there during the pre-independence era as the British were not accountable to Indian citizens. If in independent India, too, this right is put under the scanner, then the concept and the meaning of freedom and independence becomes redundant. The present government has created a strange situation that the biggest threat to the freedom of the citizens has come from this majoritarianism masked as nationalism. Freedom does not mean just to follow the diktats of the elected government, but to hold it accountable even when it is supposedly discharging its duties diligently.
Another aspect of this freedom is the equality of all sections of society which now seems like a distant dream for India. There are marginal sections of society like scheduled castes, tribes, minorities and women whose subordination to others has become an accepted norm in society. Dalits are still slaves of their caste. Constitutionally, we gave them equality, but socially they are still unequal. Their identity is not of a human being, rather their caste has taken the role of their primary identity. Many types of social restrictions are imposed on them. They are forced to find their life partner in their respective caste only i.e. if one has to love, then first caste has to be kept in mind. The free feelings of love which ideally should know no bounds and which cannot be controlled are not free in our caste ridden society of free India.
Also read: The State is Standing Against Poor and Vulnerable, Say Victims of Hate Crimes
Things apparently seem normal for a dalit or tribal unless and until he follows the norms of Manuvadi society, but if they challenge the norms of feudal society, thinking that they are living in free India then they will be crushed like many of their fellows. They will be punished with violence, lynched or forced to commit suicide like Rohith Vemula. Still the irony is that the dalits are confused as to what to do? On one hand, they are forced to practice ancestral menial professions which are shunned by other castes, on the other side when they take the carcasses of cows for skinning, some people get charged up with so much love and respect that they are ready to thrash and flog people for doing their profession. We have witnessed mob-violence in Una of Gujarat and various other such incidents in the last 5 years.
Women are also facing a similar situation in the country, they cannot even enjoy the luxury of illusion of having minimal freedom in a free country. Legally, they are free. We are told that our Constitution has abolished the practice of slavery, but are they really free? Women have equal value of vote as their male counterparts, they are also free to do the job of their own choice, but they should not overstep the limits of patriarchy. Otherwise society is there to teach her lessons and chain her to a life where she could have no decisional freedom pertaining to her own life. Patriarchy controls their sexuality and gives a license to males to exploit them sexually by controlling them economically and their mobility. Yes, to show off that we are a civilised society, we also outrage against injustices, it is necessary to occasionally come out and light a candle against some rape case incident in big cities. Otherwise, for all other purposes, each and every choice of a woman's life is decided by men- what women wear, when will she go out of the house, whom will she talk to, whom will she love. Why? If she goes out at night breaking these shackles of patriarchy and cultural traditions that enslave her then she is the one who is held responsible for all the consequences. Still, we consider that women are enjoying the freedom guaranteed by the Constitution.
But despite this situation, our independence has a lot of meaning to it. It is our freedom which ensures that I am able to write here, express my opinions and my dissent freely. Freedom has different meanings for different sections of the society or is being interpreted differently. The ruling class, whether imperialist or native, never wants people to realise the true essence of freedom. For them freedom means that they are free to expand their business, maximise profit making, and maximum exploitation of the working class. They want a freedom to rob the nation of its all the resources and exploit the law accordingly. That is why if we turn back the clock, we can see Vijay Mallya is free to take a bank loan and fly away, but a farmer is forced to commit suicide in case he defaults and is not able to repay the bank's loan. We have learned through our experiences of freedom movement that it is the strength of the masses which will decide the quality of freedom to be enjoyed by the society.
Even today, if the situation demands to protect the freedom and democratic rights, people of this country will again rise up in its defence. The past years have shown that the people will not tolerate any kind of attack on their freedom. The people of India have bravely faced the repressions of British to get what was rightly theirs- the freedom. The same people will again rise and occupy the streets to protect their freedom in independent India. For the same reason the slogan of 'Azadi' has become most popular in India during the last few years, the slogan at which our government trembles. They are afraid of slogans of freedom in free India because the government despite knowing the real meaning of freedom doesn't want the people to have it. Their sole purpose is to mentally enslave its citizens, as freedom liberates people. The word independence is a threat to their whole philosophy.
Also read: Mob Lynching Can't be Tackled Without Taking on Brahminism
So friends, it is our responsibility to celebrate this Independence Day with passion because it is our freedom, we have earned it after many sacrifices, but we need to remember that the freedom of the country means freedom of the people. When people are dying in poverty, shackles of casteism and patriarchy still enslave our society, then the celebration of freedom sounds incomplete and meaningless. While celebrating independence, our forehead will be held high, but at the same time we must also decide that it is our collective responsibility to protect this freedom and dedicate this freedom to the people of independent India.
The writer is former All India General Secretary of Students' Federation of India and now works with the All India Agricultural Workers Union. The views expressed are personal.
Get the latest reports & analysis with people's perspective on Protests, movements & deep analytical videos, discussions of the current affairs in your Telegram app. Subscribe to NewsClick's Telegram channel & get Real-Time updates on stories, as they get published on our website.
Subscribe Newsclick On Telegram