Delhi Elections Live: Exit Polls Favour AAP
While most of the exit polls are favouring Aam Aadmi Party, BJP's polarisation seems to have failed in swaying voters.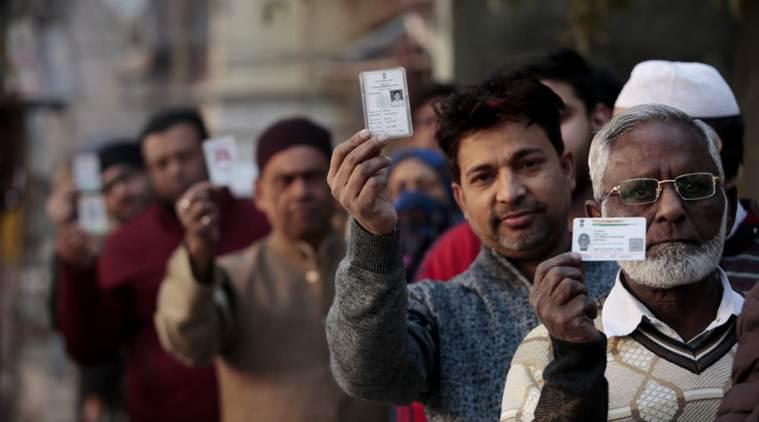 Image Courtesy: The Indian Express
After a high-decibel and a bitter campaign, voting for 70 Assembly seats in the national capital is finally underway. Over 1.47 crore voters, of which 81,05,236 are male, 66,80,277 are female and 869 are transgender voters, who are eligible to cast their vote to elect a new government.
It is a triangular fight between the incumbent Aam Aadmi Party (AAP) which is eyeing another term in office and Bharatiya Janata Party (BJP) and Congress, both looking to replace the government. A total of 672 candidates are in running for the 70 seats.
To ensure safety, as many as 40,000 personnel, 19,000 home guards and 190 companies of paramilitary forces are deployed across Delhi. As per reports, there are over 3,700 critical booths at 516 polling stations. About 40 critical polling booths are at five locations in Southeast Delhi's Shaheen Bagh, where an indefinite sit-in against the controversial CAA and imminent NPR and NRC has been going on since almost two months. 
AAP to form Government in Delhi with 49-63 Seats: ABP-C Voter
According to the ABP News C-Voter exit poll, AAP is expected to win 49 to 63 seats in Delhi. BJP to win 5 to 19 seats and Congress to win 0 to 4 seats.
NDTV Polls of Exit Polls: AAP Leads the Way with 49 Seats
Total Delhi Seats - 70
To Win - 36
AAP - 49
BJP+ - 20
Cong+ - 1
Lower Voter Turnout Marks Capital Assembly Elections
At 6.30 pm, the voter turnout in the national capital stood at only 55.18%. In the 2015 Assembly elections, Delhi recorded a voter turnout of 67.12% while in 2013, 65.63% of eligible Delhiites exercised their voting rights.
55.18 % voter turn out reported from #Delhi by 6:30 PM.#DelhiElections2020 #DelhiAssemblyPolls pic.twitter.com/z3sgekGCG5

— Spokesperson ECI (@SpokespersonECI) February 8, 2020
Who Will Win Delhi Elections 2020?: Exit Polls Start Predictions
As per the Neta-NewsX Exit Poll, Aam Aadmi Party is set to return with a majority in the Delhi Assembly Elections 2020. The exit poll indicates that AAP is expected to win between 53 and 57 seats. The BJP and Congress, on the other hand, could win around 11-17 and 0-2 seats respectively.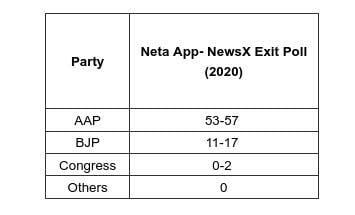 Voter Turnout Crosses Halfway Mark
Voter turnout stood at 52.95% by 5.30 pm, Sheyphali Sharan, official spokesperson of the Election Commission of India, said on Twitter.
52.95% voter turn out reported from #Delhi by 5:30 PM.#DelhiElections2020 #DelhiAssemblyPolls pic.twitter.com/NAnbigI7nI

— Spokesperson ECI (@SpokespersonECI) February 8, 2020
Shaheen Bagh Keeps Agitation Alive, Protesters Vote in Batches
Continuing almost two months old sit-in against the CAA-NRC-NPR, women protesters from Shaheen Bagh voted in batches on Saturday so that the agitation remains unaffected. While some of the women voted in the morning, others chose to get their fingers inked in the afternoon and the remaining in the evening. (With inputs from PTI)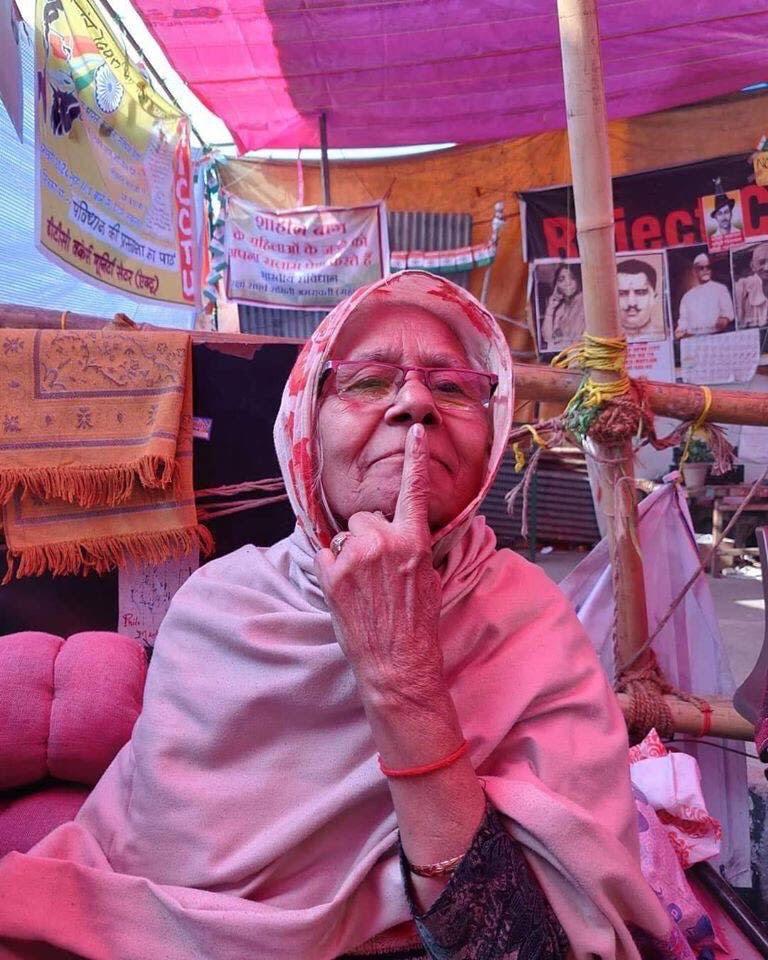 Dadi of Shaheen Bagh flaunting her inked finger at the protest site. Image Courtesy: Twitter
Clash Between BJP and AAP Cadre Reported in Rithala
A video of a clash between the cadres of BJP and AAP was re-tweeted by AAP's Sanjay Singh.
The incident, as per the original tweet, took place at Prince Public School booth at Budh Vihar phase 2 colony. "Goons arrived and disturbed the polling by threatening the voters," reads the original tweet.
रिठाला में भाजपा की गुण्डागर्दी चरम पर है कल गिरिराज सिंह इसी विधान सभा में रुपया बाँट रहे थे आज वहाँ मारपीट की गई अभी भी गुंडे मौजूद हैं @ECISVEEP https://t.co/PWmERvv7L2

— Sanjay Singh AAP (@SanjayAzadSln) February 8, 2020
Voter Turnout Crosses 40%
According to the news agency ANI, 42.70% of total Delhi voters have exercised their right to vote.
#DelhiElections2020: 42.70% voter turnout in Delhi assembly polls till 4 pm. pic.twitter.com/heFORHrWmp

— ANI (@ANI) February 8, 2020
Delhi Police Conduct Flag March in Areas Witnessing Anti-CAA Protests
The national capital is simmering with anti-CAA-NRC-NPR protests, with at least 20 indefinite protest sites across the city. Delhi police reportedly conducted flag march in the areas, namely, Shaheen Bagh and Jamia University as the voters joined the queues to cast their vote.
NewsClick had earlier reached out to the voters who are also part of the protests to understand their mood in the run-up to the Assembly elections. Read the ground report here.
Voter Turnout Picks up Pace 
Voter turnout has reached 37.78% by 3.30 in the afternoon, according to Election Commission Voter Turnout App.
23.36% of Votes Till 1 p.m
Voting, which began at 8 in the morning, recorded a slow pace with Election Commission's mobile application informing that a total of 23.36% of votes have been cast till 1 pm. The voting will continue till 6 in the evening.
Scuffle at Majnu ka Tila between Congress's Alka Lamba and AAP Workers
#WATCH Delhi: Scuffle breaks out between AAP and Congress workers near Majnu ka Teela, Congress candidate Alka Lamba tries to slap an AAP worker. AAP leader Sanjay Singh has said the party will complain to Election Commission. #DelhiElections2020 (note: abusive language) pic.twitter.com/l5VriLUTkF

— ANI (@ANI) February 8, 2020
From Toxic Hate, Fear to Development: Looking Back at Delhi's Election Campaign
In the run-up to the Assembly elections, the public campaigning, which closed on February 6 evening, was at its fever pitch with political parties throwing everything they had in their pockets to win over the voters.
The BJP, which had its back to the walls, relied on divisive issues like the citizenship law (CAA) and the proposed population register (NPR) and citizens' register (NRC), as also abrogation of Article 370 and the Ayodhya issue, to carry it through.
AAP, on the other hand, stuck itself to listing its achievements over the last five years by surrounding its campaign around its welfare schemes. Congress, in a bid to woo voters, banked on its past achievements and challenged BJP over mounting unemployment and made an attempt to expose AAP over its unfulfilled promises.
That being the case, serious issues of the Capital, including wages and social security for workers, remained untouched by any political party in their election campaigns.
Two Lakh Teen Voters to Also Decide Fate of National Capital
According to the data from the office of Chief Election Officer, Delhi, there are two lakh voters between the ages of 18 and 19 years added in the electoral rolls. Well over, 1.11 lakh new young voters were added to the rolls this year, reported Indian Express.
The bordering constituencies located in North Delhi, South West Delhi and South East Delhi saw the maximum number of additions in this category, with Matiala constituency in South West district of the national capital recording the highest, 7,184 new teen voters.
Newsclick reached out to these young voters in constituencies which are cut off from the dazzles of the national capital perhaps that's why it still awaits for a knock from any government schemes—both central and state—on its doors. Read the ground report here.
Also, the election campaign of the three main contestants remained mum on the mounting unemployment and dipping wages that has smothered the people, mainly the young voters.
Get the latest reports & analysis with people's perspective on Protests, movements & deep analytical videos, discussions of the current affairs in your Telegram app. Subscribe to NewsClick's Telegram channel & get Real-Time updates on stories, as they get published on our website.
Subscribe Newsclick On Telegram