Delhi Violence: 2 Years After Arif's Arrest on 'Concocted' Charges, his Family Grapples with Mounting Debts
"We have been falsely implicated... those responsible for Rahul Solanki's murder are moving freely", Says Mohammad Arif.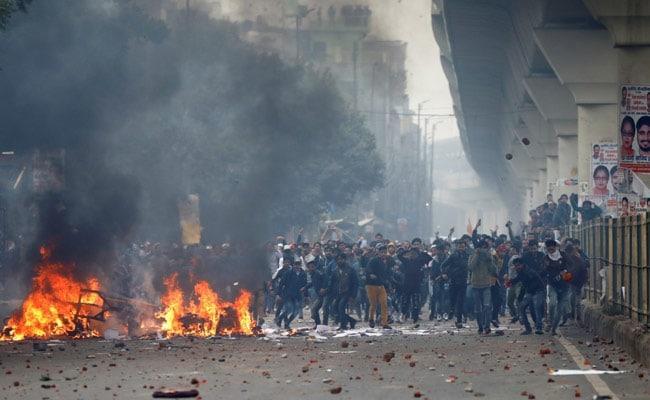 New Delhi: About two years ago, the roads of North East Delhi had turned red in February 2020. There, was chaos and mourning everywhere.
India had been roiled by protests against NRC-CAA (National Register of Citizens and Citizenship Amendment Act) in the preceding months. The protest against CAA in the north-eastern area of Delhi took the shape of communal violence, was turned into a communal carnage which started on 23 February and continued till 26 February. 
 According to the Delhi Police's affidavit filed in the High Court on July 13, 2020, the number of people who died was 53, of which 40 were Muslims and 13 were Hindus. A total 751 FIRs (first information reports) were registered by the Delhi Police in the Delhi violence.  
Read Also: Conspiracy Behind the Conspiracy: Some Questions For Delhi Police
 If individual and media reports are to be believed, the main trigger for the violence was provocative speeches given by Bharatiya Janata Party (BJP) leaders like Kapil Mishra, Parvesh Verma and Anurag Thakur.
In the over 700 FIRs registered, 62 were mentioned in the category of heinous crime, all being investigated by the Special Investigation Team SIT). Apart from these, 692 cases are being investigated by North East Delhi Police. In all, 1,825 people were arrested.
Two years down the line, the trial of many persons is still going on and a majority of the arrested persons are behind bars due to denial of bail.
Meanwhile, there have been reports from time to time, accusing the police of targeting Muslims in Delhi violence and even 'concocting' some charges.
One such case is of Mohammad Arif (30), whose family says that he has become a victim of the system, alleging that the kind of charges imposed on him by the police seem "completely concocted".
Arif is alleged to have destroyed a CCTV camera and shot a man named Rahul Solanki. An FIR was registered against him under various IPC Sections, namely 144,147,148, 149, 153-A, 295-A, 427, 436, 380, 302, 120-B, 34 of IPC; R/W Sec. 25/27 Arms Act, some Sections of CrPC, at Dayalpur Police Station, North East Delhi, on February 28, 2020.
Arif was arrested on April 1, and has been lodged in jail since then. Not much educated, he was the sole breadwinner in his family.
On a call with this writer from lock-up, Arif maintained that the cases made against him by the police were "concocted."
"We have been falsely implicated by conspiracy. Those responsible for killing Rahul Solanki are moving freely in front of police's eyes", he alleged, adding that some "policemen also tell us that you are innocent but we cannot do anything."
Arif further added that "the people who perpetrated the violence in Delhi were from outside, in which our own people were killed, and we were blamed and sent behind bars".
Rahul Solanki was killed on February 24, 2020 around 9:00 p.m, as per reports.
According to the official information given by the police and eyewitness, Solanki was passing through Pal Dairy street number 1, Rajdhani Public School at 9:00 p.m on February 24. Suddenly a crowd of 15 to 20 people came from his front, chanting slogans of Nara-e-Takbeer and Allah Hu Akbar. One of them came forward. He was wearing a blue T-shirt, and had a helmet on one hand and with the other hand he shot Rahul Solanki with a pistol and Solanki fell down. The bullet was fired from a distance of 25 metres, as mentioned in post-mortem reports.
Solanki, as per the official report, was accompanied by his friend Ankit Kumar, who got very nervous, and ran toward his house to inform everyone. On the way, he met Rohit Solanki, Rahul's elder brother, to whom he narrated the whole incident.
Ankit Kumar was also the one who took Rahul Solanki to the nearby GTB Hospital, where a MLC (medico-legal case) report was done by Ghaziabad Police.
Now, according to the police, the place of incident has been described as the "edge of Street Number 1 of Pal Dairy near Maharaja Enclave."  But when Rahul Solanki was taken to the hospital by his friend Ankit, he said that the dead body of Rahul was found in Shiv Vihar. This is written by ASI (Assistant Sub-Inspector) Hemraj Singh in the first DD entry.
A total of seven people have been named as accused by the police in the Rahul Solanki murder case, of which Sonu Saifi is accused of shooting him down.
All these people were reportedly accused by the police after CCTV footage was obtained.
As per some other reports, on February 24, around 4:00 p.m, a Muslim elder was allegedly caught by some Hindu rioters, and efforts were made by some Muslim people to rescue him.
On the basis of the CCTV footage on the basis of which the police named Mohammad Arif and seven people accused, many Muslim boys or men are heard saying that a Maulana was caught by Hindu people and is being taken away and beaten, as disclosed by Arif's family.
Also, in the CCTV, many people are seen running on Street Number 1 of Pal Dairy, in which the seven accused along with Arif are also seen. After some time, all these people are seen in the CCTV footage rescuing an elderly injured Muslim man.
This whole incident happened around 4:00 p.m on February 24 and on the basis of this video footage, the seven accused were arrested by the police.
Solanki was murdered around 9:00 pm on February 24, as mentioned by police officials. His brother, Rohit's statement was taken two days later, on February 26, after the police conducted the post-mortem. This is when Rahul had been declared dead in the hospital on February 24, after which an FIR was registered against "unknown" people and his body was handed over to the family.
But, suddenly on February 28, the police made Rahul Solanki's brother Rohit an eyewitness and filed an FIR against Arif and six other people who were seen in the CCTV footage at 4:00 p.m.
This is what is being questioned by Arif's father, Mohammad Iqbal.
Iqbal is the only male in the house now. When this writer went to meet him, a broken gate outside greeted him. Next to it was parked a covered WagonR car.
"That car has been standing here for the past two years as there is no one to drive it", Iqbal said, recalling the day when his son was arrested by the police on March 8, 2020.
But, the date of Arif's arrest mentioned in police's official records is April 1, 2020, he said.
If the words of Iqbal are to be believed, did the police keep Arif illegally confined for 22 days?
Iqbal (63) broke down several times while talking about his son, who was the only earning member in his family.
"My only son has been inside jail for the last two years without committing any crime. He was the only earning member in our house, and we are facing a lot of problems in running the house", he added.
Iqbal alleged that "all those who killed Rahul Solanki are roaming freely. And my son was trapped by the police and put in jail."
 "Our 2.5 year-old grandson Umar asks me every day when his father will come home. You tell me, what answer should I give him?" Iqbal said and broke down. Arif's mother sitting nearby also had tears in her eyes and said they had "faith in Allah and justice will definitely be given."
Arif has two children, a seven-year- old girl and a 2.5 year old boy. He has
six sisters, of whom two are married. The entire family is dependent on the rent from a room above their house, even as they are burdened by lakhs of rupees in debt.
Arif did come home on interim bail five times, the most recent being on
on February 21. He was sent back to jail on February 22. Each time Arif comes out on interim bail, Iqbal has to submit his house papers, as he had mortgaged his house as surety since he had not money.
"Last time we deposited the RC (registration certificate) of our bike, and this time we had to submit the registry of our house", he said.
With Ramzan round the corner, Iqbal looks sad. "Ever since my son has gone, Eid comes twice but we can't smile even once".
Arif's counsel, advocate Salim Malik, told this writer: "All the accused in the Rahul Solanki murder case are completely innocent. The police have made people accused only on the basis of CCTV footage and on the basis of mobile location".
Malik is handling around 100 cases related to Delhi violenc, of which 15 are related to murder. In all these cases, about 200 people have been accused by the police.
Malik also questioned that "if a person is at a place at 4:00 p.m, it is not at all necessary that he was present there at 9:00 p.m. Because of this there is not even a trace of truth in this case. Apart from the CCTV footage, the police have no other evidence, and the CCTV footage is at the time of 4:00 p.m".
He said: "No work was done by the police till February 28. After that, to show the work, the police criminalised all those people whose mobile location was present on the spot or they were seen in any CCTV camera".
He further said that there was no basis for Section 302 being imposed on Arif Mohammad, as the police itself said that the shooting was done by Sonu Saifi. "Then what is the point of imposing 302 on Arif?" he said.
Malik, who is fighting 200 cases free of charge, said Arif was innocent and would definitely get justice.
This writer tried to talk to SHO A.N Singh of Dayalpur police station regarding the FIR nu.75/2020. SHO Singh said that all the murder cases had been transferred to the SIT, due to which "we cannot say anything in this case."
More officials related to this case are being approached and this story will be updated once the responses come.
The writer is a Delhi-based freelance journalist.
Get the latest reports & analysis with people's perspective on Protests, movements & deep analytical videos, discussions of the current affairs in your Telegram app. Subscribe to NewsClick's Telegram channel & get Real-Time updates on stories, as they get published on our website.
Subscribe Newsclick On Telegram