Delhi Violence: Reality Check Punches Holes in Amit Shah's Claims in Lok Sabha
The home minister lauded Delhi Police for controlling riots in 36 hours, but distress call logs reveal inaction.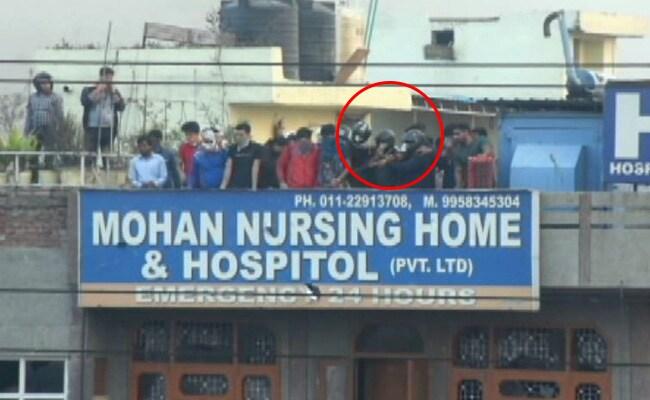 New Delhi: Union Home Minister Amit Shah gave a clean chit to the Delhi Police amid allegations of the force being ineffective and complicit in last month's communal violence in Northeast Delhi. As per Shah's speech in Parliament, "52 Indians" were killed and 526 injured in the violence. He lauded the police for "effectively" controlling the violence "within 36 hours".
Tension in the Trans-Yamuna region began on February 23 evening and escalated to a full-blown riot, which lasted for well beyond 48 hours.
In a bid to shrug off criticism and allegations of inaction by the city police and other security agencies, several claims were made by the Home Minister while replying to questions by the Opposition during a debate on Delhi riots in the Lok Sabha (Lower House of Parliament) on March 11. However, official records tell a different story.
Praising Delhi Police, which is directly under the Home Ministry, Shah said: "The riots were happening in a place which has a population of 20 lakh. Controlling and stopping the riots in a dense area is very difficult. The Delhi Police controlled the riots in just 36 hours. I must say that the Delhi Police did a commendable job. I will congratulate them and praise them for not allowing the riots to spread to other parts of Delhi."
"The first information about a riot-like situation was received on February 24 and the last input was on February 25 at 11 p.m," he further said.
REALITY CHECK
The home minister told the House that the violence ended after 36 hours (at 11 p.m on February 25). But the fact is that it continued till February 26 and reports of killings kept emerging till February 28—which was 48 hours after the Home Minister said the violence was over.
Police records show that the violence lasted for at least 72 hours after it began on February 24 evening (as claimed by the government). According to Delhi Police Control Room records, 700 distress calls were made on Sunday (February 23), 3,500 on Monday (February 24), 7,500—double the previous day—on Tuesday (February 25) and 1,500 on Wednesday (February 26). Sporadic incidents of violence occurred on February 27 and 28 as well.
Now, the question arises: what happened to these distress calls?
The call log sheets of police stations in the riot-hit areas suggest that either no action was taken, or action was pending.
More than 3,000 distress calls were received by the Bhajanpura police station—which has jurisdiction over Chand Bagh, Yamuna Vihar and parts of Noor-e-Ilahi and Ghonda—between February 24 and 26.
But the 'Brief of Action Taken' column of the call log register here—seen by NewsClick—was blank, suggesting that no action was taken.
Similarly, some of the calls related to the attack on Rajdhani Public School in the most affected Shiv Vihar area, were diverted at Karawal Nagar police station. The school, shops and houses were attacked and the violence there continued for around 60 hours leading to widespread devastation.
Most of the calls made between 3:30 p.m and 10 p.m on Monday (February 24) were about rioters entering the school and nearby shops, which were turned into ashes.
The log-book at the police station shows multiple calls made about the school being attacked, but the status of each call is simply marked to have been "pending".
After thousands of men belonging to the security forces flooded the streets in the affected areas, the violence began to ebb. The question, which still has not been answered, is: where were the men in 'khaki' when a dense area of the national capital was burning?
The Delhi Police have a sanctioned strength of 80,000, but in those crucial four days (February 23-26), the men in uniform seemed to be missing in action or simply stood by while the rioters ran amok—as shown by multiple videos and narrated by eyewitnesses.
NewsClick spoke to several police officers, but none of them wished to speak on record. But they said that they did the best they could do as they were very few in number to control the armed rioters.
'SPONTANEOUS' OR A 'CONSPIRACY'?
The other claims made by the home minster in Parliament with regard to the communal violence in Northeast Delhi also raise many doubts.
Shah alleged that the riots were a "pre-planned conspiracy". He said that a conspiracy case had been registered and investigations were on. "It is not possible to arrange such a riot without a plan, a conspiracy," he said, alleging that money was pumped in by organisations and individuals to finance the riot. "We have records of how much money was brought to Delhi through hawala. The Delhi Police have arrested people in this regard, and further investigation will divulge more details," he said.
FACT CHECK
Earlier, Shah, while going on record in an official press statement released on the Press Information Bureau (PIB) website, had termed the incident as "spontaneous".
It can be argued that the first statement was made at a time when the riots were going on and could have been made on the basis of preliminary information as investigation into the violence had not begun.
However, the home minster had noted in the PIB release that "professional assessment" was that the violence in the capital was "spontaneous".
A day earlier, Shah said it was a "spontaneous" riot, his junior minister, G Kishan Reddy, Minister of State for Home Affairs, had given interviews to the press in Hyderabad, saying it was a "conspiracy" planned to "defame the country".
He had even held Congress leader Rahul Gandhi responsible for the riots.
Later, Shah too changed his stance and told Parliament that it was a conspiracy.
ACCUSATIONS OF POLICE BIAS
Apart from police inaction, there are allegations of police bias as well. Barely two days after the riots were over, a video clip surfaced in which a few injured men can be seen lying on the ground while a few policemen are surrounding them, hurling abuses and asking them to sing the national anthem.
Instead of rushing the injured to a hospital for treatment, they were taken to the Jyoti Nagar police station for questioning. One of them, Faizan, died later. The police have not come clean so far on the incident.
Even in investigations, which are underway, there are allegations of impartiality. The police have released a video where a police team can be seen being attacked by anti-citizenship legislation protesters. But they have chosen not to show footage shot from just the other side of the road.
In this footage from the same location, rioters can be seen standing atop a nursing home (Mohan Nursing Home) in Yamuna Vihar, firing at a crowd below, which is coming from Chand Bagh during a face-off between Muslim-dominated Chand Bagh vs Hindu-dominated Yamuna Vihar.
The video was shot from a cell phone in Chand Bagh just across the hospital. A man wearing a helmet can be seen firing while another one can be seen throwing stones and bottles filled with a liquid. Others can be seen standing next to him.
Despite the video surfacing in the public domain, the police are yet to act. Though the gunman is wearing a helmet, others can easily be identified, as their faces are clearly visible.
The same man who filmed the video reportedly shot another video where a young man shot in stomach is being seen brought down by people from rooftop of a building. The man, who was identified as 22-year-old Shahid Khan Alvi, an auto rickshaw driver from Uttar Pradesh's Bulandshahr district, was declared dead.
Get the latest reports & analysis with people's perspective on Protests, movements & deep analytical videos, discussions of the current affairs in your Telegram app. Subscribe to NewsClick's Telegram channel & get Real-Time updates on stories, as they get published on our website.
Subscribe Newsclick On Telegram