Doon Residents Ask: Why Build Another Highway if it Hardly Saves Time?
The new Delhi-Doon expressway will save just about an hour in travel time. Its benefits don't outweigh the harm it brings to the local environment and livelihoods.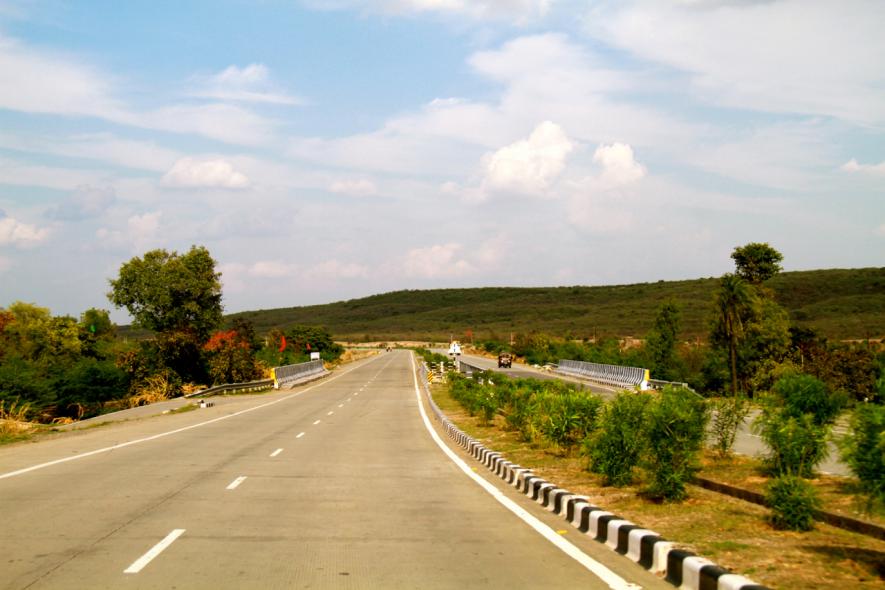 More than a decade ago, an 80-kilometre stretch of the National Highway 58, which runs from Ghaziabad in Uttar Pradesh to Badrinath in Uttarakhand, was upgraded and widened in western Uttar Pradesh. The construction caused immense hardship as heavy dust from drilling and construction choked lungs for years. Homes, small businesses, and trees all along the route were dislocated or removed. However, after this and other stretches were widened, the driving time between Delhi and Dehradun fell to just about four-and-a-half hours. An arduous seven-hour drive in the decades before 2010 is now smooth sailing. 
That is why Dehradun residents are demanding it know why it was so important for the Union Ministry of Road Transport and Highways to press for a new six-lane access-controlled expressway between these cities? This new 210-km road from Akshardham Temple to Dehradun would reduce the travel time by just about another hour, which reflects the diminishing returns of constructing on this stretch. The new highway would also have spurs, or offshoots, and six lanes for local traffic and is scheduled to complete by 2024. The project envisages both brownfield (or upgrades) and greenfield or new constructions. The decision to build the stretch still shocks residents, though the first phase is well underway by now. After all, the cities already have excellent air connectivity and several trains cover their distance in less than five hours. 
Now, the ripping away of Sal forests on the Delhi-Dehradun route (on National Highway 72A, from Chhutmalpur in Saharanpur to Dehradun), has started in full swing. It is claiming ancient trees, including a part of the Doon Valley's legendary Sal forest. A 20-km stretch, between Ganeshpur and Dehradun passes through a wildlife-rich Shivalik Forest Division habitat that traverses Uttarakhand and Uttar Pradesh. Experts say these hills insulate the Doon Valley from heat, dust and pollutants. However, the way the expanding road is aligned, it will cut through the Rajaji Tiger Reserve and the Shivalik Elephant Corridor. 
The Van Gujjars, a pastoral nomadic tribe who speak a fusion of Kashmiri Dogri and Punjabi known as Gurjari, live in the Rajaji reserve. Members of the community are shocked at the wanton destruction of the forest. As half-a-dozen JCBs mow down trees in preparation to roll out the highway, Mustafa, an ageing Gujjar patriarch who supplies milk to dhabas in Mohand on the foothills of the Shivalik hills, says, "For two decades, the government has been trying to evict us, saying nobody is allowed to live in the forest. It moved many families out of the Ramnagar, Gohri and Chillawala ranges. But since two years, we see they themselves are destroying the hills." 
The massive construction drive at an estimated cost of Rs. 13,000 crores will hurt Shivalik hills' water catchment, formed of a network of small and big rivers, including Mohand Rao, Sukh Rao, Solai, Chillawal, Chika Rao, Binj Rao and Aderi Rao. A 12-km strip will be an overpass through these hills, which the National Green Tribunal (NGT) has said would ensure free movement of wildlife. But sadly, the pillars of this overbridge are being built on the riverbeds. Dehradun-based environmentalist Reena Paul is one of many who oppose the project and have filed in a Public Interest Litigation before the Nainital High Court. She says, "This widening will directly impact the water security of western Uttar Pradesh because all its water sources emanate from here." 
Paul says, "It is not just a question of saving trees but the entire Shivalik ecosystem. The Asharodi ridge, on which the expressway is being built, is the source of 20 rivers including Hindon and Saloni. The Shivalik hills are eroding and highly seismic—is it wise to make an elevated road here, that to on a river bed?" she asks.
Ghulam Rasool, a Van Gujjar, also worries about destroying water sources for the area's wildlife. "We need river waters for our daily needs. Huge quantities of mulch thrown here have dried up our springs. We have tremendous problems arranging for water for our dairy animals," he says. 
A study by the International Institute for Applied System Analysis based in Laxenburg, Austria, has found that people living in the Doon Valley believe the quality of the regional environment has deteriorated. The forest cover fell by 25% between 1972 and 1982, and the groundwater lowered by about 15 metres in the last decade. But the deterioration in the previous three decades is unprecedented, made worse by climate change.
Cutting the Sal forest is akin to destroying the "soul of our state", says Dr Ravi Chopra, who heads the People's Science Institute. Chopra joined the demonstrations against the expressway held in Dehradun from 19th to 23rd April at the Gandhi Park.
Sight of the Sal forest does not just identify the Shivalik elephant corridor. A 2018 Forest Research Institute (FRI) study showed it has a crucial role in regulating temperatures. The FRI report says, "Rising temperatures have altered the patterns of flowering and seed fall in the Sal trees, which has seen a fall in their numbers, making it difficult for them to grow."
According to naturalist Pradip Krishen, the authorities' indifference to the environmental destruction is chilling. "Almost anywhere, these trees would be beneficiaries of stringent conservation backed by enthusiastic public support." Evidently not in India.
Just before the government announced this expressway in 2020, the Uttar Pradesh government had expressed interest in a "Shivalik Tiger Reserve" within its jurisdiction. However, Union Minister of Road Transport and Highways Nitin Gadkari over-rode these plans, and the expressway idea materialised. The same year, Rajiv Dhiman, Divisional Forest Officer, Dehradun, and R. Balachandran, DFO, Saharanpur, were sent for a site inspection in Uttarakhand and Uttar Pradesh, respectively. They reported there are "no rare, endangered, or unique species of animals or flora and fauna" in the region. These reports gave the green signal to construction in this wildlife corridor. Over 10,000 trees, many of them more than 100 years old, are on the chopping block.
A Supreme Court-appointed committee has pegged the value of each 100-year-old tree as Rs. 1 crore, considering the oxygen, micro-nutrients, compost and fertiliser they provide or preserve. Then, the  NHAI asked the Wildlife Institute of India (WII) to assess the regional wildlife for a mitigation plan. This report recorded leopard, rusty-spotted cat, Asian palm civet, Yellow-throated marten, Masked palm civet, Grey mongoose and Monitor lizard sightings, and other bird and animal species. Prepared by Dr Bivash Pandav and Dr Bilal Habib, the WII report concluded that "it was important to maintain the integrity of this landscape" since the tiger population in western Rajaji may see a recovery in the near future. In other words, it was possible that "tigers will soon regain their former range along this western part" of the Rajaji reserve.
So why the tearing urgency to build a road where one already existed? In May 2020, the Ministry of Road Transport and Highways itself ordered making every possible effort to avoid road alignment through national parks and sanctuaries. It argued that a healthy watershed prevents soil erosion and sedimentation and increases soil formation, water storage and filtration, and biodiversity. Why did the government put such lofty objectives aside once the NHAI claimed this road was necessary for "security reasons"?
An activist observes that the expressways coming up across the country charge tolls from commuters, who already pay a fuel cess. Access control brings massive inconvenience to those who live along its route and spoil the natural beauty wherever they come up. Is one hour of time saved worth all this? On 19 April, the Supreme Court reconstituted its oversight committee for this expressway project. It previously consisted of 12 experts appointed by the NGT and now the court has ordered CP Goyal, Director-General of Forests and Special Secretary, Ministry of Environment and Forests, to head it. The last committee chief was Uttarakhand Chief Secretary, Sukhbir Singh Sandhu, a former NHAI chairman. The new members are Anil Prakash Joshi, founder of the Himalayan Environmental Studies and Conservation Organization, and conservationist Vijay Dhasmana. The order was in response to a petition filed by the NGO Citizens for Green Doon against an NGT order and sought independent members with conservation-related expertise on the committee. 
The effects of unprecedented tree-felling and tampering with water sources may already be visible on the ground. A heatwave afflicts the Doon Valley, and there is a severe water shortage here and in western Uttar Pradesh. The people and the animals have a long, cruel summer ahead. 
The author is a freelance journalist. The views are personal.
Get the latest reports & analysis with people's perspective on Protests, movements & deep analytical videos, discussions of the current affairs in your Telegram app. Subscribe to NewsClick's Telegram channel & get Real-Time updates on stories, as they get published on our website.
Subscribe Newsclick On Telegram