DU: Teachers' Organisations Form Alliance, Put up Joint Prez Candidate for DUTA Polls
Taking cue from the Opposition's INDIA bloc at the national level, teacher organisations have formed the Democratic United Teachers Alliance to take on RSS-backed NDTF.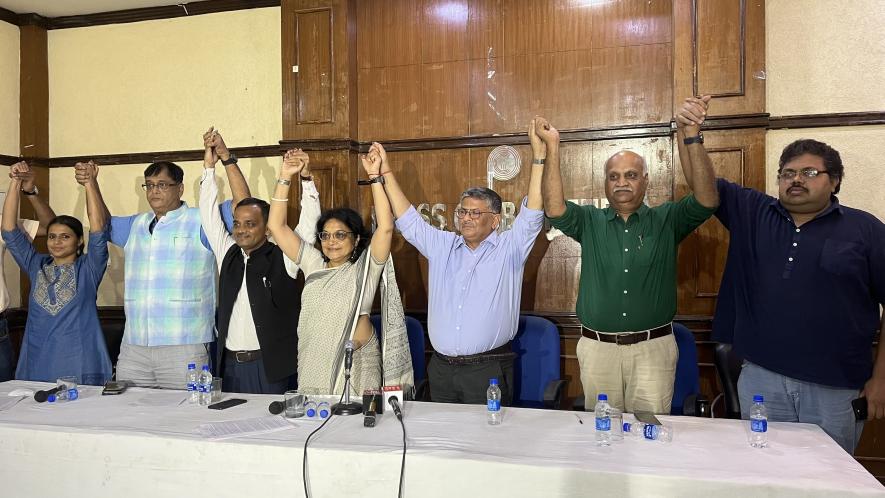 Delhi: Taking cue from Opposition unity – INDIA bloc -- at the national level, several teachers organisations have joined hands to put up a united presidential candidate, Aditya Narain Mishra, in the upcoming elections of the Delhi University Teachers Association (DUTA). The elections are scheduled to be held on September 27, 2023.
The unprecedented alliance -- Democratic United Teachers Alliance or DUTA -- was announced at a press conference held here on Saturday.
The alliance came into existence after days of negotiations between the Democratic Teachers Front (DTF) and Academics for Action and Development Teachers Association, with other groups such as CTF, DTI, INTEC, ITFSJ extending their support to Mishra to put up united fight against the Rashtriya Swayamsevak Sangh-backed NDTF or National Democratic Teachers Front. In 2021, NDTF candidate A K Bhagi won the elections last time in 2021.
While DTF, JSM, DTI and CTF are Left leaning organisations, AADTA is affiliated to the Aam Aadmi Party and INTEC is the official teachers' body of Congress party.
At the press conference at the Press Club of India, teachers alleged that the current DUTA leadership led by the NDTF had failed thousands of ad-hoc teachers in their quest for a permanent job after decades of service.
Addressing the press conference, Nandita Narain, former DUTA president, said the teachers' movement in the country looked for guidance and inspiration from DUTA for reclaiming the rights of the teachers. However, the current NDTF leadership had turned the union office into a "department of the administration which slaughtered thousands of good teachers in the ongoing recruitment drive."
Temporary teachers in the university have alleged that their contribution to the institution was neglected and a "pre-determined list of teachers with consent from RSS functionaries was passed to fill the vacancies. Recall that Hindu College teacher Samarveer Singh had died by suicide this year after he was ousted from his job after six years of service.
Read Also: Outrage Over 'Suicide' of Ad-Hoc Teacher Displaced From DU's Prestigious Hindu College
Aditya Narain Mishra said at the press conference that such a coalition was imminent in Delhi University given the assault on public-funded education.
"Graded Autonomy will lead to privatisation of public funded education. It happened to our schools. Now, our universities will be ruined. The university took a loan of Rs 1,100 crore and is proud about it. How will this loan be repaid? Students will be compelled to take up expensive courses.  It's a fight to protect the dignity of teachers," he added.
Mishra alleged that teachers who freely express their opinion were being threatened with consequences. "This has never happened in DU," he added.
Read Also: DU: Uproar in AC Meeting Over UGC Nod to Graded Autonomy, Fee Hike in New Courses
Vijender Kumar Chauhan from Common Teachers Front (CFT) said the university had come to such a pass where religious identity was determining one's appointment. "Majoritarianism is being peddled in the name of academics. Teachers should shed fear to save the university," he added.
In a joint statement, the teachers' organisations said that this was the first time in the history of DUTA that a large number of teachers were "afraid of displeasing their own elected representatives." This culture of union leadership dishing out favours and disfavours to its own members must stop.
"The NDTF has also NOT raised its voice against the collapse of structures of governance in the University, in particular not constituting the GBs (general body) in 28 Delhi government colleges," said the statement.
The statement added: "Today, we are witness to the systematic dismantling of public-funded education, combined with ill-conceived academic restructuring, including an assault on academic contents, that vitiates the character and quality of education. The teaching profession is getting devalued and demotivating. After all, the role of teachers and the character of education are interdependent. In DU, we have seen teachers being completely marginalised in the unilateral decisions made to implement the directionless, quality-sapping structure of the NEP inspired FYUP."
The organisations maintained that the span of under-graduate programmes had been raised to four years without any provision of additional teachers, support staff and infrastructure, much like the forced expansion of intake by 25% every year on account of EWS (economically weaker section) reservations.
"In particular, hundreds of long-serving ad hoc teachers are being pushed out because 10% EWS reservation in teaching has been implemented without sanction of additional posts. The size of lecture, practical and tutorial classes has been increased, effectively destroying the rich learning possibilities that small group interaction provided," the teachers said.
"All this has happened even before the laws paving the way to restructuring governance as envisaged in NEP have been put in place. NEP (New Education Policy) stipulates privatised BOGs (board of governors) for every institution which are to have absolute powers over courses, admissions, and appointment, salaries and promotion of teachers. BOGs are tasked with mobilisation of financial resources as part of their graded autonomy. DU has surreptitiously applied for and been granted graded autonomy with powers to start courses funded through student fees or other means. That the Government wants to gradually reduce funding is evident in the hardships teachers across colleges are facing due to delayed payment / non-payment of salaries, arrears and retirement benefits," the joint statement read.
Get the latest reports & analysis with people's perspective on Protests, movements & deep analytical videos, discussions of the current affairs in your Telegram app. Subscribe to NewsClick's Telegram channel & get Real-Time updates on stories, as they get published on our website.
Subscribe Newsclick On Telegram