Education Amid Pandemic: Online Learning and Digital Divide
"People in backward areas and even in cities cannot afford the data and other costs involved in online education."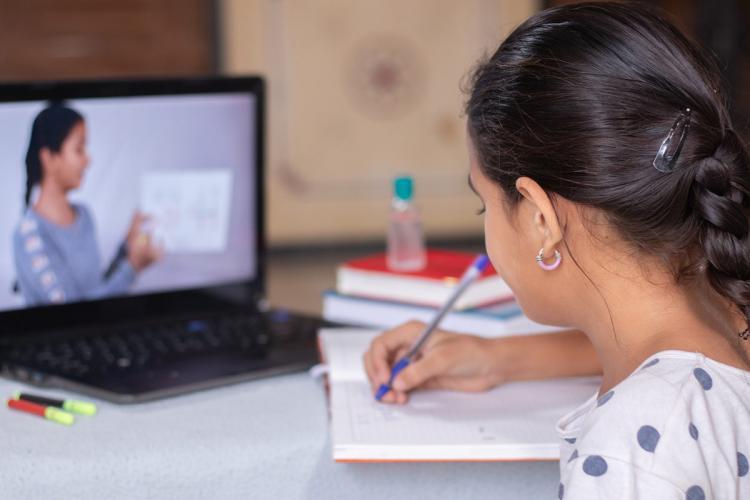 Image Courtesy: The News Minute
Lucknow: Tara Yadav, a resident of Chinhat in Lucknow, is a mother of a four-year-old kid named Aashu. Last year, Aashu was promoted from kindergarten to class I, but this year, he could not attend the school even for a single day due to the outbreak of Covid-19. 
Tara, for the first few initial weeks, did not pay much heed to this issue, as her son is too young. But she gradually realised that Aashu had begun to forget what he had learned in school. Tara then approached the principal of a small private school. The principal, however, reportedly told her that they do not have resources to conduct online classes like other schools. 
Kids' education in India is becoming a source of stress for the parents as they continue to reel under financial distress. "I do not have enough money to pay for individual online tuitions for Aashu. My husband has lost his job amid the lockdown and we are already running out of our savings. The private online tuitions will cost us a minimum of Rs 3,000 per month, but it will also require a smartphone, internet connection and a few other things. I am not ready for this. I am in a dilemma. I am an illiterate person and I do not know anything. I do not want Aashu to remain like me," says Tara who has been running her house by doing small tailoring and embroidery jobs from her one-room rented house. 
Like Tara, there are millions of people in India who have been facing these issues amid the lockdown in place to control the spread of novel coronavirus.
Dr Tanu Dang, an assistant professor at the KMC university in Lucknow, told NewsClick that she is of the opinion that this educational year should be suspended until the vaccine for coronavirus is made. She said, "The online system is causing a digital divide. People in backward areas and even in cities cannot afford the data and other costs involved in online education. So, it is better to opt for homeschooling like other countries as it will save kids from getting infected and also save money."
"The educational years up to class VIII can be suspended and for higher classes, alternatives like digital or online education can be looked at. But for that, there should be proper training of teachers, easy availability of the internet and other things. Remember, these kids are the future of our country and we cannot afford to get them sick or push them into a rat race, which will lead us to nowhere. Universities can go for entrance exams rather than relying on cut-offs," she added.
"There is a very low penetration of smartphones with internet access among the economically weaker sections of the society in India, at about 8%. People are cash-strapped and most of the content is available in only English. Aside from these flaws, mobiles have a detrimental impact on health, leading to depression and poor eye-sight," said Prof Dang.
Amila Banerjee, an assistant professor at the Babu Banarasi Das University (BBDU) in Lucknow has a slightly different view. "Yes, I agree there are many problems, but we should look at the other side too. People are opting for work from home; so, why can the education not be provided that way? I totally understand that there is no alternative to a physical classroom, which helps in overall personality development of the students but it is not possible," says Banerjee, adding, "To go for the online mode, the syllabus should be available offline, the teaching material should be creative and content should be picked in a way that can be easily taught to the kids. Even the teachers need to learn a lot because the future will depend on it."
Also read: Karnataka: ASHA, Sanitation Workers Battle Govt Neglect Amid Pandemic
She further opined that higher education should not come to a standstill due to the pandemic.
Bal Mukund, an education activist, said that the government should first train its teachers and form a strategy first.
"The country cannot afford to keep kids away from education. The focus area of the government should be rural India where over 60% of the population resides and there is a dearth of resources in these areas. If you are going for online studies, then free internet or easy to access the internet should be provided. Teachers should be equipped with resources required for it," Mukund said while speaking to NewsClick. 
Dr Rudra Pratap, a researcher focusing on education, said, "The government should take lessons from other countries like Thailand's Bangkok. The government should form a committee on an urgent basis which can find ways to run the schools. There is no dearth of technology or ideas in our country but we lack in policymaking and its execution."
As per official data, there are about 12.8 million (1.28 crore) students enrolled in over 1.08 lakh primary and around 50,000 upper primary schools spread across 75 districts of the state.
Meanwhile, Tara has found a few rhymes and other study material available on YouTube with the help of a local cyber cafe and has started playing them on her DVD player at home for Aashu.
Also read: Aligarh's Dhaba Culture is Normalising Child Labour: Right to Education and Child Labour laws
Get the latest reports & analysis with people's perspective on Protests, movements & deep analytical videos, discussions of the current affairs in your Telegram app. Subscribe to NewsClick's Telegram channel & get Real-Time updates on stories, as they get published on our website.
Subscribe Newsclick On Telegram