Egg-Selling Technician, Graduate Mallaah in UP: Pakora Prediction Comes True
Uttar Pradesh youths slogging in the private sector are unable to make ends meet due to low salaries.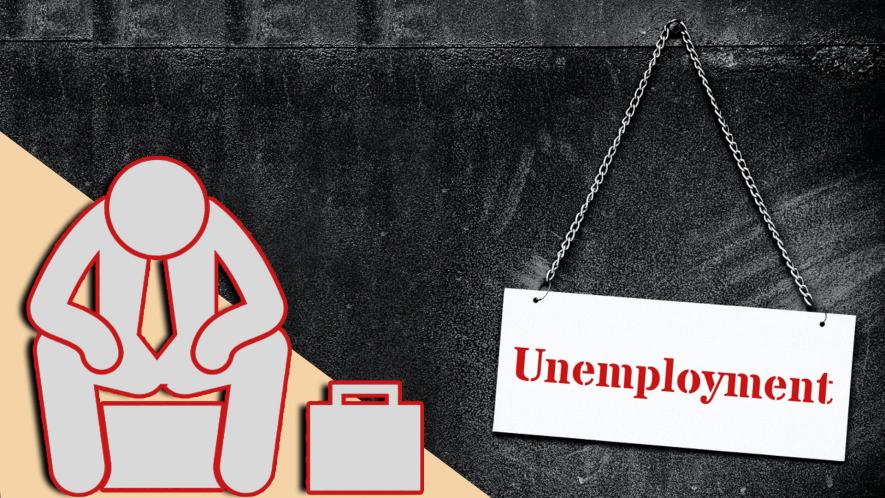 Last year's Centre for Monitoring Indian Economy data bely Uttar Pradesh (UP) chief minister Yogi Adityanath's claims of a considerable improvement in the state's employment situation with a decline in jobs and the labour participation rate. Youths preparing for competitive exams for government jobs are hopeless and frustrated with recurrent problems like exam delay, paper leak and late recruitment.
Youths employed in the private sector, like schools, hotels and small companies, in UP are usually considered lucky. However, the ground reality seems to suggest otherwise. They are unable to make ends meet due to low salaries despite working for long exploitative hours. 
The state has a vast private sector comprising hotels, small IT companies, private schools, etc. Private schools, many affiliated to the CBSE Board, pay extremely low salaries in the range of Rs 8,000-Rs 10,000 to teachers, who usually have a master's degree. 
"I have a master's in English literature and taught class 12 students. My salary was Rs 9,000. Is it possible to survive on this salary?" asks Suresh Chaubey (32), who was employed with a private school in Mughalsarai. 
Pointing to the general condition of private schools, Chaubey, now employed with a government school, says the higher education of many teachers is not valued. "Can't the state government do something? Maybe, it can issue guidelines to private schools to ensure a decent salary for teachers."
Ashok, a BTech in computer science from Meerut, works as a programmer at Utkarsh Small Finance Bank, Banaras, for Rs 12,000. "My parents invested Rs 10 lakh-Rs12 lakh on my higher education. Now, I work for such a low salary. I need to move out of UP to improve my prospects in either Delhi or Mumbai," he says noting the lack of good opportunities for IT engineers in the private sector in major cities like Banaras and Lucknow. "But it is not possible for everyone employed in the private sector to shift to metros."
Explaining his frustration at working for eight-nine hours a day on such a low salary, Ashok says, "Others thinks I am employed but I consider myself unemployed. It is difficult to make ends meet."
After receiving industrial training as a fitter (a machine repairer) at ITI a few years ago, Sonu (26), from Chandauli, had no option but to leave the state to work at a private factory manufacturing four-wheeler parts in Rohtak, Haryana, only to quit within a month. 
"I did not have much money when I joined the factory at a salary of only Rs 9,500 to work for eight hours a day. I ended up working for 10 hours a day," says Sonu adding that it was "impossible to survive in a distant city while spending on rent, food and other expenses".
Finally, a frustrated Sonu returned to his village of Ratnapur to sell eggs and related food items. Questioning the usefulness of education, he jokes, "Amit Shah's statement has proved to be true. It is better to sell pakoras if you are jobless," pointing to his friends employed in low-paying jobs. "All of my friends have college and technical degrees but earn only Rs 7,000-Rs 12,000."
Many youths get apprenticeship with the Railways, where they learn several skills. Alok, a former apprentice with the Banaras Locomotive Works for a year, is now jobless. "The stipend of Rs 7,000 during the apprenticeship was somewhat helpful. Now, I am clueless. There are no technical vacancies," he says. "The state government has no plan or vision for youths who are getting trained."
The situation in the hotel management sector is not good either. "I joined the hotel at a salary of Rs 6,000. I got an increment of only Rs 1,5000 after working tirelessly for three years and on overtime," says Raman Kumar, who hails from Gorakhpur and is employed with a 3-star hotel in Banaras in the food and beverages section. "I have to take care of my elderly parents. I can't even imagine getting married. How will I manage a family of my own?" asks the hotel management graduate.
Deepak Sahani, another hotel management graduate, only got offers from low-paying hotels in Lucknow and Banaras. "I work as a boat helper at the ghats. I earn better than what was offered to me by the hotels. Graduation was useless when I was destined to be a Mallaah," he says.  
The state of private employment in UP is a tale of dissatisfaction and frustration. "It is clear that the government cannot provide employment to everyone," says Sonu pointing to the declining jobs in the public sector. "But it can, at least, ensure secure jobs that pay well in the private sector. Is it too much to ask for?" 
The writers are freelance journalists.
Get the latest reports & analysis with people's perspective on Protests, movements & deep analytical videos, discussions of the current affairs in your Telegram app. Subscribe to NewsClick's Telegram channel & get Real-Time updates on stories, as they get published on our website.
Subscribe Newsclick On Telegram