Elections 2019: Will Maharashtra's Vanchit Alliance Dent Opposition Parties' Chances?
It remains to be seen how Prakash Ambedkar and Asaduddin Owaisi's VBA, a new phenomenon in Maharashtra politics, will play out on the ground, especially with regard to vote transfer.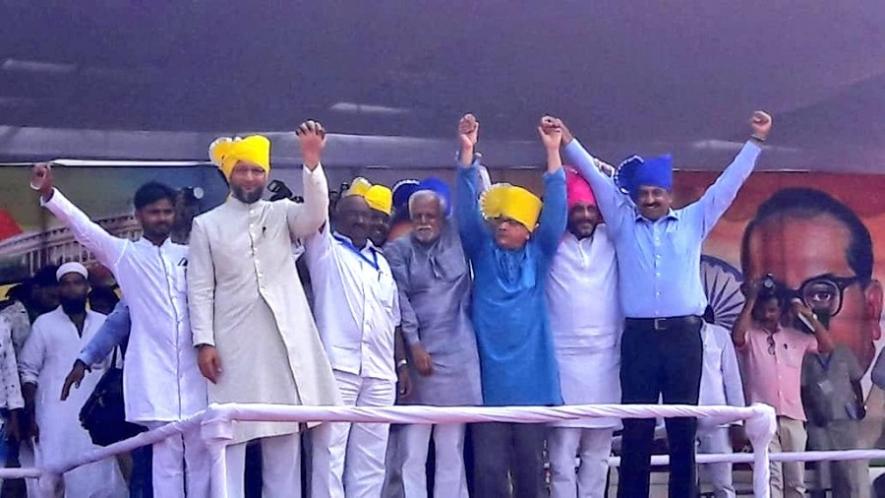 Image for representational use only.Image Courtesy :Carvan Daily
Maharashtra politics is currently centred around one question -- to what extent can the Vanchit Bahujan Aghadi (VBA) dent the prospects of a Congress-led opposition alliance? Starting from social media groups of political workers or journalists to discussions in small roadside shops, arguments and counter-arguments over this question dominate conversations.
VBA has been formed by Prakash Ambedkar, former Member of Parliament and grandson of Babasaheb Ambedkar. He had been leading the Bharatiya Republican Bahujan Mahasangh (Bharip Bahujan) till recently. But with the announcement to join hands with the Asaduddin Owaisi-led All India Majlis-e-Ittehadul Muslimeen (AIMIM), Ambedkar is determined to change the course of politics in the state. What led to the formation of this alliance? Let's look at its history and the deep undercurrents of Maharashtra politics.
HISTORY
Maharashtra has been a torch-bearer of progressive values in Indian politics for long. The current political paradigm of social justice is incomplete without three names—Mahatma Jyotiba Phule, Shahu Maharaj and Babasaheb Ambedkar—all three from Maharashtra. As a result, the movement for social reforms in the state has been quite strong over the past hundred years. But, in the last three decades, the dalit community in the state has been simmering over a number of issues.
It is important to note that dalit votes play a significant role in Maharashtra politics. Even though there have been various claims over the exact numbers of dalit votes, the general assumption is that they constitute around 12% of the total votes. Over a period, this 12% were divided into various factions, with a sizeable chunk being with Congress.
Also Read: Maharashtra's Hindutva Forces Join Hands As Expected
But in the last three decades, the need for 'unity' of dalit votes and sharpening of 'dalit' identity has been talked time and again. The first such experiment of 'Dalit Aikya' (Dalit Unity) happened in 1989. All the factions had joined hands. But differences over a number of issues, including leadership and power sharing, emerged within few months and the experiment failed in a year.
The same was the story for every such experiment later on. But in the 1998 general elections, the four factions of Republican parties (Ambedkar, RS Gawai, Jogendra Kawade and Ramdas Athavale) joined hands with the then united Congress under the leadership of Sharad Pawar. It helped to increase the anti-Bharatiya Janata Party-Shiv Sena tally to 42 out of 48 Lok Sabha seats. But that was only once. Since then, factionalism has ruined the prospects of unity-based dalit politics.
PRESENT SCENARIO
But the simmering among dalit youths, intelligentsia and the politically active groups in the last four years have led to increased awareness among dalits. The current regime thriving on the Rashtriya Swayamsevak Sangh's agenda has united dalits across the country.
In Maharashtra, two incidents have consolidated dalits over the last four years.
First was the demolition of Babasaheb Ambedkar's press in Dadar, Mumbai. That time, huge agitations took place in Mumbai under the leadership of Prakash Ambedkar. Then in January 2018, the Bhima Koregaon incident kicked off anger against the BJP amongst dalits.
It is in the former incident that the first sign of a political move by Prakash Ambedkar came to the limelight. He condemned BJP for its Hindutva agenda as well as took similar objections against the Nationalist Congress Party chief Sharad Pawar. He called NCP a party of Maratha dominance and pro-RSS on ground. In the next few weeks, he proposed to the Congress to end the alliance with NCP, if it wanted an alliance with dalit forces.
See More: New Chapter in Political Career of Prakash Ambedkar in Maharashtra
His next move came within two months. He declared an alliance with Owaisi citing it as dalit-Muslim alliance. He also declared that the options of an alliance with Congress are open. Gradually, he shifted from dalit to bahujan terms.
Now, there is difference between dalit and Bahujan (majority), socially as well as politically. Dalits constitute people who come under the Scheduled Castes. But bahujan constitute several groups including, Other Backward Classes, Scheduled Tribes and a large chunk of the Marathas who call themselves bahujan. The identification of Marathas as bahujan originates from the historical sense that Shahu Maharaj had attempted to bring all non-brahmins together under the umbrella of bahujan.
When Ambedkar first used the term bahujan, he was eyeing a chunk of OBCs. Maharashtra does have a strong OBC presence divided into various castes. Vanjari (to which BJP's late Gopinath Munde belonged) is the largest one. Mali (gardener) is the second strongest caste in OBC section. Vanjaris have been with BJP since the emergence of Munde as their leader. But Malis have been divided till now. NCP's Chhagan Bhujbal and Congress MP Rajiv Satav come from the Mali community. So, the community does not vote for BJP or Congress as a bloc. It goes as per constituency. Ambedkar is now aiming to consolidate it.
Another group that Ambedkar is looking for are the Dhangars (Shepherd). Leaving few pockets, this community is strongly with BJP and also has presence in 40 Assembly constituencies. The community now comes under OBC's sub-category VJNT, but they have been demanding to be included in the Scheduled Tribes. BJP had assured them of shifting to ST category as soon as it comes to power. Chief Minister Fadnavis had even said that the decision would be taken in the first cabinet once BJP comes to power. But, ST communities in the state are strongly against it. Also, the demand has many legal hurdles and so no substantial change happened since then. As a result, the Dhangar community has gone against the BJP for now. Ambedkar, therefore, is also trying to get hold of this community using the term Bahujan.
All these castes and sub-castes are otherwise 'vanchit' in Maharashtra's Maratha-dominated politics. They deeply feel that Marathas have kept them backward. This Maratha community's support (actually not as whole but a sizeable chunk of it) lies with the Congress and NCP. All their big leaders are from the Maratha community. So, the anger of these deprived communities is often directed against the Congress and NCP.
But this time, Dhangar, Dalit, Mali and also Muslims have gone strongly against the BJP for a number of reasons. If they had joined hands against BJP it would have hugely benefited the opposition. But at this crucial juncture, the entry of the VBA of Ambedkar and Owaisi can lead to a division of votes of all these communities. This could ultimately help the BJP and hurt the prospects of Congress and NCP across the state.
GROUND SITUATION
However, things are not so black and white. On paper, Ambedkar looks strong enough to dent the Congress and NCP's possible vote share. But on ground, there are number of issues that could ultimately go against Ambedkar himself.
Srimant Mane, North Maharashtra editor of Marathi daily 'Sakal' , has known Ambedkar for almost 20 years now. He was for many years a district correspondent in Akola, Ambedkar's stronghold in Vidarbha. He believes that even though, this time Ambedkar has been successful in creating a media buzz around him but that's not helping him on ground in the same proportion. "You see he is trying to get contradictory forces with him, like he is trying to consolidate all Hindu dalits. But neither has it happened before nor is it happening now. Other dalit castes and sub-castes don't go with Nav Bouddha leader," explained Mane.
He also raised questions on the Muslim community joining hands with Ambedkar. "Muslim community always goes for tactical voting. In that case, Ambedkar may not come across as the strongest opponent of BJP," said Mane.
The Dhangar community is one of the most influential factors in Ambedkar's equations. Though the community has gone against BJP this time, but one cannot deny the fact that Dhangar of Maharashtra have been voting for BJP since 1995. Vasantrao Bhagwat, patron of BJP leader Pramod Mahajan and Gopinath Munde, had worked on the formula 'Ma Dha Va' to lay the foundations of BJP in the state. Mali, Dhangar and Vanjari are some of the communities who have voted for the BJP for over twenty years.
"If Ambedkar gets a chunk of the Dhangar community with him then it will be a loss to the BJP. It is right that these votes could have gone to Congress and NCP had Ambedkar not been there. But we need to understand that these votes had never belonged to the Congress traditionally. So, if it is cutting votes from BJP, then where is the loss of Congress in that condition?" Mane asked.
Also Read: Opposition in Maharashtra: What is Stopping the Parties from Standing United?
There have also been arguments over the importance of caste in the upcoming election. While declaring the list of his 37 candidates in Maharashtra, Prakash Ambedkar has mentioned the caste of the candidate ahead of the name within brackets. It has kicked off the discussion over voters' preferences this time. Prakash Powar, professor of political science in Kolhapur's Shivaji University is one of the leading analysts of Maharashtra when it comes to the caste equation. However, he said, "It is unlikely that Maharashtra voters will go in terms of caste in this election. There are two sets of nationalism before them. One is nationalism peddled by BJP. The other is issue-based nationalism. Farmers, labourers, small traders, etc., will vote on the basis of their experiences about income and growth. Caste will not have decisive impact on this election," believes Powar.
When it comes to Ambedkar's attempt to form a new caste combination in the state, Prakash Powar throws light on the internal contradictions of the 'targeted' group. "Dhangar and Mali are not Vanchit in Maharashtra. They are bahujan and do not prefer to call themselves as Vanchit. These are two different terms in state politics, and sometimes have stood against each other. In this context, politics of interests won't allow this attempt to flourish," said Powar.
But he also believes that if Ambedkar succeeds in consolidating the dalit votes even on a minimum level, it would ultimately hurt Congress and NCP. "If this election is being contested in close competition, then Ambedkar's candidate getting 10,000-30,000 votes in each LS constituency will also matter to Congress and NCP. Because these are their possible voters and are angry with BJP. In that case, the anti-BJP vote will be divided and BJP will have the last laugh," he said, adding that, "I went through the names and combination of the first list of candidates. They are not winning anywhere."
Though the jury over caste politics is still out, what is also important is that Ambedkar's politics would be challenged by many other issues on the ground. The Vanchit alliance's organisational structure is another factor that would be important in electoral politics.
Earlier, Ambedkar had a party called the Bharip Bahujan Mahasangh. In the 2014 assembly elections, Bharip had received 1.08 votes. That time AIMIM, too, had received around similar percentage of votes, i.e. 1.08%. This shows that both the forces don't have pan Maharashtra presence. They are most prominent in Western Vidarbha and few pockets of Marathwada which only consist 12 LS seats. So, the arithmetic of votes is important in these 12 LS seats out of 48.
Senior political analyst Suhash Palashikar believes that the VBA will have an impact in pockets of Maharashtra but it depends on many factors. "Ambedkar does have a base. So, he may transfer his votes to the AIMIM candidate. But will AIMIM be able to transfer the votes to Ambedkar? That is possible in just few seats like Aurangabad and two- three more. So, the impact of this alliance on pan-Maharashtra level is doubtful," said Palashikar.
He also said that the other issues like unemployment, agricultural crisis, rural distress and likewise will also impact the outcome of elections. He said, "So, in that case, Ambedkar may have a chance. But that too on his own seat of Akola. Out of that, much will be dependent on candidates and local equations."
Maharashtra is going to Assembly elections later this year. When Ambedkar was ready for an alliance with Congress for the LS polls, he had three conditions. One was to bring the Rashtriya Swayamsevak Sangh (RSS) within the framework of Constitution, the second was the demand of 12 LS seats and third was to end the deal with NCP.
So, 12 LS seats translate into 72 Assembly seats in state. As of now, Ambedkar has not spoken on the Assembly seats yet. But looking at possible demands there is a buzz that Congress and NCP leaders have decided to keep him out of alliance. If Ambedkar succeeds to damage the Congress and NCP in more than five LS seats, the VBA will have major say in Assembly elections. Ambedkar's position in the LS verdict chart will decide the future course of Maharashtra politics.
Get the latest reports & analysis with people's perspective on Protests, movements & deep analytical videos, discussions of the current affairs in your Telegram app. Subscribe to NewsClick's Telegram channel & get Real-Time updates on stories, as they get published on our website.
Subscribe Newsclick On Telegram