Maharashtra's Hindutva Forces Join Hands As Expected
Shiv Sena and Bharatiya Janata Party, who had been bickering alliance partners for four years, have formed a pre-poll alliance in Maharashtra. Both party's chiefs made this announcement in Mumbai on Monday.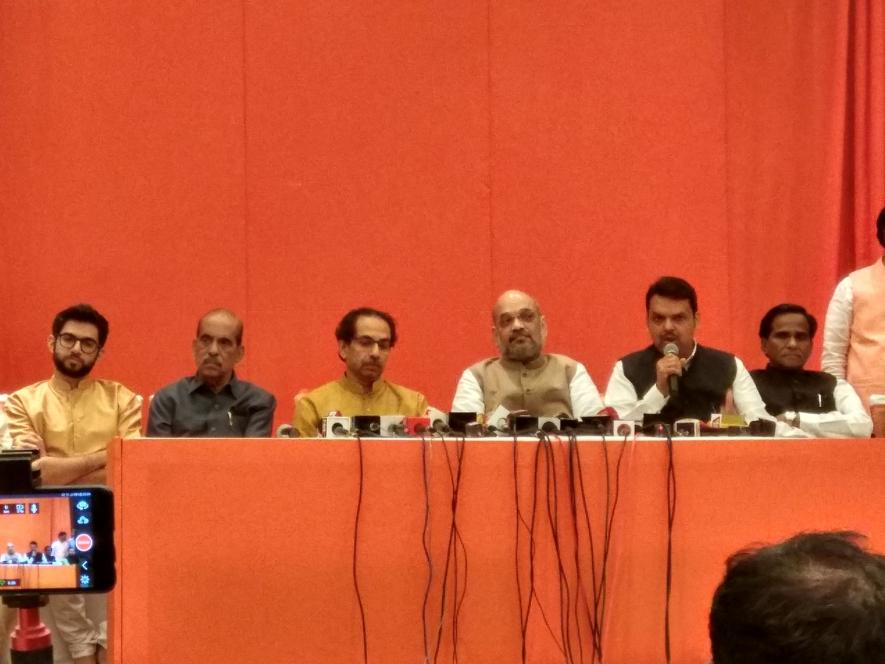 For the last four and half years, Shiv Sena's mouthpiece 'Saamana' has been a bitter critic of Prime Minister Narendra Modi, Bharatiya Janata Party chief Amit Shah and other BJP leaders close to this top duo. This was despite Sena being the 'partner in crime' in the union government as well as the state government of Maharashtra. But things will have to change as the BJP and Sena have come together to form an expected pre-poll alliance. Shiv Sainiks as well as BJP cadre will now have to swallow all the bitterness of the last four and half years to showcase their 'unity' to public.
Amit Shah and Shiv Sena chief Uddhav Thackeray unitedly declared that their parties will have a pre-poll alliance in Maharashtra for the general as well as assembly elections. For Lok Sabha, Sena will be contesting on 23 seats whereas BJP will contest on 25 seats out of Maharashtra's total 48. It should be noted that Maharashtra is the second largest state in terms of electoral politics after Uttar Pradesh's 80 LS seats. So, after the Samajwadi Party and Bahujan Samaj Party formed an alliance in Uttar Pradesh, it was highly necessary for BJP to get Sena on board in Maharashtra. Both parties have agreed on the alliance seat sharing formula for assembly elections later this year. In that, both parties will give seats to smaller parties first and in the remaining seats, the Sena and BJP will have equal number of seats. Sources informed that the formula most likely to be followed is 144 seats to Sena and BJP will bear the burden of seats for smaller parties from its quota of 144 seats. With this deal, both saffron parties ended the speculations over their alliance in Maharashtra.
In the 2014 LS elections, BJP had contested on 25 LS seats and it gave two seats to smaller allies from its total quota of 27. Sena had then contested 21 seats. BJP won 23, Sena 18 and the smaller party, Raju Shetti's Swabhimani Shetkari Sanghatana had won 1 seat. Out of 48, National Democratic Alliance (NDA) had won 42 seats.
But, at the time of the assembly elections held later in the same year, the Sena-BJP alliance was broken on the seat sharing issue. Sena wanted to contest a minimum of 151 seats but BJP was not ready for such a big share of the seats. So, one of the oldest political alliances of Indian politics was broken in 2014. BJP then won 122 assembly seats whereas, Sena got just 63. Few weeks after BJP leader Devendra Fadnavis was sworn in as Chief Minister, the Sena joined in the government with five cabinet ministers. Though they came together for power, the bickering continued without any break.
History of BJP-Shiv Sena Alliance
There is history to the BJP and Sena joining hands in Maharashtra. This alliance, generally called in Marathi as Yuti, first came into existence in 1987. BJP's Pramod Mahajan took a lead to join hands with the then Sena supremo Bal Thackeray. There were by-elections in the Vile Parle assembly constituency in 1987, when Sena founder Bal Thackeray openly took the hardcore Hindutva line. In subsequent assembly elections of 1990, Sena had become the big brother with 171 seats and BJP had 117 seats.
Sena-BJP did well in 1990 assembly elections, but did not manage to win. However, this alliance clicked in 1995 following the vitriolic political environment after the Babri Masjid demolition as well as Mumbai riots of 1992. In the 1995 elections, Maharashtra saw the first non-Congress leader as Chief Minister when Shiv Sena's Manohar Joshi became CM and BJP's Gopinath Munde became the deputy CM. This alliance lost the election in 1999. Since then, Congress and Sharad Pawar's Nationalist Congress Party had ruled Maharashtra till 2014.
2014 Assembly Elections and Changed BJP-Sena Equations
The assembly elections of 2014 were altogether different for the Sena-BJP equations. Pramod Mahajan died in 2006, and another key player in the alliance politics, Gopinath Munde too, met with sudden accidental death just after BJP won the 2014 elections. On the other hand, Sena too had lost its founder Bal Thackeray in 2012. So, the 2014 election was the first of its kind where the founders of 'Yuti' were not there in picture.
Earlier, Mahajan and Munde from BJP's side used to handle all the crisis with Sena. Both used to rush to 'Matoshree', Bal Thackeray's residence, in western Mumbai. Many times, even Lalkrishna Advani had flown in to Mumbai to calm down an angry Bal Thackeray. But the BJP under Narendra Modi and Amit Shah was different from the Vajpeyi-Advani era. It had a majority on its own, 'well-equipped' to win modern elections and also the dared to take on the Sena in Maharashtra.
So, when Sena remained adamant on one seat more than 150 during the negotiations in 2014, BJP refused to give in. Ultimately, the alliance broke down, Sena had to contest on its own, while smaller parties like Ramdas Athavale's Republican Party of India, Raju Shetti's Swabhimani and Mahadev Jankar's Rashtriya Samaj Paksha went with BJP. All this proved a setback to the already anti-incumbency facing government of Congress and NCP, and BJP emerged victorious with 122 seats. This was for the first time since 1990, when Congress had won 130 seats under the leadership of Sharad Pawar, that any party had managed to cross the mark of 100. 
This changed the relationship between Sena and BJP forever. Sena's 'big brother' status was demolished as BJP won more seats. This disturbed the Sena leadership deeply.
Two years later in February 2017, both parties contested local bodies elections independently. The Brihanmumbai Municipal Corporation (BMC), India's richest municipal body which has a budget of over Rs. 30,000 Crore, had been under the Sena's control since 1997. Here, both the parties fought vigorously. However, the Sena could win only two corporators (84) more than the BJP (82).
It was then that the first move came from the BJP to dilute Sena's anger against it. Pressure was built on Devendra Fadnavis to contest the mayoral election in Mumbai. But Fadnavis was aware that the BMC is Sena's life line. If it is taken away, the Sena would not only threaten the state government but in the long term too, the BJP will have to go alone in elections. Fadnavis refrained from taking any anti-Sena step and supported their candidate unconditionally. This indicated to the rank and file of both parties about a future alliance.
The BJP leadership has realised that the division between Sena and BJP votes will ultimately help the Congress and NCP. Now, the opposition parties including Congress, NCP, Communist Party of India (Marxist), Peasant and Workers' Party (PWP) and Raju Shetti are joining hands for sure. There are also negotiations on between the Congress and Prakash Ambedkar's Bharip Bahujan Mahasangh. On the other hand, NCP's efforts are on to include even Raj Thackeray's MNS in this alliance. So, in the face of the possibility of such formidable alliance, Sena and BJP had no options other than to join hands.
The news of the pre-poll alliance has obviously kicked off a number of reactions. The Opposition has called out the Sena's opportunist stand to join hands with BJP despite continuous criticism, while the BJP welcomed the move and Shiv Sena spokespersons could be seen defending the indefensible on Marathi television debates.
But the most important reaction will be of the common Shiv Sainiks. Those who had witnessed Uddhav Thackeray being snubbed by the BJP leadership on number of occasions in the last five years, who had witnessed the Sena leadership giving so many names to the BJP leadership in the last few years. 'Saamana' had been venting out that anger of the common Sainiks on a daily basis. The question before that emotional Shiv Sainik, therefore, is genuine. How will the Sainik be able to accept an alliance with Modi, whom Uddhav had taunted 'Chowkidar Chor Hai (The watchman is the thief)' just three weeks back!
Get the latest reports & analysis with people's perspective on Protests, movements & deep analytical videos, discussions of the current affairs in your Telegram app. Subscribe to NewsClick's Telegram channel & get Real-Time updates on stories, as they get published on our website.
Subscribe Newsclick On Telegram