UP Elections: After 70 Years, Farmers in Mirzapur Lose Land Lease
On May 24, 2021, poor tribal peasants were shocked when they got an executive order informing them that the period of land leases given to them in Sirsi Dam foothills was over on March 31, and renewal stood cancelled.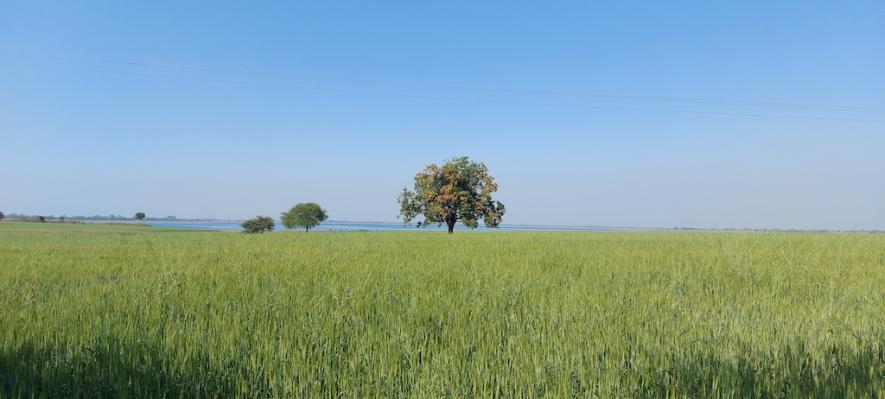 Mirzapur (Uttar Pradesh): Talking about tribals and farmers in present day Mirzapur means inviting gloomy stories weaved into everyday sorrows and sufferings. Gone are the days when the areas inhabited by them were a picture of thriving green fields, contented people, flora, fauna and spectacular water falls. What is left now is a trail of deprivation. The transition to this state is not very old, but painful.
In the name of providing drinking water to households in Mirzapur, Sonbhadra and Prayagraj (formerly Allahabad), a mountain of troubles has befallen lakhs of people of about 200 villages in the water-starved Vindhyachal, which is going to polls on March 7 in the last phase of the ongoing Uttar Pradesh Assembly elections.
After being driven out decades ego from their natural habitat in the fertile foothills of the Sirsi Dam, where they used to grow wheat, mustard and vegetables since Independence, these farmers — a majority of them are adivasis (inhabitants of the Indian sub-continent) belonging to the Kol tribe --are no longer being allotted pattas (land lease) for agricultural farming.
The then government had displaced these tribal communities in 1951 on the condition that when the water level of the dam goes down, they will be able to do farming there. Since then, the state irrigation department has been allotting land leases to all tribals for five years.
These peasants, who are largely deprived of the right to live a dignified life, deprived of adequate facilities, such as healthcare, education and clean drinking water, are facing an uncertain future. They ask whoever visits them as to how they will sustain their families if they don't get land leases for growing food.
Following their eviction at least a generation ago, these peasants had been allotted alternate pieces of largely infertile land to reside. When they demanded they should also be given land for cultivation, the government started allotting them pattas in the terai or lowland region of the dam to enable them to grow foodgrains and vegetables for their sustenance.
On May 24, 2021, these poor peasants were shocked when they received an executive order from the office of the assistant engineer (second class), Sirsi Dam block, informing them that the period of the land leases given to them in the Sirsi Dam foothills was already over on March 31 and the renewal stood cancelled till further orders.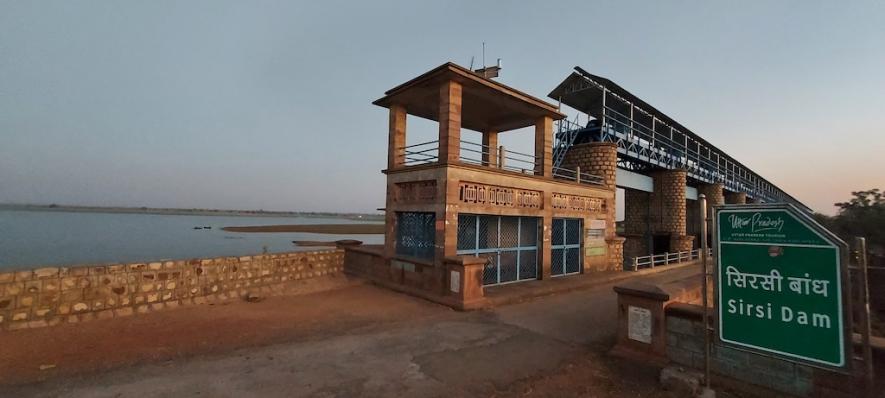 "The pradhans (elected village heads), patta owners, beneficiaries and farmers belonging to the villages lying in the lowland of the Sirsi Dam are being informed not to do any farming or encroachment on the Irrigation Department's land. Otherwise, considering the farming illegal, penal actions will be initiated and a first information report (FIR) be filed against the person concerned as per the departmental rules," read the notice, which is in possession of NewsClick.
The land lease is allotted to them at a nominal sum of Rs 200 per bigha (0.62 acre). It is renewed after every five years.
Though the farmers continued growing their crops in area in the last and the ongoing sowing seasons in violation of the order, they said they were now scared of the uncertain future ahead.
Shankar Kol, 65, a resident of Sarsawa village at Marihan Tehsil (sub-district) who had a land lease for four bigha (2.48 acres) in the dam's foothills, said he had no other source of income except farming. "If the patta I had is not renewed, what will I do, how will I sustain my family? We will starve to death as there is no employment in this region," he said.
After his forefathers were evicted from the area, they had been allotted 1.25 bigha (0.77 acre) land by the then Indira Gandhi government in the Centre in the hilly region where farming is rare.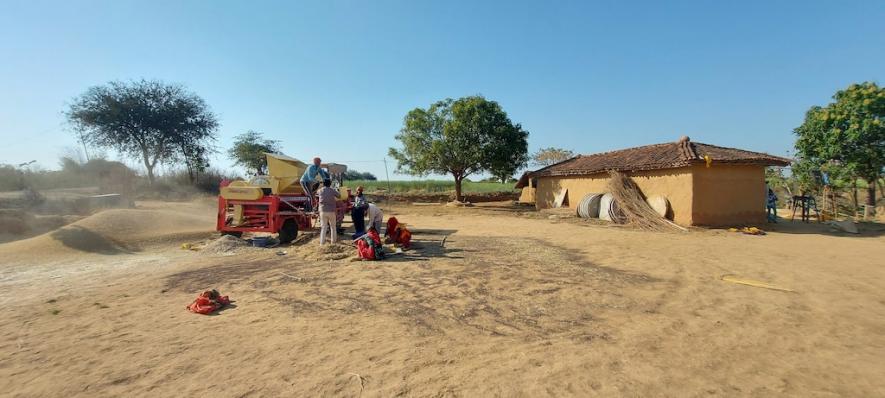 Surya Prasad Kol, 50, belongs to a neighbouring village. He had failed to get the land leases last time. He, along with his extended family, had to survive on the little yield he reaped from 1.5 bigha of his ancestral and majorly infertile land.
"I managed to grow three-four quintals of wheat in the last cropping season. From the free ration scheme, we got rice and refined oil. This is how we survived. If I don't get patta, we will have no other option but to migrate to big cities. Otherwise, we will die," he added.
Farmers in the region don't get enough water to irrigate their land. They have to depend on dam water which is diverted to the fields through lakes. The water enters the field either through holes made in the lakes or generator-operated pumping machines.
Apathy is so deep that many farmers in the villages of Patehara block said if the government wanted to "kill" them by depriving them of their livelihood, it should consider "finishing them off" at one go.
Lal Bahadur Kol of Banki village, which is situated close to the dam, is hurt because the government took the land of his ancestors and settled them in the hills where growing crops is a herculean task.
"First, we were given stones in lieu of fertile land. The Bharatiya Janata Party government has now cancelled the leases we used to get every five years. Officials are threatening us that if we cultivate in the foothills of the dams as before, we will be slapped with FIRs and sent behind bars. It is better to be in jail than to die of hunger," he added.
Banki village pradhan Sarita Patel also accused the government of betraying the farmers. "Can the government, both in the state and the Centre, explain what the fault of the people who have been denied renewal of their land lease was? The farmers here are mostly tribals, who live in the forests have learned farming after working hard for decades. Where will these tribals go and what will they eat?" she asked.
She alleged that dabangs (musclemen) and zamindars (landlords), in connivance with government officials, had grabbed valuable land belonging to the irrigation department by getting "faulty" chakbandi (land consolidation) done.
"There has also been a lot of confusion in the area with regard to land ownership. Even after land consolidation in 2014, it is not clear which land belongs to which department. Bureaucracy has been blamed for the same, but the allegation is difficult to digest," she added.
CONFLICT BETWEEN DRINKING AND IRRIGATION WATER
The Centre has launched the rural drinking water project -- Har Ghar Nal Yojana -- under the Jal Jeeevan Mission. The scheme was rolled out by Prime Minister Narendra Modi on November 22, 2020, through video conferencing. Every household in Mirzapur and Sonbhadra districts will be supplied with clean drinking water under the project on a capital expenditure of Rs 5,544 crore. 
As proposed, the dam water will be filtered and made fit for drinking with the help of water treatment plants that are being installed at several locations. The water will be supplied to every household in 1,606 villages in Mirzapur at an estimated investment of Rs 2,342.42 crore and 1,389 villages in Sonbhadra at Rs 3,112 crore.
A 784-km long pipeline has to be laid in Mirzapur. Simultaneously, 48 CWRs (clear water reservoirs) will be constructed to store clean drinking water, which will be supplied to the households with the help of 5,672 proposed distribution points. There is a plan to make nine intake bells. In addition, 58 raw water treatment plants will be set up.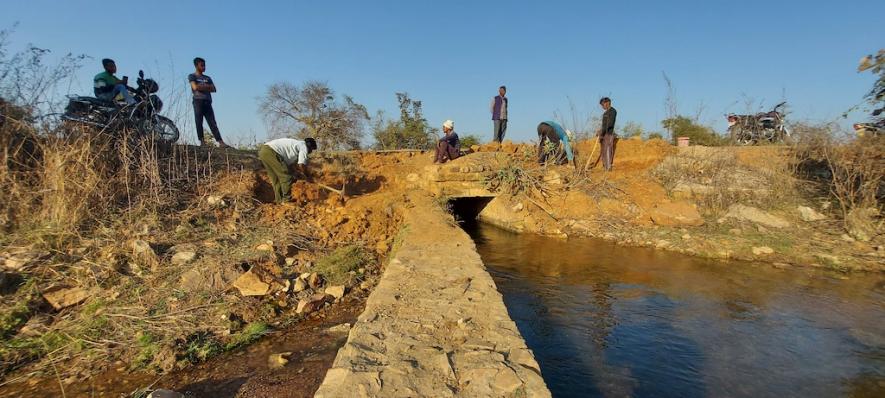 Farmers in the region said they welcome the government's initiative, which is aimed at addressing their drinking water woes. But at the same time, they feared the project would further deepen the irrigation water shortage crisis.
"The dam water meant for irrigation will now be used for drinking water. The government and its bureaucracy perhaps forgot the fact that we depend on the dam for irrigation before formulating the rural drinking water project, which make the lakes (the only source of irrigation here) run dry. If there is agricultural farming, will people survive only by drinking water? This is gross injustice. The government has written a script of unemployment that leads to the path of destruction," said some farmers.
It's not that only farmers belonging to a village or two will get affected. Around 21 lakh farmers across district are set to suffer a huge crisis of the irrigation water, which is already deficient in the region, get depleted.
Rajesh Patel, village head of Padiya Khurd, said: "If we are denied agricultural farming, what will we do? We are already struggling with poverty. Since our right of farming in the lowland of the dam has been taken away, we are also set to bid farewell to BJP or its ally Apna Dal (S)."
'DISTURBING' SILENCE OF PEOPLE'S REPRESENTATIVES
Apna Dal (Sonelal) supremo Anupriya Patel, who is minister of state for commerce and industry, represents Mirzapur in the Lok Sabha. Sirsi Dam comes in the Madihan Assembly segment, which is represented by Ramashankar Patel of BJP in the Uttar Pradesh Assembly. He is also a minister of Energy and Additional Energy Sources in the cabinet of Chief Minister Yogi Adityanath.
These Scheduled Caste farmers of Mirzapur are now knocking at the doors of both leaders, who are maintaining silence. As no public representative is showing any seriousness to solve this serious problem at the government level, resentment is growing among the communities engaged in agriculture in the lowland.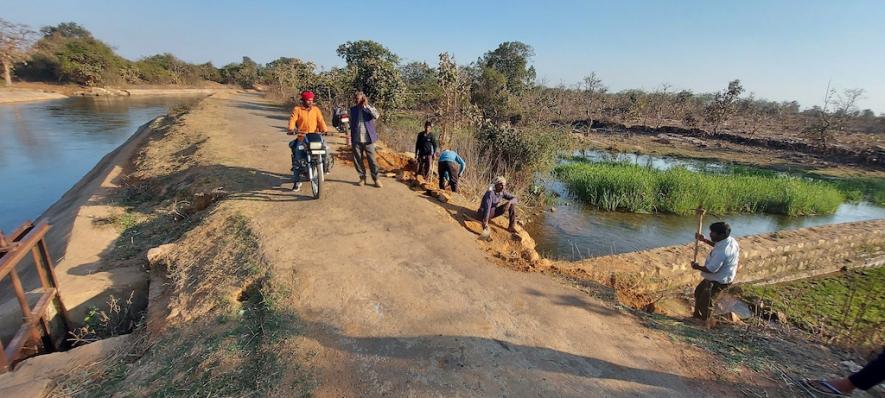 "When we were not much skilled in farming techniques, our sesame crop used to dry up every year. After we learnt it following losses we suffered for years, the government now wants to take away our only source of livelihood. The BJP will face the consequences in the ongoing elections. This is a big electoral factor for us in this election. We are writing letters to leaders of different political parties across the country. We will also go to jail if necessary, but will never comply with the government's order. We will die or get killed, but will not leave our land," they said,
A DIFFICULT PATH AHEAD
The Sirsi reservoir is the largest dam in Mirzapur, whose water is to be used for drinking instead of agriculture. The water storage capacity of this dam, built on the Bakhar river, is about 2,06,550 cubic metres.
The district's other dams such as Ahraura built on Garai river, Jargo on Jargo river and Dhekwa on Pahati river has a storage capacity 58,300, 1,42,920 and 6,020 cubic metres, respectively.
The water from the Dogia reservoir built on the Garai river will also be used for drinking. At present, 23,300 cubic feet of water is stored in this dam. Farmers of Jamalpur, Ahraura, Rajgarh, Madihan, Patehra, Lalganj and Halia blocks irrigate their crops from all these reservoirs.
The Melon river also originates from Mirzapur. The Meja dam built on this river has a capacity of 3,02,810 cubic metres. The farmers of Prayagraj irrigate their crops from its water.
Mirzapur-based journalist Sanjay Dubey said: "The drinking water project can prove to be a trap for the villagers. What will happen if there is no rain? Not only will the fields of farmers dry up, people will not even have drinking water."
The Rajgarh, Patehra, Chhanbe, Sikhad, Narayanpur, Jamalpur and Majhwan blocks of Mirzapur district are already in the Red Zone. There is a ban on extraction of water from borewells in villages under the jurisdiction of these blocks.
The situation is also critical in Mirzapur Sadar, Pahari and Lalganj. Where will the people of about 200 villages, who earn their livelihood through dams like Dhanraul, Jagro, Adva, Sirsi etc., go? The answer to this question is yet to be found.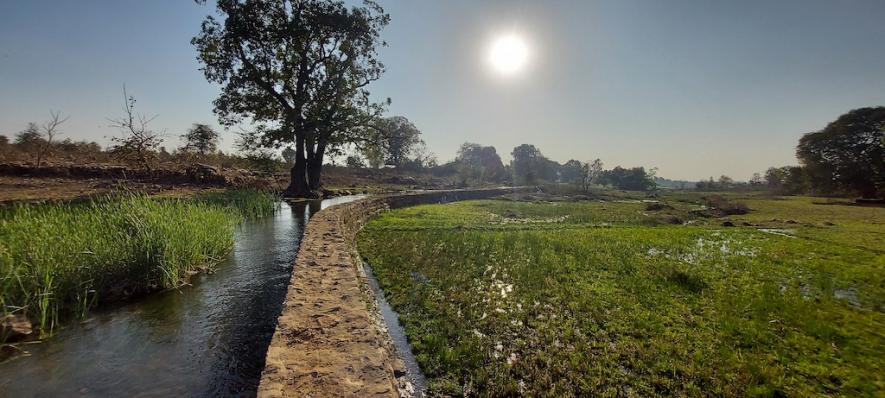 Another local journalist, Vijendra Dubey, said: "Go to Lahuria Dah area and see the conditions there. At a place where successive governments failed to make arrangements for drinking water in the last 30 years, what changes will this rural drinking water project bring in such areas?"
Mirzapur has 1,606 revenue villages in its 809 gram panchayats (elected village-governing body). Most of the farmers in the district depend on dams for irrigation of their fields. Due to lack of rain, water is not being released into the canals. As a result, agriculture has come to a standstill.
Farmers, such as Pintu Vishwakarma, Rammani Yadav, Prem Shankar Nishad, Santosh Tiwari, Hausila Prasad Mishra of Patehra block said: "When the water from the dams will not be released to the canals, it will turn dry. How will the government be able to stop the exodus of poor farmers?"
According to Amarendra Kumar Verma, additional district magistrate appointed by the government to oversee the project, the plans is to supply clean and safe drinking water to every household of every village by 2024.
"The plan is great. It will be looked after by the executive agencies for 10 years. Later, these will be handed over to gram panchayats. The quality of laying drinking water lines is being monitored. No change is possible in this Central government-funded project until a new decision is taken by New Delhi," he told NewsClick, when asked about the people's concerns.
Get the latest reports & analysis with people's perspective on Protests, movements & deep analytical videos, discussions of the current affairs in your Telegram app. Subscribe to NewsClick's Telegram channel & get Real-Time updates on stories, as they get published on our website.
Subscribe Newsclick On Telegram