UP Elections: Touching Stories of Migrant Workers' Suicides in Vast Interiors
Migrant labourers found themselves most vulnerable upon returning to their native villages with the onset of the pandemic. Many were utterly helpless to feed their families and consequently were forced to take the extreme step.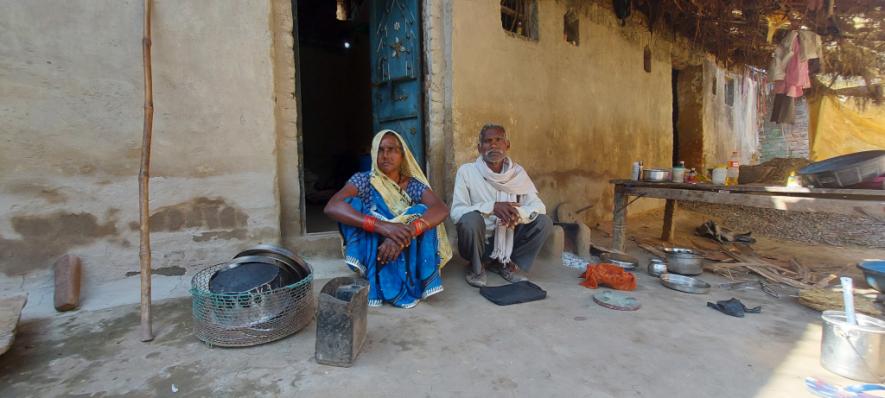 Banda (Uttar Pradesh): Life back home was more difficult for Rajju than staying over 1,100 km away from his native village of Tendura at Bisanda block in Banda district of Uttar Pradesh. With no penny in his wallet, he was unable to feed his family of five, bear the cost of the medical emergency of his elderly parents and spend some good time with his wife with whom he had tied the knot more than a year ago.
Defeated by his circumstances, the 26-year-old preferred death over his precious life. A few days after walking out of mandatory 14-day quarantine in his village's primary school, he died by suicide by hanging himself from the roof on June 18, 2021.
The young man was a driver at Surat in Gujarat. When the second lockdown was announced in April 2021 in the wake of the deadliest spread of the COVID-19 across the country, Rajju lost his job like crores of informal workers, who subsist mainly on daily wages.
Waiting that the curbs would be lifted soon, he stayed there for around one month in the accommodation provided by his employer. But as it did not happen, he was asked to vacate the place and leave.
With no income in one month, his little saving had already got exhausted. He walked to his village home. During the most arduous journey of his life, he walked on foot, took a lift in vehicles for some distance and then again walked without money, food and water. It took the man 13 days to reach his destination.        
According to the Ministry of Labour and Employment, over 1.06 crore migrant workers, including those who travelled on foot, returned to their home states during the COVID-19 pandemic-induced lockdown.
After his quarantine was over, he stepped into his house, where he found his family in an extremely miserable condition. There was nothing to eat as the family did not have a ration card to get five kg of wheat and rice and one kg of refined oil and salt for each family member under the Uttar Pradesh government's free ration scheme.
His house has two rooms with unburnt bricks walls coated with a thick layer of mud. One room has a roof made of straw or reeds, while the other has a newly constructed concrete ceiling. The residential premise has two under construction rooms, which the family has built with Rs 1.2 lakh from the government under the housing scheme for the poor and downtrodden.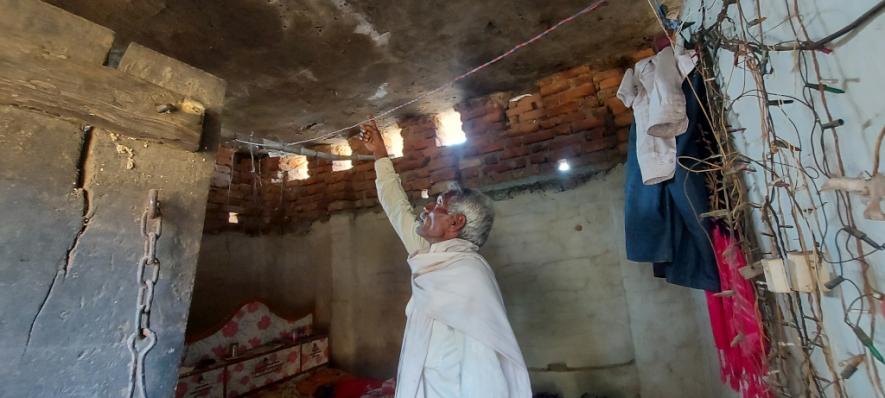 Rajju's parents were ill and needed medical intervention. The pathetic economic condition at home made him extremely upset. He tried to borrow some money from a few people close to him. Still, all of them refused to extend a helping hand because everyone was running short of funds due to the complete collapse of business activities during the strictest restrictions.
After failing to arrange the funds, he decided to end his life. Hours before taking the extreme step, he had told a fellow villager, who recalled him saying, "Life is meaningless when I cannot even bear medical expenses of my parents and arrange food for them."
It was six in the evening; no one was there in the house. His mother, who walks with the help of a stick, had gone out to relieve herself. His wife was at her parents' place, and his father and younger brother were also out for some work. He stepped into the room with a concrete roof and hanged himself by using a cloth as a noose.
Rajju was third in his four brothers. Two of his elder brothers work in a brick kiln in Haryana, where they live with their families. The younger one is also a daily wager who barely gets work for ten days in a month to earn a maximum of Rs 300 per day.
No one in his family has a job card issued under the Mahatma Gandhi National Rural Employment Guarantee Act, 2005 (MGNREGA). Even if they did have a card, it would have made no difference as hundreds and thousands of cardholders have no access to work in the state's hinterland.
The family still does not have a ration card to have at least a supply of free ration given under the Public Distribution System (PDS).
After the incident hit the headlines, a ration card was issued to his parents, but the rest of the family is still excluded as they are migrant labourers who don't live in the village.
Rajju's father, Maheshwar Verma, alleged even after the tragedy struck the family with the demise, they did not get any help from the government. "Forget about any compensation or financial help, my son did not even get Rs 1,000 — which the state government had announced to give to every migrant labourer who was stranded because of the lockdown and managed to return to their villages on their own," the 55-year-old frail man told NewsClick with visible despair on his face.
He was under a debt burden of Rs 50,000, which he had borrowed from people around him to address his and his wife's medical needs. After getting Rs 1.2 lakh from the government to get a house constructed, he paid back the loan and spent the rest on the construction of the house, which still needs a good amount of funds to be completed.
"Government officials are now pressurising me to complete the house, failing which, as they are threatening, they would recover the sum from me with a heavy penalty. How will we return the money to the government when we cannot even buy medicines? My youngest son is also a daily wager. He goes to Banda town daily, searching for a job to no avail. He has not got any work for the past 17 days," he said, narrating the ordeal the family is faced with.
The day NewsClick visited the family, the earthen stove in the house was not lit the previous night. And this is not the first occasion when it had happened. The poor and neglected scheduled caste people have been suffering for months. They rarely have meals thrice a day.
Sarita, 21, has an only child who is 2 years old. Will he end up growing as an educated man with a better future? She does not have any idea as her only support system, the father of the child, and her family's only source of income is no more.
Ajay Verma, 26, also a migrant labourer, died by suicide on August 17, 2021, after making several failed attempts to get any work locally.
He served as a supervisor in a factory at Vadodara in Gujarat for the past six years. The second lockdown snatched away his job as the factory stopped operating because of the restrictions. He also stayed there without any work, hoping that the curbs would relax and resume the work. But it did not happen.
Whatever he had as saving was significantly spent on food and other needs during the one month stay as an unemployed migrant labourer. Left with no option, he returned. He walked on foot for days to finally reach his village.
He stayed at home in Babupurwa village, Kamasin block of Banda district for the next three months. The money he had brought with him was spent to address family needs in one month. He began searching for jobs locally but failed to find one because the state had come to a standstill because of the lockdown. He was very disturbed and frustrated.
After returning without employment for 19 consecutive days, he hanged himself from the straw and reed made the roof of his thatched house.
"It was 8 pm. Papa (her father-in-law) had gone to the field, and my mother in law was resting on a bed outside. He told me he needed peace and asked me to go to another room with our son, who was crying at that time. I obliged and went to another room. When my child slept, I returned to his room to console him and tell him not to worry too much, I found him from the roof. The unexpected extreme step took me aback. I screamed and then went silent. I did not have even the courage to cry. He was no more. My only support was lost. He was so disturbed, and I could not predict the looming threat," she told NewsClick, with her voice choking and tears uncontrollably rolling down her face.
He was taken to a government hospital, where he was declared dead by the doctors.
He was under a debt burden of Rs 2.5 lakh, which he had borrowed for cultivation on two acres of land allotted to his grandfather by the government decades ago. Since the plot of land is infertile, it consumes a lot of investment. Whatever his father managed to grow, it was destroyed by the weather and stray cattle.
This family, too, does not have a ration card to get food grains for free from the local PDS shop.
Ajay was the eldest among three brothers. The rest two are also migrant labourers. "Our son is too young. He has his whole future ahead. How will I be able to impart him a good education? I don't want him to grow uneducated and work as a labourer. I want to give him a better future. I have passed intermedia (science), I request the government to give me some job as per my education so that I can sustain my family," she pleaded.
The family lives in abject poverty. Despite applying for a pucca house under the state government's housing scheme, the deceased father, Jagannath Verma, has not gotten it so far. "Officials in the block and tehsil ask for a bribe to get my application approved. From where I will give them the money?" he said.
A GLIMPSE OF UP's VAST INTERIORS
According to data compiled by Banda-based human rights advocacy group Vidya Dham Samiti, 48 migrant labourers died from June 4, 2020, till November 27, 2020. The NGO claims it has compiled the list after visiting all 48 families.
The survey suggests that most of them were indebted and had no ration and MGNREGA job cards.
India was the only country where more people died because of lockdown measures —by suicide, police brutality, hunger, exhaustion — than the number of deaths attributed to COVDI-19.
Uttar Pradesh was largely unaffected when the first pandemic hit the country in March 2020, but the second wave was particularly deadly in the backcountry of India's most populous state and second-poorest by per capita income.
The absence of specialised or even accessible primary healthcare has led to a certain inevitability about illness, disease and death, a fact particularly evident during the pandemic. Decades of social and systemic backwardness among the 15.50 crore rural populace has made it vulnerable to multiple diseases.
Till February 5, 2022, India reported 5,01,114 deaths, but it is said that the number is an underestimate — with the real toll perhaps standing somewhere near 10 lakh.
Get the latest reports & analysis with people's perspective on Protests, movements & deep analytical videos, discussions of the current affairs in your Telegram app. Subscribe to NewsClick's Telegram channel & get Real-Time updates on stories, as they get published on our website.
Subscribe Newsclick On Telegram