Evictions in Assam Leave an Unending Trail of Uprooted Lives
Is the eviction overdrive by the BJP government being politically used to 'other' Muslims of East Bengal origin and keep the 'us' and 'them' narrative thriving ahead of the Lok Sabha polls?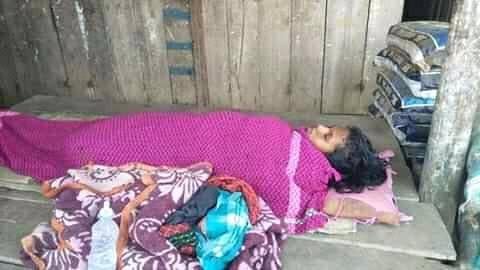 Image Coutesy: Saidur Rahman, Hojai
Almost 580 families were ousted and 2,700 people rendered homeless in the latest eviction drive in Assam, undertaken at Sarkebasti – an area lining the border of Karbi Anglong and Hojai districts -- on March 2, 4 and 8. The eviction drive was carried by the Karbi Anglong Autonomous Council. It left a woman called Kulsuma Begum dead.
A heavily pregnant Kulsuma was dragged out of her home and physically assaulted by armymen and forest officials, some locals alleged. She was left out in the open bleeding and soon went into labour, giving birth to a son under the open sky. Even as Kulsuma lay writhing in pain, not a single official present took any step to make arrangements to provide any kind of medical help, the local said. It was the local people, along with some web news portal journalists, who raised some money and sent Kulsuma first to the Lanka Primary Health Centre, from where she was shifted to Nagaon's Bhogeshwari Phukononi Civil Hospital, and then because of her extreme critical condition, she was shifted to Guwahati Medical College and Hospital (GMCH).
On March 11, Kulsuma Begum died. Her new-born son in GMCH was left motherless and homeless, all because of the eviction drive carried out by the Assam government. Kulsum's death was the result of denial of medical service and amounts to gross violation of human rights. Till date, no official has been held accountable for such callousness.
Eviction & BJP's Narrative
This was not the first instance in which people were evicted without proper compensation. The eviction drive started in 2016 in Kaziranga and was carried out in many parts of Assam and has left a large number of people homeless. The discourse around eviction fits cosily into the narrative of the ruling Bharatiya Janata Party (BJP) in the state, of saving land and rights of the khilonjiyas or the indigenous people from 'foreigners' who are encroaching on their land.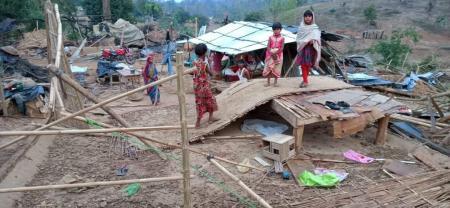 Yearly flood and erosion is a reality in Assam. Assam till now has lost 7.4% of its land to erosion. Entire villages have been washed away and the people living there have been displaced. Those displaced in erosion are often forced to take up living in protected government areas. People living in Chars or sandbars in Brahmaputra are more prone to such displacement. These people who mostly belong to the Miya Muslims community are often targeted as illegal immigrants.
After Kaziranga, evictions were carried out in Sipajhar, Chanderdinga, Amchang, to mention a few. Most of these areas were grazing reserves and were inhabitated by people who have lost their home and hearth to the Brahmaputra river. In Chanderdinga, homes of people who had patta were also demolished. In January in 2017, these people were forced to live in makeshift tents on the banks of the river in biting cold.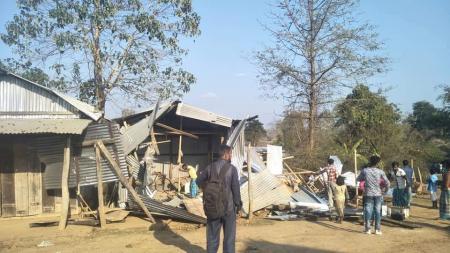 The Spectre of 'Illegal' Bangladeshis
Every act of eviction is preceded by the same discourse – illegal immigrants have encroached on government land and needed to be evicted. Local news channels, certain social media groups work in tandem to conjure the image of illegal immigrant encroachers. In many cases, such as in Sipajhar, civilians were also seen taking part in demolishing the homes of these encroachers. However, closer investigation proved such an accusation false.
In case of Kaziranga, it was proven that a large number of Assamese families were also evicted. When they proved that they were settled by the then Asom Gana Parishad government, they were promised compensation, which is yet to be released. Journalists reporting from the ground also found that these areas did not belong to the Kaziranga sanctuary but had been newly acquired. When protestors came out demanding compensation, police opened fire and killed Fakhrul Islam and Anjuma Khatun.
In Sipajhar, the case was of exploitation at multiple levels. People who have been displaced by erosion moved to Sipajhar and paid hefty sums to local people for settling down on land that belonged to the government. But later these very local people demanded that the settlers be evicted due to some personal feud. Local miscreants also got involved and set the homes of the settlers on fire. While local news channels were busy declaring these people as doubtful citizens, not a channel wondered why they were only evicted and not detained. Also, no questions were asked about the act of illegally selling government land.
This myth of evicting illegal immigrants was completely busted when Amchang eviction took place. It rendered a large number of people belonging to the indigenous tribes like Bodos, Mishing etc homeless. It was only after strong protests that this eviction was stayed. The class bias of the state apparatus also became obvious when a cement factory was left out while common people were evicted.
Coming to the latest incident of eviction, the boundary of the districts of Karbi Anglong and Hojai are yet to be finalised. Those who were evicted are questioning the very legality of this eviction, as they claim to be within Hojai district and the eviction was carried out by Karbi Anglong administration.
Why Eviction Now?
The eviction left a trail of demolished homes burnt to ashes. The only school of that area, Choudhury Para Primary School, was also demolished leaving the future of almost 200 students uncertain. Books, six quintals of rice could not salvaged, says the school headmaster.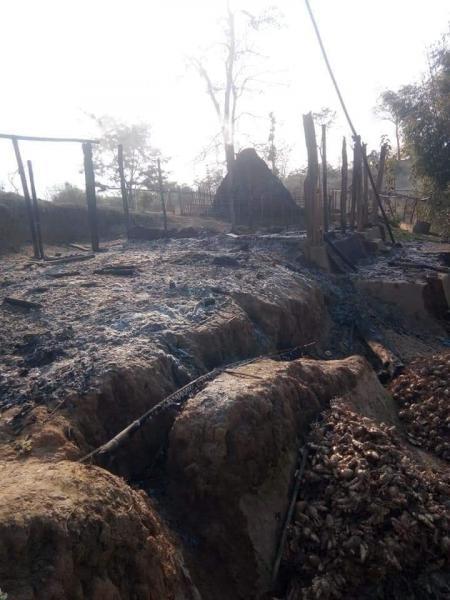 The Krishak Mukti Sangram Samiti's Hojai Committee staged a protest on March 8, demanding that eviction be stayed till the boundary of the two districts is finalised. But even before the protest was over, the police, Army and paramilitary forces reportedly attacked the unarmed protestors. The lathi-charge left more than 30 people injured. Videos of the lathi-charge doing rounds on social media showed women with broken arms, bloodied men, students laying unconscious after being hit. Victims of the eviction claimed that civilians from Karbi Anglong district also took part in the violence and the looting that followed.
Even before the eviction was over, an Assam web news portal, InsideNe, ran a news with headlines that read "Illegal Bangladeshi settlers evicted from Karbi Anglong". It was only after much criticism that the word 'alleged' was included. Like every other case of eviction, here also the issue of illegal immigrants was used to render some kind of legitimacy to this inhuman practice. As of now, the eviction has been stayed by a court order.
Local residents and protestors, while pointing out inaction by the Hojai administration, alleged that even when negotiations were on between the two district administrations, the eviction continued.
One is left wondering why such a placid response from the state. One cannot deny the fact that the issue of the Citizenship Amendment Bill (CAB), 2019 has alienated a large chunk of Assamese people from BJP, the ruling party. The government was seen as going back on its promise of safeguarding the jati, mati and bheti in Assam. BJP has also been accused of subverting the National Registry of Citizens (NRC) which might have given some direction to the problem of illegal immigration. But now with the government hell bent on passing the CAB and legitimising immigrants till 2014, NRC already seems redundant.
In such a scenario – is eviction being politically used to 'other' the Muslims of East Bengal origin and keep the dichotomy of 'us' and 'them' thriving? Is this eviction and the invocation of the spectre of illegal immigrants encroaching the land of the khilonjiyas a last-minute attempt to win over Assamese voters just before the Lok Sabha election?
(With inputs from Saidur Rahman, President, Hojai Krishak Mukti  Sangram Samiti, and Ashraful Islam, Working President, Satro Mukti Sangram Samiti)
The writer works in P B College, Gauripur, Assam. The views are personal.
Get the latest reports & analysis with people's perspective on Protests, movements & deep analytical videos, discussions of the current affairs in your Telegram app. Subscribe to NewsClick's Telegram channel & get Real-Time updates on stories, as they get published on our website.
Subscribe Newsclick On Telegram