Explained: Why are 5 Lakh Postal Employees Going on Strike?
Recent policy decisions by the Modi government, allegedly aimed at corporatising the Department of Posts, trading as India Post, have made the employees apprehensive.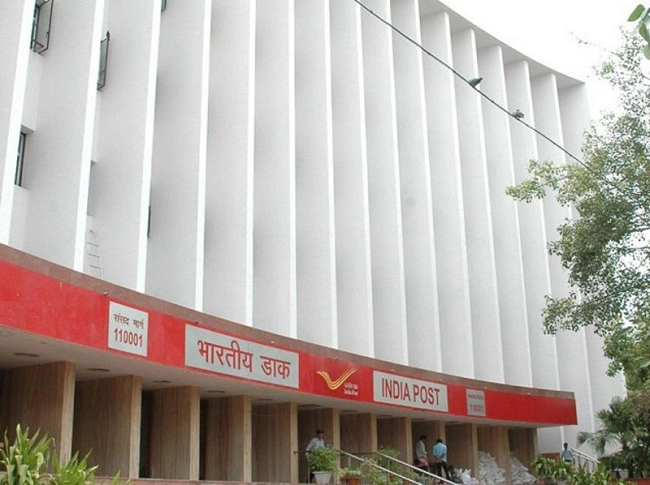 Nearly 5,00,000 postal employees – the entire workforce strength of India Post – have been called to join a one-day nationwide strike on August 10. Image Courtesy: NDTV
New Delhi: India Post touches the lives of many people in our country even in the remotest of corners. For more than 150 years, it has been the backbone of the nation's communications network and remained synonymous with delivering postal mail.
But that might not be so, going forward, fear its employees, as they prepare to abstain from their work for a day in protest. They said they were being "forced" to strike work after Friday's talks of Union leaders to persuade the Central government not to go ahead in the direction of  "corporatisation" of the government-run postal services failed to make any breakthrough.
Nearly 5,00,000 postal employees – the entire workforce strength of India Post – have been called to join a one-day nationwide strike on August 10.
The strike call has been given by the Postal Joint Council of Action (PJCA), a coming together of federations that collectively represent the country's postal employees, including the Gramin Dak Sevaks (GDS).
According to federation leaders, multiple correspondences for many months from their end, containing the concerns of the postal employees over recent policy decisions of the Central government, have fallen on deaf ears. On Friday, as these issues were raised in a meeting with officials of the Union Ministry of Communications Department of Posts (DoP), under which the ongoing services are operated, the latter remained adamant.
"The discussions were not positive," secretary general of the National Federation of Postal Employees (NFPE), Janardan Mazumdar, told NewsClick on Friday evening. NFPE is one of the constituents of the joint council along with the Federation of National Postal Organisations (FNPO).
Mazumdar added that the Central government is hell-bent on going ahead with its policy decisions.
"The [postal] employees will also, therefore, not back off in registering their opposition to government's decisions," he said. "The strike is on."
India Post Plays Crucial Role
Started as an initiative under the East India Company in 1766, and later modified and expanded through a number of legislations during the subsequent British Raj, the country's postal system, administered through India Post or Bharatiya Dak, as it is generally known to the larger population, is among the services that continued its operations post-Independence on a nationwide basis.
That the postal services continued to function, even under colonial law, didn't pose much of a challenge as at the time of independence, there were 23,344 Post Offices in the country- primarily in urban areas. In March 2017, the 1,54,965 Post Offices, of which 139,067 were in the rural areas, manifested a seven-fold growth in the postal network – with a focus on expansion in rural networks.
With a Post Office serving an average population of over 7,000 people, India presently boasts of the most widely distributed postal system in the world.
Over the years, as India Post played a crucial role in the country's socio-economic development, it not only touched the lives of the growing population but also progressed very soon to touch them in multiple ways. With postal operations continuing as its core operations, it started accepting deposits under one small savings scheme and providing life insurance cover since the pre-independence period.
Today, apart from numerous financial products and services introduced by DoP, in rural areas, India Post also acts as an agent for wage disbursement under Mahatma Gandhi National Rural Employment Guarantee Scheme (MGNREGA) and old age pension payments, among other services.
Despite what many would think, the postal network in the country is "very much active", especially when it comes to connecting the rural areas, All India Postal Employees Union (AIPEU) national general secretary P Pandurangarao said on Friday, while speaking over the telephone from his native village in Andhra Pradesh's Tirupati district.
"Not just that. Post Offices are also crucial in ensuring that government services are within reach of every citizen. In rural areas, a postmaster hasn't lost his importance, even as the work of delivering mails has reduced over the years," remarked Pandurangarao, a Gramin branch postmaster.
"Now, the diversity of his work has increased."
To further illustrate, he asked to imagine a dak Sevak in a rural area not just as a person on a cycle, with a jhola on their side, but one who is well-versed in operating smartphones and hand-held devices connected to remote servers. AIPEU represents the majority of the nearly 2.5-lakh-strong army of these Gramin sevaks in the country, according to him.
Corporatisation of India Post
In December 2014, a government task force aimed at suggesting ways to leverage the country's post office network came up with a host of suggestions that the postal employees' union now view as the beginning of the exercise to "corporatise" the India Post.
Headed by TSR Subramaniam, who once served as the Cabinet Secretary before his retirement, the task force had suggested the government set up a holding company under DoP to immediately roll out banking, insurance and e-commerce services through the country's postal network. As per the suggestions, the holding company would have had five verticals, including those for distribution of third-party products and services like providing e-services and another for delivery of government services on an agency basis.
"It was then that the postal unions knew that the suggestions would eventually lead to a situation where in the course of time, the government might disinvest its part of holding in any such new corporation, and the latter would then have to raise funds from the market or even get listed in share market in future," said RN Parashar, former secretary general of NFPE.
In other words, the suggestions, if implemented, will lead to "corporatisation" of India Post, with the spectre of privatisation looming over it ever since, noted Parashar, who, after his retirement as a postal employee, is now with the Confederation of Central Government Employees and Workers (CCGEW).
Postal Employees Flay Modi Govt. Decisions
Among others, the task force also proposed the enactment of a new postal law, replacing The Indian Post Office Act of 1898, to give a statutory basis for its suggested operations. It had also suggested establishing a 'Post Bank of India' as a separate entity that will have a branch in each district in the first three years, with an initial capital of Rs 500 crore to be funded by the government.
Subsequently, in September 2018, an India Post Payments Bank (IPPB), with 650 branches and 3,250 access points, was incorporated as the first corporate entity under DoP – it was registered after giving a wide berth to the apprehensions that were then raised by the postal employees union through a series of pan India agitations.
Spearheading the financial inclusion agenda, which has also been tom-tommed by Prime Minister Narendra Modi as what his government is striving to achieve, IPPB contributed through its technological process in modernising products of DoP in line with standard banking practices.
Likewise, India Post, over the years, extended the support of its massive distribution network in creating a unified one-stop platform for delivering government-to-citizen services. As a result, as of last year, IPPB has enabled more than 136,000 Post Offices – with 110,000 in rural areas – to provide a complete suite of banking services.
But then, the "hidden agenda" of the Central government was brought to light, as one former AIPEU leader recently opined.
In January this year, while approving a budget outlay for the next phase of 'IT Modernisation' of India Post – the first one approved back in November 2012 – the Centre proposed to merge the former's banking and insurance operations with IPPB and thereby inviting a barrage of criticism from the postal employees.
According to them, while operating the Post Office Savings Bank (POSB) accounts on behalf of the Union Ministry of Finance, India Post earns the majority of its income from the small savings scheme – which is now set to be merged with a corporate entity.
Not just that. The merger will also prove detrimental to the interest of investors of the savings scheme, who mainly constitute poor rural people belonging to the economically weaker section of the society, the employees argued.
For example, the POSB Account offers annual interest at 4%/annum for deposits without any upper limit, along with levying no service charges; IPPB, on the other hand, provides banking services at a nominal charge while offering interest at a maximum rate of 2.25%.
"There are currently over 30 crore investors and their 10 lakh crore investments under the Post Office's small savings scheme. It may not be wise to merge these deposits with a newly formed payments bank forcefully," said Parashar of CCGEW.
What's more, parallel to the proposal of a merger with IPPB, the Central government is also attempting to "weaken" the core postal operations of India Post through partnerships with third-party institutions and private corporates under its revamped franchisee scheme, namely, Dak Mitra, according to postal employees' federations.
Among their major fear with such partnerships, under which remuneration is incentive-based as opposed to the fixed monthly salary structure of postal employees, include the considerable loss of revenue-generating business to private players in urban areas. In rural areas, "it would only mean that the demand of regularisation of the Gramin dak sevaks will never get materialised," rued Pandurangarao of AIPEU on Friday.
Last month, the PJAC, in their one-day strike notice and a 20-point charter of demand enclosed with it, pressed for rolling back the Central government's "arbitrary actions" that push for the "corporatisation" of India Post. Since then, solidarity has poured from different sections for the apprehensive yet agitated postal employees, the most recent being from the Centre of Indian Trade Unions (CITU).
On Friday, Parashar of CCGEW told Newsclick that the postal employees fear a fate of the loss-making India Post similar to Bharat Sanchar Nigam Limited (BSNL). To bring competitiveness and self-reliance, the erstwhile telecom government departments were incorporated into a corporate entity in 2000, thus forming BSNL.
"We all know the promises that were made. And we all know who eventually got benefitted," Parashar said, pointing toward the financial difficulties faced by the state-owned telco. "We don't want the India Post to go down a similar path. We want the government to listen to us."
Get the latest reports & analysis with people's perspective on Protests, movements & deep analytical videos, discussions of the current affairs in your Telegram app. Subscribe to NewsClick's Telegram channel & get Real-Time updates on stories, as they get published on our website.
Subscribe Newsclick On Telegram