Fabric to Fury: Women Workers Protest in Gurgaon
The textile and garment industry plays a pivotal role in India's economy, but its women workers struggle to survive against unfair odds.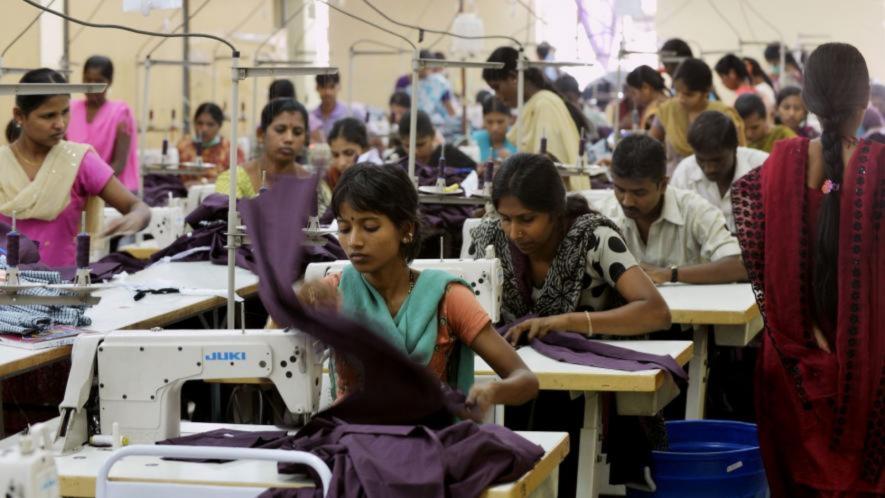 On October 26, a large number of workers of the Chelsea Mills Company in Gurugram, Haryana, gathered under the banner of the Garment and Allied Workers Union affiliated to the Hind Mazdoor Kisan Panchayat, Haryana. They were there to protest against what they referred to as the company's long-standing exploitative practices and unjust working conditions.
For several years, the workers of the company have been raising concerns about 'illegal firings, systematic exploitation and targeting of union members'. Voicing the workers' grievances, the general secretary of the union, Amarnath Sharma, said that it has been five years since the workers started raising their issues related to the company's behaviour towards its workforce, particularly the women workers, through unjust layoffs.
The textile and garment industry plays a pivotal role in India's vibrant economy. It contributes a generous 10-13% to national export earnings. India proudly ranks among the top five textile and garment producers. But beyond the statistics lies a profound question: Who are the individuals whose tireless efforts breathe life into these figures? What happens to the skilled hands that craft the exquisite garments we wear, like those of esteemed brands such as GAP?
This demonstration of workers late this October not only holds up a mirror to our collective apathy towards the workers but also reveals the harsh underbelly of an exploitative system that drains the lifeblood from workers. Their stories must instead touch our hearts, for they speak of a pressing urgency, and they need a change to ensure their well-being and dignity.
Exploitation and Labour law Violations:
Talking to the women workers reveals a shocking pattern of exploitative practices and serious violations of labour laws. Women workers say they are made to work as tailors or operators while being paid and appointed as 'helpers'. This deceitful practice that violates the Minimum Wages Act and other regulations in Haryana, they allege, also robs workers of thousands of rupees every month. A woman worker who did not wish to be named told me, "Surviving is becoming difficult day by day. I have to send my children to school and I send money home. If we say something, they [the company] threaten to remove us. Nobody listens to us but maybe now they will."
Most of the women workers are migrants from Bihar, Uttar Pradesh, West Bengal and other North Indian states. Many complained about having to meet unreasonable targets, and failing to do so leading to verbal abuse from the line or floor in-charges or managers. These workers are exhausted and yet denied basic rights—even sitting, taking toilet breaks, and time out to drink water is a challenge, but necessity forces them to endure even these conditions.
Many women workers told this writer that they are abused and shouted at if they take 'too long' to return from toilet breaks. What is more, women workers allege they are more frequently terminated for failing to meet unjust and unrealistic targets.
Lack of Rights
One of the complaints of the women workers is that they do not get casual leaves, while some are forced to work on their days of rest without wages or overtime compensation. Complaints also emerged about  "inappropriate behaviour" of an in-charge, who allegedly verbally abused and harassed female workers. Such complaints would constitute sexual harassment at the workplace. The workers said that despite reporting this employees' behaviour to a manager, no action has been taken against him.
Distressingly, the workers had no clue about an internal complaints committee or mechanism of the company. This apathetic attitude towards women workers leaves them in a dangerous situation in which their right to work and live with dignity is compromised, they said. Some women workers also alleged they were intentionally denied overtime, while others receive overtime work, illustrating unfair labour practices.
A worker said, "We even have to make up the time spent having lunch." So, if lunch takes 30 mins, they must work half an hour more, practically leaving no time for lunch break. To leave on time, the women eat hurriedly. Most skip breakfast anyway, for they are too busy in the mornings. "We prepare and pack lunch for husband and children, sending the children to school and do other household chores," said this worker.
Workers Call for Intervention
The workers who have come forward with their grievances are anxious and desperate due to their working conditions. They seek assistance in filing complaints under the labour laws. They say they wish to hold the company accountable for violations and secure compensation for affected workers. It is clear that the intervention of relevant authorities is crucial to alleviating their hardships. On September 26, 2019, the union filed a complaint with the Labour Commissioner, Haryana, bringing to the government's notice the violations of labour laws and reminding of the entitlements of workers. The union has also initiated a dialogue with the Chelsea Mills and GAP (the company which has given contracted work to Chelsea Mill) but there is no public statement out yet on those discussions.  
A public demonstration stands as a powerful wake-up call, a reminder of the lives that often remain hidden behind the business success stories we celebrate. The questions workers raise are not cold data points, but the striving souls of countless individuals. Their stories deserve our attention and response.
It is our responsibility to shine a light on injustices and support workers in their struggle for justice. It is imperative to stay informed about labour issues and stand in solidarity with workers, advocating for their rights, safe working environment and improved conditions.
This writer has tried to contact the company for its response to the allegations. The story will be updated once a response is received.
The author visited the protest site as part of her PhD field work at the University of Delhi. Her focus is on the impact of Neoliberalism on women garment workers in the NCR and Delhi. The views expressed are personal.
Get the latest reports & analysis with people's perspective on Protests, movements & deep analytical videos, discussions of the current affairs in your Telegram app. Subscribe to NewsClick's Telegram channel & get Real-Time updates on stories, as they get published on our website.
Subscribe Newsclick On Telegram