A Fan's Open Letter to Sehwag
Veeru, what suits the ABVP, does that suit you?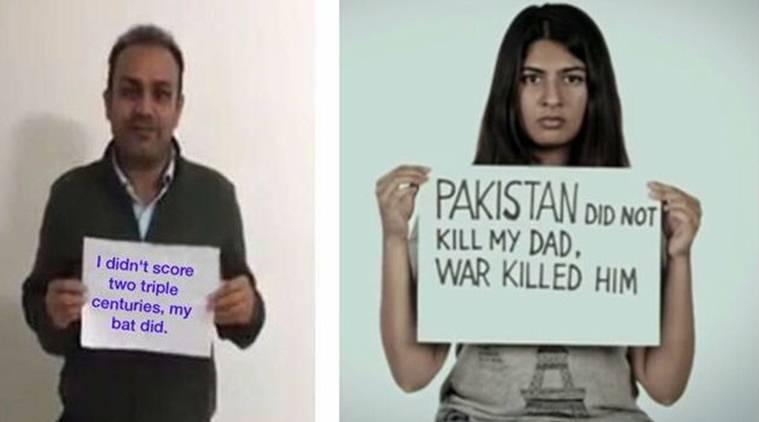 Sehwag Trolling Gurmehar Kaur
When I think of my growing up years, one memory that flashes in my mind is that of watching you rule the cricket ground. My generation did not get to see Bradman. Neither did we see Sobers or Gavaskar. We missed out on witnessing India become the world champion in '83. But we've seen Sachin. We've seen our very own Dada. And we've seen you. We've seen how greatest of the bowlers used to become clueless about where to bowl the next ball, when you were at the crease. At a casual stroke of your bat, even the deadliest yorker used to fly into the stands. These are the images my entire generation grew up watching. 
During your playing days, your critics often said that Virender Sehwag epitomizes thoughtless aggression. But we, the Sehwag fans, used to fight back. After all, who scored the first triple century for India? It is neither Gavaskar nor Sachin. It is not even Mr. Dependable, Rahul Dravid. It was you. That too, not once but twice. Even a third time almost came: you fell short by just seven runs.
But a few days back, when you posted your picture holding a poster that read, "I didn't score two triple centuries, my bat did," even a staunch Sehwag fan like me thought it was really a poor shot-selection from my favorite batsman.
Clearly, your dig was aimed at. Gurmehar Kaur, a young student of the Delhi University, who had earlier posted a similar placard that read "Pakistan did not kill my dad. War killed him." Now, one cannot expect this statement to go down well with everyone, particularly with the BJP-RSS clan, who are known to feed on the cuts earned from the coffins of martyred soldiers in Kargill. As one would expect, they immediately resorted to attacking the young lady. But Veeru, what suits the ABVP, does not suit you. Do you realize that with this one tweet, you have unwittingly joined the troll-army of those self-proclaimed patriots, who have stooped to the level of giving rape threats to the young lady? 
Gurmehar had lost her father at Kargil War, when she was a baby. While we were celebrating our victory that came at the border, she witnessed her father's body being carried in a coffin. Like your triple centuries, the war victory also made us proud. But the loss of her father taught Gurmehar the real cost of war. So today as we escalate our state sponsored, media pampered jingoistic nationalism, perhaps Gurmehar remembers her father. 
Veeru, you may know that during the World War I, conscription i.e. compulsory war service was introduced in Britain. Thousands of college and university students had to give up their books, bid farewell to their loved ones, and go to war. Perhaps to not return ever again. That day, inside the army trenches, with their fingers on the rifle-triggers, poets like Wilfred Owen and Siegfried Sassoon were born. They wrote poetry about the loss of lives, and wastage of human resources caused by futile wars. History remembers them as War Poets. Their dispatches from the battlefield taught the following generations the hollowness in the celebration of warfare. Only the people fighting real battles understand its real cost. The young men at the battlefield that day realized that from either sides of the battle-line, the barrel of every gun targets a regular human being, who had also wanted to live and celebrate life. Just the way the pitch at the Multan Cricket Stadium had taught you that Shoaib Akhtar and Saqlain Mushtaq are your opponents, not enemies. 
Veeru, you've also fought for your country like a soldier. But your battle was different from the one that took away Gurmehar's father. Do you remember the day when you first got the call to fight? Celebrations must have swept your family. Perhaps happiness and pride for her son did not let your mother sleep that night. But do you realize when the battlefield calls out for Gurmehar's father, and thousands others like him, their families also spend sleepless nights. Out of anxiety. When victory came from your bat, you were awarded man-of-the-match. But what if you lost? Honestly, did that make much difference?
Even when you lost, match-fee of a few lakh rupees used to reach your bank account. On scoring a century, thousands of autograph books chased you. But even when you were bowled out for a duck, fans used to cheer for you in the next match. At this point, does the other war look similar to the ones you fought?
Gurmehar's father - his team, our team, won in Kargil. Still he could not return to his family. In whichever side of the border the victory comes, after the last cannon is fired, mothers will lose their children, wives will lose their husbands and the Gurmehars' will lose their fathers in every battle-field.
How many of these martyrs do their countrymen remember? Veerupaji, we love cricket. We remember your triple centuries. But you seem to love war. So tell me honestly, did you even know the name of Martyr Captain Mandeep Singh, who died defending our border at Kargil, till her daughter took a stand against ABVP? And why blame only you? Did any of us remember? We didn't. We don't. Only the Gurmehars cannot forget their fathers. 
Veeru, was it really necessary to mock the lady instead of sharing her grief? Couldn't you even try to understand why she hates war? Do you realize how much strength and courage does it take for a 20-year old to point out what killed her father instead of dwelling on who killed him? 
At Melbourne, while batting at 195, you once attempted a six; the ball went for a catch. But it wasn't world-records or double centuries, rather this daring attitude that made you our hero. 
However in the game of life, trying to hit a six at every ball is not a good idea! Many of your tweets stand out for their wit. Your strokes are as fluent in Twitter, as they used to be on the field. But this one shot really disappointed many of us. A young student is fighting her own battle with her head held high. If you can't support her, don't. But do you really need to taunt her so crudely? Break her heart? This certainly doesn't suit our Sultan of Multan.
Please, take back that tweet. Gurmehar, along with many like her across the globe, are fighting to end every war in this planet. Stand by them. Every time seeing you walk into the crease gave us hope. This time please bat for humanity. 
Disclaimer: The views expressed here are the author's personal views, and do not necessarily represent the views of Newsclick.
Get the latest reports & analysis with people's perspective on Protests, movements & deep analytical videos, discussions of the current affairs in your Telegram app. Subscribe to NewsClick's Telegram channel & get Real-Time updates on stories, as they get published on our website.
Subscribe Newsclick On Telegram