Clash of Twitter Vs Meta's Threads: Zuckerberg and Musk Fight Over Digital Real Estate
Eventually, the quality of digital infrastructure, or even the dumb luck of hitting the right solution, will matter.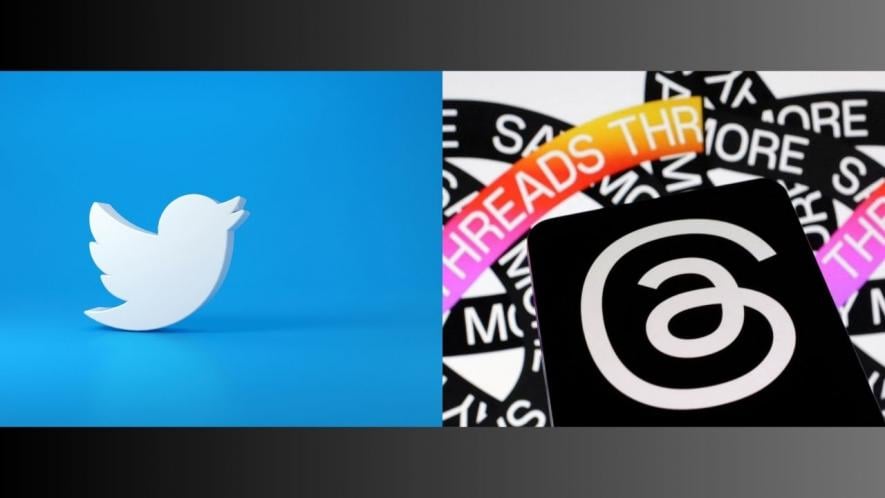 We are beginning to see the new age of competition between digital platforms, which have, till now, kept a careful distance from each other. Increasingly, today's digital space is simply not big enough for the trillion-dollar platforms and their owners' equally big egos. The very public spat between Elon Musk and Mark Zuckerberg, with even challenges for a physical match-up, is closely matched by Twitter facing a real threat from Meta's newly launched Threads.
Twitter holds a dominant position on short-form public messaging, attracting all those who deal with the news: the news junkies; or those who want to be news themselves. There have been challengers to Twitter, particularly after Musk taking it over. But none were a serious threat to Meta till Threads. Threads gathered over 100 million users within the first week of its launch, even though it did not have many of the features that Twitter users take for granted.
Musk's very public takeover of Twitter followed a barrage of criticism of the platform, its opaque policies of blue ticks, who could say what, and getting enmeshed in the culture wars in the US. Of course, Donald Trump's politics and Twitter's censoring of Trump was the lightning rod. It put the social media platform at the centre of the free speech debate in the US and to what extent social media platforms should or should not filter content on their platforms. His public criticism and his repeated claims that he could run Twitter much better, led to his taking over Twitter. He has since then taken a sledgehammer to its way of working and its staff. Twitter has sacked or lost 80% of the 8,000 employees it had before the Musk takeover.
While many Twitter users have been unhappy with Musk's running of Twitter, for example, imposing limits on the number of tweets and paying for a blue tick, they had very few options. Mastodon, an open source version, does not have a critical mass of people, which the news junkies who drive Twitter need; similarly for Bluesky, though it has received some recent momentum.
The "virtue" of Meta's Threads is the easy sign-up to Threads using an Instagram account. You can also import your contacts and followers into Threads, making it simple for your followers to also see your Thread posts. The signing up is relatively seamless and, most importantly, gives you a ready-made community of those you follow and who follow you on Instagram.
Will Threads really emerge as a serious competitor to Twitter? Or will it simply be a part of the Instagram world, a simple add-on to Insta? The demography and the interests of the Twitter and Insta world are very different. Twitter engages with what is happening in the world; Insta on what is happening to me! Can the tools and, more importantly, the culture of one world compete with the other? If not, then Threads will merely be a text appendage to the visual world of Insta and not a challenge to Twitter. If it can be repurposed, and with Meta's big bucks and hiring of the talent that Musk fired on Twitter, can they successfully create a Twitterverse within the Metaverse that Zuckerberg wants to build?
So, why am I writing this piece at all? I find Twitter vs Threads interesting for a completely different reason. Till now, the digital monopolies had carved out their monopoly spaces, which had some overlaps, particularly in technology and infrastructure, but not in the primary "product" they were selling to the people. For example, Google, Facebook and Twitter's primary business models are selling people as commodities—what Dallas Smythe coined as the audience commodity—to advertisers. About 85% of Google's revenue comes from advertisements; Facebook's is even higher, in the range of 98%. The business model of all three social media companies was getting advertisements and selling us, the audience, to the advertisers.
Musk's main criticism of Twitter was that it spent far more than what it earned and needed to pull in more advertisements to support its 8,000-strong payroll. That is his wholesale sacking of Twitter staff, reducing to less than 1,500, never mind the creaky state of the Twitter infrastructure.
Amazon's business is similar to a digital Walmart; it is a two-sided monopoly. Walmart is, or more correctly was, a monopoly buyer of commodities and a monopoly seller as well: It achieved scale in both and beat down its competition due to its ability to buy more cheaply. As it had/has the largest network of physical stores in the US, it could buy in bulk, get better discounts and sell below the price of its competitors. In Amazon's case, it is a similar two-sided monopoly: a monopoly when it buys from the producers and a monopoly of eyeballs or people buying on its digital platform.
Chinese players have built different social media platforms and tools than American companies have. But they have yet to be successful in each other's markets, competing with each other only in South East Asia. The only major social media that Chinese players have created for a worldwide market (except India, where it has been banned) is TikTok. Facebook's Reels and YouTube Shorts are attempting to compete with TikTok, but despite bans in countries like India and the threat of bans in the US, TikTok still commands a large viewership, especially among young users.
We can take more instances of how digital monopolies have been or are being built; and why the digital infrastructure allows some of these companies to scale up while others do not. That is where the quality of the digital infrastructure, or even the dumb luck of hitting the right solution, matters. The successful ones will claim their genius. Sceptics like me believe that a combination of technology and capital is a necessary condition, but finally, dame luck decides the winner! Remember the Betamax vs VHS competition of formats for our VCRs (video cassette recorders)?
Even before Meta's entry into Twitter's playground, competition between digital monopolies existed and is even intensifying today. But these have not been in end-products but in digital infrastructure and tools that both need. For example, Microsoft competes with Amazon on cloud services; so does Google, as they all have a huge digital infrastructure to hire out to others. All the major players are also building AI (artificial intelligence) tools as they are seen to be necessary infrastructure, equivalent to the hardware infrastructure of today. None of them can let another walk away with a monopoly of AI tools without weakening the base of their empires. But all these competitions are in areas which are not their core businesses.
So, why are they starting to compete with each other now? While AI and infrastructure competition can be thought of as the consequence of using similar tools and infrastructure, a competition of the type we are seeing with Threads vs Twitter is new. It is a direct assault on a player and platform that is seen as weak or in trouble and, therefore, ripe for an assault. Musk's toxic social media presence is an added bonus, as it alienates a range of users. Listening to Musk's egomania and how he was going to change Twitter, perhaps in his own image, is not what they needed, except for die-hard Musk fans.
I am not going to get out my crystal ball and predict the future of the Threads vs Twitter battle. Threads has the advantage of a huge Insta user base that can easily migrate to it. But it also has its weaknesses. The older demography is not fond of migrating from one app to another. For the younger people on Insta, do they want to engage in the news using an Insta add-on? Are those who are unhappy not simply with the changes in Twitter policies but also its more fragile tech infrastructure looking for safer pastures like Meta's?
There is no question that big advertisers like Meta already like what they see in Threads. But what about its users? Social media platforms live and die by their ability to get live users be on their platform: user engagement decides their fate. Predicting what the users will do in the Twitter versus Threads match-up will need black art; or those with better crystal balls than mine!
Get the latest reports & analysis with people's perspective on Protests, movements & deep analytical videos, discussions of the current affairs in your Telegram app. Subscribe to NewsClick's Telegram channel & get Real-Time updates on stories, as they get published on our website.
Subscribe Newsclick On Telegram