Farmer Versus Hindu Identity Could Become Poll Theme in West Uttar Pradesh
The farmer movement has altered social identities in western Uttar Pradesh, which accounts for 122 of 403 Assembly seats and is headed for polls early next year.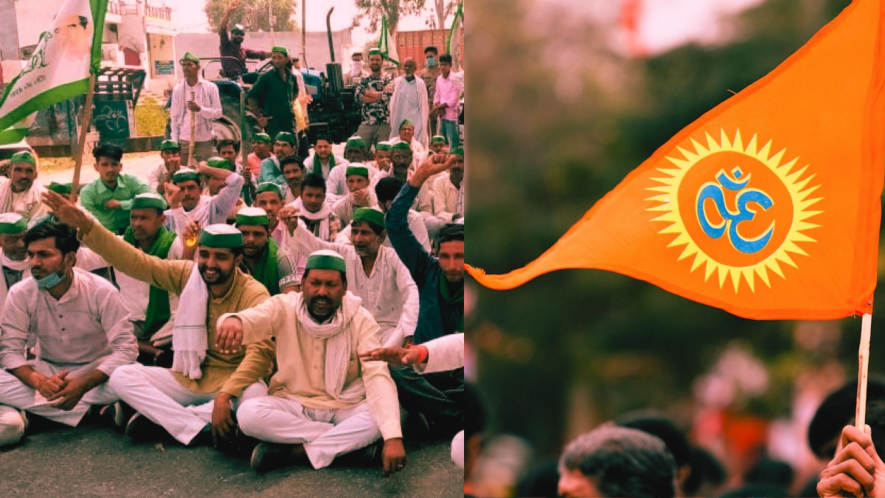 When you think of a farmer in west Uttar Pradesh, you are likely to imagine a Jat. Yet if you were in the region when Prime Minister Narendra Modi delivered his speech repealing the three farm laws, you would have heard many non-Jats assert, 'Hum bhi kisan hain—we are also farmers'. Members of diverse social groups rejoiced at the victory of the year-long farmer agitation and recounted their support or participation in it.
Take Salekh Chand, a Dalit from Thirwa village near Thanabhawan town. "I am a farmer too," he says. "Most of my community are daily wagers or in government jobs, but those who own land supported the farmer movement completely," he says. Or listen to Manoj Kumar from Shamli, who belongs to the socially backward Kashyap community. "We don't have much land and do odd jobs," he says, "but we are glad about the Prime Minister's announcement, for we too are farmers."
Earlier, identifying as a farmer meant pegging oneself as a landowner. It was the calling card of a few dominant communities such as the Jats or Rajputs, although there are other land-owning elite castes in the region, Brahmins and Baniyas, for example. The latter have used their capital to purchase land in the area over the last few decades. The word farmer, kisan, also struck a contrast with majdoor, the one who works on land. The farmer agitation changed this scenario and made claims to the identity of a farmer, a near-universal phenomenon.
Even the Jats, who generally maintain a social distance from non-elite groups, welcome this development. "It is Bharatiya Janata Party propaganda that the farmer is Jat," claims Ombir Singh, a prominent Jat farmer of Jonmana village in the Baraut Assembly constituency. Fresh from the farm agitation, he has a wholly new perspective on who constitutes an agriculturist. "Sikhs are also farmers, as are Muley Jats, Gujjars, Rangards [Muslim Rajputs] and Dalits," he says, adding, "Farmer includes the carpenter, tiller, landowner or barber. Whether they sow potatoes or sugarcane, all are farmers, and so are we."
What drives this change is the inter-class solidarity fostered by the year-long farmer movement that thousands from this region supported. That the laws will get repealed soon hardly matters, for the movement has created a desire to grow the numbers of those who count themselves as farmers. Greater numerical strength would bolster the demands of peasants of the region for assured minimum support prices from the government, other than for payment of sugarcane arrears, lower electricity charges, and the release from criminal charges of those who participated in the movement.
Caste is still a critical factor, and the politics here organises around it, but the occupational identity of farmers has blunted some of its sharpest edges. Take Satpal Gujjar, a sugarcane farmer in his late forties from Jasala village in the Kandhla Assembly constituency. The Gujjars are traditionally viewed as a farming community, and in this village, many are also BJP loyalists. "Here, we vote on the basis of caste—wherever the Kandhla MLA goes, we go," Satpal admits, referring to the BJP leader Virender Gujjar. Still, he says, "We strongly support the farmers in their movement. Many of us collected chanda [donations] and grain for the protesters." For people like Satpal, caste and political affiliation intertwine. However, their worries as landlord and farmer persist despite this: The fear driving the peasantry even after the repeal is that corporates would find a way to enter the farms, depriving them of land.
Or hear Bunty Gurana, a young farmer who owns a small grocery store in Thirwa village in Thanabhawan. His family votes for the Bahujan Samaj Party (BSP), and he says, "We farmers choose how much sugarcane, mustard or vegetables to plant. The farm laws would have deprived us of this choice. Now they are gone, but other issues persist, and the biggest is price rise."
The strong identification as farmer cuts across communitarian lines and could put the brakes on the overwhelming political sweep the BJP has gained in this region over the last three elections. In the 2019 Lok Sabha polls, according to Centre for the Study of Developing Societies, 91% of Jat voters had backed BJP candidates, a higher proportion of consolidation than any other social group of the state. Similarly, in the 2017 Assembly election and 2019, members of the most backward communities had flocked against the anti-Yadav sentiment raked up by the BJP. Even a section of the Dalits had deserted Mayawati's party for the BJP. Now, a frittering away of voters from the Bahujan Samaj Party (BSP) and BJP seems to be on, and many of them may fall in the Samajwadi Party-Rashtriya Lok Dal (SP-RLD) kitty.
Naresh Sen, who belongs to the Nai or barber community and is from Karodi village in the Shamli block of Muzaffarnagar district, says, "I am a farmer and I am not with the BJP. The main reason is price rise, especially of cooking gas. We don't get DAP [fertiliser] and had to use NPK on our fields instead, but it cost Rs.350 more per sack."
The scenario is starkly different from even two years ago. Pramod Kumar, a private company employee in the Shamli block, who belongs to the socially and economically backward Kashyap community, says, "We were pakka (hardcore) BJP people, but now we have to think about our younger generation. If there are no jobs and no reservations either, what will happen to our youngsters tomorrow?"
The Kashyap community was promised sub-categorisation of backward class reservation and higher limits for reservations in jobs and educational institutions. Both promises are unfulfilled, and to that extent, Hindutva and anti-Yadav sentiments would get blunted in the coming polls. After waiting for five years, disenchantment has set in, especially among the young members. The withdrawal of the farm laws is unlikely to reverse the situation. "It is not so easy for the ruling party now," says Shiv Kumar, a labourer in Jasala, who can earn up to Rs. 300 a day as a house painter, but the days he can find work have shrunk since the pandemic. "Chahey sarkar aa jaaye, par zyada vote milney ki ummeed nahi hai. Ektarfa nahi hai—Even if this government returns to power, it won't get many votes. It is not a one-player contest," he says.
Many Dalits and members of backward classes are turning to the Opposition parties and are voicing their concerns over rural distress openly. People here have identified the BJP as the villain of the economy. "Even if he covers us in gold, we will not vote for them," says Harkishan Pal, another farmer from Jonmana.
Besides, the identity as farmer has become a new source of pride, as it encompasses far more than ascriptive caste identities. 'Farmer' now includes anyone with misgivings or disenchantments towards the BJP, of whom there are many. In fact, the withdrawal of the farm laws has made the overarching identity of farmer seem even more appealing. "The government took back the farm laws because farmers fought for it. They did not end their protest, whether summer or winter, even if people died, and Modi eventually bent before them," says Pramod.
Hindutva had sought to bring all under the Hindu umbrella, but without altering the relative social positions. This allowed the BJP to woo members of each caste as a distinct group, while "Hindu" became a coveted political name for all. With non-payment of sugarcane farmers' arrears, skyrocketing prices of essential goods including fuel and cooking oil, and memories of mismanagement of the Covid-19 pandemic still fresh, now the farmer identity seems worthy of aspiration.
Hindutva also ruptured relations between the two assertive regional communities, the Jats and the Muslims, after the 2013 Muzaffarnagar riots. Now, the Jats are no longer in conflict with the Muslims, while for the latter, the farmer agitation has become more than a quest of agriculturists for their due share. A number of Muslims, even those who do not farm, found in the anti-farm law movement a representation of anti-Modi, anti-Yogi, and anti-BJP sentiment.
"Parivartan chah rahi hai janta—people want change. They are so anxious about rising prices that they think a hundred times before they ride their motorbikes," says Anees Ansari, who meets a wide cross-section of people as he drives around, selling policies. In the last election, he voted for the BSP, now he echoes the refrain among many in west Uttar Pradesh—"[Samajwadi Party leader] Akhilesh Yadav has come, things are changing."
The farm agitation has not just spread into villages but changed form, fostering a broad anti-BJP sentiment. True, in this part of Uttar Pradesh, the Rashtriya Lok Dal, Samajwadi Party and BSP had a substantial hold before the BJP steamrolled them. Still, now even supporters of the ruling party admit it has to shake off its anti-farmer and pro-corporate image. Says Ashok Tyagi, a prominent farmer in Jagosh village of Baghpat district, "Rising prices and ignoring the concerns of farmers are issues [that go against the BJP]." "But," he says, "The non-Jats are with the BJP. There is no change in their position since the last election."
However, there is visible frittering away of the ardent support Modi and Uttar Pradesh Chief Minister Yogi Adityanath garnered on the cusp of previous elections. Tinku Rajput, a farmer from Charthawal, near Muzaffarnagar, says, "You would hear har-har Modi [glory to Modi] in these parts but that was a different era, a different mahaul [environment]." He is referring to the riots in the region in 2013, which had created a 'Hindu-Muslim' atmosphere. Now, he calls it his "majboori—obligation" to vote for the Adityanath government in the 2022 Assembly election next year, and then predicts, like many others, that "this time votes for Yogi will reduce".
It is hard to predict how long this will sustain. Indeed, the BJP may attempt to isolate its most vociferous regional critic, the Jats, vis-a-vis other communities, a strategy that worked for it in neighbouring Haryana. However, the grievances of the opponents of the ruling party have inclined them to join hands too. And where there is no occupational identification, there is at least the sense that protests can yield dividends.
Get the latest reports & analysis with people's perspective on Protests, movements & deep analytical videos, discussions of the current affairs in your Telegram app. Subscribe to NewsClick's Telegram channel & get Real-Time updates on stories, as they get published on our website.
Subscribe Newsclick On Telegram